Good times, along with helpful hints from top instructors, part of a winning formula for CGA Women's On-Course Clinics
By Gary Baines – 6/8/2020
It was windy as all get-out, and more than one hat was seen blowing across the course — with golfer in hot pursuit — but there were still smiles aplenty at CommonGround's Kids Course on Saturday afternoon.
The gales obviously were far from ideal under the circumstances, but the first of six CGA Women's On-Course Clinics this year was a welcome event after golf opportunities in the early spring had been curtailed for many.
"After I had so much fun last year (at a CGA On-Course Clinic at Stoney Creek Golf Course in Arvada), I was going to try to do as many (as I could in 2020), but this corona thing came around," said Valerie Love of Aurora, one of Saturday's participants. "Then Sandria (Moses) — who is kind of our ringleader — told me it opened up at CommonGround, so we signed up. I wanted to do it; I really did.
"Today has been great. I had two pars, one birdie. I don't know if it's the wind, I don't know if I'm excited to get out of the house, I don't know if I just want to wait around like Charlie Brown. I'm just happy to be out of the house."
A total of 32 women took part Saturday in what has become a popular event that the CGA/CWGA have hosted for more than a decade. The clinics were originally known as the CWGA Experience.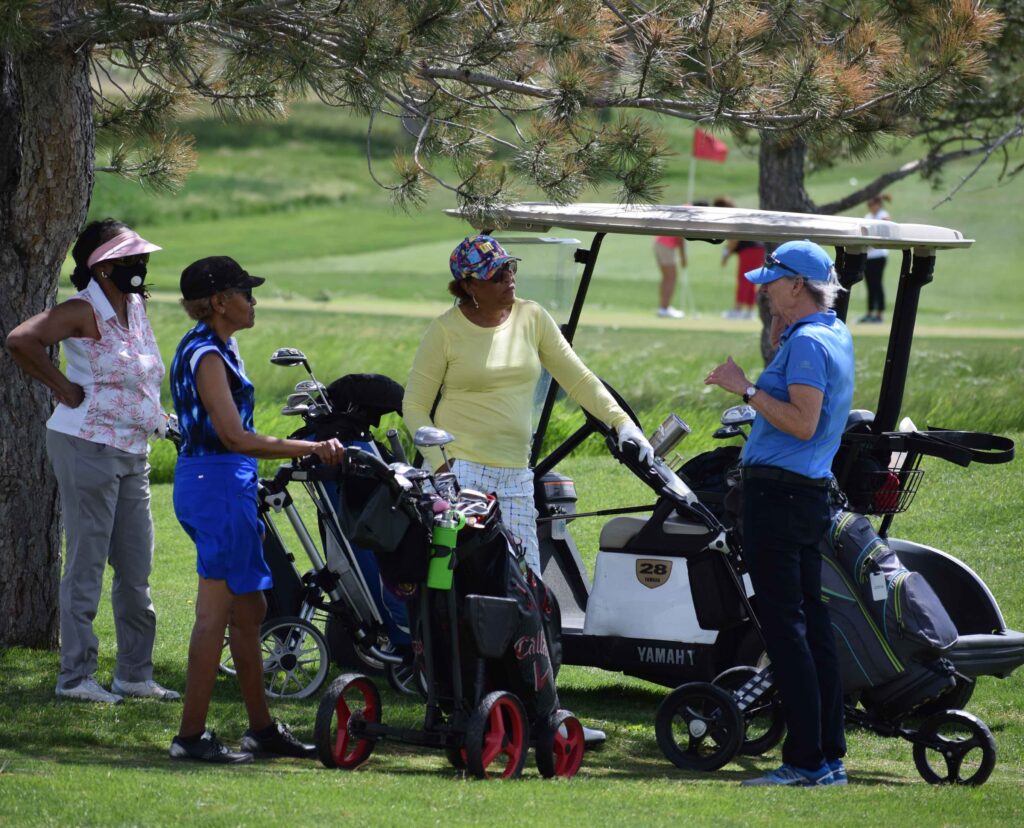 This year, what would have been a record nine CGA Women's Clinics were on the schedule. But due to Covid-19-related safety concerns regarding people congregating and creating touch points, the ones that featured group golf instruction were canceled for 2020, as were the lunch/award gatherings afterward.
That has left the on-course clinics for this year. And to keep a significant number of people from showing up at the same time, tee times — rather shotgun starts — are being used this spring and summer for the events.
"With the off-course clinics, there's so many touch points that we didn't feel comfortable trying to manage that" in 2020, said Matthew Walker, the CGA's manager of programs and the point person for organizing the women's clinics. "We didn't want to put our members or ourselves in that situation. Thankfully we had this structure set (for on-course clinics)."
While the "off-course" women's clinics have been popular for years, events like Saturday's at CommonGround draw nice feedback as well. No doubt part of that is the caliber of instruction. On Saturday, for instance, instructors were set up at every other hole, helping mainly with on-course game management and the mental side of golf.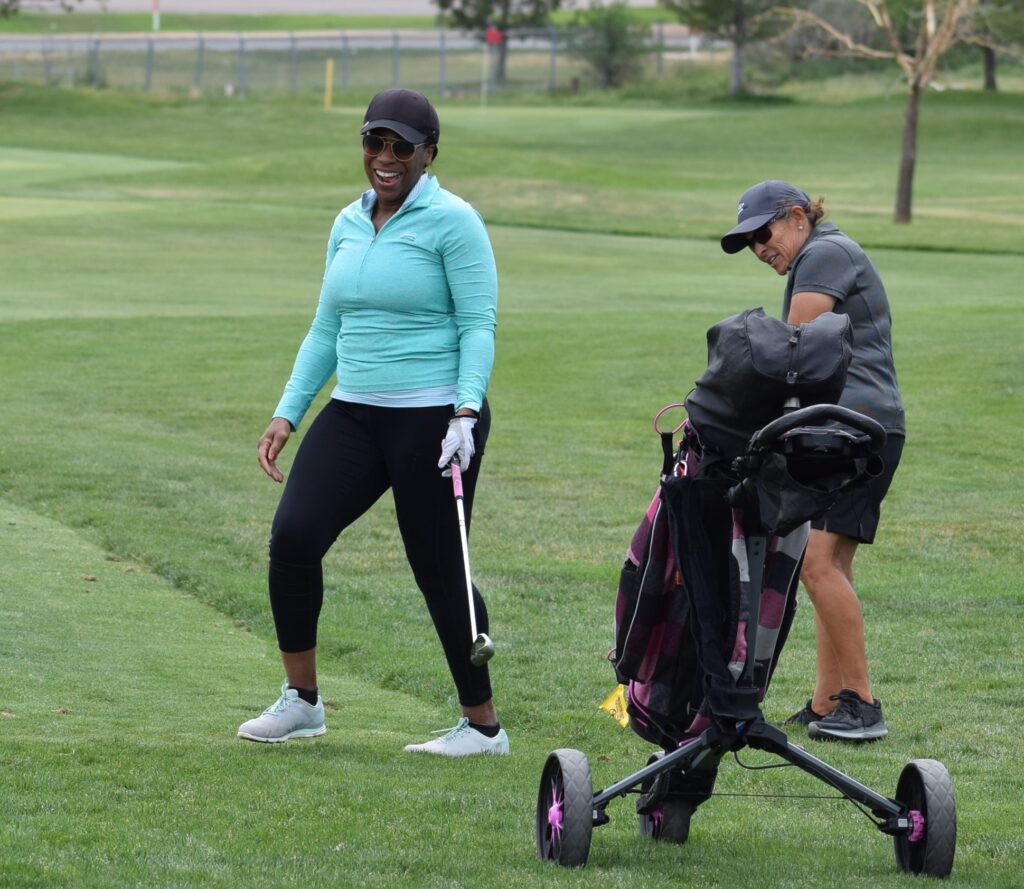 Saturday's group of instructors was an impressive bunch, with LPGA Tour winner and Colorado Golf Hall of Famer Lauren Howe; ExperienceGolf founder Elena King; Metropolitan State University women's coach Stefanie Ferguson; 1998 Colorado Women's Open champion Dawne Kortgaard; and Nick Johnson from The First Tee of Denver.
"I like them," Moses said after Saturday's round. "I take something away from each one of them. … If I can take away one of two things for my game, that helps. And this year we started early enough to incorporate it into league (play)."
Moses organized two threesomes of friends to attend Saturday's on-course clinic, including the ever-smiling, effervescent Love.
"Everything they tell me, I remember," Love said of the instructors. "As a matter of fact, the one instructor, I remember what he told us last year and when he started talking (Saturday), I said, 'Oh, I remember you. I used that technique when I was in (Washington) D.C., when I traveled with my clubs for the first time.' And I said, 'And I got over the water'" thanks to the advice.
"If it's something you learned, you say, 'That makes sense.' And if it's something that's new to you, you're going to remember it. Lauren (Howe) last year, she showed me how to get out of the sand. And from that moment on, I've always been able to get out of the sand."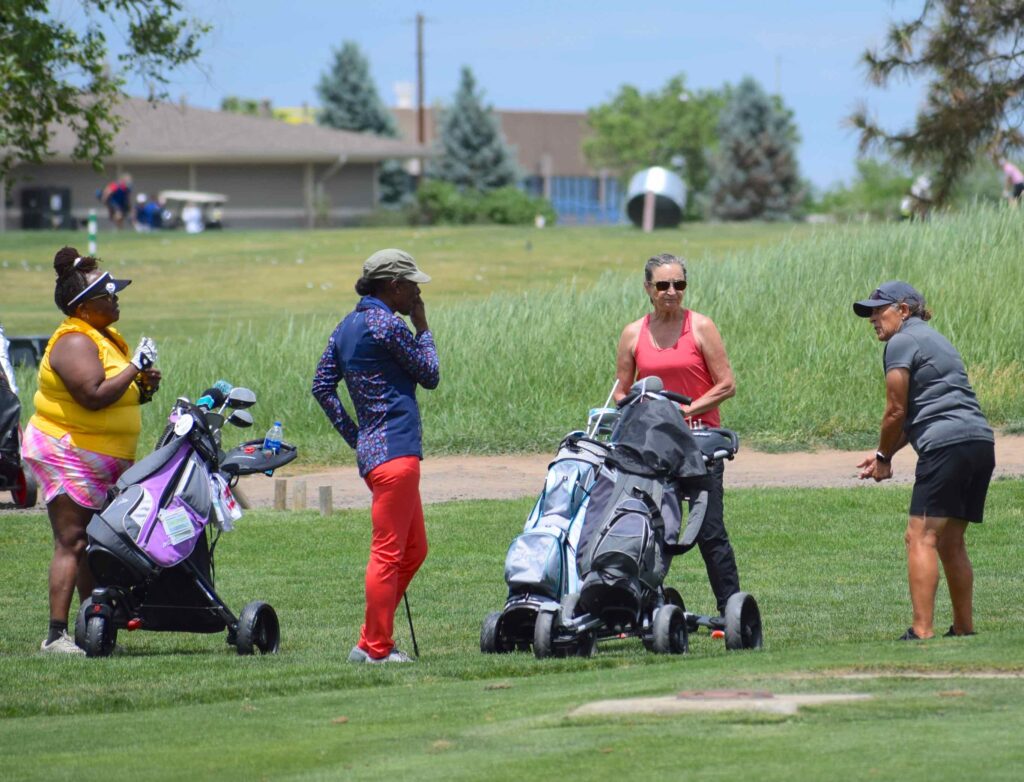 Walker said the quality of the instructors does a lot to set the women's clinics apart.
"They're just giving these helpful hints rather than worrying about mechanics," he said. "Some people, if they're comfortable, don't want that mechanical instruction. This is a great environment for them to receive something they may not have known.
"I think a lot of people don't know that this type of instruction is out there. On-course instruction is a different world compared to actual mechanical instruction. We're trying to open that door to some of these members. I think a lot of tournament players would benefit from it, but it's viewed as kind of a beginner/intermediate clinic. But there's a lot of good information for any type of player.
"I've gotten to work with these instructors for four or five years now, so I can regurgitate what they say. But every time I'm listening to them, I find something new."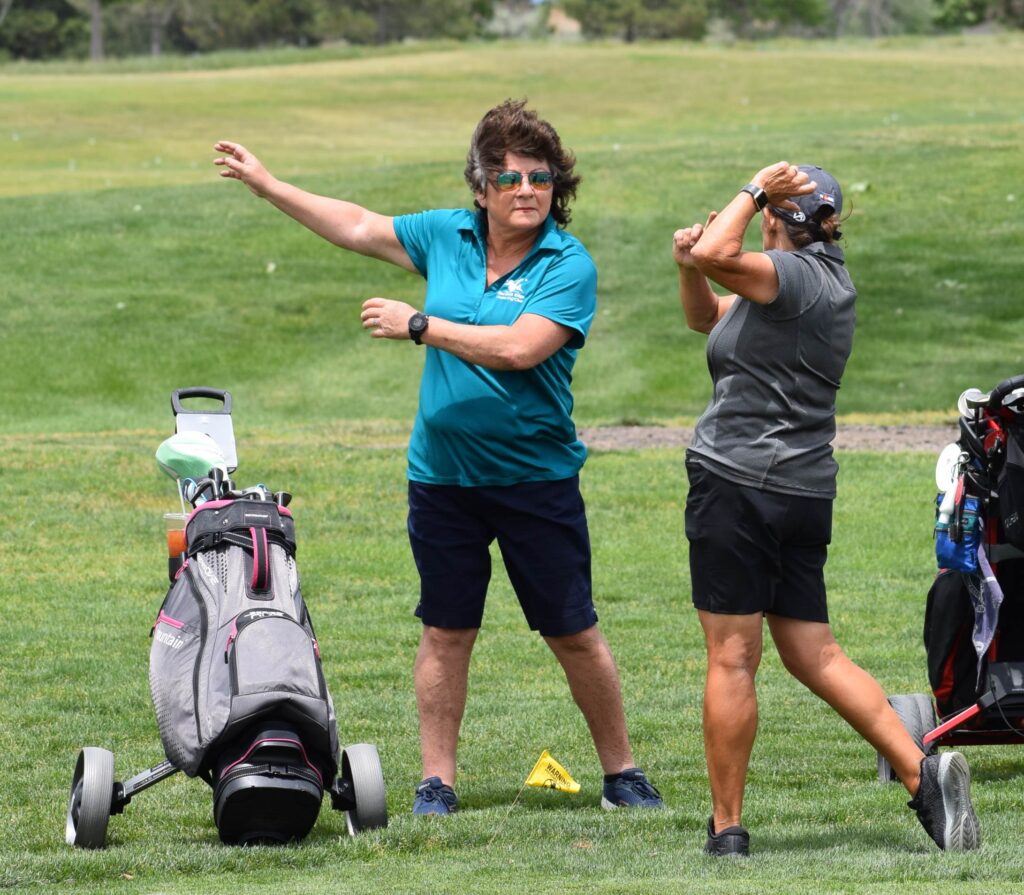 King, who's been an instructor at CommonGround since it opened in 2009, works with players of all ability levels, and in a variety of CGA programs.
"I'm really encouraging these ladies to use this as a learning experience," she said. "We're not out here to keep score. This is all about learning and trying and experimenting, because people get to the golf course and never really have the opportunity to experiment. So we try to encourage them 1) to have fun and 2) see what they can learn.
"One of the key things is we want people to have fun playing. If you're a first-time skier and they push you down the black run, you probably weren't coming back. So I love (CommonGround's) short course and I love these clinics because if we take you out on the big course, you take 15 shots to get (to the green) and you're sore and you're tired and you don't know what you're doing, you're not coming back. But the short course is a great way for them to learn how to play."
Overall, Saturday's 2020 opener was a positive experience for the CGA's Women's On-Course Clinic "season."
"You can tell driving by golf courses that people are excited to play golf," Walker said. "We got lots of good feedback here today, so hopefully people go and tell their friends. … We're happy we had 32 people have good experiences. The more the merrier, but as long as the people who do come out have a good time and come back next year, that's really what's important."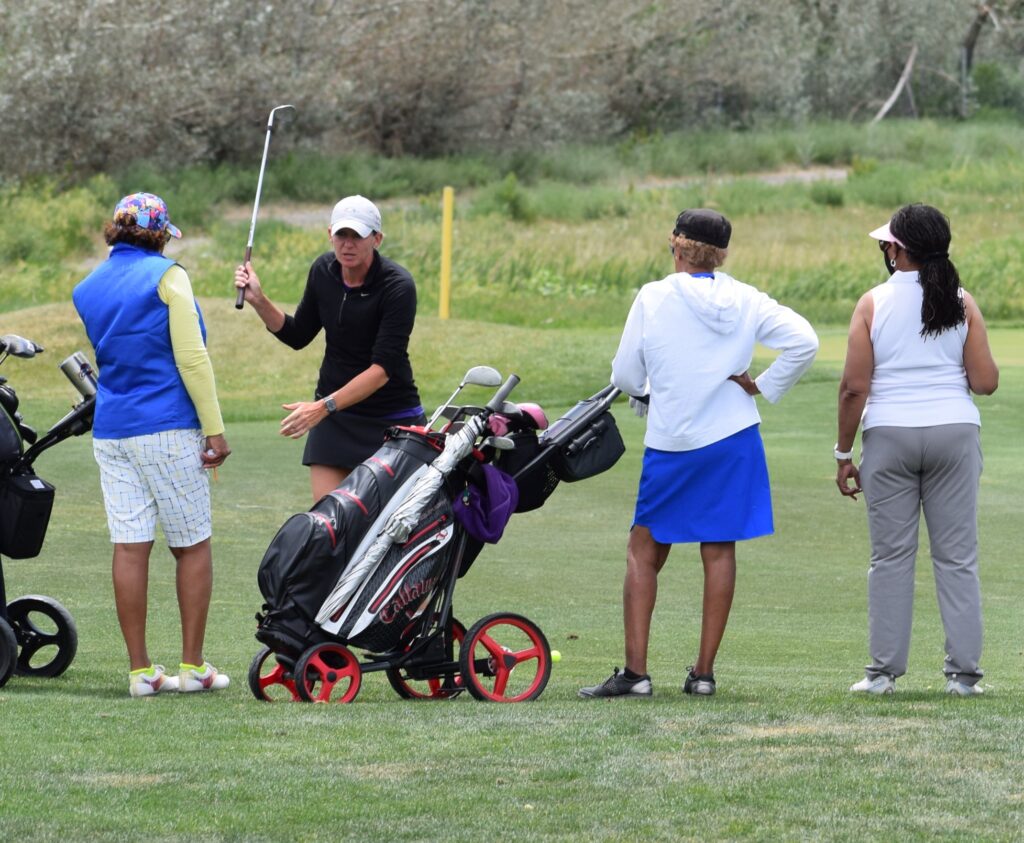 The remaining CGA Women's On-Course Clinics of 2020 are:
— June 13 at Cherokee Ridge Par-3 in Colorado Springs
— June 27 at Pelican Lakes Falls Course in Windsor
— July 11 at Stoney Creek in Arvada
— July 19 at Chipeta in Grand Junction
— Aug. 1 at Kennedy Par-3 in Denver
For more information about the CGA's Women's Clinics, CLICK HERE.