Davis Bryant claims first individual college title at Colorado Golf Club and leads CSU to its second team championship in as many events this season
By Gary Baines – 10/5/2021
It's been close to an ideal start to the season for the Colorado State University men's golf team — and for CSU senior Davis Bryant.
Last month, the Rams won the team title at the Ram Masters Invitational that they host at Fort Collins Country Club. And Bryant tied for second place individually for the second straight time in the event, where he's posted three top-6 finishes in three tries.
Then on Tuesday, CSU made it 2-for-2 regarding team victories in the early part of the 2021-22 season by capturing the title in the 11-team Paintbrush Invitational at Colorado Golf Club in Parker. And this time, they swept the championships as Bryant earned the top spot in the 81-player individual competition.
It was the first collegiate individual victory for Bryant, the 2019 CGA Player of the Year. Prior to this week, he'd recorded two runner-ups, a third place, two fifths, a sixth and two sevenths. He won the Fort Collins GCAA Amateur at Fort Collins Country Club last fall, and though that had much the same feel as a college event, it wasn't one officially.
At Colorado Golf Club, Bryant posted scores of 69-68-76, which gave him a 3-under-par 213 total and a two-stroke victory. For the tournament, he made 11 birdies, six bogeys and one double bogey.
"I'm so incredibly happy to get my first collegiate win at Colorado Golf Club at the Paintbrush Invitational," Bryant said via text. "The course was in phenomenal condition and it feels great winning in my home state.
"It was a battle out there for the third round, but (I) was able to stay in it mentally the whole day. I kept staying patient and had a lot of self-belief, which was key to my success this week. To get it done this week when the team wins as well is amazing."
Jonas Baumgartner from Oklahoma State placed second, at 215. Coloradan Dillon Stewart, also playing for OSU, finished third at 220 (74-72-74).
Players from Colorado-based teams that joined Bryant in recording top-10s included Brady Arnett and Esteban Missura from the host University of Denver, who tied for fifth at 222; and Colorado residents Jackson Solem (DU) and Connor Jones (CSU), who shared ninth place at 223.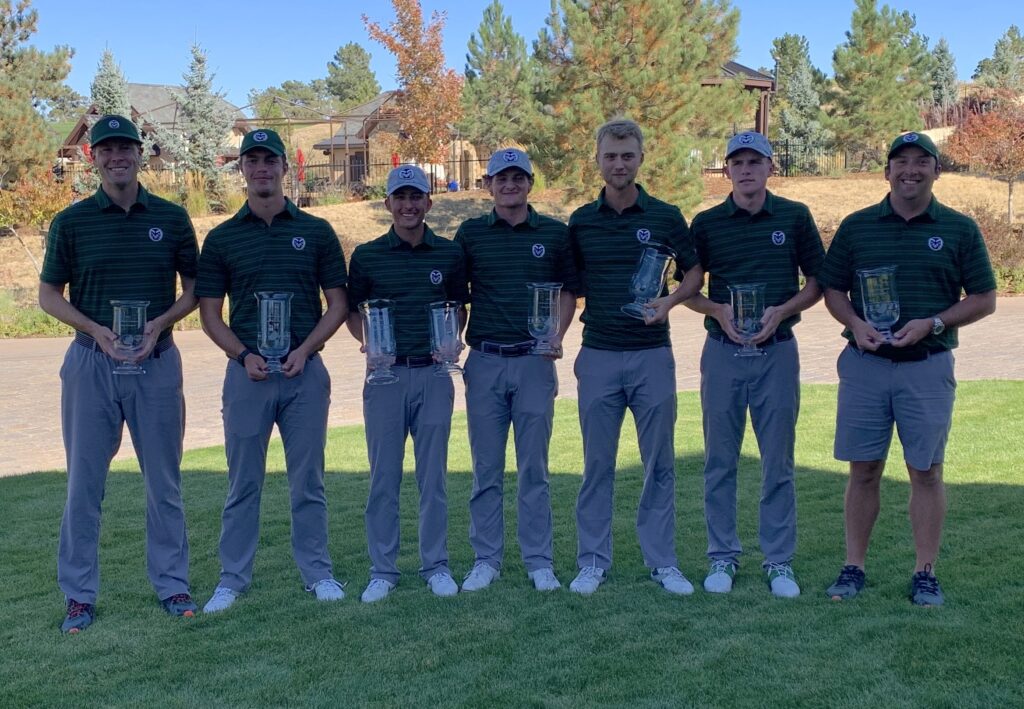 In the team competition, Colorado-based schools finished 1-2-3, with CSU followed by DU and Northern Colorado, who tied for second place, six behind the Rams. CSU's winning total was 26 over par.
"We have been working so hard and constantly getting better every day, so it's a great feeling to see these results early in the season," Bryant said. "This gives us a lot of confidence moving forward to the remaining two events of the fall. To be able to go back-to-back is incredible and solidifies the amount of preparation we have been doing since we arrived on campus in August."
For all the scores from the Paintbrush Invitational, CLICK HERE.

Elsewhere in local Division I golf, Dylan McDermott from the University of Colorado finished third overall — out of a field of 80 — at the Fighting Irish Classic in South Bend, Ind.
McDermott, a freshman from Granite Bay, Calif., posted rounds of events 65-72-66 for a 7-under-par 203 total, which left him five strokes behind winner RJ Manke of Washington. It was McDermott's second top-10 showing of the season.
As a team, CU placed ninth in the 14-team field. The Buffs' 17-over-par total was 32 strokes behind champion Washington.
For all the results from South Bend, CLICK HERE.