Golf — and competing in CGA championships — has helped former U.S. Senator Mark Udall keep in the swing of things
By Gary Baines – 9/26/2020
There was a time when Mark Udall vowed he wouldn't ever play golf again.
"I turned into a hippie and a mountain climber and I swore I'd never play again because it was a rich man's game," he said, recalling how he felt when he was in his 20s.
That same guy — now 70 years old — was out at Legacy Ridge Golf Course this week, playing 18 holes of tournament golf on Tuesday, 36 on Wednesday, then 16 more on Thursday, after which he went out to hit some balls on the practice range.
In other words, Udall has become a full-fledged golf junkie — at least this time of year. Not just any golf junkie, but one who happens to have once been one of the more powerful lawmakers in the country. He served as one of Colorado's two U.S. Senators from 2009 to early '15 and as a member of the U.S. House of Representatives for 10 years before that.
Udall has long been a lover of the outdoors. He served as the top executive at Outward Bound School in Colorado, he enjoys long sea kayak journeys near Baja California, he's climbed the third-highest mountain in the world — Kangchenjunga in eastern Nepal, with a summit above 28,000 feet — and was part of a small party that took a crack at Everest, though bad weather didn't allow them to go any higher than 26,000 feet.
But along with all that, Udall loves playing golf — and competing at it.
"People think, 'Udall, he's kind of an eclectic, strange guy," he said in a 35-minute-long chat with ColoradoGolf.org on Thursday. "'He's a golfing mountain climber or he's a mountain climbing golfer.' But there are some similarities. It's on you; you've got nobody to look at (though) you've got teams in golf and teams in mountain climbing. But it's also, 'What are you bringing?' And how much of your mind are you working with? You've got to be fit. You're being kinesthetic, you're moving your body. Various skills are involved."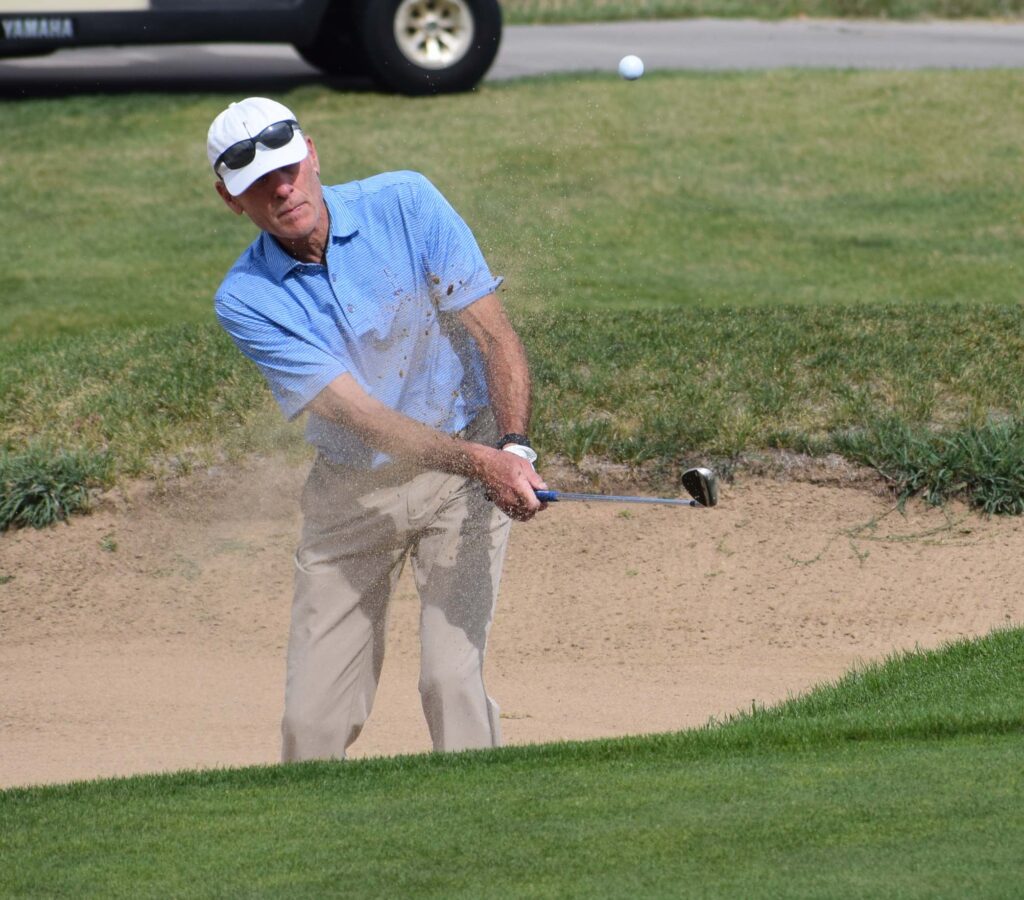 And Udall is no "also-ran" in golf — certainly not recently. Last month, he tied for fifth out of a field of nearly 50 players at the CGA Super-Senior Amateur. And this week, he made the semifinals of the 32-player CGA Super-Senior Match Play. In order to advance to the final four, he beat 2020 Super-Senior Amateur champion David Nelson in the quarterfinals.
Udall took Robert Polk, winner of 13 CGA championships, to the 16th hole in the semis before falling 3 and 2. Compare that to two years ago in the CGA Senior Match Play, where the two players met in the round of 64, and Polk's margin of victory was a lopsided 6 and 4.
"The amount that he's improved is amazing," Polk said of Udall. "He's obviously been playing a lot of golf and his game reflects it. He's a real gentleman. We wouldn't agree in politics on anything, but he's a real gentleman out here and a great addition and it's good that he's playing.
"He's just improved dramatically from when we played two years ago. When he's not saving the world, he has time to play golf."
Udall will certainly confirm that he loves playing golf, though he's still very much into mountain climbing, kayaking, etc., also. For instance, this past summer he said he checked eight or nine more peaks off in his quest to climb the 200 tallest mountains in Colorado. He summited the 100 tallest in the state years ago, and is now at about 140 out of the tallest 200.
Asked how much golf he plays, Udall said about three rounds a week. He owns a Handicap Index of 2.2.
"I'm more of a range rat," he said. "I'll usually practice every day. Then come October, the last number of years, I've given it a break."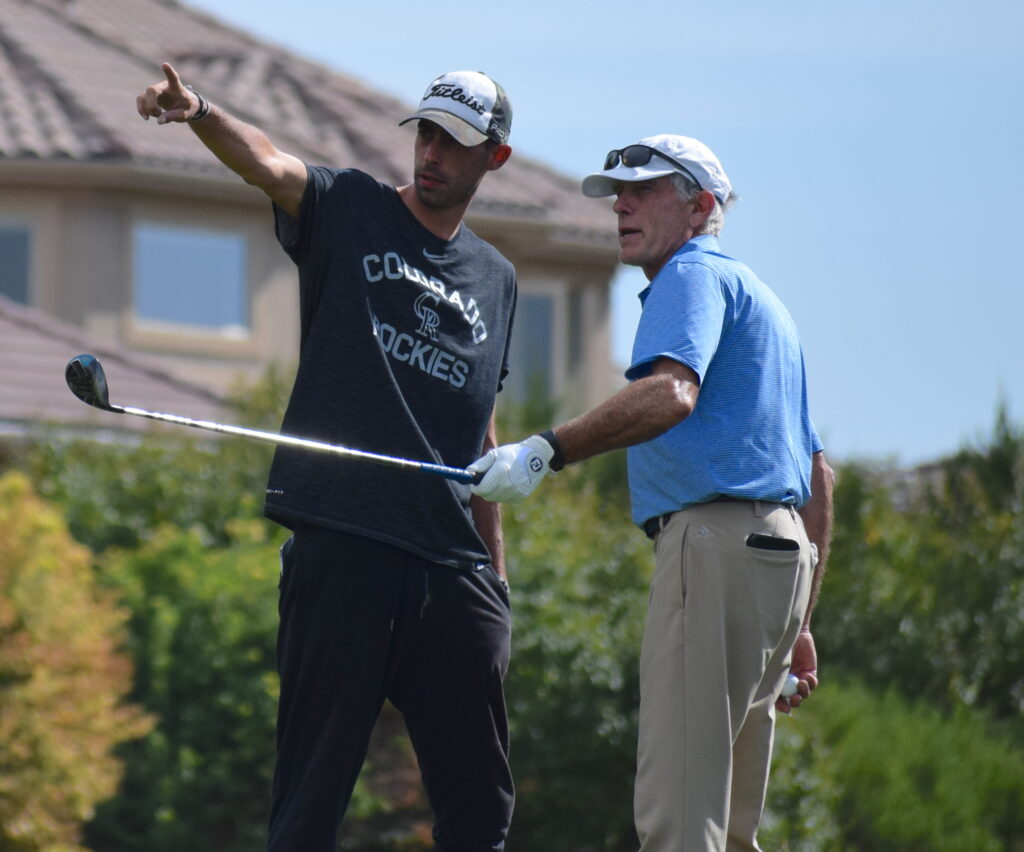 Udall is in a particularly busy golf stretch currently, with three days of tournament golf this week in the CGA Super-Senior Match Play and three more — assuming he makes the 36-hole cut — at the CGA Senior Amateur that runs Tuesday through Thursday at Perry Park Country Club in Larkspur.
Though Udall has been out of office since shortly after losing to Cory Gardner in the November 2014 Senatorial election, it's just been in the last four years or so that he's been playing competitive golf in Colorado statewide events.
During that stretch, it hasn't been unusual to see Udall compete in several CGA championships a year, and try to qualify for one or two others. And this year, Udall also ventured to Grand Junction to compete in last month's Rocky Mountain Open, where he placed fourth in the 14-person senior amateur division.
"I've been playing a lot this summer," Udall said. "I guess I love to compete. It's more about competing with myself, but that's what's been so fun about the CGA world.
"The young guys, they welcome me in. I have no belief I'll somehow win the event, but it's just fun to get in there and compete man — just measure yourself. It's fun to be serious in that setting. I've created some nice friendships with some of the guys who love golf."
Credit Udall's son, Jed, who caddied for his dad on Thursday at the CGA Super-Senior Match Play, with giving Mark the nudge that led to him diving into competitive golf in his post-political life.
"When I left public service, my son was the first assistant (professional) at Coal Creek (Golf Course in Louisville)," Udall said. "I had turned him onto golf. He said, 'The seniors came through here (for the 2017 CGA Super-Senior Match Play), and you could play with these guys.' So the last four years, I've slowly eased back into it. You've got to love competition where you get over that 3 footer and your hands are a little shaky."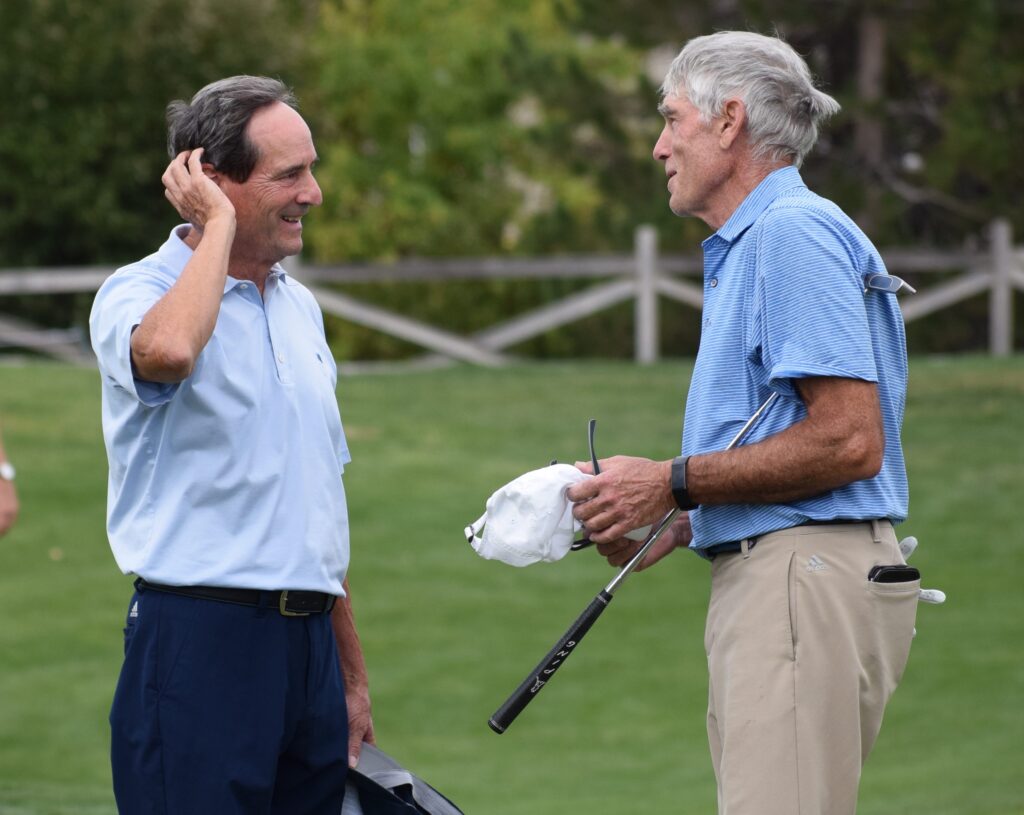 Sean Forey, the 2018 and '19 CGA Super-Senior Player of the Year, serves as the mayor of Morrison. Something Forey said inspired Udall a bit.
"He said to me, 'It's fun to be serious on the golf course,'" Udall conveyed. "I think I've gotten hooked by that. But I've had to re-learn how to compete and this 6 inches between the ears is what really is the key.
"When I was a Senator, I went to do a First Tee event at City Park. We had all these wonderful kids there, 6 to 12, every race and socio-economic background. I said, 'One thing I want you all to know is the longest distance in golf is the 6 inches between your ears.' A woman said (to one of the boys in attendance), 'What do you think the Senator means?' And he said, 'I think he means I've got to clean out the ear wax better when I take a shower.'
"But it's satisfying to get to know a lot of the senior cohort and to be able to play and compete and hold my own. I have a certain pride about playing well. Today I loved the match even though I lost. I love playing well and giving it my best, then whatever happens happens."
While Udall, a Democrat, may have differing political ideas from some he competes with on the golf course, he's widely liked there regardless of political persuasion.
"I've never gotten paired with him, but what's interesting is he's so gregarious. I feel like I've played with him five times," said Colorado Golf Hall of Famer Kent Moore, who won the CGA Super-Senior Match Play on Thursday. "He comes up the first time, 'Kent Moore, I'm Mark Udall. I just want to say hi and shake your hand. It's like, 'I should be doing that to you, Mark.'
"This week, even in getting defeated, he couldn't have been nicer. He went and hit some more range balls after (losing in the semifinals). He's a super guy, and I've had other people say to me, 'You ever played with Mark Udall?' Most of my friends are Republicans. (They say), 'He's the nicest guy in the world.'"
But don't get the impression that Udall just happened upon golf in his post-political years. Far from it.
Udall, the son of Mo Udall, a longtime U.S. Congressman from Arizona, got the golf bug from watching the 1962 Masters and seeing Arnold Palmer's stirring victory in a playoff. That led Udall to grab his dad's bag and start trying out golf in the yard — real golf balls and all.
When the family returned home to Arizona that summer, his mom enrolled him in a series of lessons in Tucson. Eventually, Mark would play four to six days a week from September to June and became a minor golf phenom of sorts in the area in his latter high school years.
"I just fell in love with the game," he said.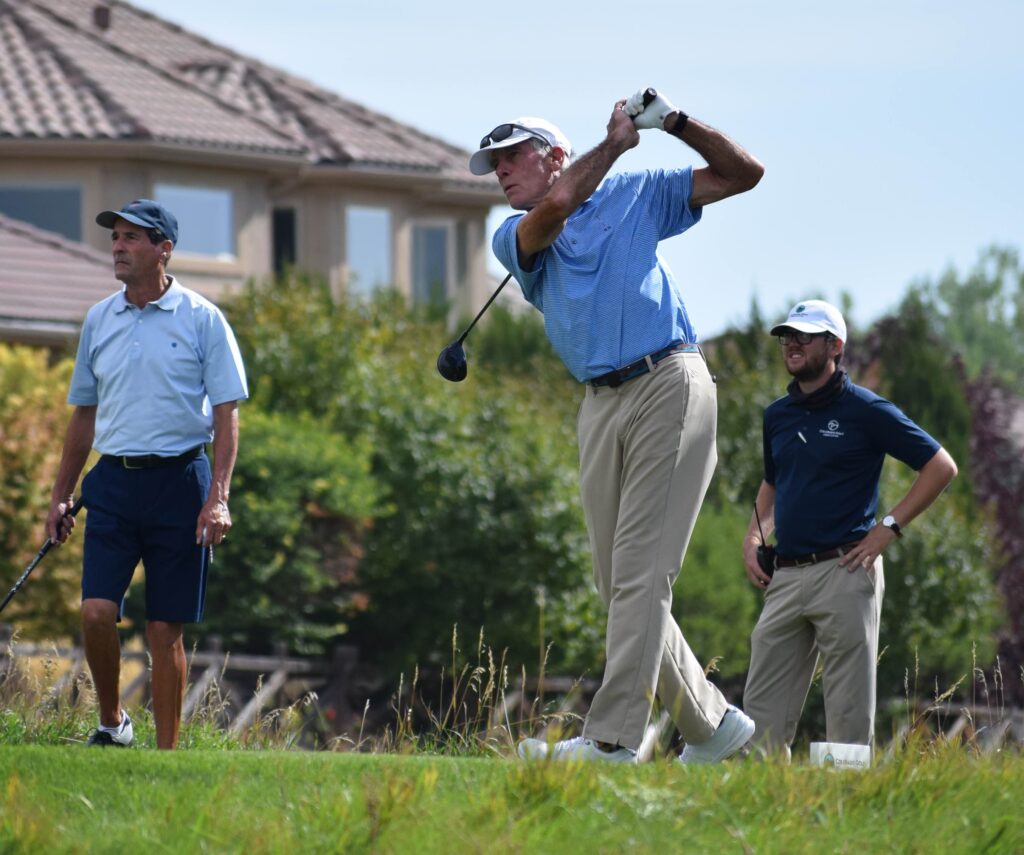 In fact, Udall was a good enough player that he won the individual title at one of Arizona's state high school tournaments as a senior in 1968 and went on to play NCAA Division III college golf at Williams College in western Massachusetts.
"I stayed out of trouble because of golf until I figured out there was beer and girls — I'm not sure in which order," he said. "But I loved the rituals and the pace. I think there's something animistic about golf — when you hit a good shot and the ball flies. I think it's like watching a spear or an arrow or a rock. I don't want to wax too lyrical but you hit a really good shot — like the 5-iron I hit on 16 that felt so good — I'm like, 'I almost don't care where that thing goes.'"
But, as noted earlier, even as good a golfer as Udall was early in life, he gave up the game as a young adult and had no intention of playing again. But then a sense of practicality came into play.
As the chief executive at Outward Bound School, "one day a week I'm in a suit, one day a week I'm in Birkenstocks, three days a week I'm carrying a backpack or holding a canoe paddle," he said. "Turned out my board members, a lot of them liked to play golf, and they found out I played golf. That's a way to spend some time together."
In addition, returning to the game had personal reasons tied to it.
"My father-in-law-to-be was very suspicious of me," Udall said. "His daughter (Maggie Fox) and I were an item and I had hair to my shoulders, and we'd been climbing in Peru all summer. We came to North Carolina — I'd never met him — and he loves golf. My now-wife Maggie said, 'Mark, he's a golfer.' He said, 'You've got to be kidding. That guy?' So we go out for their Tuesday game — a sixsome — at a Donald Ross course in North Carolina and when I'm standing over an eagle putt on the sixth hole and his team is winning buckets of money because he brought in a ringer, I was admitted to the family. Conditionally still, but I was admitted to the family."
Eventually, when Udall went to Washington D.C. as a Congressman then a Senator, he was known as one of the best golfers in Congress.

A Round With President Obama: One of Udall's more memorable rounds of golf came in 2013 when he was a Senator. President Barack Obama, Udall and fellow Senators Saxby Chambliss and Bob Corker. Chambliss and Corker won a team match with Obama and Udall at the Andrews military base in suburban Washington.
"There's two courses and they closed down one of them for us to play," Udall said. "Just the four of us, two carts. There are 25 carts behind us and 25 carts ahead of us, but not at the hole we're on. Snipers, medical personnel, press, the nuclear football.
"We're playing the third hole, a little dogleg par-4. Bob Corker hits it out in the native grass. He says, 'I'll just throw one down.' President Obama says, 'Let's look for your ball for a minute.' I had two quick impressions: He's so scheduled — it's such a hellacious job being President — he's just going to love poking around for a golf ball and not being scheduled. Secondly, I thought, 'Isn't this incredible? The most powerful man in the world and we're looking for our own damn golf balls. I said, Putin isn't looking for his own golf balls. Kim Jong Un isn't looking for his golf balls. Saddam Hussein isn't. I thought, 'What a great country' in the best sense."
Later in the round, Chambliss made a hole-in-one.
"So we pull the flag off the stick and the President signs it," Udall said. "Then Corker and I start to sign the thing. Saxby is like, 'I don't want you guys to sign it.' So even though you think you're a hot shot …"
Nowadays, Udall, a resident of Eldorado Springs, calls Coal Creek Golf Course his home facility. That has something to do with his son, Jed, working there. But there's also another reason. During the September 2013 flood in Colorado, Coal Creek was among the courses hardest-hit as it remained closed for more than 21 months.
"It got devastated by those floods," Udall said. "Through my office (as a Senator), we were working overtime to help — SBA loans, FEMA help. We were able to generate some funds, and part of those funds went toward rebuilding the golf course.
"I left the Senate, and they asked me to come out and give a little speech at the (course) opening. Then Jed got hired there. I started going out there hitting balls. They were really treating me very nice.
"We had a party at my house, and my son is over there in the corner. Somebody asked me what I'd been doing. 'I've been playing golf and at Coal Creek they treat me really great. I think they remember that I helped out with post-flood needs.' From over in the corner my son says, 'Dad, the only reason you get treated well at Coal Creek is because I work there and we make sure we take care of you.' People forget pretty quickly you were a Senator or a Congressman. So it was like, 'Get over yourself, old man.'"
Speaking of which, how do fellow competitors in tournaments approach Udall when paired with him and knowing of his political background?
"It's always been fine," he said. "Some people never even mention it, and other people say, 'Are you the politician?' It hasn't been front and center. I've had an amazing life, and now to be able to play some competitive golf and meet some new people … People have been great to me too became almost nobody needs to or wants to talk about politics.
"I've really stepped back from the political world. My dad was a politician too — Mo Udall — and I'd like to think what they said about him people would say about me: He took his work seriously but he didn't take himself seriously. So I try to poke fun at myself."