30 years ago this week, Mickelson won his only USGA individual title at Cherry Hills — and a memorable week it was
By Gary Baines – 8/24/2020
Exactly 30 years ago this week, the U.S. Amateur was being played at Cherry Hills Country Club, and that championship is particularly worth revisiting considering who won it.
Not only did Phil Mickelson take home the title that week, but that victory remains — and this remains hard to believe even as it is being typed — the only USGA individual win of his career.
Considering Mickelson has 44 PGA Tour wins to his credit — including one as an amateur — it's amazing to think that Steven Fox (who won the 2012 U.S. Am at Cherry Hills) has as many USGA career individual victories as does Mickelson. Which is to say, one.
That's right. Mickelson never won a U.S. Junior Amateur or a U.S. Open — though six runner-up finishes in the latter is pretty amazing itself. It should be noted that Mickelson was part of a U.S. team that in 1991 won the Walker Cup, an event run by the USGA and the R&A.
In honor of Mickelson's lone USGA individual triumph — and that the championship took place exactly 30 years ago, and that Mickelson turned 50 just a couple of months ago, and that he's making his PGA Tour Champions debut this week — we look back at a very early installment of "Phil Being Phil". (Yours truly was fortunate enough to cover all of Mickelson's antics — and stellar play — that week, along with all the other happenings at that U.S. Am.)
We'll begin with Mickelson's dominant golf that week in Colorado. He earned stroke-play medalist honors with a 135 total (71 at Cherry Hills and 64 at Meridian Golf Club) despite making a quadruple-bogey 7 on the 15th hole at Cherry Hills, where he four-putted. He then posted six match-play wins, three times going to the 18th hole in scheduled 18-hole matches, including in the quarterfinals against Bob May, who went on to force Tiger Woods into a playoff at the 2000 PGA Championship. In the scheduled 36-hole final, Mickelson beat a former high school teammate, Manny Zerman, 5 and 4.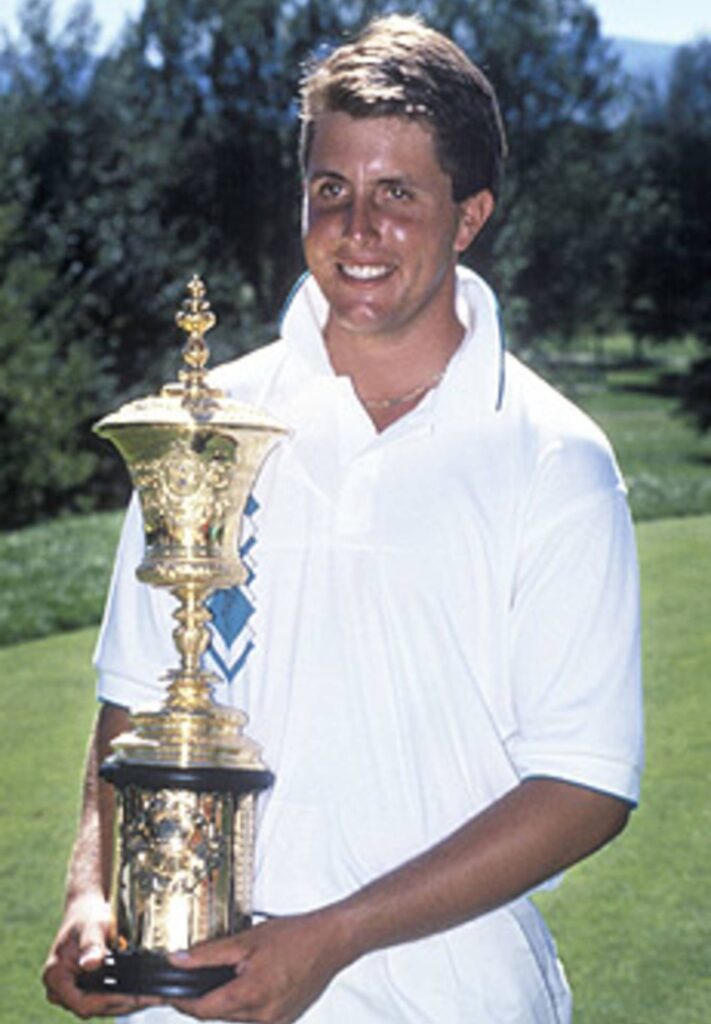 That U.S. Amateur produced many unforgettable moments and memorable anecdotes:
— A severe hail storm six weeks before the championship made it a challenge to get Cherry Hills ready for the tournament. The golf-ball-size hail left an estimated 750,000 to 1 million scars on Cherry Hills' greens, some as large as 3 1/2 inches, and the course was closed for five days. A concerted effort by members and staff had the greens in good shape by the time the Amateur started on Aug. 21.
— While Mickelson comes across as a confident player to this day, he was borderline cocky as a 20-year-old competing at the U.S. Amateur. To be sure, he was a standout, having won NCAA titles as both a freshman and sophomore at Arizona State. He was also low amateur in the 1990 U.S. Open.
Two-time U.S. Amateur champion Jay Sigel went so far as to call Mickelson "the best (amateur) I've seen."
But, at the time, modesty wasn't the strong suit of Mickelson, who consistently sported a preppy look — flipped-up collar and all — back then.
After being medalist in the stroke-play portion of the Amateur, Mickelson said, "If I play the way I've been playing, I don't think I'll get beat."
Also: "I'm playing as good as I've ever played. Every facet of my game is 100 percent right now. Whoever I play, I'd be intimidated (if I were them). So why shouldn't they be?"
— In an example of his self-confidence, in his round-of-32 match, Mickelson had a 2-foot putt for birdie on No. 1, while his opponent, Jeff Thomas, had a 25-footer for par. Mickelson conceded Thomas' putt.
"He didn't give me a putt all day," Mickelson said of Thomas. "I just didn't want him to go and (take the time) to line up the putt."
Years later, Mickelson told USGA.org in recalling the event, "I'll never forget the look that he gave me (after Mickelson conceded the long putt). It was just funny."
— In stroke play, Mickelson broke the course record at Meridian Golf Club — and the existing U.S. Amateur record — with his 8-under-par 64, despite missing two 5-foot putts in the process.
— Ten Coloradans competed in the 1990 U.S. Amateur: Shane Bertsch, who won on PGA Tour Champions on Friday; Brett Dean; Rick DeWitt; Shawn McGechie; Tom McGraw; Guy Mertz; Robert Odom; Scott Petersen; Bill Werley and Charlie Whalen. None made match play, though DeWitt was in a playoff for the final match-play spots. Also failing to advance in that playoff was David Duval, who now lives in Colorado and is a member at Cherry Hills.
— In the first day of stroke play, Meridian yielded three holes-in-one.
— One player definitely stood out among the 312 competitors, though not necessarily for his golf. David Nissenbaum, a former state high school champion in Massachusetts, competed at Cherry Hills and Meridian with hair down to his shoulder blades and a foot-long beard. Nissenbaum also played in the 1967 U.S. Amateur — at The Broadmoor in Colorado Springs — but in the interim he served three years in federal prison for his role in allegedly smuggling 21 tons of marijuana. And, for good measure, he was a priest of the Ethiopian Zion Coptic Church, which uses marijuana in a sacramental role.
— Defending champ Chris Patton, all 310 pounds of him, lost 8 and 6 in the first round of match play when opponent Chris Zambri made a hole-in-one with a 5-iron at the 204-yard 12th hole. After the ace, despite having already been eliminated, Patton couldn't resist intentionally hitting his tee shot into the water. He turned pro immediately after the match.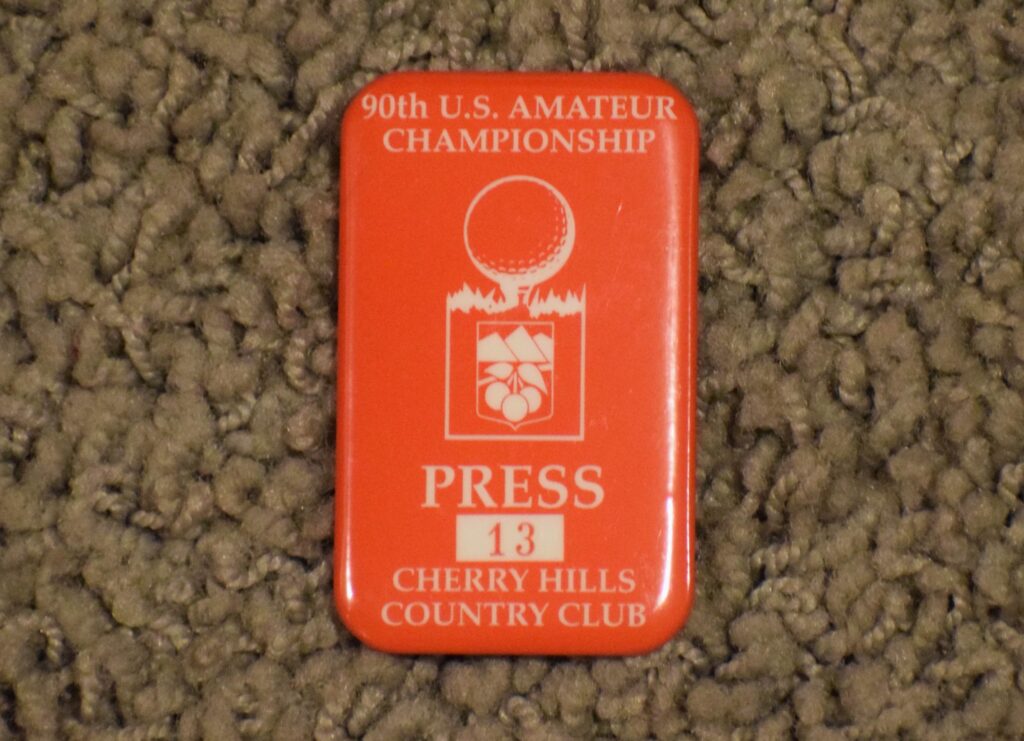 — In three of his first four matches, Mickelson was taken the distance — to the 18th hole — including in the quarterfinals by May. Mickelson's most remarkable comeback came in the round of 16. He was 1 down on the 16th hole, and for his second shot he had a huge cottonwood a few feet in front of him and directly between his ball and the hole.
Mickelson aimed at a creek 40 yards left of flagstick, hit a huge hook and put his ball 12 feet from the hole. He made his birdie putt and opponent Mike Swingle missed his 15 footer, evening the match.
"I had to snipe it 60 yards; I can't believe I pulled it off," Mickelson said. "… It was by far one of the better shots under pressure I've hit. If I don't make it, it's in the creek, then it's over."
Mickelson went on to win the 17th hole with a birdie and won the match 1 up despite being 4 over par for the round.
"About an hour ago, I had lost, I was done, heading home," he said shortly after prevailing.
— From the "world is a small place" department, in the final Mickelson faced Zerman, a fellow member of the graduating class of 1988 from University of San Diego High School (now known as Cathedral Catholic High School). They were golf teammates at the school as seniors.
In the final, Mickelson made 10 birdies and played 32 holes in 4 under par in defeating Zerman 5 and 4. Mickelson had won the biggest tournament of his life to that point.
"This is the one that matters most," he said earlier in the week. "I could finish last in every other tournament and win this one and be happy. This is the ultimate amateur tournament."
— Mickelson became the first left-hander to win the U.S. Amateur. And the victory made him the first player since Jack Nicklaus in 1961 to win the NCAA title and U.S. Amateur in the same year.
Capturing the U.S. Amateur title earned Mickelson a 1991 Masters pairing with Nick Faldo, who would finish his career with six major championships.
Noting at the time that he had never met Faldo, Mickelson deadpanned, "Good player, I hear."
— Mickelson wasn't a big fan of playing it safe when a challenge presented itself, so it's not surprising that he regularly tried to drive the green on the par-4 first hole at Cherry Hills, as Arnold Palmer did successfully in the final round of the 1960 U.S. Open en route to rallying to victory.
But the strategy didn't work out so well for Mickelson, who was 1 over par in seven times playing the hole during match play.
However, as Mickelson noted regarding another decision he made earlier in the week, "I'm just not one to lay it up — flat out."
— It should be noted that the U.S. Amateur win at Cherry Hills was part of a very successful tournament legacy Mickelson has built in Colorado. Also in the Centennial State, he won a college tournament, the University of Colorado-Fox Acres Invitational in Red Feather Lakes, less than a month after his U.S. Amateur victory. And he captured two PGA Tour titles at The International at Castle Pines Golf Club, in 1993 and '97.
And though he didn't win the Colorado Open, Mickelson finished third and took low-amateur honors in 1989, then placed 10th in 1990.