In 14th consecutive year playing CGA Parent-Child, Bill and Will Fowler finally emerge with title
By Gary Baines – 06/02/2019 
It's been an annual ritual for Bill and Will Fowler late in the spring for 14 consecutive years now.
Competing in what was once known as the CGA Father-Son Championship and what is now called the CGA Parent-Child, they've come up through the ranks.
They started playing in 2006 and in the first two years, they finished among the bottom 10 teams in the field. But as Will became older — he first started playing in the event at age 12 — they gradually made it into the top 10. 
In fact, Sunday marked their eighth consecutive top-10 showing in the event. But until this weekend, victory always eluded them as they posted a couple of third-place performances along with two fourths.
But on Sunday at River Valley Ranch in Carbondale, the breakthrough finally came. The Fowlers led wire-to-wire to record a three-stroke victory in the event. (The champions are pictured above, with Will at left.)
"The first few years we played, we were just hoping not to finish dead last," said Bill Fowler, a former CGA president who has now won eight CGA championships. "And to finally win it is a really awesome feeling.
"The last (title) is always the best one because you never know if you're going to win another one. But this is certainly the best because it was with Will."
Added an emotional Will Fowler, who captured his first CGA victory: "It's been my favorite weekend of the year for the past 14 years. It's really fun to finally win it. It means a lot to me.
"It's really special, especially with my dad. We've played in this for 14 years and we've come so close (to winning). I knew coming in that we had both been playing so well that it was kind of our time to do it. To finally have that monkey off our back, it's so special. To finally be able to say we're champions — and to do it with my dad in the mountains — really means the world to me for sure."
The Fowlers, who took a three-stroke lead into the final round, had that same margin at tournament's end, shooting an even-par 72 despite a double-bogey on the 16th hole on Sunday. 
After Will hit the team's drive on that hole, play was suspended due to lightning.
"That was a little unnerving because you're trying to close out a tournament and now you've got to sit and wait, so you have to think about it," Bill Fowler said. "When you're playing, you're not thinking about it so much. We sat there for 30 minutes thinking about what we had to do. The wind kicked up and the last three holes played really hard."
After the double bogey on 16, the Fowlers played the last two holes dead into the wind, and in both cases got up and down for par.
"Those last three holes were key, only winning by three, because playing in that strong wind, anything could have happened," said Bill Fowler, the 2015 CGA Senior Amateur champion.
 After playing a Modified Chapman format on Saturday, it was Foursome Stroke Play on Sunday, with players alternating shots from the tee until the ball is holed.
The Fowlers — Bill is a 56-year-old from The Club at Rolling Hills and Will, 25, plays out of Bear Creek Golf Club — made two eagles en route to a 65 on Saturday, and a day later finished with a winning total of 7-under-par 137 overall. They made three birdies, a bogey and a double bogey on Sunday.
Lenny and Nick Nosewicz, the 2017 champions from Meadow Hills, took second place at 140 after matching the Fowlers' 72 on Sunday. Four-time champions Gary and Alex Kephart, from Eisenhower Golf Club and Patty Jewett Golf Course, respectively, took third at 142 after consecutive 71s.
In the net division, Jon and Tommy Bradley from Red Rocks Country Club cruised to a six-stroke win as a 5-under-par 67 on Sunday left them at 18-under 126 for the weekend.
The Nosewiczes (132) and Eric and Mark Scaniello (132), from Flatirons and Indian Peaks, respectively, shared the net runner-up spot.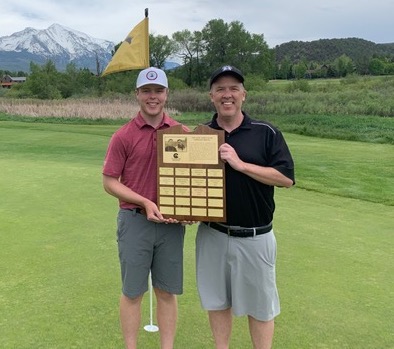 Greg and Jackson Leibold of Columbine Country Club earned the Loel & Caleb Lierman Award, which is given to the team that includes a player 18 or younger with the lowest 36-hole gross score. The Leibolds went 73-78–151, placing 10th overall.
For the scores from the Parent-child, click on the following: GROSS, NET.