Robert and Ryan Burke rally for breakthrough victory in CGA Parent-Child Championship
By Gary Baines – 10/10/2021
Robert and Ryan Burke have been playing in the CGA Parent-Child Championship on and off since Ryan was about 10 years old — 17 years ago. And on Sunday, after some close calls in past years, lightning finally struck for the father-son team from Longmont and The Fox Hill Club.
The Burkes rallied from five strokes behind in Sunday's final round at Ironbridge Golf Club south of Glenwood Springs and claimed a one-stroke victory over three opponents to earn the title. It marks the first CGA championship victory for both players.
"It's special," said Ryan Burke, who recently qualified — with Tyler Bishop — for his second consecutive U.S. Amateur Four-Ball Championship. "We've played in this tournament a bunch. I have two young children and we've talked about how we don't have that many (Parent-Child Championships) left (competing as a team). Spending time together and playing golf for a weekend is fun, but it's also nice to hang out with dad. There's only so many more of these until maybe one of my kids wants to play or (dad) is too old and doesn't want to play anymore. So it means a lot.
"It's a cool tournament. It's always been close to our heart. It's nice to finally put our name on that trophy."
Added Robert, 62, with a bit of a laugh: "I've been trying hard to stay on the team because he's got two kids coming up. He's going to replace me soon so I've got to get my act together. We've only got so many chances left."
The Burkes — who Robert said finished second in the championship when Ryan was 11, and who tied for fourth two years ago — shot the only sub-par total of Sunday's final round, when players from each two-person team alternated shots from the tee until the ball was holed. In fact, their 1-under-par 71 score was four better than the next-best Sunday total.
And of the top 25 finishers, the Burkes were the only team to post a better score on Sunday (71) than Saturday (73), when the Modified Chapman format called for both players from a team to tee off and play their second shots with their partner's ball, then select one ball to play alternately into the hole.
So how do the Burkes explain performing better, score-wise, in the tougher format?
"We got off to a rough start yesterday (3 over after seven holes) and played pretty poorly," Ryan said. "We knew last night that today was a big opportunity day to come back. We stayed patient and played really well today. We just played a lot better golf today than we played yesterday. We played a lot smarter. Yesterday we tried to take chances. Today we hit 11 fairways and 15 greens. We had a lot of birdie putts."
On Sunday, the Burkes were 3 under par through 10 holes and finished the day with four birdies and three bogeys, giving them an even-par 144 total for the weekend.
A par on their final hole Sunday kept them from dropping into what would have been a large playoff as three teams finished a stroke back, in a tie for second place.
The runner-ups included 2009 champions Kent Moore of Cherry Hills Country Club (a Colorado Golf Hall of Famer) and son Steven of CommonGround Golf Course, who closed with a 75 after bogeying three of their final four holes.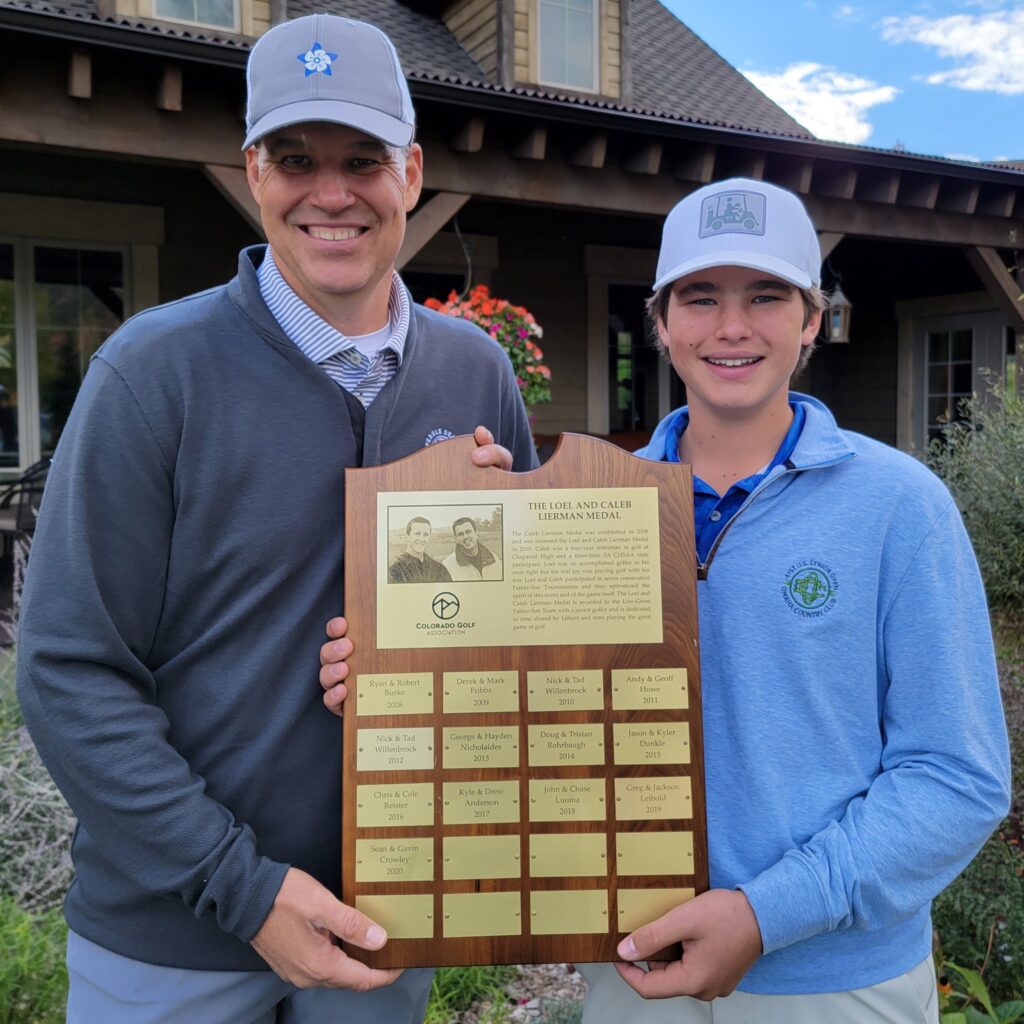 Likewise tied for second were Sean and Gavin Crowley of Columbine Country Club, who shared the round 1 lead and posted a 77 on Sunday when they birdied No. 18. For the second straight year, the Crowleys not only placed second but captured the Loel and Caleb Lierman Award, given to the team that includes a player 18 or younger with the lowest 36-hole gross score.
Also at 145 was the team of Paul Edwards of Meridian Golf Club and Clark Edwards of Cedar Ridges Golf Club, who shot a 76 on Sunday after bogeying their final hole.
In all, six teams finished within four strokes of the champions.
Ryan Burke said the key to Sunday's comeback was a 10-foot par putt Robert converted on the first hole.
"It was probably our worst hole of the day," Ryan said. "He made that putt for par and we both felt like that kind of propelled us to go on and play well. We shot 3 under on the front after that. It was a real big moment to not make bogey there.
"We knew this format was tough and if we played well we had a chance today. We thought we'd have to shoot a few more under par, but it ended up working out."
Claiming the net victory on Sunday were Charles Delich of Eisenhower Golf Club and Phil Delich of the Country Club at Woodmoor, who checked in at 2-under-par 142, one better than Paul and Clark Edwards.
Eligible partners for the Parent-Child included father-sons, father-daughters, mothers-sons, mother-daughters and grandparents and grandkids.
For all the scores from Ironbridge GC, CLICK HERE.