Defending champ Colorado team moves into 7th at boys Junior America's Cup; Franklin remains in top 10 individually
By Gary Baines – 07/24/2019
In the past four years, the Colorado team has posted some impressive finishes in the boys Junior America's Cup, placing third, sixth, fourth and first out of 18 in the event which features some of the top junior golfers from the western U.S., Canada and Mexico.
But if the golfers from the Centennial State want to keep that streak of top-six finishes alive, they'll have to make some headway in Thursday's final round.
The squad representing the Junior Golf Alliance of Colorado moved up one spot in the standings on Tuesday, finishing the day in seventh place in Edmonton, Alberta, Canada.
With the top three individual scores each day from each team counting toward its total, the Coloradans shot a 4-over-par 217 on Tuesday, leaving them at 5-over 431 for the tournament.
The defending champions trail leader San Diego by 15 strokes, but are just seven out of second place.
Walker Franklin (pictured at top) of Broomfield, who finished fifth at the prestigious IMG Academy Junior World Championships earlier this month, remains Colorado's top individual as a 2-over-par 73 on Wednesday left him at 1-under 141 and in a tie for seventh place in the 72-player field. Franklin made three birdies and five bogeys on day 2.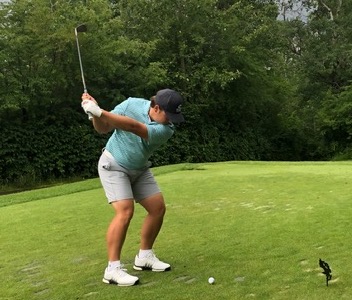 Dillon Stewart (above) of Fort Collins, the defending individual champion in this event, posted his second straight 72 to check in at 144 and tied for 17th place. The winner of the first two JGAC majors of 2019 carded two birdies and three bogeys on Wednesday.
Rounding out the Coloradans were TJ Shehee of Mead (72 on Wednesday for a 146 total, good for 30th place) and Jack Hughes of Snowmass Village (79 for 156 overall, leaving him in 59th place).
Ian Siebers of Bellevue, Wash., leads the individual competition by four with a 10-under 132 total.
Play will conclude on Thursday.
Here are the scores of the Colorado team members:
7. Colorado 214-217–431
7. Walker Franklin, Broomfield 68-73–141
17. Dillon Stewart, Fort Collins 72-72–144
30. TJ Shehee, Mead 74-72–146
59. Jack Hughes, Snowmass Village 77-79–156
For all the scores from the Junior America's Cup, CLICK HERE.