Coloradans Schalk, Chen fall short of match play at U.S. Girls' Junior in Wisconsin
By Gary Baines – 07/23/2019
The first appearance in the U.S. Girls' Junior Championship will be limited to the stroke-play portion of the event for Coloradans Hailey Schalk of Erie and Kaylee Chen of Greenwood Village.
A finish in the top 64 after the two rounds of stroke play was necessary to advance to match play, and Schalk and Chen finished tied for 118thout of a field of 156 on Tuesday at SentryWorld in Stevens Point, Wis.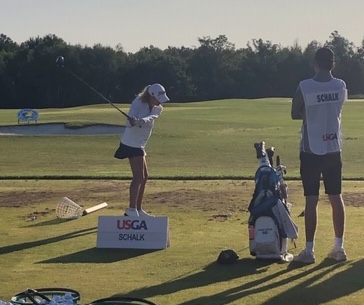 Schalk (above), a three-time girls state high school champion, closed with a 5-over-par 77 for a 13-over 157 total. She carded four birdies, nine bogeys and five pars on Tuesday.
Chen (pictured at top), the 2019 Colorado Junior Amateur champion on the girls side, followed up her first-round 76 with an 81 on Tuesday, when she made three birdies.
The players at 6-over-par 150 for two rounds played off for the final spots in the match-play bracket.  
Yuka Saso of the Philippines, winner of the national Girls Junior PGA Championship earlier this month, claimed stroke-play medalist honors by five strokes on Tuesday with a 12-under-par 132 total.
Next year's U.S. Girls' Junior will be held in Colorado, at the Eisenhower Golf Club's Blue Course at the Air Force Academy July 13-18.
Here are the round-by-round scores and placing for the Coloradans who competed in this week's U.S. Girls' Junior:
Missed 36-Hole Cut
118. Hailey Schalk of Erie 80-77–157
118. Kaylee Chen of Greenwood Village 76-81–157
For all the scores from the U.S. Girls' Junior, CLICK HERE.