PGA Tour winner Guy Boros 'claws' his way to victory at Colorado Senior Open, tying scoring record; Jon Lindstrom still perfect in notching low-am honors and top-10s at CSO; Micah Rudosky highest Colorado finisher overall
By Gary Baines – 8/26/2022
*****For the scores from the Inspirato Colorado Senior Open, CLICK HERE.*****
Guy Boros was so frustrated with his putting that he was about ready to hang it up on competitive golf.
"When you miss a bunch of 2 1/2 to 3 footers, it prompts you to do about anything," the longtime touring pro said. "You either blow your brains out or try something different. Golf can be a hard game — very, very frustrating.
"I was pretty close to being done. This gives me a little confidence to maybe keep playing for a little bit."
"This" is winning the Inspirato Colorado Senior Open on Friday at Green Valley Ranch Golf Club in northeast Denver.
Boros, the son of World Golf Hall of Famer Julius Boros, played a little like his dad this week in tying the record-low 54-hole score at the Colorado Senior Open — 15 under par, set by R.W. Eaks in 2011. The performance was worth $18,000 to Boros, a longtime resident of Plantation, Fla.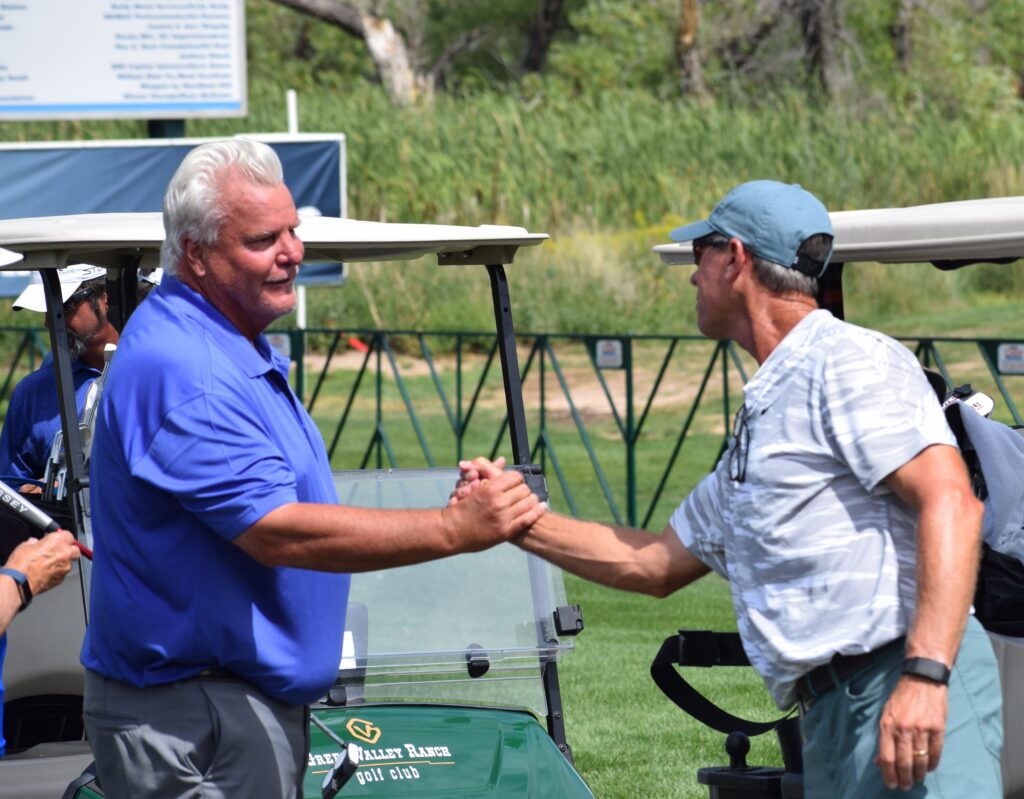 Boros, winner of the 1996 Greater Vancouver Open on the PGA Tour, ran off five straight birdies to close out an opening nine holes in which he shot 6-under-par 30 despite a three-putt par. He went on to post a 6-under 66 following earlier rounds of 67-68. His four-stroke margin of victory was two off the tournament record.
Two things have largely turned things around for Boros, the soon-to-be 58 year old who has played in 255 PGA Tour events in his career. A year and a half ago, he had a very problematic right hip replaced. And early this month at the PGA Tour Champions' Shaw Charity Classic, his shoddy short putting led the lifelong conventional-style putter to go to the claw.
"The new hip, I'm just glad to be healthy, to where it doesn't hurt and I can play 3-4-5 days in a row," he said. "And the claw has been huge. I've been not very good from 6 feet and in. I was hitting it OK and not getting anything out of it. (This week) I made most of them that I used the claw on from 6 feet and in. The confidence I have to actually think I can make it makes a huge difference.
"It was so bad (before), I hate to say the word 'yips' but it was pretty bad. I started (using the claw at the Shaw Charity Classic) and actually made a couple. I've been practicing and trying to get farther out. I started at 2-3 feet; now I'm up to 8-9-10 feet. The claw was a big move for me because I've putted conventional my whole life."
On Friday, starting on No. 5, his string of five consecutive birdies came from 10, 15, 3, 12 and 4 feet. Now Boros still certainly won't be confused with Ben Crenshaw in handling the flatstick — he did have a couple of three-putts on Friday — but he made enough where his lead never dipped below three strokes after the early going.
"My putting, I have so much more confidence in it now," Boros said. "I actually expect to make putts instead of just trying to wish 'em in. Now I feel like I can make five, six, seven birdies a round, where before I didn't make any putts to do that. It makes a huge difference."
For the week at GVR, Boros chalked up 20 birdies, three bogeys and a double bogey in three rounds.
"I've been playing pretty well, so I was actually looking forward to playing (this week)," he said. "That doesn't happen a whole lot.
"This is the best I've played in a long time — probably five years. I'm very happy with the way I'm playing and the way I'm putting."
The encouraging performance has him thinking he'll likely return in the fall to PGA Tour Champions Q-school, where he finished sixth last year. "It was doubtful a couple of weeks ago, but yes, as long as I stay healthy and my putting is good. I was hitting it really really good here for three days. I'm very happy with everything."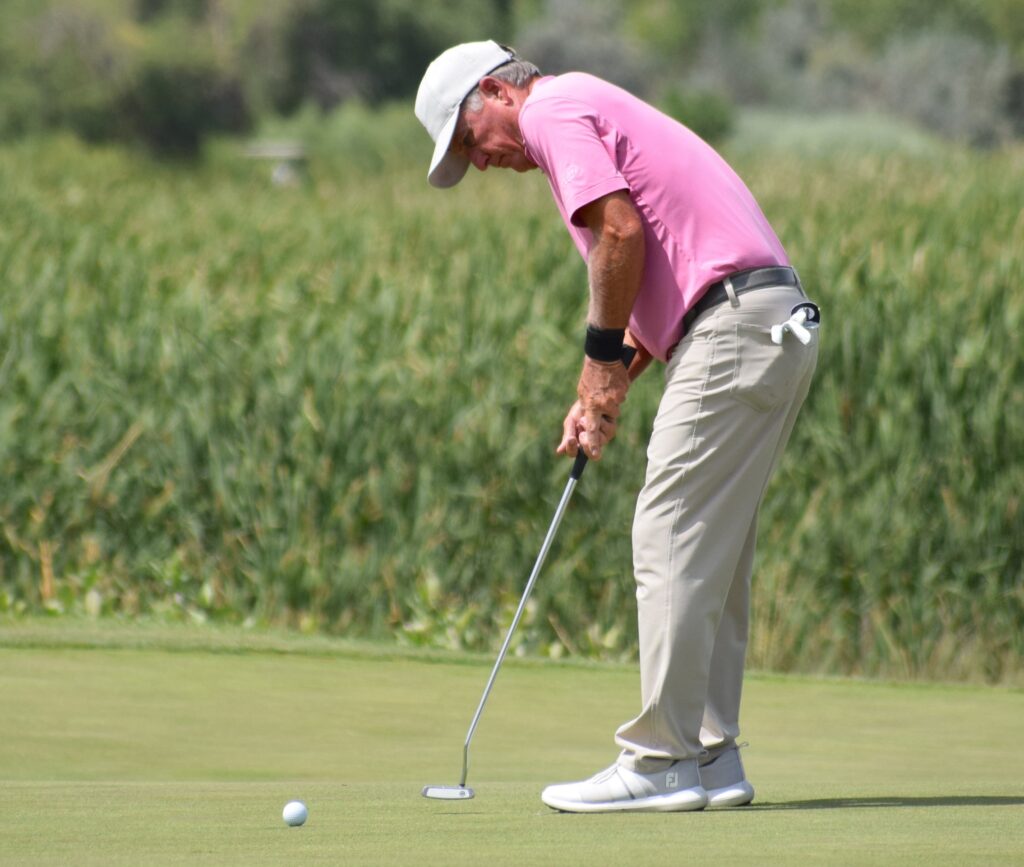 Coincidentally, the player that finished second on Friday was a guy who won his lone PGA Tour event about a month before Boros won his in 1996 — Willie Wood.
Wood, the 1984 Colorado Open champ and a two-time PGA Tour Champions winner, closed with bogey-free rounds of 66-67 after opening with a 72 in his first Colorado Senior Open. He checked in at 11-under 205, four back of Boros, earning $10,155 for being runner-up and another $1,000 for being the top player over age 60 (he's 61).
"I had a few hiccups on the green. I three-putted No. 2 for par, but I didn't make any bogeys today or yesterday," Wood said. "It was pretty good. I can't complain. I got too far behind the first day. And Guy obviously has played very solid.
"I'd much rather lose by four than one, to be honest with you. If I'm going to lose, then you're not thinking, 'Oh, if I had just made that putt.'"
Between them, Boros and Wood have played in 964 events combined between the PGA Tour and PGA Tour Champions. So they're no strangers to one another.
"He comes from a great family," Woods said of Boros. "He's just a natural golfer. I think he plays like his father played. He didn't quite have the success that dad did, but he's a feel player more than anything, I'd say. And he had a good career."
Jeff Brehaut of Park City, Utah ended up third behind Boros and Wood, checking in at 206 after closing with a 68.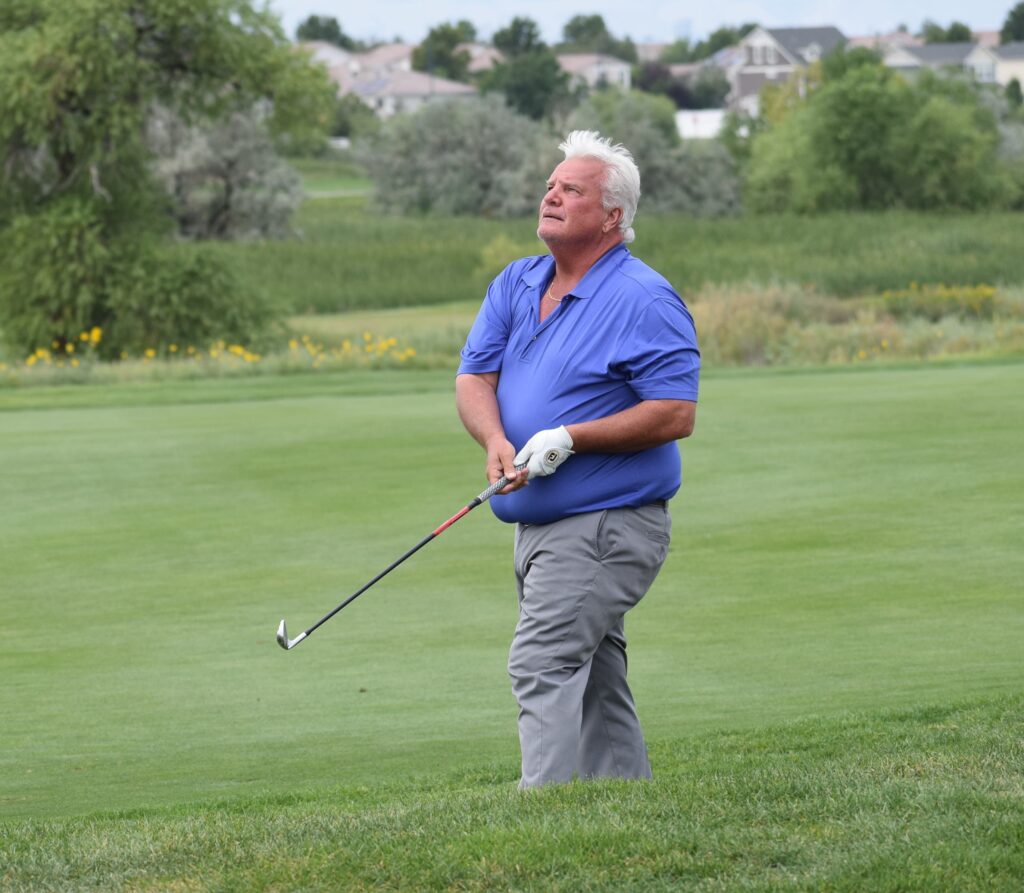 But no one seriously challenged Boros on Friday — at least not after he started on his late-front-nine birdie binge.
"It's been a long time since I've been in this position (leading a tournament of note)," Boros said. "I was a little nervous, but I was happy with the way I played and brought it in."
Boros hasn't played in a lot of state opens, but he certainly came away very impressed by this one.
"This place is fantastic," he said of Green Valley Ranch. "They should be very proud. This is probably the best public golf course I've ever played. The practice facilities, the condition of the course, it's fantastic. And the people are super here."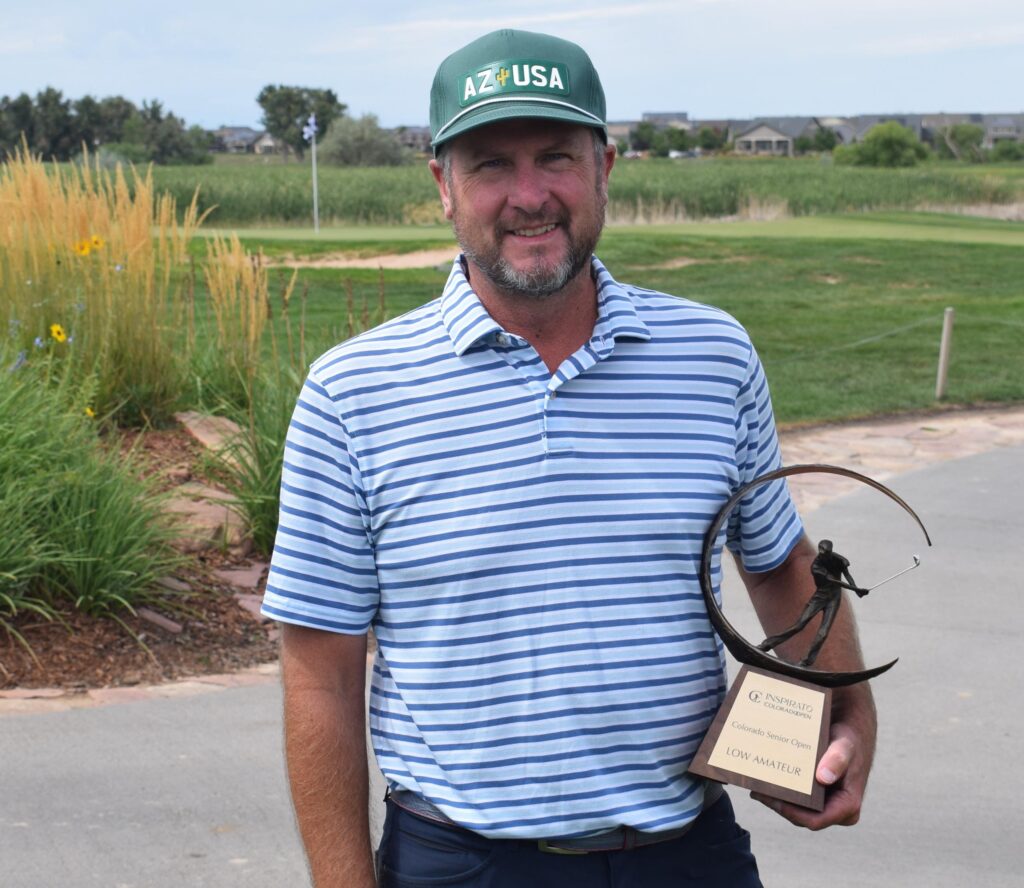 Still More CSO Hardware for Jon Lindstrom: It's a nice problem to have, but Jon Lindstrom of Denver has more than his fair share of low-amateur trophies from the Colorado Senior Open. On Friday, he picked up No. 4 — all coming in the last five years, including three in a row.
The golfer from Lakewood Country Club, a three-time CGA Mid-Amateur champion, ran away with low-am honors on Friday, prevailing by seven strokes after coming into the day tied for the top spot among amateurs. His usual steady play — rounds of 70-69-72 for a 5-under-par total — left him seven ahead of co-runners-up Steve Ivan of Colorado Springs (79 Friday) and Mike Henry of Bloomington, Ill. (78).
"It's great. I get a trophy — and bragging rights against all these other amateurs I see every other week," Lindstrom said with a smile.
With another low-am honor to his credit on Friday, Lindstrom continues to go where no other man or woman has gone before in the Colorado Open championships — four low-amateur trophies for a single person at the Colorado Open, Colorado Women's Open or Colorado Senior Open.
Not only that, but Lindstrom has been low-am in every CSO in which he's competed as he didn't play in 2019 due to work responsibilities. And in every CSO he has played in, he's finished in the top 10 overall, which is no small feat. He was sixth in 2018, second in a playoff in 2020, fourth in 2021 and placed ninth on Friday, ending up 10 strokes behind Boros.
Asked why he's performed so consistently well in the CSO, Lindstrom said, "I have no idea. The only time I play here is for the three days of this tournament."
Does the Green Valley Ranch particularly suit you?
"I guess it does (but) I don't feel like it does," he said. "Compared to Lakewood (Country Club) the fairways are huge and the greens are pretty big. I do hit a lot of greens and fairways compared to playing at Lakewood all the time. That's part of it."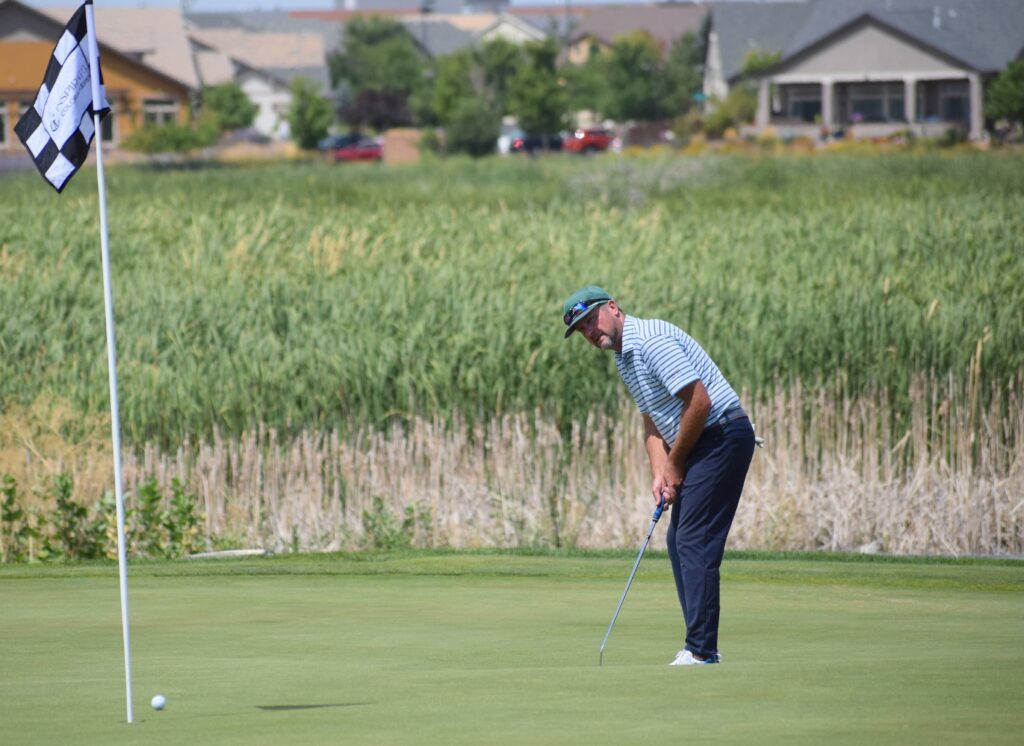 The Senior Open marked another strong performance for Lindstrom this month. Early in August, he won the individual senior title in the International Mid-Amateur & Senior Team and Individual Championship in South Carolina. And in the open division of the CGA Western Chapter Championship, he placed seventh.
But the Colorado Senior Open is a particularly good measuring stick for Lindstrom because he's competing against some of the best state and regional senior players — both pros and amateurs — and a smattering of PGA Tour and PGA Tour Champions veterans. Because Lindstrom doesn't turn 55 until next weekend, he hasn't yet been eligible for USGA and CGA senior competitions, though he'll tee it up at the CGA Senior Amateur for the first time next month at Pelican Lakes in Windsor.
"It's a good barometer," he said of the Colorado Senior Open. "I'm kind of in no-man's land (age-wise). I'm in the mid-am division (25 and older) but it's hard to compete in that group. Most of the senior stuff is 55, so these (Opens) are one of the things I can compete in. It's a good barometer because of that."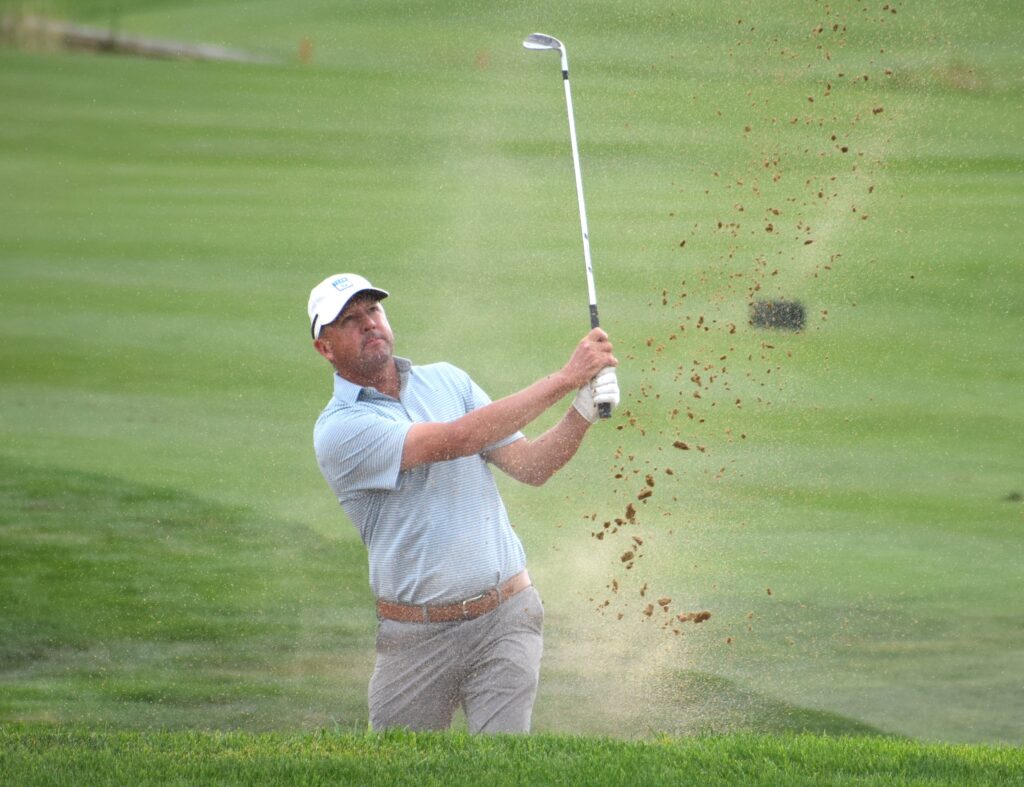 Micah Rudosky Tops Among Coloradans: Lindstrom was the low Colorado finisher — regardless of pro or amateur — in his first three Colorado Senior Open appearances (though he tied for that honor with professional Jeff Hanson in 2018). But that streak was broken on Friday as Colorado PGA pro Micah Rudosky of Cortez earned that distinction by tying for six place, earning $3,500.
Rudosky, the reigning Colorado PGA Professional Champion, went 67-72-70 for a 7-under-par total despite bogeying his final hole on Friday.
"The guys are real good players in our (PGA) Section and it's nice to be right in there with those guys," Rudosky said. "I'm excited to have played well. I'd like to have been a little better. But don't we all want that?
"Overall I played pretty solid for three days."
Joining Rudosky and Lindstrom in the top 10 as Coloradans was 2000 Colorado Open champion Scott Petersen of Parker, who tied for ninth following rounds of 69-72-70.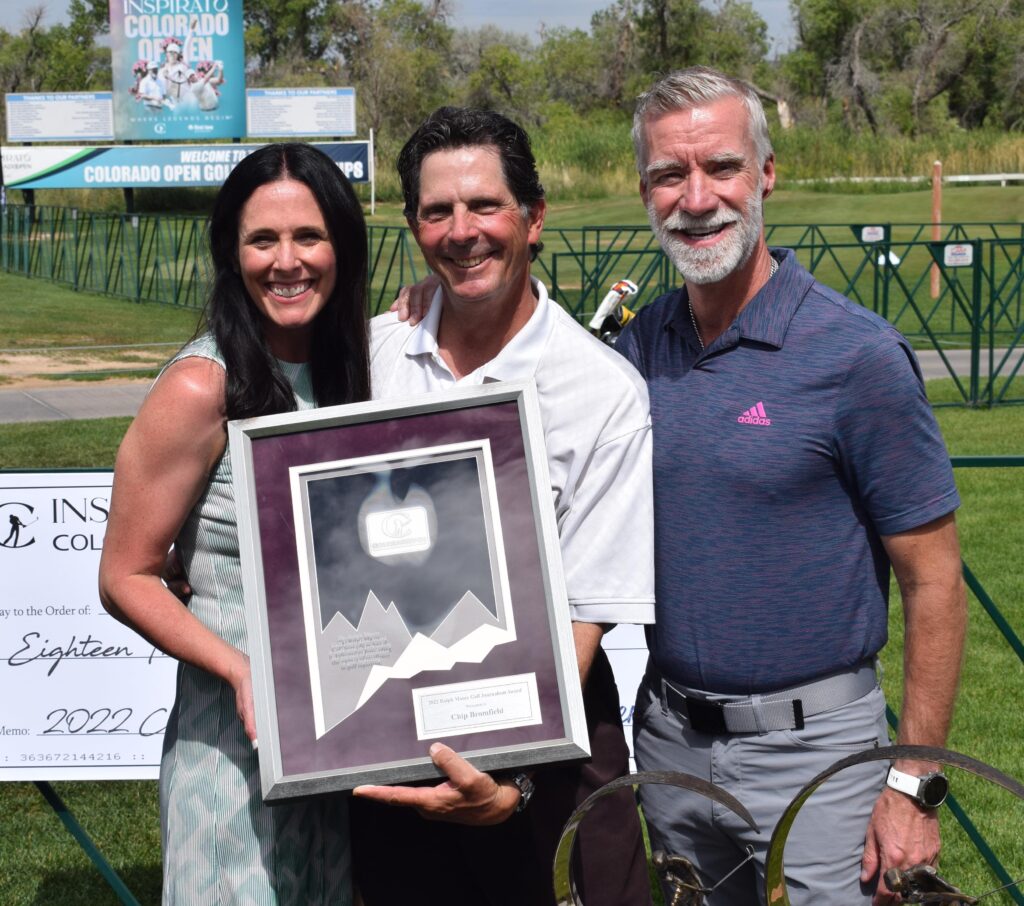 Picture This for Chip Bromfield: For the second year in a row, the Ralph Moore Golf Journalism Award, presented by the Colorado Open championships, went to a photographer.
A year after the Denver Post's Helen Richardson earned the honor, which is dedicated to "forwarding the pursuit of excellence in golf reporting," Chip Bromfield added his name to the list of recipients, which started with Moore himself in 1989.
Bromfield has been the primary in-house photographer for all the Colorado Open championships for more than a half-dozen years. He's also well known in Colorado for his work at other sporting-related events, and in other photography services. He's president of PRO-Motion, Ltd., which is based in the Denver metro area.
Bromfield "has a keen eye. He tells a great story without words," noted Kevin Laura, CEO of the Colorado Open championships.
Moore was a longtime sports writer at the Denver Post, with one of his main beats being golf. He's a member of the Colorado Golf Hall of Fame.