Stewart books his second straight trip to U.S. Junior Am, this time at his home course; Castiglia rallies in major way to land other qualifying spot
By Gary Baines – 06/24/2019
Fort Collins resident Dillon Stewart estimates he might have played Ptarmigan Country Club a thousand times over the course of his young lifetime. Meanwhile, Jack Castiglia of Lakewood had a grand total of zero trips around Ptarmigan going into Monday.
At the end of the day, the two emerged from U.S. Junior Amateur qualifying at Ptarmigan with the same result. Their matching 2-under-par 70s earned them co-medalist honors and the two available spots into the national Junior Am.
It just goes to show you that either way can work. Experience at a given course can pay significant dividends, but sometimes coming into a situation "blind" can be just fine too.
"I'd say it was maybe a shot or two advantage on the field," Stewart said of competing on his home course. "But at the end of the day you've got to go out there and make putts and play well."
Said Castiglia: "Sometimes I like not playing the course just because it makes me think more, makes me be smarter off the tee and take what the hole gives you instead of trying to cut anything off or try to make anything happen. I didn't know what I could try to do, so I just did what the course gave to me."
The reward for both Stewart and Castiglia is trips to the U.S. Junior Am, which will be played July 15-20 at Inverness Club in Toledo, Ohio. It'll be Stewart's second straight trip to the event, while Castiglia will be going for the first time. (The qualifiers are pictured above, with Stewart at left.)
On a day when just four players broke par out of the original field of 69, Stewart and Castiglia tied for the top spot in their final year of eligibility, while 2017 U.S. Junior Am qualifier TJ Shehee of Mead and Argentina's Aram Yenidjeian each posted 71s and played off for the alternate positions, with Yenidjeian prevailing on the second extra hole for the first alternate spot.
Stewart, the home club favorite, had a few dozen spectators following him at one point on Monday, and he didn't disappoint. The recent Colorado Junior PGA Championship winner birdied his first three holes of the day and finished with five birdies and three bogeys on the day.
"It feels good, especially because obviously this is my last chance to play in the U.S. Junior," said Stewart, the 2018 Junior Golf Alliance of Colorado Boys Player of the Year and last year's Junior America's Cup individual champion. "Having (qualifying) here was special. At one point I probably had 40 people out here watching me. I like when people come and watch. It makes me focus a little more.
"It feels good getting the job done because they all support me day in and day out and they see me out here all the time and I see them. At the end of the day, it's good to get it done and give back to the club."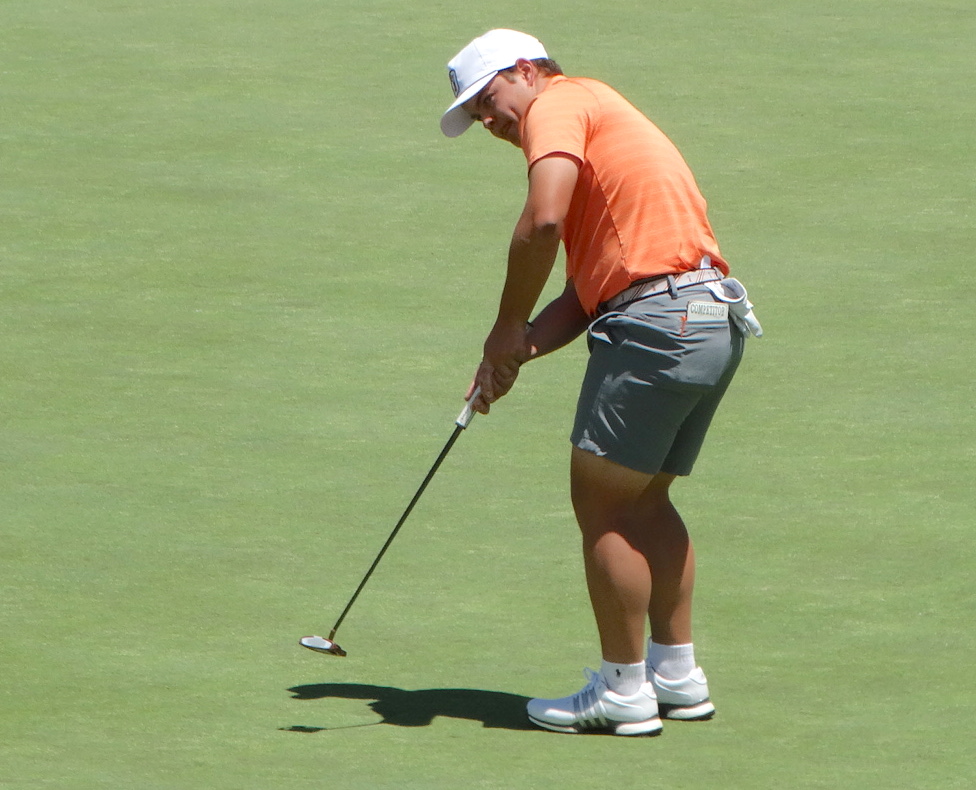 The U.S. Junior Amateur will be one of Stewart's final junior tournaments before departing in the fall for his freshman season at national powerhouse Oklahoma State. Last year, Stewart narrowly missed making match play at the U.S. Junior Am.
"It's neat having another opportunity to go back and make match play and do something special and make Colorado proud," the 18-year-old said.
Meanwhile, Castiglia will be a rare breed at the U.S. Junior Am — a player in that field with a year of college golf already under his belt. Given that a competitor at the event must be 18 or under, most haven't yet started their college golf careers. But Castiglia played as a freshman last season for the University of Northern Colorado.
"I saw you couldn't be 19 by July (20) or something," Castiglia said of the entry standards. "I turn 19 on Aug. 18, so I was like, 'If I can play I might as well.' I've been playing up with the big boys kind of all my career because I skipped a grade. So I was like, 'Now it's my turn to finally be on top of the age group.'"
For Castiglia, it allows him one last shot to go to the U.S. Junior Amateur after being the first alternate in the Colorado qualifying last year and the second alternate in 2017.
"I missed it by a shot the last two years so to finally get it, it was a lot of fun," he said.
But the 2018 Colorado Junior Match Play champion had to rally in a big way to get there.  He made a triple bogey on his fourth hole on Monday, noting that he shanked it off the tee then "duffed it" into the water. After eight holes, he was still 3 over par.
But then Castiglia pulled a 180, playing his final 10 holes in 5 under par.
"It was a little ugly to start," he said. "But I've been putting the best I've ever putted in my life. And it was a big confidence boost (to make the semifinals) last week at the CGA Match Play. It was a lot of fun" to qualify.

U.S. Junior Amateur Qualifying
At Par-72 Ptarmigan CC in Fort Collins
ADVANCE TO NATIONAL CHAMPIONSHIP
Dillon Stewart, Fort Collins 33-37–70
Jack Castiglia, Lakewood 32-38–70
ALTERNATES (In Order)
Aram Yenidjeian, Argentina 33-38–71
TJ Shehee, Mead 37-34–71
For all the scores, CLICK HERE.