Triple bogey in playoff doesn't keep Thayer from big-time comeback to win his third CGA Mid-Amateur
By Gary Baines – 9/20/2020
It was a bizarre ending befitting a wild final round for the 34th CGA Mid-Amateur Championship.
Chris Thayer of Golden pulled off a most unlikely comeback to claim his third Mid-Am title. The 40-year-old started the final round seven strokes out of the lead, but a 6-under-par 66 Sunday at River Valley Ranch Golf Club in Carbondale forced a playoff.
If his rally in regulation weren't improbable enough, Thayer prevailed on the third extra hole despite making a triple bogey on playoff hole No. 2.
And, in the amazing coincidence category, Thayer not only won his second Mid-Amateur played at River Valley Ranch, but both were decided in a three-person playoff that lasted three holes.
In another oddity, this time public play at RVR ended up being interspersed in the playoff, with non-tournament golfers teeing off on the playoff hole — No. 18 — before the playoff and between the first and second, and second and third extra holes.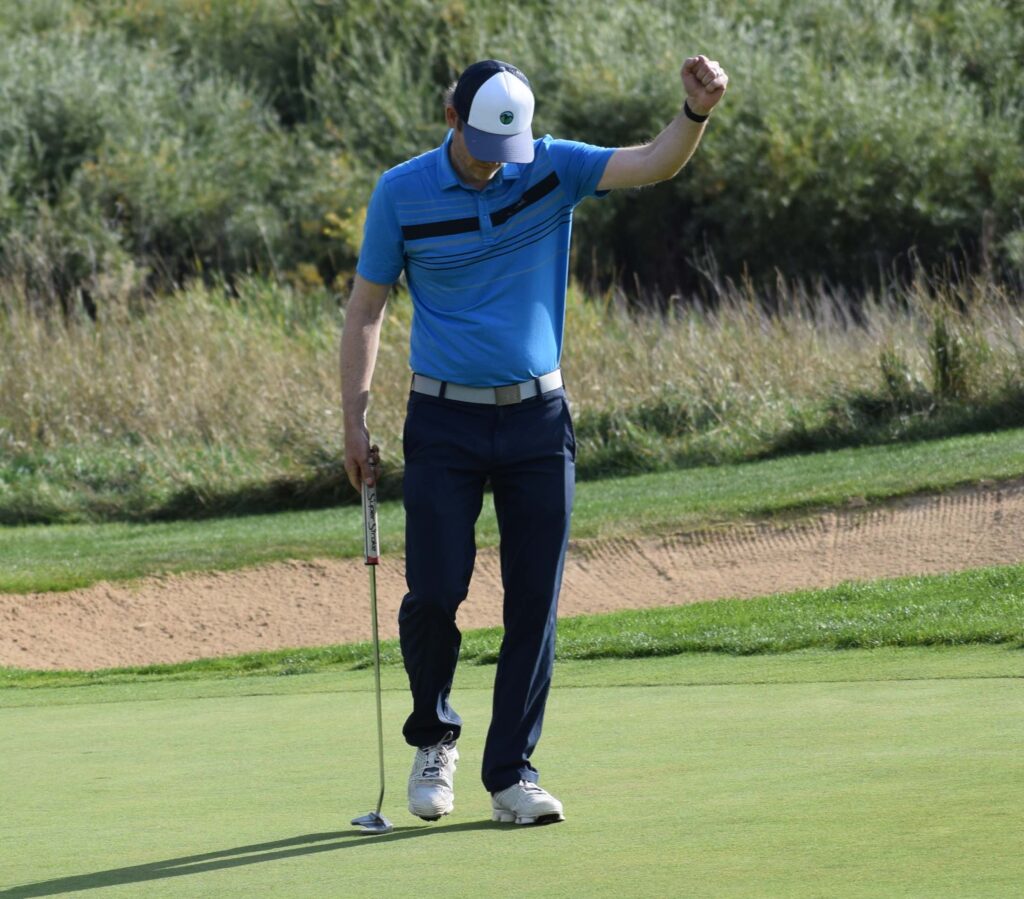 But at the end of this very unconventional day, Thayer was just happy to be holding the trophy again.
"It feels great," he said. "All the guys who have won it are really, really great players. It feels good the last few years where I've finished second and third pretty frequently (Sunday marked his seventh consecutive top-3 showing in the Mid-Am). It feels good not to have another second linger over me."
With his victory, Thayer became just the fourth person to win the CGA Mid-Amateur at least three times, joining Rick DeWitt (seven-time champ), Keith Humerickhouse (four-time) and Jon Lindstrom (three-time).
While Thayer also needed a three-hole playoff to win at River Valley Ranch in 2014, this year's was of the off-the-wall variety.
Thayer was one of three players to finish 54 holes of regulation at 8-under-par 208, joining 2019 CGA Match Play champion Josh McLaughlin of the Olde Course at Loveland and former pro and current Colorado State University men's golf assistant coach Parker Edens of Collindale Golf Course.
While Thayer made a pretty standard par on the first playoff hole and McLauglin got up and down from the side of the green for his par, Edens nearly holed a lengthy bunker shot that would have extended his stay. After being in the high native in two on the par-4 18th, he left his third in the bunker short of the green, then saw his par attempt from the sand hit the pin but not fall, ricocheting to less than 2 feet away. The bogey ended his title hopes.
"I knew that's what I had to do," the 30-year-old two-time CGA Match Play runner-up said of trying to hole the sand shot. "I hit some really, really good bunker shots today. I thought I had a chance there and I gave it a run."
That led to the second playoff hole — No. 18 again — which proved to be one of the most bizarre you'll see at a high-level tournament. Thayer took two penalty shots — one each after hitting his tee shot left and after his ball struck a tree with his third shot and ricocheted farther left. He ended up getting up and down from in front of the green for a triple-bogey 7.
Normally, that would mean the end of the road for a playoff participant, but McLaughlin hit his tee shot out of bounds right and his fourth shot into the deep native next to the green. He likewise made a one-putt triple bogey.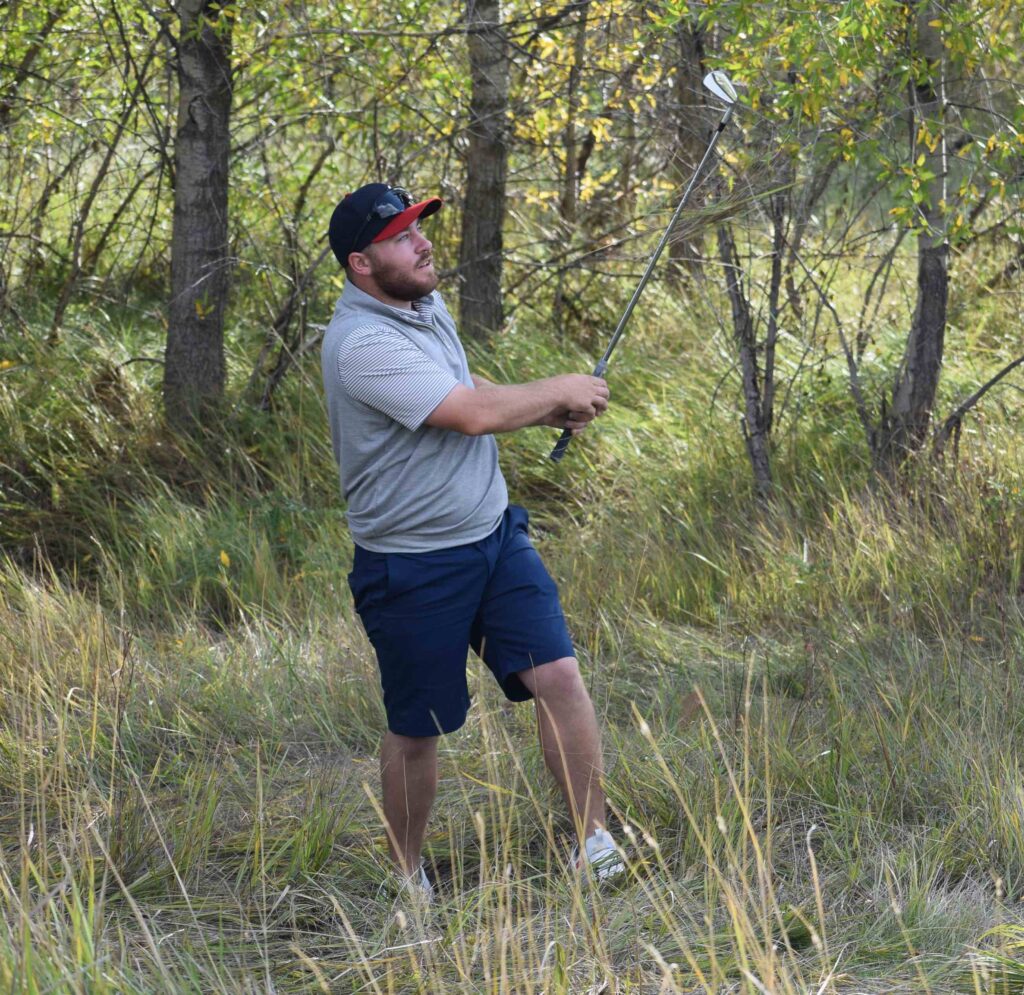 On the third playoff go-around on No. 18, McLaughlin's driver again went awry, this time to the left, where he ended up in gnarly deep native grass. From there, he pushed his second shot into creek right of the green and ended up with a double bogey, assuming he had sunk the short putt he faced. 
McLaughlin's lack of confidence in his tee shot on No. 18 — whether to hit 3-wood or driver — proved a big problem as he played the hole 6 over par in the four times he faced it on Sunday (bogey-par-triple bogey-double bogey).
Meanwhile, on the third playoff hole, Thayer hit his second shot over the green into a bunker, from which he blasted 22 feet beyond the pin. Coincidentally, it was on virtually the same line he had had twice before playing No. 18 on Sunday. But this time, he ended the proceedings by draining his long par putt.
"I don't care that I made 7 and was obviously lucky that (McLaughlin) made a couple of mistakes too," Thayer said with a smile. "That's just how golf is sometimes. I'll remember getting it up and down from 30 yards — one of my best pitch shots of the week. That's all I'll remember of that hole. Forget the rest."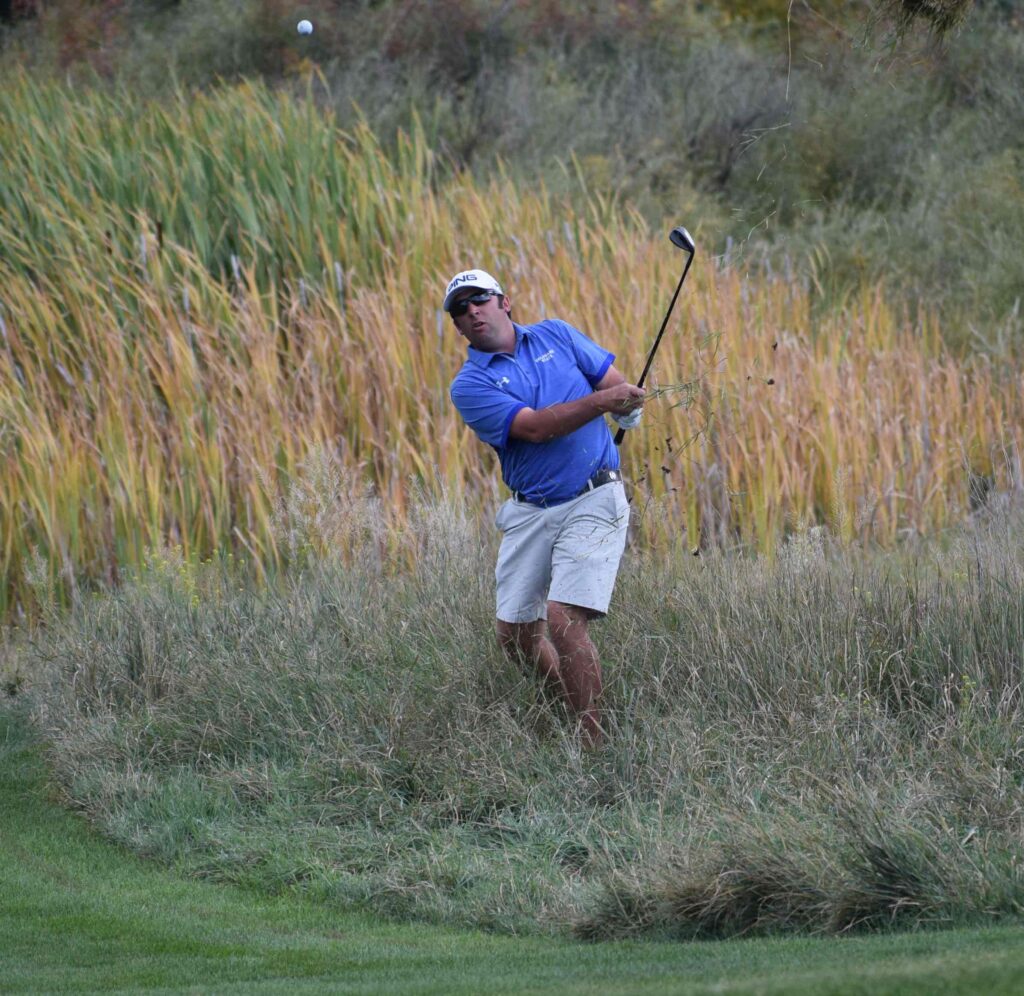 McLaughlin, who like Edens was competing in the CGA Mid-Amateur for the first time, was matter of fact about the outcome.
"You get in a playoff and all that pressure is on, so it comes down to who can stand the pressure the best — and whoever can get the ball in the hole first, no matter what the score is," McLaughlin said. "He did a little better than me on the last one.
"For my first showing (in the Mid-Am), I'm pretty happy with it. Now that it's all said and I done, I would have liked to have closed it out a little better. But I'll take it."
Both McLaughlin and Edens shot 3-under-par 69s in regulation on Sunday to end up tied with Thayer following his 66.
Finishing two strokes out of a playoff, at 210 and in fourth place on Sunday, was 2015 CGA Match Play champion Nick Nosewicz of CommonGround Golf Course, who closed with a 65 that included an eagle on the second hole.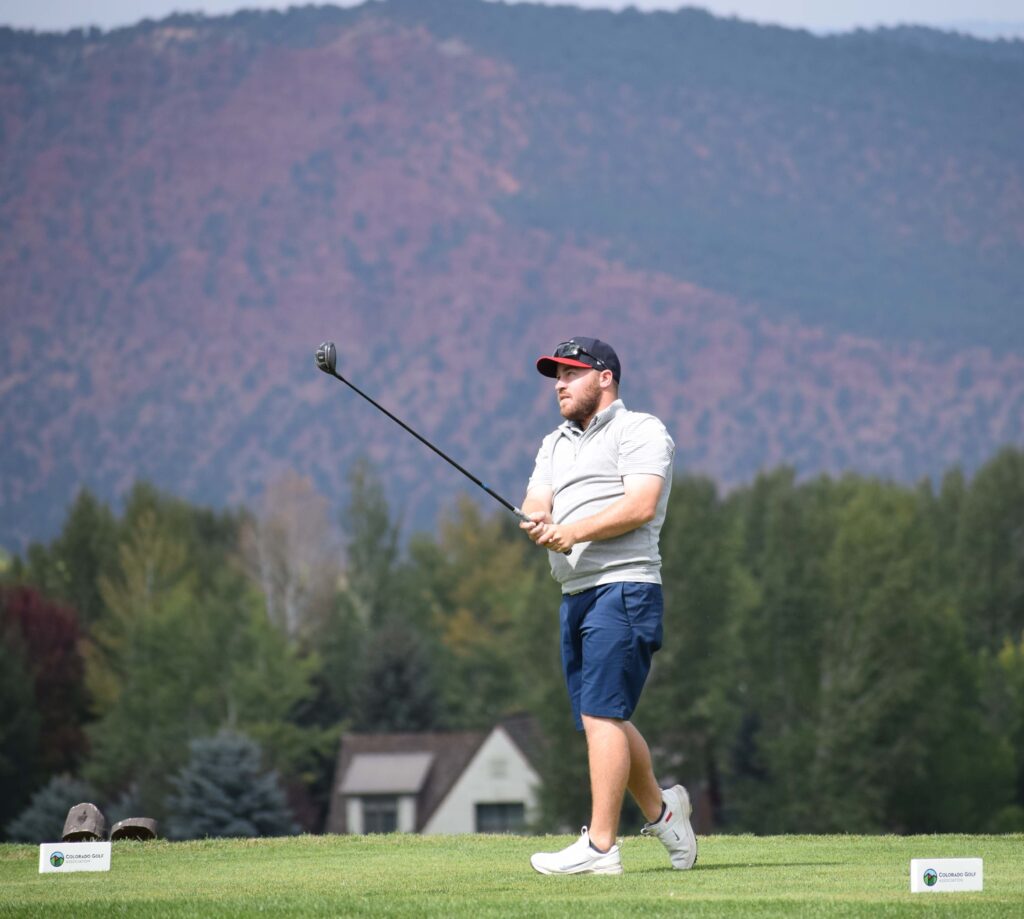 Blake Trimble of Columbine Country Club, who took a four-stroke lead into the final round, finished fifth at 211 after carding a final-round 76. Trimble likewise eagled the second hole on Sunday, but eight bogeys in the final round were too much to overcome.
Colin Prater of Cherokee Ridge Golf Course, who swept the CGA Match Play and Amateur titles this year, placed 10th at 213 after carding a 67 on Sunday. Also among those at that figure was Lindstrom, who shot a 69, and Matt Evelyn, who posted the low round of the tournament on Sunday, a 64.
As for Thayer, what is it about River Valley Ranch that brings out the best in him, with two of his Mid-Am victories coming there?
"I like it here and I like the mountains," said Thayer, who joined the CGA board of directors late last year. "I tend to get my distances dialed in pretty quickly. For the most part, my distance control is really good in the mountains. Here (at River Valley Ranch), there's no holes where I'm uncomfortable with the tee shot. There's so many good holes that fit my eye."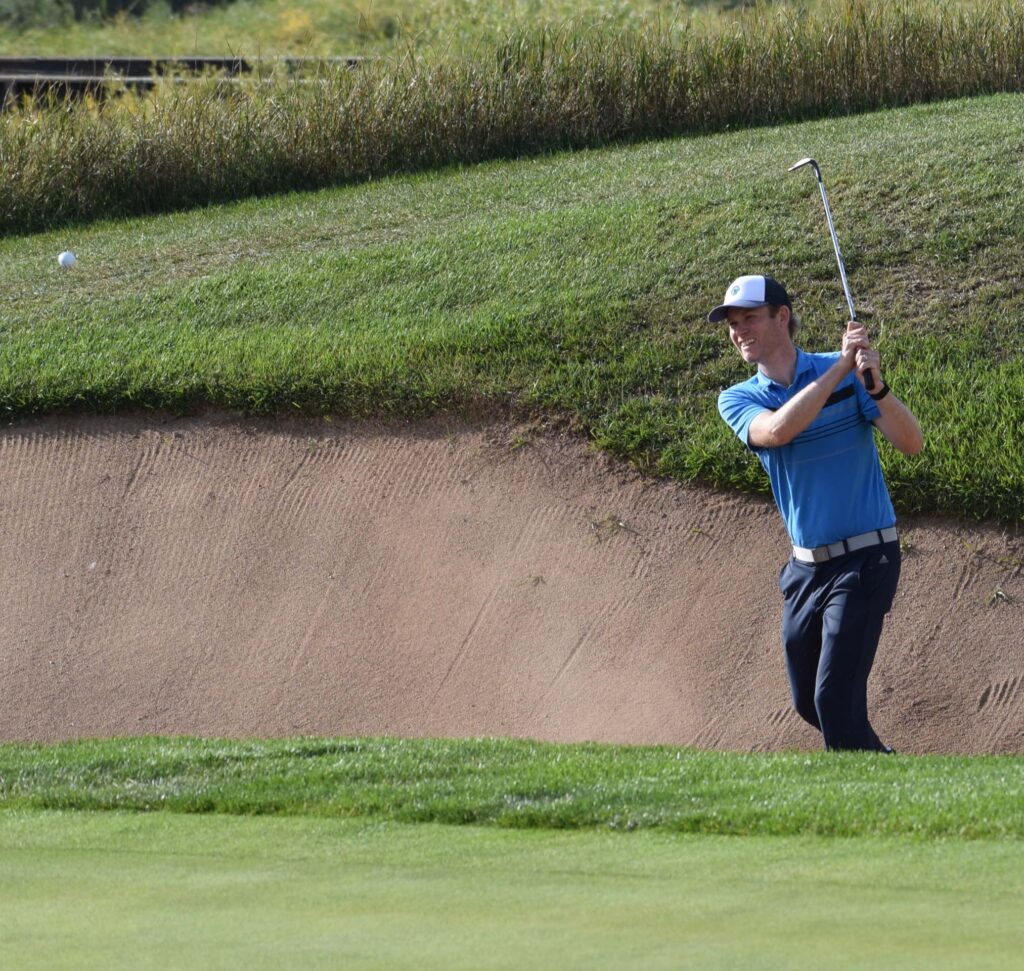 Though the unusual playoff on Sunday drew plenty of attention, similarly amazing was the seven-stroke deficit Thayer overcame to force extra holes. He was at 2 under par and in eighth place going into the final round, while Trimble led at 9 under.
"I thought I had a really slim shot — less than 5 percent (of rallying to win)," Thayer said. "I knew if I played well and I could get up there to maybe 9 (under par) … It's hard sleeping on a four-shot lead, so if could get in the clubhouse and post a number … My wife texted me — she said if you shoot 6 under (on Sunday) you'll be good — and she was right. One more would have won it outright (without a playoff), so I guess we were both right."
Thayer posted an eagle — from 13 feet on No. 11 after a 4-iron approach — to go along with five birdies and a bogey on Sunday.
The CGA Mid-Amateur is limited to players 25 and older.
For all the scores from the River Valley Ranch, CLICK HERE.