Kupcho uses opening-9 30 to shoot 67; Colorado native trails Kaufman by 1 at CoBank Colorado Women's Open
By Gary Baines – 6/3/2020
On a day that a "virtual" Women's Golf Day was held, the players competing in the CoBank Colorado Women's Open on Wednesday at Green Valley Ranch Golf Club shot some all-too-real stellar scores.
Jennifer Kupcho, the Colorado-born and raised LPGA Tour player who is competing in the Centennial State for the first time in more than two years, didn't appear in the least bit rusty despite having not played in a tournament since January.
The 2018 women's NCAA individual champion and 2019 Augusta National Women's Amateur winner shot a cool 6-under-par 30 on the front nine of GVR in northeast Denver and went on to post a 5-under 67. That leaves her tied for second place, one stroke behind fellow LPGA Tour player Kim Kaufman of Fort Worth, Texas, with two rounds remaining.
Kupcho and Kaufman were two of the four players who shot 67 or better in the opening round of the 54-hole event. That's unprecedented first-round scoring for this tournament.
And keep in mind that this was the first competition in months for many players due to Covid-19-related tournament cancellations during the spring. Kupcho, for instance, has played in one tournament in the last six months.
"I came out really hot," Kupcho said. "When I go that low I get a little nervous — and definitely on the first nine back (following the layoff), for sure nervous. … It was definitely a little interesting on the front nine. I don't know how I played so well, but it works."
After a six-birdie, one-bogey day, Kupcho is very much in the hunt again at the Colorado Women's Open, where she twice has finished runner-up.
"It's really exciting," said the 23-year-old, who grew up in Westminster and now lives in Scottsdale, Ariz. "It would be really cool to get my first professional win (here). I have played well in the past here, so I'm just hoping to follow it up.
"… It's definitely a big priority because I haven't won in a while. Obviously I like being in the winner's circle. To get that first professional win, even though it wouldn't be on the LPGA, it would still be a big step (toward) getting a win on the LPGA."
Last year, despite turning pro at the end of May in order to finish out her senior season of college golf at Wake Forest, Kupcho notched three top-five finishes as an LPGA rookie and placed second at one of the tour's major championships. She placed 39th on the LPGA money list in 2019.
This Colorado Women's Open marks Kupcho's first tournament in the Centennial State in more than two years, which makes her opening 67 all that much more satisfying. Though the general public isn't allowed to attend the CWO due to safety concerns regarding the coronavirus, Kupcho's parents, Mike and Janet, had the chance to watch their daughter compete for the first time in quite a while. And her boyfriend was caddying for her.
"It was a lot of fun" to play in Colorado again, said Kupcho, the No. 50-ranked women's player in the world. "It's nice to see my parents out here too. They haven't watched a tournament (in person) since I don't know when. It's cool to have them out here watching. And obviously I've grown up playing this course so it's pretty cool to come out and play it now that I hit it farther and I'm a lot better than I was."
The irony, of course, is that had Covid-19 not taking its toll, Kupcho in all likelihood wouldn't have been competing in Colorado this week. Instead, she probably would have been playing in the most prestigious women's tournament in the world, the U.S. Women's Open, which has since been moved from this week to December.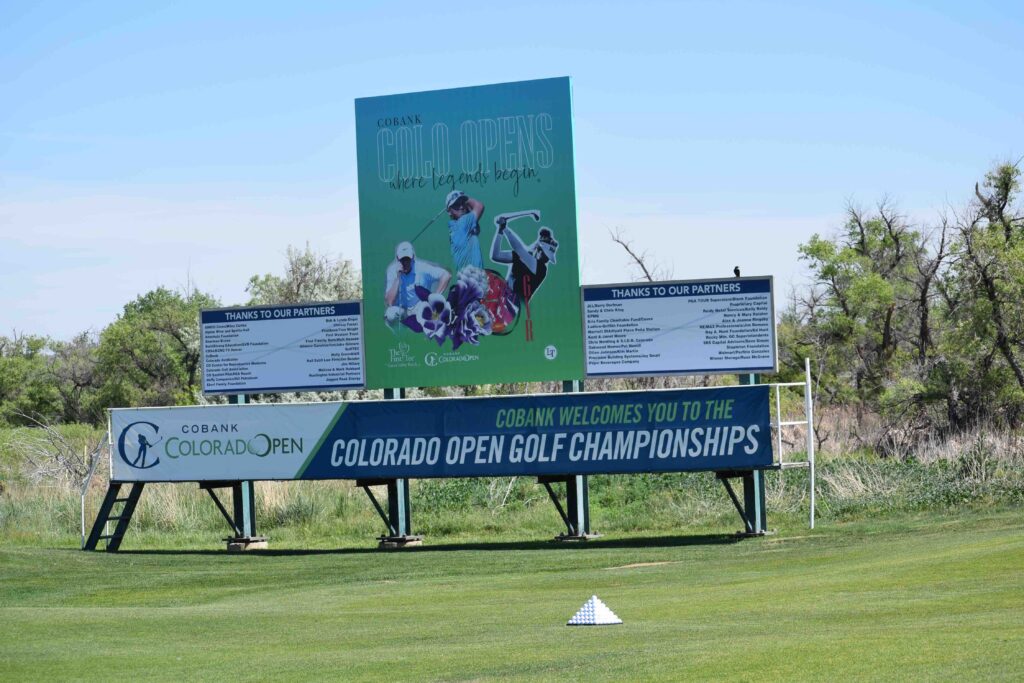 On Wednesday, after her six-birdie, bogey-free front nine, Kupcho made eight pars and a bogey on the back side. On the final two par-5s, including No. 18, she hit tee shots into the hazard but still salvaged pars.
"I was talking about maybe not hitting driver off the tee (on 18), but if I hit it in the hazard I can just go for it" with her next shot, she said.
Meanwhile, Kaufman, who has racked up a dozen top-10 finishes in her LPGA Tour career, was bogey-free until making a 6 on No. 18, where she three-putted.
"It was great," the 28-year-old said. "I bogeyed the last, which is always a bit of a tough thing, but it's still a great round. There are a lot of opportunities out there, but you've also go to hit good golf shots. I just stayed patient and I putted well and I'm happy to get in at 6 under."
Kaufman played in one previous CWO, in 2013 early in her pro career, and placed 13th.
"Seven years later, here I am," said the former Texas Tech golfer. "I just know it's a great event so I came back up. We're obviously looking for things to play in. I enjoyed coming up and playing in something."
Kaufman last competed in a tournament in early March.
"I've had a lot of time to practice, and I do feel like my game is good," she said. "But there's also the nerves of competing. It was good to work on those and kind of get them out of the way. The last few weeks (this tournament) has been something to look forward to, which has been great."
Joining Kupcho in a tie for second place, one behind Kaufman, were Jillian Hollis of Rocky River, Ohio, and Rachel Rohanna of Waynesburg, Pa. Hollis qualified in Colorado for the 2018 U.S. Women's Open. Rohanna was bogey-free on Wednesday, while Hollis carded six birdies and a bogey, like Kupcho.
Among those tied for fifth place at 68 are former University of Colorado golfer Jenny Coleman, who has her LPGA Tour card in 2020. Coleman didn't make a bogey on day 1.

Defending Champ Shakes Off Rust to Shoot 69: Becca Huffer of Monument, who won her second Colorado Women's Open last year, didn't play a single round of golf — even casual golf — from March 9 until this week. But that didn't stop the defending champ from shooting a 3-under-par 69, which leaves her in a tie for eighth place.
"I played a practice round on Monday — (then I) just went out and played golf, and it was fun," she said. "I went and hit some balls a week and a half ago. It felt fine, and I figured I'd just go with it and not worry about anything. It worked out how I wanted it to."
Huffer opened with an 8-foot birdie on the tough 10th hole, then added four more birdies and two bogeys.
"It's nice to get back to competition," said Huffer, a Symetra Tour card holder this year after playing on the LPGA circuit in 2019. "That's definitely what I miss the most. I'm sure it's the same for probably everyone out here. To have an opportunity to play again — especially here — is great."
Also firing a 69 on Wednesday was former CU golfer Brittany Fan, who made seven birdies on the day.

Covid-19 Situation Nixes 2020 Colorado Events Involving Davis Love III and Lexi Thompson: Unlike each year from 2016 through '19, there will be no big-name kids exhibitions/events hosted in 2020 in Colorado by CoBank. Officials from the CoBank Colorado Open championships had lined up a couple of very notable names before safety concerns related to Covid-19 nixed the events.
Before the cancellations, World Golf Hall of Famer Davis Love III had agreed to participate in an exhibition the week of the CoBank Colorado Open in July. And 11-time LPGA Tour winner Lexi Thompson was going to be the headliner for the CoBank PEAK Performers event later in the year. Thompson previously conducted a CoBank kids exhibition at GVR in 2017.
Kevin Laura, the CEO of The First Tee of GVR and the CoBank Colorado Open Championships, said CoBank has agreed to have its sponsorship money for the canceled 2020 PEAK Performers apply to the 2021 PP event.
CoBank has been the title sponsor for the Colorado Open, Colorado Women's Open and Colorado Senior Open since 2016, but that sponsorship will end after this year.
Previous PGA/LPGA tour players who have hosted CoBank kids exhibitions or Peak Performers events include Nick Faldo, Annika Sorenstam, Hale Irwin, Mark O'Meara, Jennifer Kupcho, Thompson, David Duval, Matt Kuchar, Ryan Palmer and Paula Creamer.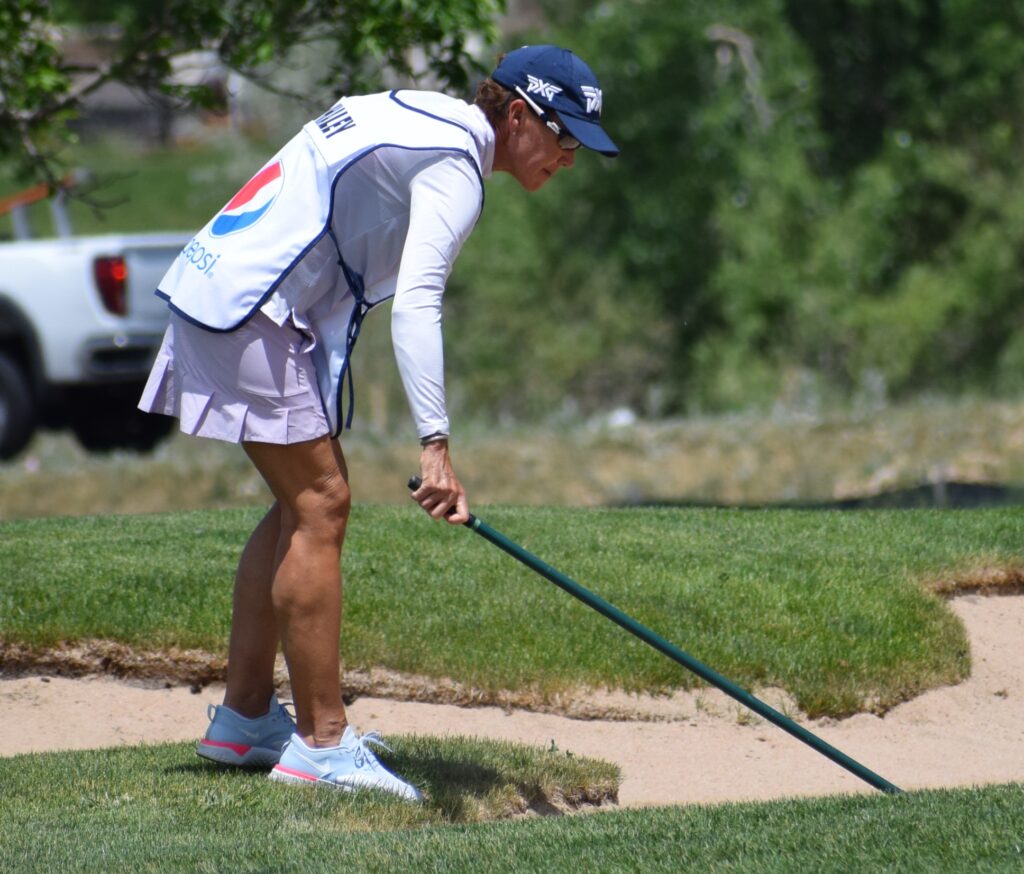 High-Profile Caddie: Suzy Whaley, the first female president of the PGA of America, is attending this week's Colorado Women's Open in a capacity you may not expect. She's caddying for her daughter, professional Kelly Whaley of Palm Beach Gardens, Fla. Suzy Whaley in 2003 became the first woman in 58 years to qualify for a spot in a PGA Tour field — in her case the Greater Hartford Open, by virtue of winning the 2002 Connecticut PGA Section Championship. At the GHO, Whaley missed the cut with scores of 75 (eight strokes better than David Duval) and 78. On Wednesday, Kelly Whaley fired a 76.
Notable: Amateur Grace Olkowski of Las Vegas, who grew up in Grand Junction, made a hole-in-one — the second of her career — at the 150-yard 13th hole on Wednesday. She used an 8-iron. Olkowski shot a 75. … Spaniard Carlota Ciganda, the No. 15-ranked female player in the world, rebounded from a 17th-hole bogey to birdie 18 on Wednesday, shoot 70 and share 13th place. … Three amateurs broke par on Wednesday — at 1-under 71 — and lead the low-amateur competition — Tess Blair of South Jordan, Utah, Alyaa Abdulghany of Newport Beach, Calif., and Lauren Hartlage of Elizabethtown, Ky. The top Colorado amateurs after round 1 shot 73s: Charlotte Hillary of Cherry Hills Village, Erin Sargent of Longmont and Kaylee Chen of Denver. … Lightning delayed play for about one hour, 15 minutes in the evening on Wednesday.
For scores from the Colorado Women's Open, CLICK HERE.