Janet Moore wins her ninth CGA Women's Mashie title, teaming with Marin Halvorsen to fend off Kim Eaton/Kristine Franklin in final
By Gary Baines – 5/26/2021
When the championship flight title match of the CGA Women's Mashie tournament concluded on Wednesday, the foursome in the final group owned a remarkable 54 CGA/CWGA championships among them.
And each two-person team in the final of the better-ball match play event featured a Colorado Golf Hall of Fame inductee.
But only one team could walk away with the championship out of this high-powered matchup, and that turned out to be Hall of Famer Janet Moore and her partner from Cherry Hills Country Club, Marin Halvorsen, who earned her first CGA title.
Moore landed her 23rd CGA women's/CWGA victory — two shy of the all-time record — by winning the Mashie for a remarkable ninth time. She's now captured a Mashie championship in four different decades, with the first coming in 1996.
"I'm really blessed with my partners," said Moore, 56. "I have really good partners, and Marin was a great partner this week. I also tend to play a little freer when I have a partner, which is a good lesson just in general. When I was younger that wasn't the case. The older you get, that is the case. When you have a partner, it makes it a little easier to swing a little freer. If there's something that I can say I'm good at, it would be choosing wonderful partners."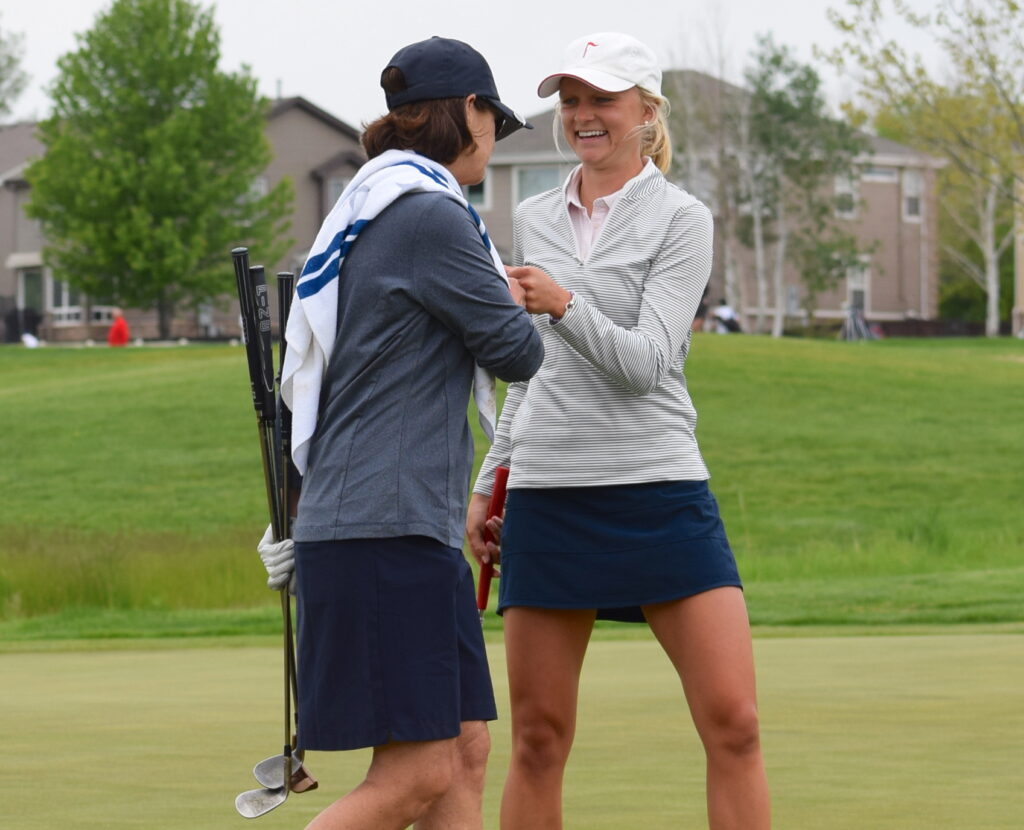 After leading 3 up after 12 holes of the finale, Moore and Halvorsen fended off Hall of Famer Kim Eaton and partner Kristine Franklin from The Ranch Country Club for a 2-up victory at Broadlands Golf Course in Broomfield.
Eaton and Franklin, who birdied the 13th and 15th holes, respectively, to cut their deficit to 1 down, looked to have an opening on the 18th hole. There, with Moore having pulled her tee shot into the water, Eaton had hit her approach on the par-4 to 5 feet and Franklin to 8 feet. They were 1 down, but if they'd win the 18th they would force extra holes and have momentum on their side.
But after Moore pitched in for par, both Franklin and Eaton missed their birdie putts. And with Halvorsen having neatly hit her approach to 4 feet, the birdie was conceded and the 2-up victory went to the Cherry Hills duo.
"Nothing can faze her," Moore said of Halvorsen, who also sank a 7-foot par putt on No. 16 that kept the team ahead. "I was very grateful to have her as a partner today."
Indeed, Halvorsen shot roughly a 71 on her own ball on Wednesday, though she picked up at times when Moore had the better-ball score the team would use for a given hole.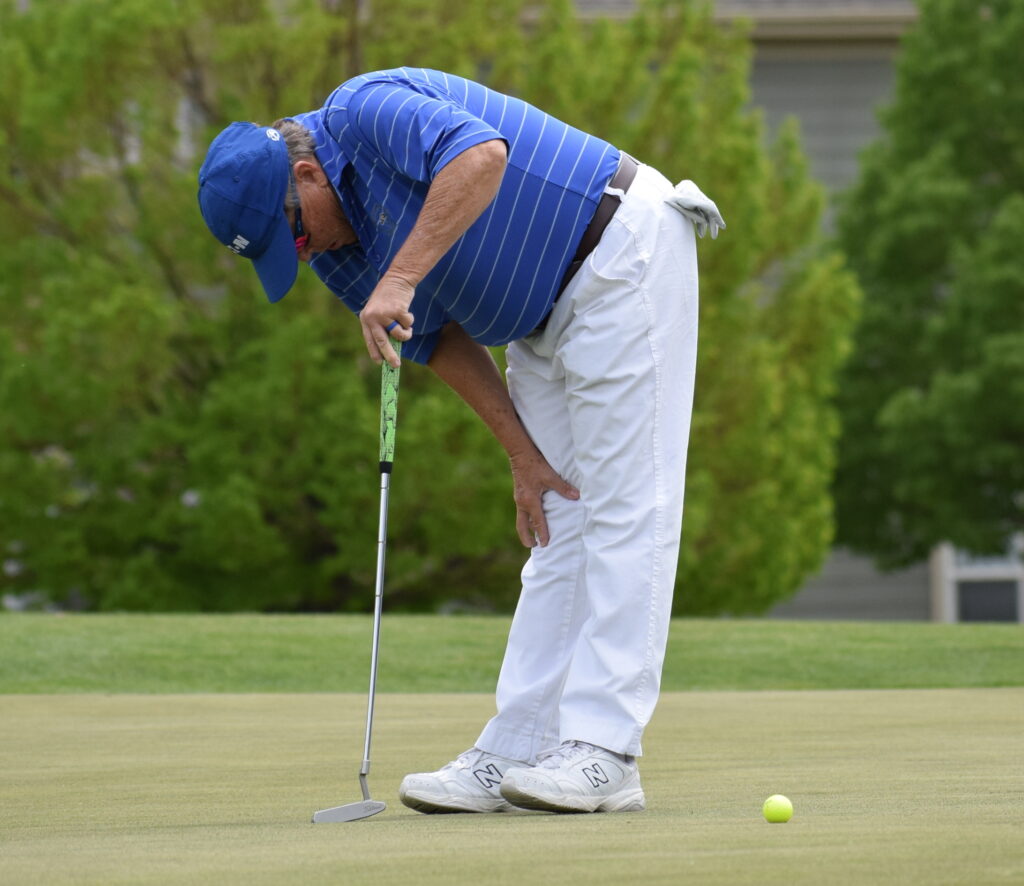 "I think Janet picked a good partner," Eaton said. "(Marin) hits is so far. On the par-5s on the front, she hit them both in two. That's hard to beat when you're playing old ladies." For the record, Eaton is 61 and Franklin is 55, while Halvorsen is 22.
Added Franklin: "The neat thing was, when Janet was out of a hole, Marin never missed. She was just really clutch. It was really impressive. (On 18), to tee off knowing most likely Janet is in the water (and hit a long, straight drive … Then that (second shot), to hit it the way she did … She did that on several holes. It never really gave us a window (of opportunity). We never could have won a hole with a par (except No. 8, which Eaton did claim with a par). That's just really good playing. And when I'm not helping, it put a lot of pressure on (Eaton)."
It was another recent victory for Halvorsen, a Kent Denver graduate who last month concluded her collegiate golf career at Wheaton College in Illinois by winning an unprecedented third consecutive College Conference of Illinois and Wisconsin individual title. In fact, Halvorsen won five of the six college tournaments she played as a senior. It should be noted that Janet Moore and husband Kent are both former golf coaches at Wheaton, though Halvorsen's career started a couple years after the Moores stopped coaching the Thunder.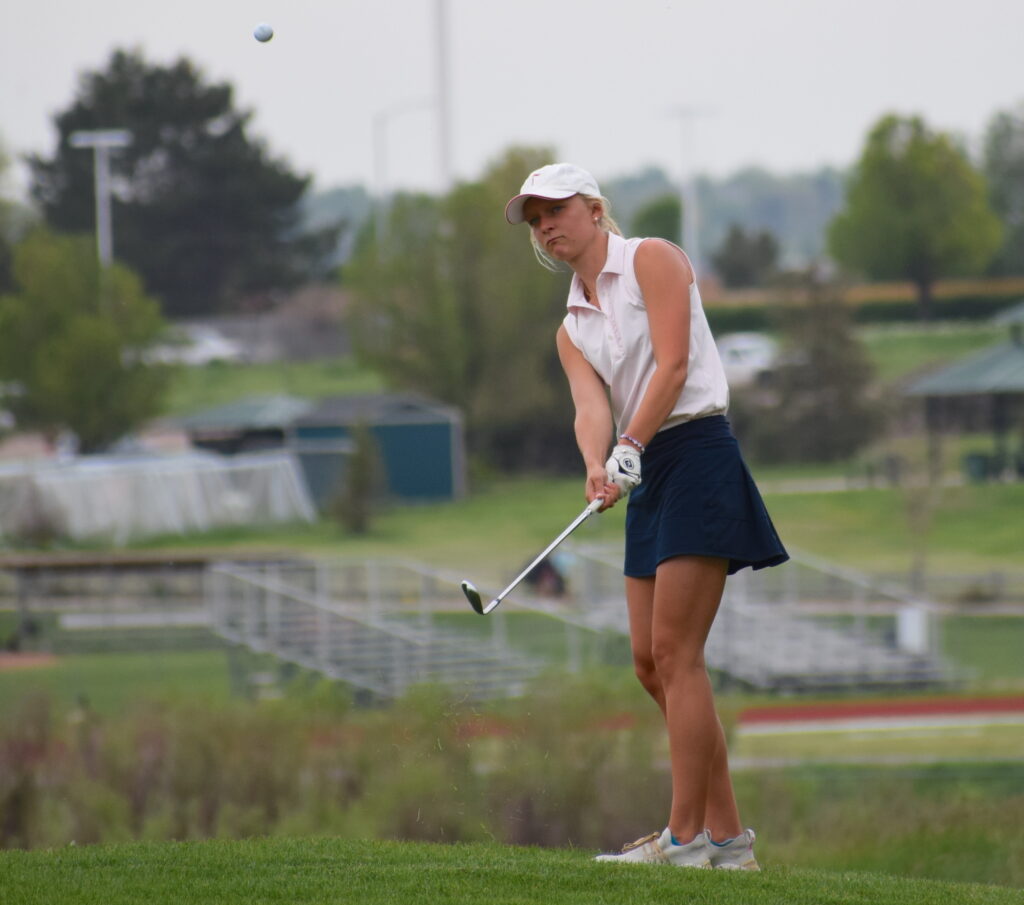 After three days of match play with Moore as a partner, Halvorsen said, "It's fun to play with Janet. She knows what's she's doing and it's fun to watch. We talk through shots and strategy and stuff. She's done this (win the Mashie) nine times. She has years of experience under her belt of winning everything, so it was an honor to be asked to play with her and learn from her."
Moore, a five-time winner of the CGA Women's Stroke Play during the 1990s, now has 18 victories in team events among her 23 CGA/CWGA championships. Here's the rundown of her team titles: nine Mashies, five Brassies, three Mixed and one Dunham Chapman.
With her 23 CGA women's/CWGA titles, Moore now trails co-record holders Eaton and Carol Flenniken by just two victories. Eaton has been looking to establish the outright record since she recorded victory No. 25 in the 2018 Brassie, ironically a title she won with Moore. Eaton also owns 19 Arizona Golf Association championships, plus one in California.
"It would be an honor" to potentially one day hold the record for CGA women's/CWGA victories, Moore said. "It's really fun to play in the partner events. Kim has won quite a few individual ones — and I know she will get (the record) someday. I'll just keep plugging and see what happens."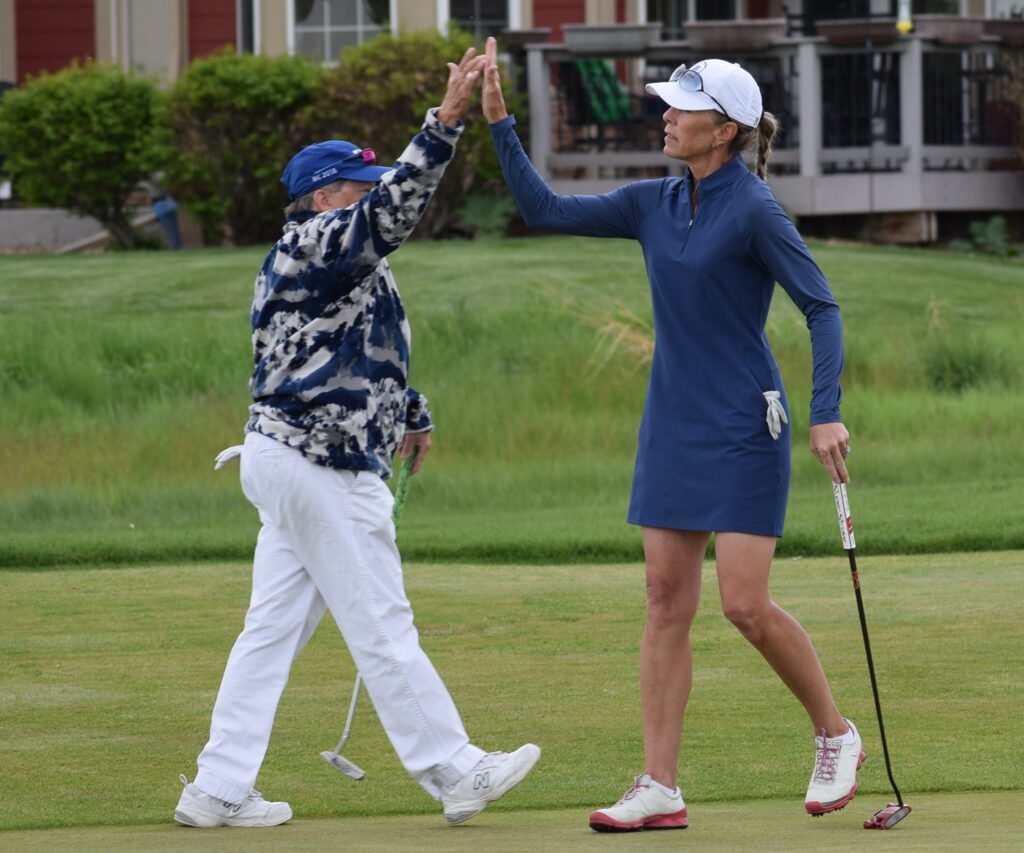 Eaton said she does believe she'll soon reach CGA/CWGA victory No. 26.
"I think it's going to happen this year whether it be an individual event or a team event," said Eaton, noting that she and Franklin plan to also team up for the CGA Women's Brassie Championship in August, and she will play individually in the Senior Match Play and Senior Stroke Play. "I'll keep trying."
Franklin, the CGA Women's Senior Player of the Year the past three years, has five CGA championships to her credit. But Moore's former University of Arizona teammate said she struggled in the early part of Wednesday's final, and she did bogey seven of the first nine holes before getting into a better rhythm on the back side.
"I was out of almost every single hole (on the front)," Franklin said. "It wasn't until the end that I helped at all. That's really good playing on (Eaton's) part when it's match play and not having a partner (play well early on)."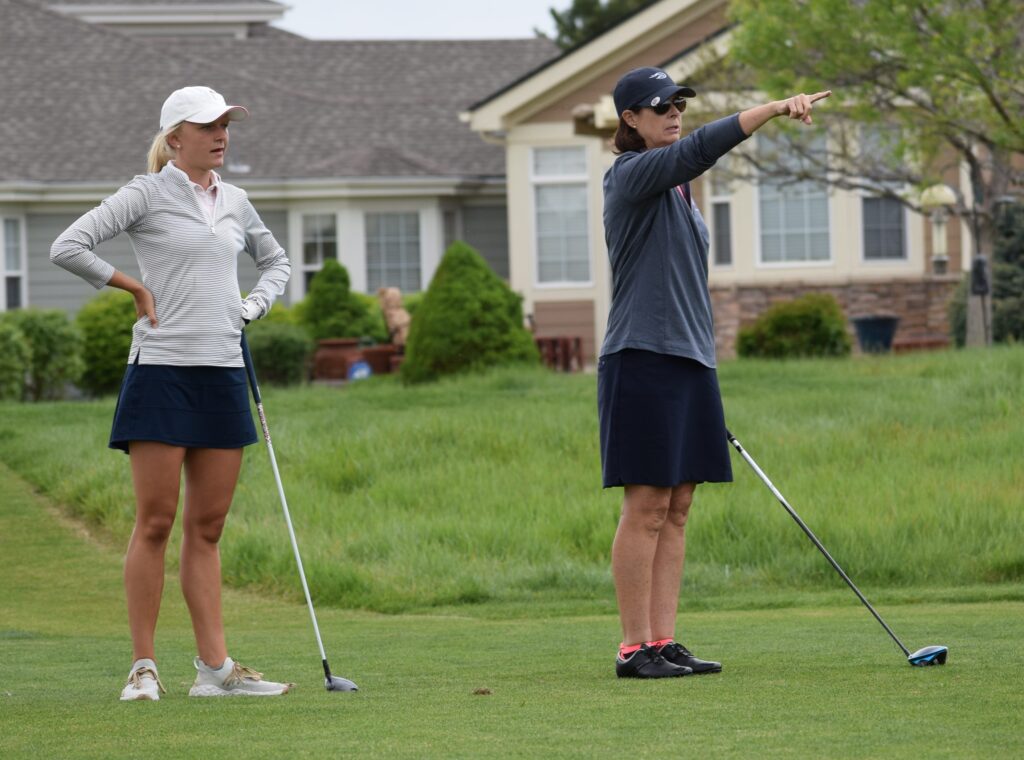 The Ranch Country Club in Westminster, Franklin's home course, co-hosted the CGA Women's Mashie — the first CGA women's championship of 2021 — the first two days of the event.
The championship flight was one of 12 flights contested at this year's Mashie. Here are the results of all of Wednesday's finals:
CHAMPIONSHIP FLIGHT
Championship final — Janet Moore/Marin Halvorsen def. Kristine Franklin/Kim Eaton, 2 up
Consolation final — Lisa Arndt/Kathleen Johnson def. Jennifer Cassell/Haejeong Son, 2 and 1
FIRST FLIGHT
Championship final — Meagan Arvidson/Laura Dunston def. Tina Johnson/Alison O'Connor, 4 and 3
Consolation final — Rebecca Howard/Jennifer Jacobsen def. Karen Leuschel/Laura Wetzel, 2 and 1
SECOND FLIGHT
Championship final — Susan Hartwell/Jean Miller def. Leanna Rosenow/Trish Swanson, 4 and 3
Consolation final — Jane Ford/Odette Kleidon def. Cindy Joos/Den Garcia, 2 and 1
THIRD FLIGHT
Championship final — Patti Stringer/Tracey Hess def. Michell Irving/Paige Rodriguez, 2 and 1
Consolation final — Patricia Sato/Ginger Troutt def. Amber Leis/Meredith Nelson, 4 and 3
FOURTH FLIGHT
Championship final — Pam Cortez/Sue Knutson def. Anne Cadden/Mabel Gong, 4 and 3
Consolation final — Michelle Jensen/Linda Masters def. Laura Stuto/Lisa Livermore, 4 and 3
FIFTH FLIGHT
Championship final — Trudy Cocroft/Tammy Voegele def. Becky Hammer/Lita Van Cleave, 4 and 3
Consolation final — Cindy Ortega/Kathy Diehl def. Anne Svec/Kris VanBladeren, 2 and 1
SIXTH FLIGHT
Championship final — Beckie Harkey/Darlene Evans def. Margy Ferris/Rhonda Fink, 1 up
Consolation final — Debbie Jensen/Jenny Elliott def. Doreen Tallman/Helen Robinette, 5 and 3
SEVENTH FLIGHT
Championship final — Tracy Granucci/Marita Rhea def. Barbara Ingledue/Connie Garcia, 7 and 6
Consolation final — Kathy Rojas/Melinda Bless def. Diane Storlie/Sharon Thiel, 7 and 6
EIGHTH FLIGHT
Championship final — Mary Smith/Suzanne Elkins def. Bette Poppers/Valerie Schulte, 1 up
Consolation final — Barbara Harrison/JoAnn Smith def. Nancy Barley/Peggy Payne, 1 up
NINTH FLIGHT
Championship final — Laura Fischer/Cher Tufly def. Joyce Craig/Maree Albright, 4 and 3
Consolation final — Virginia Edley/Nancy Thonen def. Carol Belica/Cindy Clifford, 20 holes
TENTH FLIGHT
Championship final — Dee Martinez/Lynette Schneller def. Kim Buck/Leticia Overholt, 1 up
Consolation final — Bunny Ambrose/Sandra Schnitzer def. Barbara Bender/Mary Graff, 5 and 3
ELEVENTH FLIGHT
Championship final — Kay Boyle/Kim Ellison def. Jan Squires/Laura Laux, 2 up
Consolation final — Susie Goldberg/Marcia Hall def. Heidi Cies/Jeanne Surbrugg, 3 and 2
For all the results in the Mashie, CLICK HERE.