Robin Bradbury/John Hornbeck 'ace' their test this week to win CGA Senior Four-Ball
By Gary Baines – 5/27/2021
Robin Bradbury and John Hornbeck came up aces this week at the CGA Senior Four-Ball Championship.
Literally and figuratively.
Playing in a practice round on Monday at Thorncreek Golf Course in Thornton, the two were paired with fellow Senior Four-Ball competitors David Nelson and Gary Albrecht.
On the 157-yard 17th hole, "David steps up to that tee and says, '$100 if someone makes a hole-in-one,'" Bradbury recalled on Thursday. "So we're laughing and having a good old time. John steps up there with a 9-iron: Boom, in the hole. We're all screaming and having a great time. It's the most incredible thing.
"I get up there. I'm trying to save myself $100. I knock a wedge in. I immediately turn to them and said, 'You're not paying us because one tie, all tie and we're done. We're not taking your money because it's too good a story and we can't taint it with the money.' So we believe that that karma of not getting paid is what allowed us to win this tournament. Two guys in the same foursome make it; that's pretty crazy."
Indeed, the odds of two golfers consecutively making holes-in-one are astronomical, so Hornbeck and Bradbury certainly had some good mojo going into the tournament. And, sure enough, the two emerged with the CGA Senior Four-Ball title on Thursday at Thorncreek, where they rallied after a poor start to earn the glass trophies.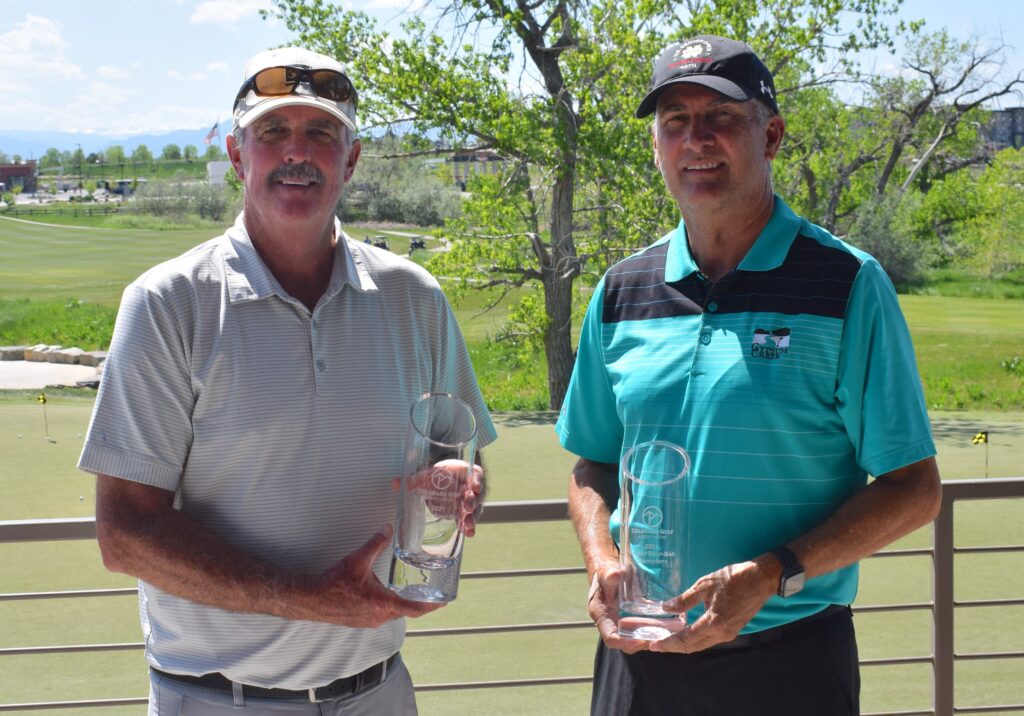 The two former U.S. Senior Open qualifiers — Bradbury went in 2019 and Hornbeck in 2016 — overcame a better-ball double bogey on the second hole on Thursday and fell behind on the front nine. But they played their final 14 holes in 5 under par and ended up winning by three.
It marks the first CGA championship ever for Bradbury, who now plays out of TPC Colorado in Berthoud, and the third for Hornbeck, a resident of Saratoga, Wyo., who has competed in numerous CGA championships in the last half-dozen years.
Hornbeck and Bradbury had shot a tournament-best 64 on Wednesday and led by two strokes. But, as noted, that hardly meant it was clear sailing in Thursday's final round.
"We were playing so good all week. We kind of expected to keep it going," Hornbeck said. "But every once in a while golf throws a curveball at you."
The two 60-somethings — Hornbeck is 63 and Bradbury 64 — closed with a better-ball score of 3-under-par 69 on Thursday, giving them a 14-under 202 total.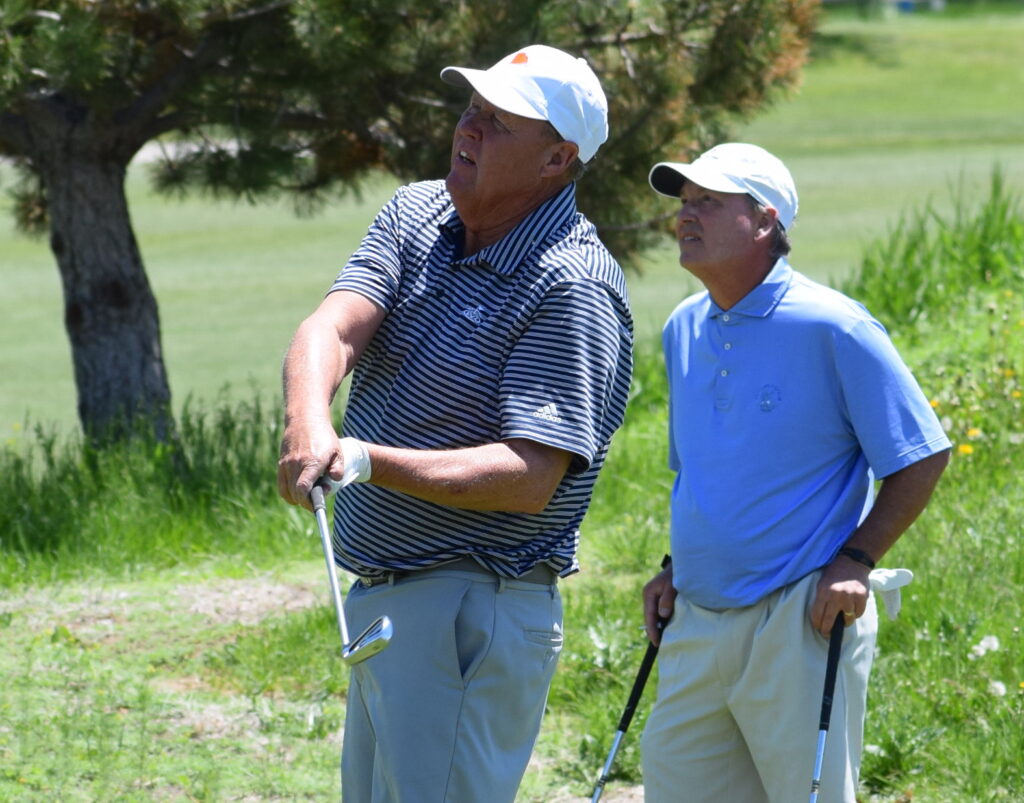 Steve Ivan, the CGA Senior Player of the Year two of the past three years, and 2014 Senior Four-Ball champion Bruce Hogg — both from Patty Jewett Golf Course — held the lead in the middle of the front nine on Thursday before settling for a tie for second place at 205. They bogeyed the 17th hole to close with a 70.
Joining them as runners-up were Gary Hanson of Colorado Springs Country Club and Todd Wood of Wellshire Golf Course, who fired a bogey-free 66 on Thursday.
Robert Polk of Colorado Golf Club and Bill Fowler of The Club at Rolling Hills, winners of the 2016, '18 and '20 Senior Four Ball titles together, fired a final-round-best 65 to move up to a fourth-place tie at 208 with Keith Atkins of Highland Meadows Golf Course and Jeff Slupe of Pelican Lakes Golf & Country Club.
Hornbeck and Ivan both posted double bogeys on the par-4 second hole after they "snapped it into the junk on the left," Bradbury said. That, combined with a birdie by Ivan on the fourth hole, gave Ivan and Hogg the lead.
But Hornbeck said he and Bradbury weren't panicking.
"There was a lot of golf left," the Wyoming Golf Hall of Famer explained. "We had 16 more holes to go. We were playing good."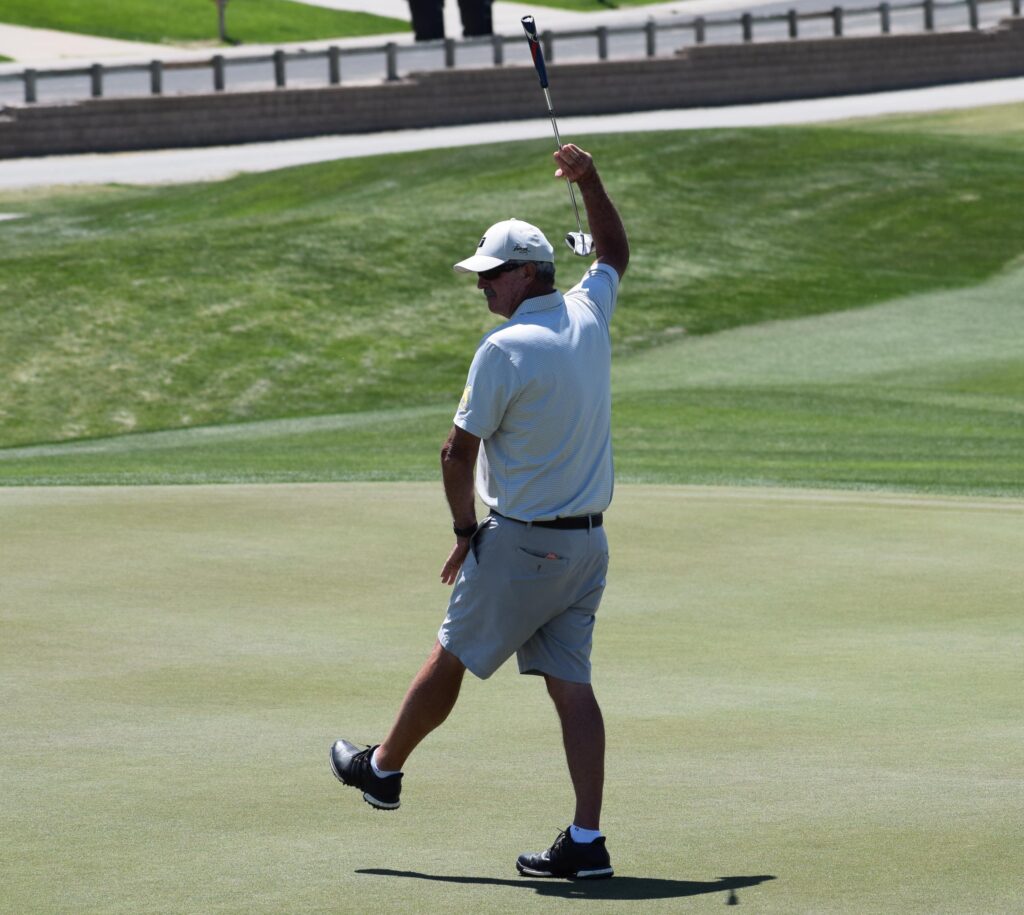 And even after Bradbury drained a 10-foot birdie putt on 8 and Hornbeck rolled in a 20-footer on 9, Ivan pulled himself and Hogg even with a 15-foot birdie of his own on 10.
And things remained tied until the crucial stretch of 14, 15 and 16. Bradbury put his team up for good with a 7-foot birdie on 14. It looked like that lead might be in danger on the next hole as Hornbeck left his first putt 10 feet short and Ivan had an 8-foot look for birdie. But Hornbeck made his putt and Ivan missed his, with no blood drawn on the hole.
"If that putt on 15 would have gone for me, that could have changed the dynamic," said Ivan, who swept the CGA's major senior titles last year.
Then Hornbeck, the Senior Four-Ball runner-up last year with Victor Minovich, gave his team a two-shot cushion by holing a 7-foot birdie on No. 16. And when Hogg three-putted No. 17 and Ivan couldn't couldn't get up and down from the sand, the lead was a comfortable three, and a routine par on 18 by Hornbeck and Bradbury put an exclamation mark on the victory.
"Those putts on 14 and 15, we had to have those," said Hornbeck, whose wins at the 2018 CGA Senior Match Play and the 2019 CGA Amateur came with Ivan placing second. "We were leaking (oil) just a little bit. We weren't hitting quality shots."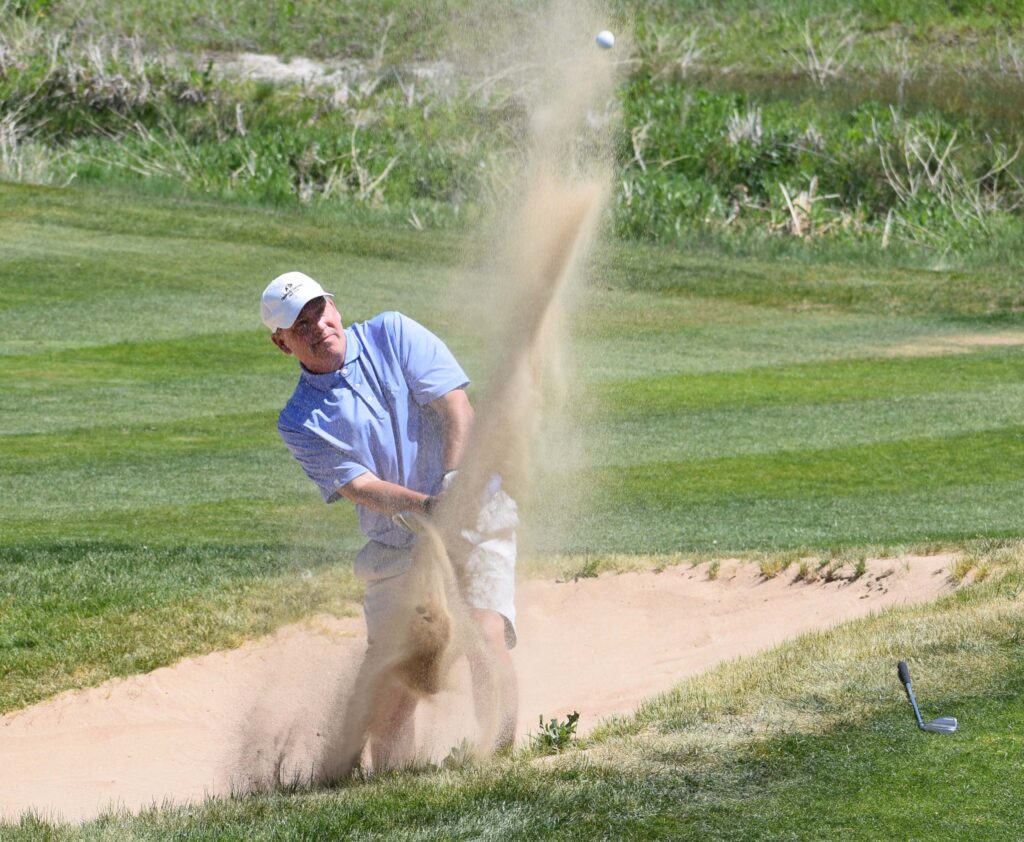 But that changed down the stretch.
"I rode John hard that last nine," Bradbury said. "I didn't play very well. I made a couple of things happen, but John played really well.
"It's good to have John playing alongside. When you have somebody there that you know and you trust and you enjoy playing with and being with, you don't feel alone out there. That was important to me. I hung in there and we just kept playing."
Thursday's victory marked Hornbeck and Bradbury's second strong showing as four-ball teammates. The two tied for first, then lost in a playoff at The Gallery Invitational in Tucson last month.
And, of course, there were those holes-in-one on Monday on the eve of the Senior Four-Ball, with Hornbeck making the eighth ace of his lifetime and Bradbury his fifth.
The CGA Senior Four-Ball is limited to players 55 and older.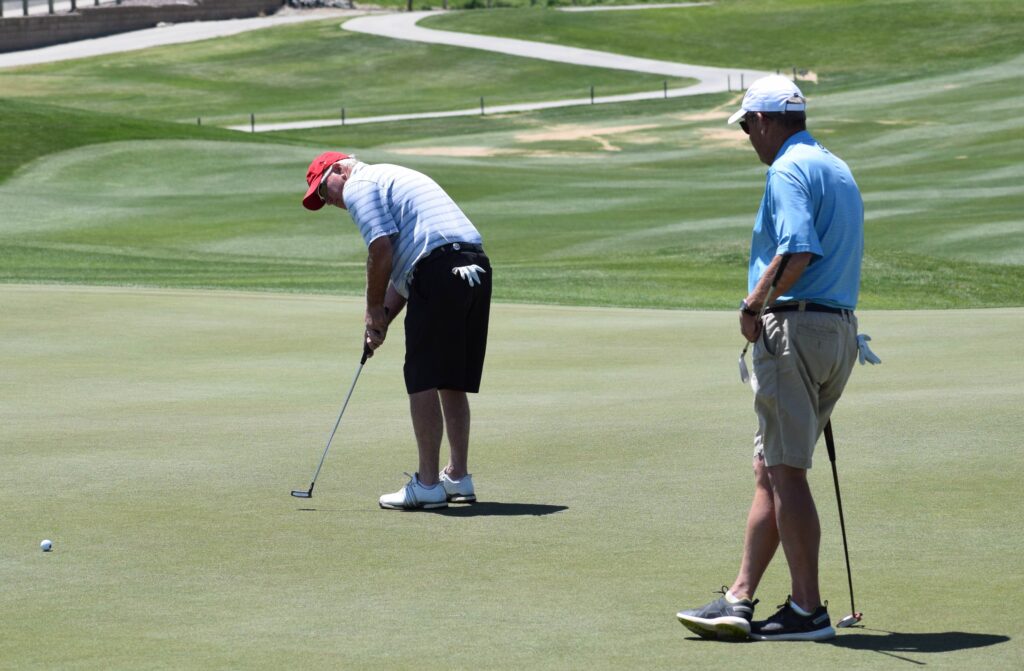 In the super-senior division, in which both teammates must be at least 65, two teams tied for the title. That includes Jim Reynolds of Bear Creek Golf Club and Robert Cloud of CommonGround Golf Course, who won the super-senior division of the Four-Ball outright in both 2019 and '20.
"We found another way to win a state championship — with a tie," Reynolds said with a smile after he and Cloud went 69-70-71 — following a better-ball bogey on the final hole — for a 6-under 210 total.
Also tying for first among the super-seniors were the veteran college golf coaches, Mark Crabtree (recently retired after being at the helm of the University of Louisville men) and Roger Prenzlow of TPC Colorado (University of Northern Colorado men). They carded scores of 66-72-72. Crabtree is a Colorado Golf Hall of Famer who has won four CGA Match Play titles but hadn't competed in a CGA championship for a quarter-century.
The Senior Four-Ball marked the second CGA men's championship this spring in which some contestants raised money for Youth on Course — in addition to competing. CGA executive director Ed Mate and his partner, CGA president Kent Moore, brought in more than $8,000 in "The Charity Challenge." Between the Senior Four-Ball and the Four-Ball earlier this month, almost $14,000 was raised for YOC, a non-profit program which makes golf more accessible for juniors by capping their cost for a round at $5 at participating facilities.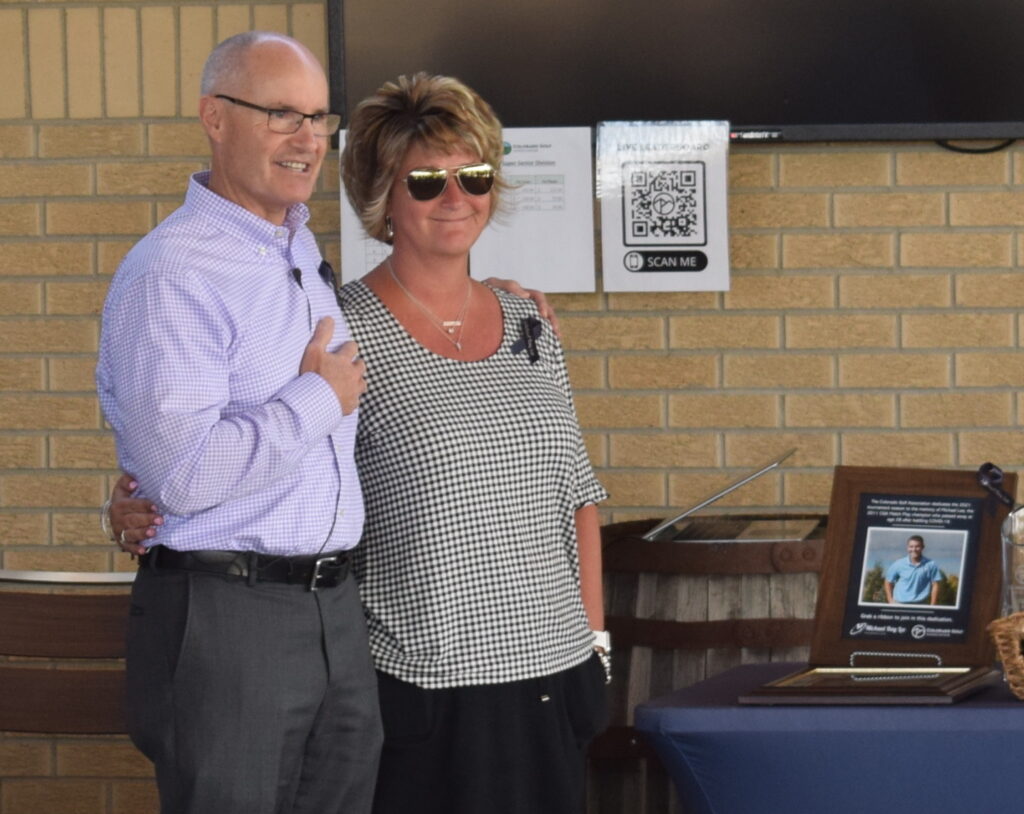 Attending Thursday's awards presentation — as they were at the CGA Four-Ball almost a month ago — were John and Amy Lee, the parents of 2011 CGA Match Play champion Michael Lee, who passed away on Dec. 22 after battling Covid-19. The 2021 CGA men's championship season has been dedicated to the memory of Michael Lee, and John and Amy plan to attend many, if not all, of the championships this year as Michael is remembered.
For all the scores from Thorncreek, CLICK HERE.