Logan Hale of Erie qualifies — and earns medalist honors — for U.S. Girls' Junior that will be played in Colorado; 2 Thai juniors also advance; several hours of TV planned for national championship at Eisenhower GC
By Gary Baines – 6/20/2023
Logan Hale is a confident golfer who's on a roll of late, but when she saw where the Colorado-based qualifying tournament for the U.S. Girls' Junior Championship was being held this year, it must have put a particularly big smile on her face.
You see, though Hale lives in Erie these days, she grew up as a member at the Country Club of Colorado in Colorado Springs, and she estimates she's played more than a hundred rounds at that course. And the qualifier for the U.S. Girls' Junior — a national championship that is being held in Colorado this summer, at Eisenhower Golf Club at the Air Force Academy — was conducted Tuesday at … you guessed it: the Country Club of Colorado.
The result was that Hale, who won the 4A girls state high school individual title three weeks ago, not only qualified for the national tournament, but earned medalist honors.
In a field that numbered 32, Hale and two junior golfers from Thailand — Tarapath Panya and Pimpisa Rubrong — landed berths in the U.S. Girls' Junior, scheduled for July 17-22 at Eisenhower's Blue Course.
Hale, coming off a 39th-place showing last week in the Inspirato Colorado Women's Open, posted the only subpar score of the day on Tuesday — a 2-under 69 that featured four birdies and two bogeys.
"I think CCC is one of the most intimidating courses in Colorado," the 17-year-old said. "It can play pretty difficult. There are things that can really trick you up. So it being there was definitely an advantage for me. It gave me a lot of confidence. I was still nervous because there was tough competition there — a pretty deep field. But a I knew I had played this course more than anyone out there, and I know the ins and outs of it. I feel pretty comfortable on that track."
Meanwhile, Panya played her last seven holes in 4 under par en route to a 71. And Rubrong, a 16-year-old who won the CGA Women's Match Play title on Friday, carded a 73.
Panya and Rubrong are part of a group of Thai junior golfers who arrived in Colorado earlier this month and plan to compete in several tournaments and qualifiers in the U.S. over the course of a month or so.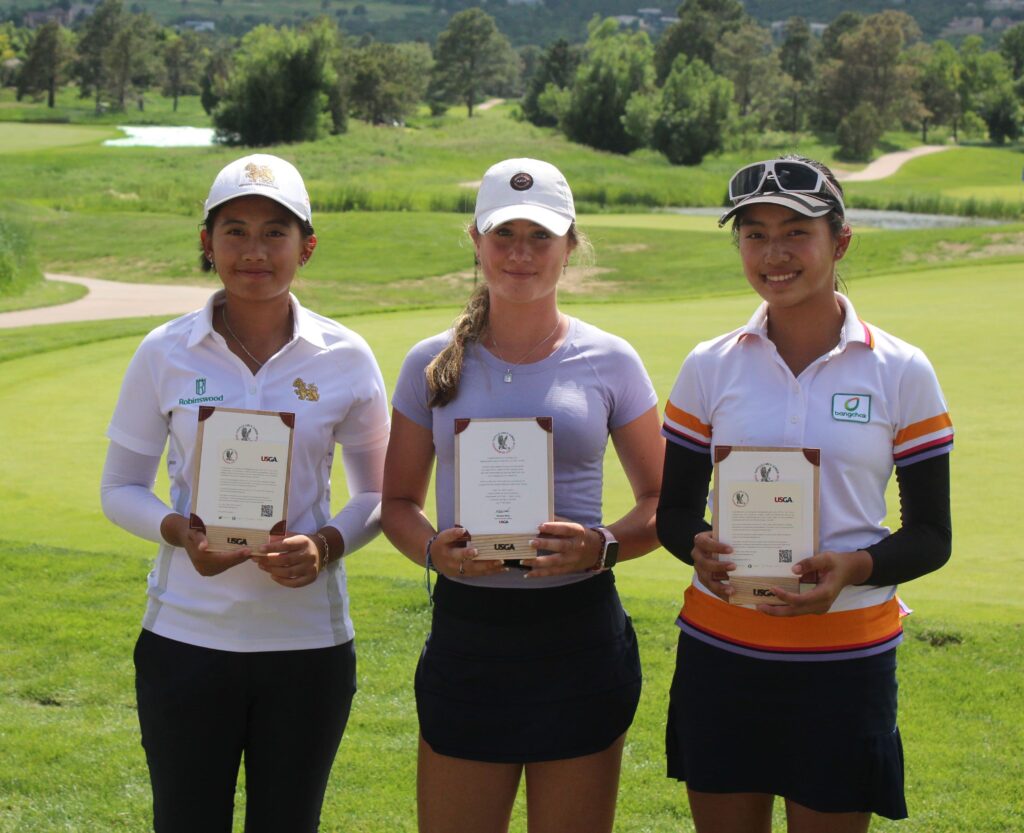 Thai golfers Tarapath Panya (left) and Pimpisa Rubrong (right) joined Hale in qualifying for the 2023 U.S. Girls' Junior.



But it was Hale who was the only Colorado resident to qualify on Tuesday at the Country Club of Colorado.
Hale was born in Colorado Springs and said she and her family were members at the Country Club of Colorado roughly from 2014-20 — while living in the Springs and then in the Vail area (where she was a ski racer) before moving to Erie in 2021. Hale's instructor during her younger years, Colorado Golf Hall of Famer Ann Finke from CCC, followed Hale during Tuesday's round.
"CCC was my home course growing up, so it was cool to get it done there today," Hale said. "I played a lot of rounds there and I knew it was a comfortable course for me."
Hale started off the round with a 3-foot birdie on No. 1, then bounced back from two straight bogeys with a birdie on No. 4. She played her final 15 holes in 3 under par, with her last two birdies coming from 15 feet on No. 10 and from 4 feet on No. 13.
The result was Hale earning a berth in a USGA championship for the first time — and a USGA championship be held in Colorado, no less.
"It's super cool," she said. "This was one of my goals going into this season and the summer. This was definitely at the top of my list. It's a really cool feeling to come out here on home turf and represent Colorado. And (the national championship) is also going to be in Colorado, so that's a really cool feeling. With it being so close, it's a huge advantage as well. This is definitely one of the cooler (USGA championships) to qualify for. I'm really happy I could get it done."
Hale, a senior-to-be at Erie High School, has committed to play her college golf at the University of Denver. So it's yet another step of her life — and golf career — that will take place in Colorado.
She certainly seems to be rounding into top form this spring as she closed with a 66 to win the 4A state title by a whopping eight strokes on May 31 as Erie HS also captured a second 4A straight team championship. Then, competing against a formidable field of pros and amateurs, Hale tied for 39th place in the Colorado Women's Open and finished sixth among the amateurs.
"I'm definitely hitting it real well now," she said. "One of the biggest factors for me recently has been the mental side of my game and just competing against deeper fields, deeper competition, getting in the final group (at tournaments). It's all elevated my mental game. That's a huge part of it. I'm comfortable with going low (scoring-wise). My game is in a pretty good place right now. I've really been working toward this."
Hale will try to continue her roll on Wednesday at Walnut Creek Golf Preserve, where the top five players will qualify for the U.S. Women's Amateur.
"Two of my biggest goals (this year) were winning state (high school) and qualifying for the Girls' Junior," said Hale, who now plays out of Colorado National Golf Club. "And I just played in the Colorado Open — and a goal there was to make the cut, which I also did. I'd say a lot of the goals that I've been dreaming about are coming true, which is really awesome. Qualifying for this is definitely at the top of my list of achievements, which is cool."
For all the scores from Tuesday's U.S. Girls' Junior qualifier at the Country Club of Colorado, CLICK HERE.

— National TV Planned for Final Days of U.S. Girls' Junior: Eisenhower Golf Club at the Air Force Academy is quite a scenic course, meandering through pine trees and hilly terrain, with plenty of wildlife throughout.
And not only will spectators attending the U.S. Girls' Junior get to enjoy the host course. So will a national television audience.
Plans aren't yet finalized, but tentatively call for a couple of hours of semifinal action to be televised, along with two hours of the final. Here are the tentative TV broadcast times (MT) and outlets. Note: Details are subject to change.
Friday, July 21 (Semifinals)
3-5 p.m. on Peacock
6-8 p.m. on Golf Channel, tape delayed
Saturday, July 22 (Championship Match)
3-5 p.m. on Peacock
6-8 p.m. on Golf Channel, tape delayed.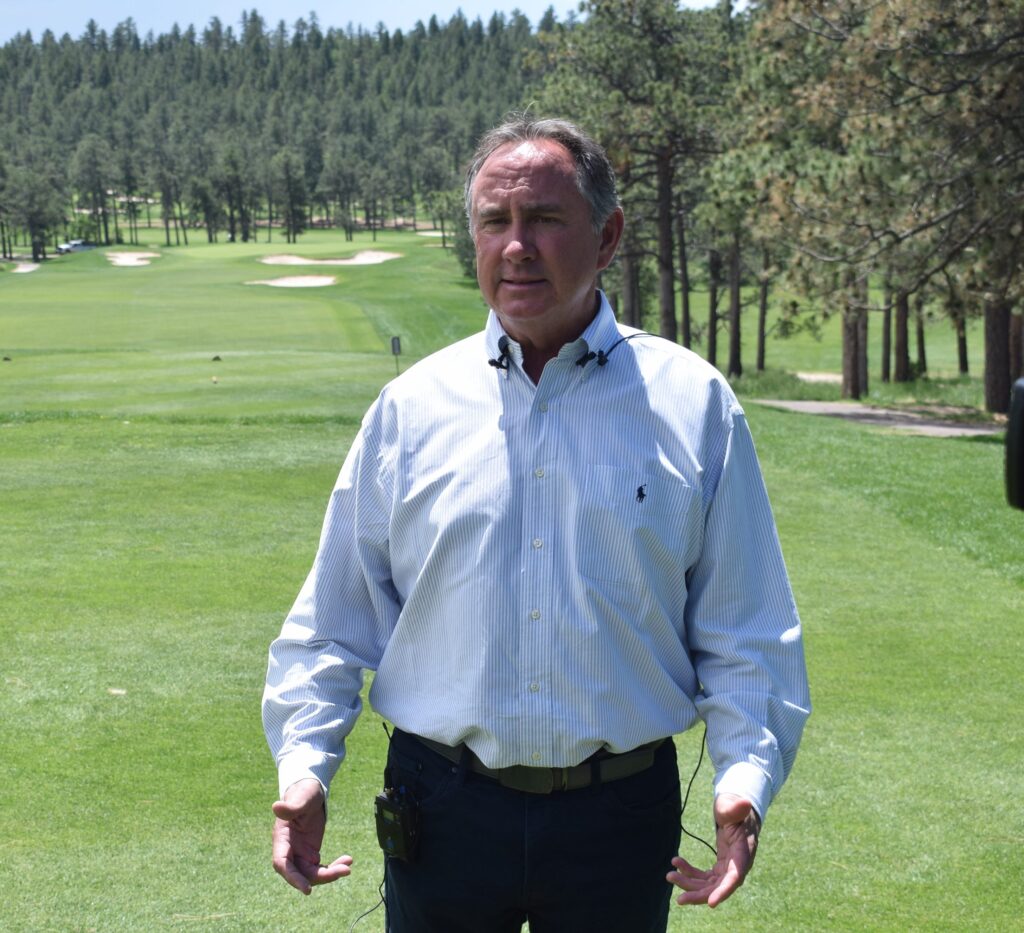 Steve Wallace, the PGA general manager at Eisenhower GC, talked about the course and the U.S. Girls' Junior during Tuesday's media day for the national championship.


— U.S. Girls' Junior Notes: The USGA accepted a total of 1,677 entries for the U.S. Girls' Junior this year. Of those, 156 will actually compete in the national championship. Qualifying for the event concludes on June 29. … The CGA is playing a major role in organizing the U.S. Girls' Junior, serving as a "host group" for the championship. The association is teaming up with the folks at Eisenhower Golf Club and the Air Force Academy for volunteer recruitment and aspects of player hospitality — and raising roughly $400,000 for the championship. … Four USGA national champions will be in the field for the 2023 U.S. Girls' Junior, including defending champion Yana Wilson from Henderson, Nev., 2023 U.S. Women's Amateur Four-Ball winners Avery Zweig of McKinney, Texas and Gianna Clemente of Estero, Fla., and 2022 Women's Four-Ball champ Sara Im from Georgia. Also in the field will be 2022 Augusta National Women's Amateur winner Anna Davis of Spring Valley, Calif., and 14-year-old 2023 U.S. Women's Open qualifier Angela Zhang of Bellevue, Wash. … The winner of the U.S. Girls' Junior will earn spots in the 2024 U.S. Women's Open, the 2023 and '24 U.S. Women's Amateur, and the 2024 Augusta National Women's Amateur. … Eisenhower Golf Club, which sits at 6,788 feet of elevation, will play to a yardage of 6,778 (par-72) for the U.S. Girls' Junior. … The Girls' Junior will be the first of two USGA championships that will be contested in Colorado this year as Cherry Hills Country Club (along with Colorado Golf Club in the stroke-play portion of the event) will host the U.S. Amateur Aug. 14-20.

About the Writer: Gary Baines has covered golf in Colorado continuously since 1983. He was a sports writer at the Daily Camera newspaper in Boulder, then the sports editor there, and has written regularly for ColoradoGolf.org since 2009. He was inducted into the Colorado Golf Hall of Fame in 2022. He owns and operates ColoradoGolfJournal.com