Hale Irwin Player Program member Jeffrey Zhou at the top of his game on and off the course
By Gary Baines – 5/14/2020
Last November, when nearly 550 people — including a veritable who's who of Colorado golf — were mingling prior to the inaugural Hale Irwin Dinner at The Broadmoor in Colorado Springs, they enjoyed some exquisite piano music as a backdrop.
Many of those on hand probably were unaware that the performer at the keyboard not only knew his Beethoven from his Mozart, but The Broadmoor from Cherry Hills, and the Ivy League from the Pac-12.
To say that Jeffrey Zhou is a young man with multiple talents would be an understatement. Whether he's on a golf course, on a piano bench or in school, the 16-year-old from Greenwood Village goes to the head of the class.
It's little wonder why playing college golf for one of the Ivy League schools is a very real possibility in the near future.
Zhou is one of the standouts at the CGA's Hale Irwin Player Program at CommonGround Golf Course in Aurora. The Irwin Program is designed to nurture the budding careers of promising, determined and passionate junior golfers in the state. It grants those selected free unlimited use of the practice range and Kids Course at CommonGround — and of the championship course on a space-available basis. Participants also receive help with their games on a variety of levels, including fitness and nutrition. And all of them are expected to "give back" by volunteering.
"I'm on the Hale Irwin Selection Committee, and Jeffrey has really been a success story for us there," Kent Denver boys golf coach Bob Austin said. "He's really grown into a great leader and a great mentor for all those kids. He's really been one of our shining stars in the Hale Irwin Program."
Austin, a prominent rules official and the husband of Colorado Golf Hall of Famer Christie Austin, is certainly no stranger to Zhou, having coached him for three seasons so far at Kent Denver, which has won nine state high school team titles, including eight under Austin's coaching. He's seen up close how Zhou excels to the nth degree in golf, playing the piano, and as a student.
To wit:
— At golf, the lifelong Coloradan is one of the top junior players in the state. Last year, Zhou posted the best state high school tournament qualifying score in Colorado (a 5-under-par 66 at Hollydot) before placing fourth at the 3A state meet. A year earlier, Zhou ended up eighth at state as a sophomore. Outside of interscholastic golf, he posted top-10 finishes in three of the four Junior Golf Alliance of Colorado majors in 2019.
— Academically, Zhou has scored a 35 on the ACT standardized test, with 36 being a perfect score. And though he reluctantly says so, Zhou has gotten "pretty much" straight As in high school. For those wondering, areas of study that particularly interest Zhou are "technology and health and the intersection between those two disciplines."
— Regarding tickling the ivories, Zhou won a statewide piano competition in sixth grade and was runner-up in the American Protege International Piano and Strings Competition for his age group as a 14-year-old. He subsequently performed at Weill Recital Hall at Carnegie Hall in New York City two years ago. 
Zhou called playing at Carnegie Hall — a world-renowned music venue — "an amazing experience. … It was cool just to go to New York and one of the most famous halls in the world. I'm really fortunate that I had that opportunity."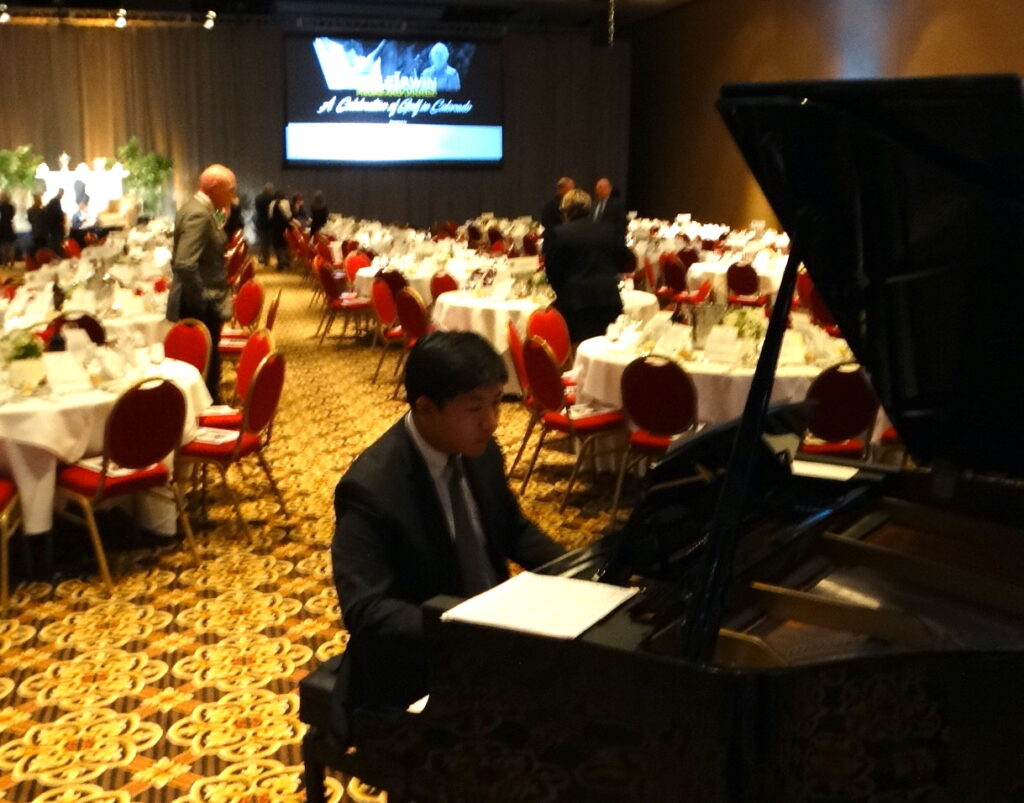 Zhou not only enjoys participating in a variety of activities, but excelling at them.
"I like to do a lot of different things," he said. "That's sort of my personality. I choose to explore different things. If I do something, I like to get into it. I don't like to do it for the sake of doing it. If I choose to participate in an activity, I like to do it well. For me, it's more about fueling my curiosity, and it's great to be known for different things.
"When I'm playing golf, I'm trying my hardest, but I'm definitely keeping a balance in terms of time with different activities."
Asked if he more enjoys playing golf or the piano, Zhou said:
"That's a great question. For me they serve different purposes in my life, which is part of the reason I continue to play both and I enjoy both activities. For me, golf is more of a competitive front where I can practice working under pressure, or work on a swing change, figuring out how do I stay calm or positive. I really take it seriously, whereas piano for me if more of a release. Though I sometimes play competitively and the events and whatnot, it's definitely more of a way for me to express myself in terms of my artistic side. For me as a pianist, it's a lot less technical. I just sort of play songs that I enjoy. I like to challenge myself in that sense. I'm not taking piano as seriously. That's not to say it's not important, but it's more of a way for me to express myself — solely focusing on improving."
Zhou started playing the piano at age 5, beginning with "Peter, Peter". As for golf, he first hit the course at 8 years old, then started competing a year later.
"My dad was getting into golf about the same time I started and he sort of dragged me along," Zhou said. Neither of his parents played the piano. "My mom has been my cheerleader in both activities. They've definitely been supportive, which I appreciate a lot. My parents go to my big golf tournaments — I'm really grateful for that — and they come to all my piano performances."
Zhou competes less at piano than he once did — perhaps once a year — but performs a handful of times annually. Meanwhile, once the JGAC tournament schedule begins early next month, he figures to compete in golf most weeks during the summer.
Zhou will be one of the favorites for the 3A individual state high school title in the fall. After all, he and Aspen's Nic Pevny are the only returning players who placed in the top six at the 2019 3A state tournament (they both tied for fourth place).
"I certainly expect him to compete for an individual state championship," Austin said. "He's definitely in the mix. In 3A, he's as good as any player coming back. Let's put it this way: I wouldn't trade him for anybody in the state.
"I think he's a Division I (college) player. He's as hard a working player as I've coached. His game really has no weaknesses. He drives the ball well, hits his irons well, his short game is good. Like all kids, he needs to continue to work on his wedge game and short game, but I can say that about every player I've coached."
For the record, among Austin's players in his 15 years as Kent Denver's coach are individual state champions Ethan Freeman (a two-time winner), Beau Schoolcraft, Oliver Jack, Ben Moore and Jackson Klutznick, along with Gunner Wiebe.
Part of what has helped Zhou develop as a player is three years — so far — in the Hale Irwin Player Program at CommonGround. Included as part of the program, players have access to supervised practices and on-course coaching, learn with the Vision54 curriculum, and participate in fitness and nutrition sessions. 
Instructor Elena King and her team from ExperienceGolf work considerably with the Irwin Players on the course regarding Vision54, a holistic approach to the game which focuses on the mental, emotional and spiritual aspects of golf along with the technical. Meanwhile, nationally-recognized golf fitness guru Dee Tidwell provides guidance on fitness and nutrition to the Irwin Players.
There's also a volunteer aspect to the Irwin Player Program. Each participant gives of his or her time as scorekeepers in JGAC 10 & under tournaments, helping with Special Olympics events at CommonGround, and/or with Drive, Chip & Putt competitions.
"The Hale Irwin Program is definitely something I treasure a lot," Zhou said. "I've learned a lot and made a ton of connections. I spoke with coach (Erin) Gangloff (the CGA's managing director of programs) the other day and that was really cool. The Hale Irwin coaches are really good. We really focus on the mental game — and my attitude, both on and off the course, has improved so much thanks to the program in terms of staying really calm and being really positive. Even outside the course, (it's helped me) being really positive and being as kind as possible."