Tip from 3-time U.S. Women's Open champ Hollis Stacy helps Robin Bradbury qualify for his 2nd U.S. Senior Amateur; fellow Coloradans Bill Fowler and Jim Reynolds also punch their tickets; Robert Polk exempt into championship
By Gary Baines – 7/26/2021
It's not often that your typical golfer playing at a public course gets unexpectedly paired up with a World Golf Hall of Famer. But that's exactly what happened to Robin Bradbury of Superior a few weeks ago — and he's mighty happy that it did.
Bradbury and a playing partner were joined for their round at Walnut Creek Golf Preserve in Westminster by none other than part-time Colorado resident Hollis Stacy, winner of three U.S. Women's Opens, four women's major championships in all, 18 LPGA Tour events total, and three U.S. Girls' Juniors.
"She said, 'My name is Hollis,' Bradbury recalled of the round. "(My playing partner) asked her, 'Did you do OK as a pro?' Of course she says, 'Yeah, I did OK.' I thought that was pretty funny."
Bradbury later asked Stacy to join him for golf again at TPC Colorado in Berthoud, Bradbury's home course.
"To play with someone who's won three U.S. Opens, that's pretty amazing," he said. "She's an incredible player. So it was fun."
But beyond Bradbury enjoying Stacy's company, the former LPGA standout gave the 65-year-old a little suggestion about how he might improve his game.
"What she told me was a very minor tip, but it was big," Bradbury said. "I haven't been playing that well, but I started doing (what she suggested and after that) I was hitting it longer and straighter — and that usually helps. It was fun."
And on Monday at Ptarmigan Country Club in Fort Collins, Bradbury parlayed Stacy's tip into a spot in the U.S. Senior Amateur.
Bradbury and Bill Fowler of Lakewood and The Club at Rolling Hills shared medalist honors in Monday's qualifier with even-par-72s, while Jim Reynolds of Denver and Bear Creek Golf Club earned the third berth into the U.S. Senior Am out of Monday's field of 61.
And another Coloradan will be joining them for the Senior Am — set for Aug. 28-Sept. 2 at the Country Club of Detroit — though he didn't have to qualify on Monday. Robert Polk of Parker and Colorado Golf Club, who has won six CGA senior major championships, is exempt into the field by virtue of being ranked in the top 25 in the world among male players over 55. Polk currently sits No. 21 in those rankings — as well as third among players over 65. It will be his third U.S. Senior Amateur.
As for those who went through qualifying on Monday, it will be Bradbury's second U.S. Senior Amateur and third USGA championship overall, Fowler's first Senior Am and third USGA championship, and Reynolds' second Senior Am and second USGA championship.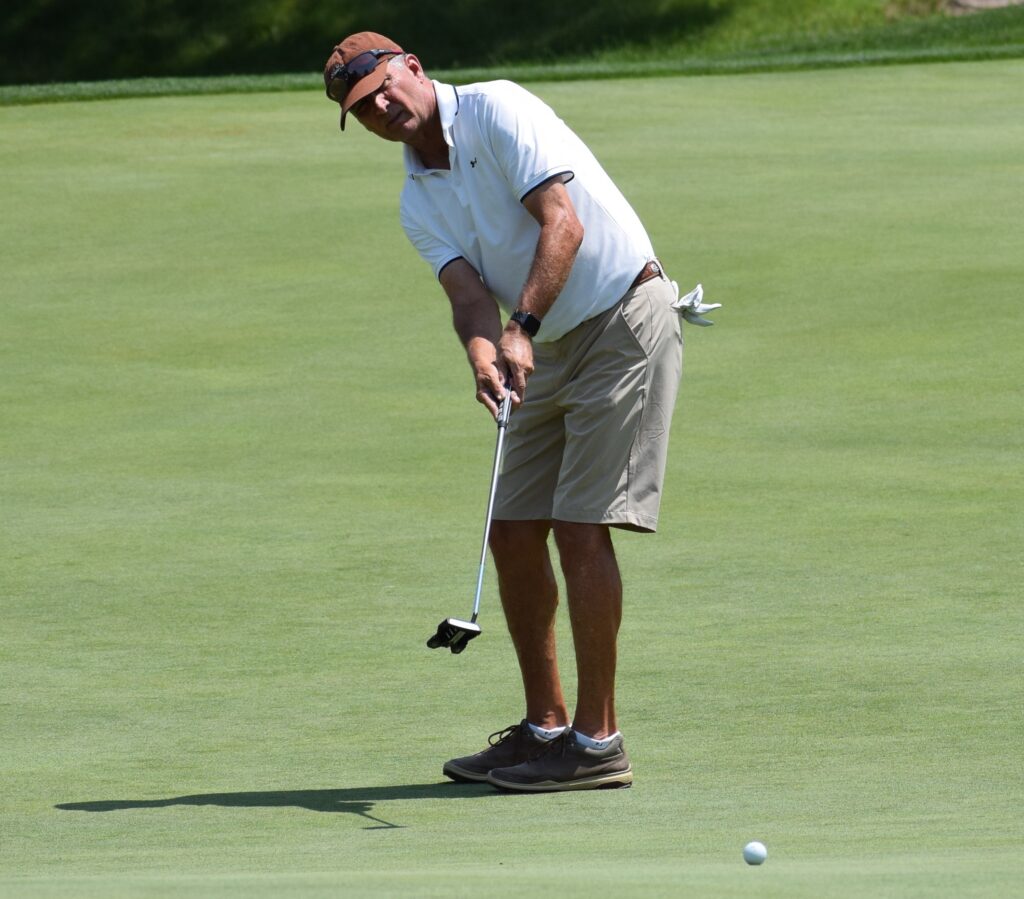 In any case, Monday was a memorable accomplishment for all three qualifiers.
"It's really special," said Fowler, a former CGA president who won the 2015 CGA Senior Amateur. "I've had a few injuries and I haven't played great for a few years, but things are starting to really come together for me. Late last year I found a couple of things, swing thought-wise and putting. And the putting all jelled a few weeks ago and I'm still hitting the ball good tee to green. So it's very exciting to see the hard work pay off and to see how I can play against other top players in my age group. I know I can't compete with some of the young guys anymore, but I know I can compete with the over-55 crowd."
Added Reynolds: "It's my lucky day. This is really a big thing for me. Making the U.S. Senior Amateur is the top thing for a person like me. Everybody at the club is going to be excited for me because they know how hard I work" at the game.
Just three players broke 75 on Monday — and all three punched tickets to the U.S. Senior Amateur. Bradbury, who previously played in the 2016 U.S. Senior Amateur and the 2019 U.S. Senior Open, made three birdies and three bogeys en route to his 72. Fowler birdied his first two holes of the day and finished with four birdies and four bogeys. And Reynolds posted a 2-over 74 with a birdie, a bogey and a double bogey.
Wyoming resident John Hornbeck, who has twice before qualified for the U.S. Senior Amateur, will attempt to get into the field this time as the first alternate after making a 15-foot birdie on the second hole of a playoff for those who shot 75.
Fowler, 58, is headed to Detroit for the second time as a USGA competitor as he played at Detroit Golf Club for the 1992 U.S. Mid-Amateur.
"It's awesome," he said. "I've played great this year. I shot 66 yesterday (in winning his fifth senior club championship at Rolling Hills, to go along with 15 open-age club championships). I had good momentum coming into today. I finally found a putting stroke and some things worked on the green. I've been making some putts and that's kind of the key to my game."
On Monday, Fowler drained three birdie putts in the 12-15-foot range to go along with an 18-incher.
For Bradbury, who like Polk is a former CGA Senior Player of the Year, this marks the third time he's qualified for a USGA championship by shooting an even-par round in the qualifier.
"So I just said to myself, 'Shoot even-par, you're in,' he said. "Some people try to make it go low, but you don't have to. Just play well."
The middle of the back nine proved pivotal for Bradbury, who sank birdie putts of 10 and 50 feet on Nos. 14 and 15, respectively, then holed a 10-footer for par on 16 "that was a big momentum-keeper," he said.
"I had been working on (my game) and working on it and working on it. To have it come together today was very satisfying. It was relatively stress-free round, which is always good."
Meanwhile, Reynolds qualified for the U.S. Senior Am just shy of turning 68 years old, which is no small task considering the championship is open to contestants at age 55.
"I can still compete — and I'm still getting better," he said. "Really. That will come to an end. I'm running out of time. That's why this is big."
Five years ago, Reynolds also made it to the U.S. Senior Am, but it wasn't quite so nice and neat. He lost in a playoff at the qualifier, which left him as an alternate originally. But not long thereafter, he received a call from the USGA telling him he'd make the field for the national championship.
"I know exactly where I was for that call. I was on 6th Avenue," Reynolds recalled. "They said, 'This is the USGA.' I said, 'Yes!'
"This is what I work for every year. I just won the club senior medal play (at Bear Creek, marking the sixth time he's prevailed in that event). I play to win the club championships against the young ones. I practice a lot, and this is the dream. The dream is to be able to go compete in the U.S. Senior (Am).
"Look at it all these guys (at the qualifier). These are a bunch of sticks. There were some really tough pin placements today. All day long it never let up. You had to have that distance control right and you had to have that driver working. And I hung in there. I had a good solid round of golf."

U.S. Senior Amateur Qualifying
At Par-72 Ptarmigan CC in Fort Collins
ADVANCE TO NATIONAL CHAMPIONSHIP
Robin Bradbury, Superior 72
Bill Fowler, Lakewood 72
Jim Reynolds, Denver 74
ALTERNATES (In Order)
John Hornbeck, Saratoga, Wyo. 75
Victor Minovich, Thornton 75
For all the scores from Ptarmigan, CLICK HERE.