CU and CSU men score team victories, the Buffs at their own Simpson Invite and the Rams sharing title at Pate Intercollegiate
By Gary Baines – 10/08/2019
It's not often that you have two Colorado-based NCAA Division I golf programs winning team titles on the same day.
But Tuesday was such a day.
At Colorado National Golf Club in Erie, the University of Colorado men won their Mark Simpson Colorado Invitational, which featured a 12-team field. And in Alabama, the Colorado State University men shared the title in a 12-team tournament, the Jerry Pate National Intercollegiate.
It was the second team championship of the season for both the Buffs and Rams.
CU has won or shared the title for the seventh straight year — and eighth time overall — at the Simpson Invite. (The Buffs technically tied for the championship in 2017, though Utah won a team playoff.)
The Buffs finished at 35-under-par 829 — a tournament record — for three rounds, 10 strokes better than runner-up Grand Canyon. The University of Northern Colorado, playing in a tournament for the fifth consecutive day, placed eighth at 850.
Three players tied for first place individually at 12-under-par 204 — CU's Daniel O'Loughlin, Cal-State Fullerton's Jack Dyer and Grand Canyon's Michael Salazar, with Salazar prevailing in a playoff with a birdie on the first extra hole.
O'Loughlin birdied the last two holes of regulation and went 69-67-68 at Colorado National. Despite the playoff result, it will go down as O'Loughlin's second individual college victory. Also posting a top-10 individual finish for CU on Tuesday was Ross Macdonald, who tied for eighth at 208.
For all the scores from the Simpson Invitational, CLICK HERE.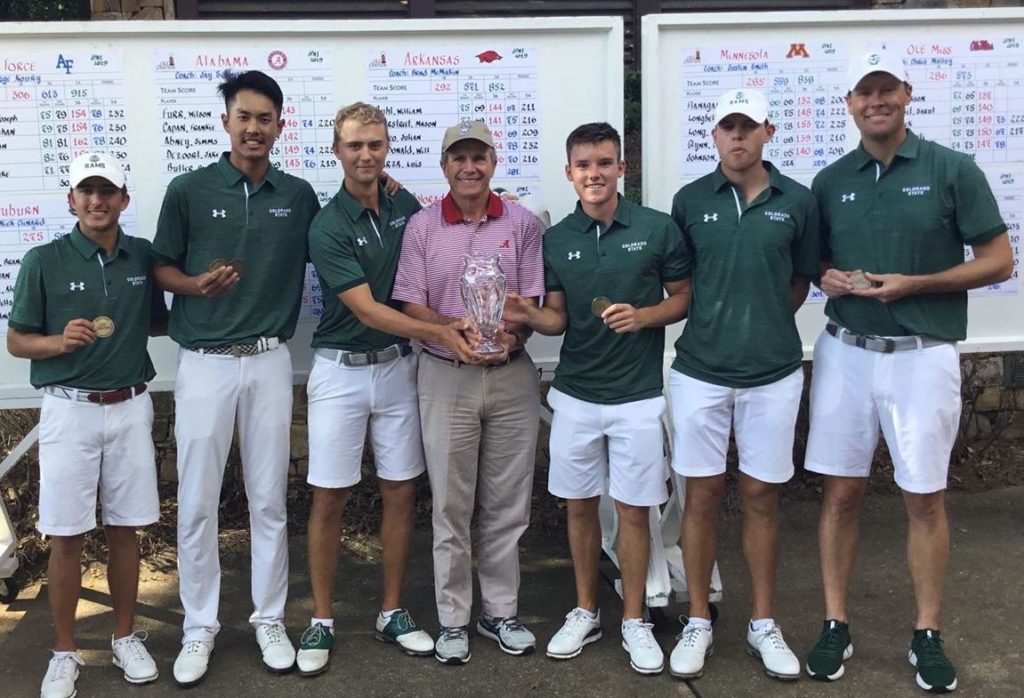 Meanwhile, in Alabama, CSU tied for the title with Brigham Young University as both posted three-round totals of 17-under-par 823.
The Rams were in good shape to earn the team title outright, but struggled on the final two holes, where the four players whose scores counted toward the final-round team total went a combined 9 over par.
Junior Parathakorn Suyasri claimed an individual college championship for the first time in his career as he went 65-67-67 for an 11-under-par 199 total and a one-stroke victory.
Also placing in the top 10 individually for CSU was senior AJ Ott, who shared seventh place at 206.
The Air Force Academy also competed in Alabama, placing 12th at 915.
For all the scores from the Pate Intercollegiate, CLICK HERE.