Stangebye, Montrose pull off second straight sweep of 4A titles; Arapahoe soph Kates wins going away in 5A, while seniors lead Fairview to team crown; Pals prevails in playoff in 3A, helping Lutheran claim team championship
By Gary Baines – 10/08/2019
The final strokes of the 2019 boys high school golf season went in the books on Tuesday afternoon, and a plethora of stellar storylines played out across Colorado at the state tournaments.
To single out some of the most noteworthy:
— With senior Micah Stangebye and his Montrose squad claiming the individual and team titles in Class 4A for the second straight year, Stangebye becomes just the third player in Colorado boys high school golf history to twice sweep those two championships during his career. The previous two were Denver South's Ron Sevier (1953-54) and Kent Denver's Ethan Freeman (2010-11).
— Stangebye's nine-stroke victory was certainly one of the largest margins in Colorado boys state high school history. It was even a shot more than when Wyndham Clark went 64-64 in 2011 and won by eight.
— Montrose, competing in its hometown at The Bridges, likewise made the 4A team competition a lopsided affair, winning by 35 shots.
— While two of Tuesday's state champions — Stangebye (4A) and Lutheran's Westin Pals (3A) — are seniors, unheralded sophomore Will Kates of Arapahoe (pictured at left in top photo) prevailed in 5A — and by six strokes. Kates won after not even making Arapahoe's state tournament team a year ago.
"I wasn't even in the top 10 of my team last year," Kates said. "To come out this year and to win it feels pretty great."
— Two of Tuesday's individual winners closed with scores of 66 in the final round — Stangebye a 5-under-par round at The Bridges in 4A and Kates a 4-under total at Pinehurst Country Club in 5A. Kates' 66 was the lowest score by four strokes over the two days at Pinehurst.
— While the 4A and 5A tournaments turned out to be runaways in the individual competition, 3A went to a sudden-death playoff, with Pals defeating heralded Prospect Ridge senior Walker Franklin.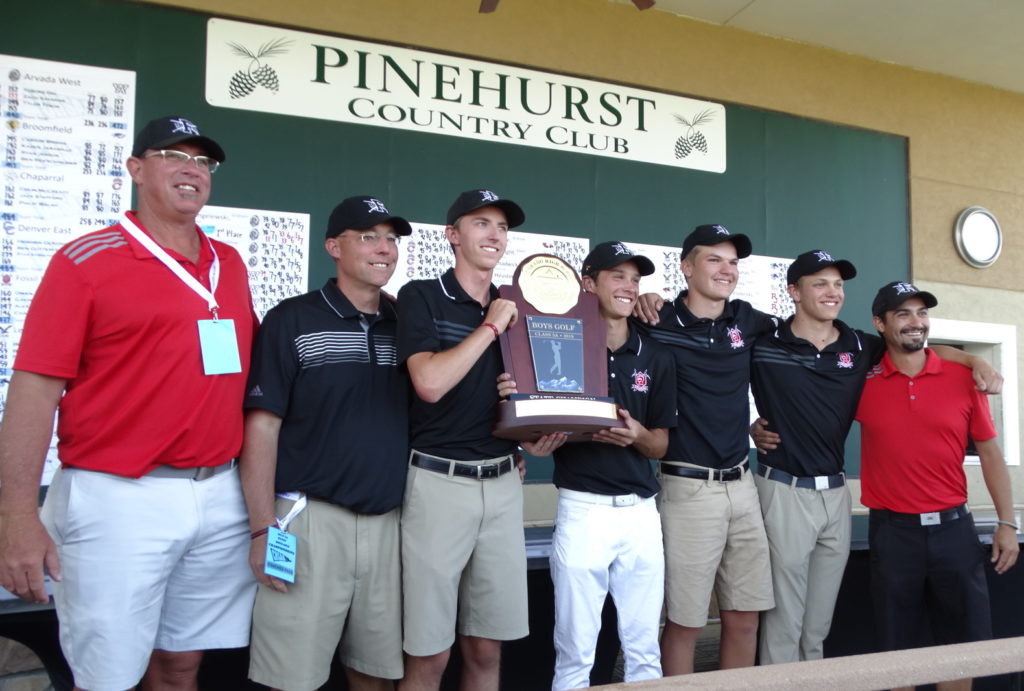 — Speaking of seniors, the Fairview squad that won the 5A team title was make up of nothing but golfers in the 2020 graduating class — William Chadwick, Brett Reamon, Ryder Heuston and Ewan Albright. The Knights earned their first state championship in boys golf since 2007, and they did it despite counting a quintuple-bogey 10 on the fourth hole on Tuesday.
Heuston, who has bounced back from spending 36 days in the hospital after breaking three vertebrae and suffering a traumatic brain injury in a December ski accident, shot a 6-over-par 76 on Tuesday despite that 10. And given that Fairview only won the team title by three, him keeping it together was a big part of the reason why the Knights earned the state championship.
"It shows a tremendous amount of resilience and a lot of character" on Heuston's part, said Fairview coach John Zerwin, a former University of Colorado golfer. "He wouldn't have been able to do it last year. The maturity and everything he got out of that accident has given him a lot. It's pretty neat to see."
Said Heuston: "Walking off that (fourth) green, I didn't know what to expect. Three holes later, I really mentally put it together and said 'I still have a team score I need to fight for.' I did my best to grind it out, and I hit some really good shots and started making some putts."
Fairview put three players in the top eight individually, with Chadwick (72-72) placing third, Reamon (71-75) seventh and Heuston (71-76) eighth.
"I don't think winning individually would make me much happier than I am right now," Heuston said. "Being here with the team and taking home a win is unbelievable. My coach walked up on the 18th hole after I hit my approach shot and he gave me a big high-five and said, 'Let's go win a state championship.' He's been with me every step of the way and it's amazing to finally give him a title."
It's Fairview's fourth state championship in boys golf overall.
"It's awesome" to finish on top, Zerwin said. "It's a special group of kids. They're four buddies and four friends. To see them play for each other and finish it off there at the end is really neat."
Here's a little more on how each of the state tournaments shook out: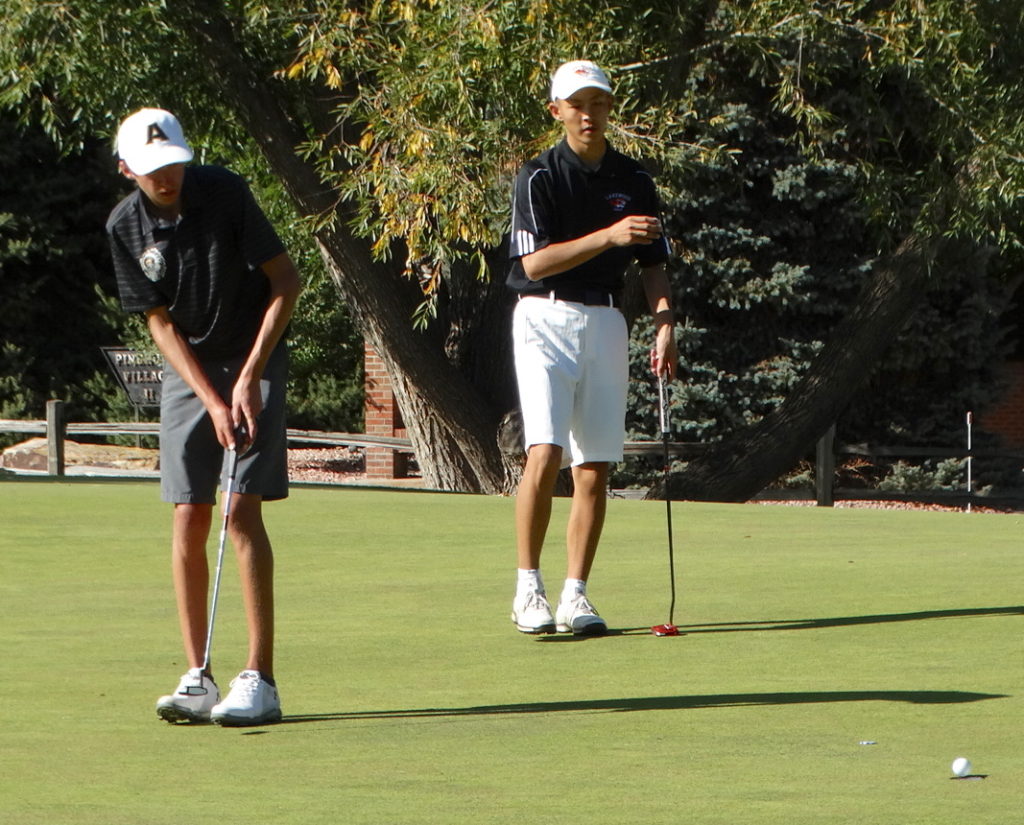 — 5A AT PINEHURST COUNTRY CLUB IN DENVER: Arapahoe's Kates, who started Tuesday one out of the lead, put on a putting display to win going away.
The sophomore one-putted seven consecutive holes — Nos. 10 through 16 — to leave his competitors in the dust. During that stretch, he drained six putts in the 4- to 12-foot range — three for birdie, two for par and one for bogey.
"Once they start rolling, it keeps going," Kates said of his success on the greens. "Putting is pretty rhythm-based, so once you get in a groove it's a lot easier."
Beyond that, the way he handled adversity on the 11th hole was a key. There, she shanked his second shot, narrowly missing going out of bounds. But he hit his third shot — via flop — over a small tree to a green sloping significantly away from him, and managed to get his ball within 12 feet of the cup. And then, of course, he sank the putt for an improbable par.
"That was a big turning point for me," he said.
Three consecutive birdies starting on No. 14 gave Kates an ever-bigger margin. And after a routine par on No. 18, he had just the second individual high school victory of his young career.
"It's pretty crazy," he said. "I saw a lot of improvement this summer, and I guess that all came together these last two days."
Arapahoe coach Harry Buckner was left trying to explain Kates' success at Pinehurst.
"He's never gone that low (before), but what happened today is he made putts," Buckner said. "And on this course if you make putts you're going to do well. And that's what he did; he knocked in five or six 10-footers. He saved at least three pars with great chips and putts, and he made five birdies with great putts. That's how you score and win. It was awesome."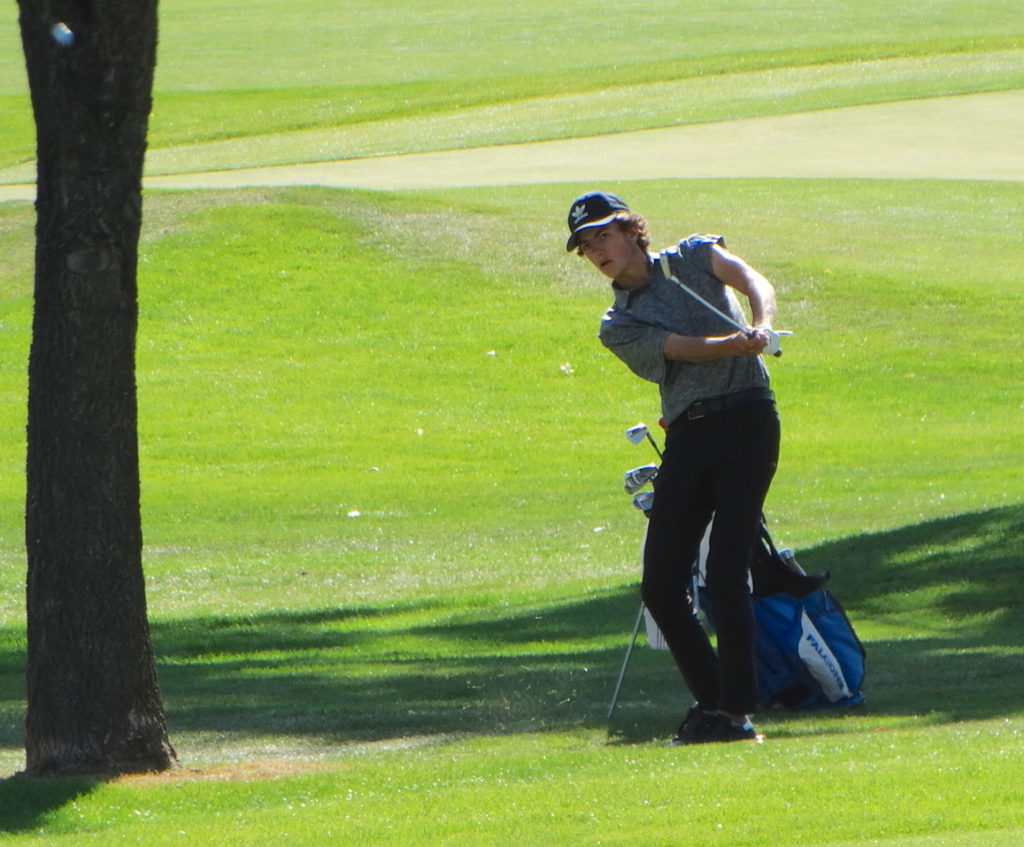 Highlands Ranch senior Tarek Salem finished a distant second in 5A, at 3-over-par 143.
"You can't be mad when he shoots a 66," Salem said. "It's not like I missed a putt on the last hole (to lose). He played really well and I played really well so I can't complain too much."
Chadwick shared third place individually at 144 with Ryan Liao of Lakewood and Gavin Hagstrom of Fossil Ridge.
In the team standings, Fairview finished at 17-over-par 437, three better than Arapahoe. Fossil Ridge, the 2018 champion, placed third at 441.
— 4A AT THE BRIDGES IN MONTROSE: A year after winning the 4A individual state title by five, Stangebye was even more dominant on Tuesday in his high school golf finale in his hometown.
As a senior, Stangebye went 67-66 for a 9-under-par 133 total and made just one bogey in two rounds. One Tuesday, he chalked up six birdies and one bogey. Three of his birdies came consecutively, starting on hole 8.
"Obviously it was an advantage being able to play this course every day this summer," Stangebye told CHSAANow.com on Tuesday. "You know where you can miss it and where you can't. You know how the putts break and overall I probably hit the ball better than I have any tournament this year starting on the first hole and all the way to the 18th green."
Adding to the fun was Montrose winning its third consecutive 4A team title — and fourth all-time. Unlike last year, when the Indians prevailed by six, this victory was lopsided. They finished at 5-over-par 431, 35 strokes ahead of Pueblo West. Ponderosa was third at 468.
Individually, tying for second, nine back of Stangebye, were Kaden Ford of Discovery Canyon and Hunter Swanson of Northfield. They matched 72s on Tuesday. Swanson finished sixth in the 4A ranks last year. Gregory Lewis of Lewis-Palmer, who also posted a 72, checked in fourth at 144.
— 3A AT EISENHOWER GOLF CLUB'S BLUE COURSE AT AIR FORCE ACADEMY: In contrast to the large margin of victories individually in Class 5A and 4A, the 3A competition went overtime. And in OT, Pals took down one of the top junior players in the state, Franklin, who finished fifth out of 209 golfers in the prestigious IMG Academy Junior World Championships over the summer.
Pals rallied from five strokes back with 14 holes left thanks to a 2-under-par 70 and a 74 from Franklin, who three-putted the final hole of regulation and made bogey to force a playoff. On the first extra hole, Pals prevailed with a par.
"It was pretty windy, so I knew I wouldn't have to go crazy low," Pals told CHSAANow.com. "I didn't get off to the greatest start. … I just said, 'This is my last golf tournament, let's go out there and see what we can do.'"
Jacob Mason of Holy Family finished a distant third behind Pals and Franklin, at 7-over-par 151.
Lutheran earned the 3A team title — its first ever — despite having just three competitors in the field — one fewer than most other teams.
Lutheran checked in with a 34-over-par total of 466. Holy Family finished second at 471 and Colorado Academy third at 478.
Here are the top team and individual finishers in each class:
CLASS 5A AT PINEHURST COUNTRY CLUB IN DENVER
Team
1. Fairview 214-223—437
2. Arapahoe 226-214—440
3. Fossil Ridge 218-223–441
4. Highlands Ranch 224-227–451
5. Regis Jesuit 230-225–455
Individual
1. Will Kates, Arapahoe 71-66–137
2. Tarek Salem, Highlands Ranch 71-72–143
T3. Gavin Hagstrom, Fossil Ridge 70-74–144
T3. Ryan Liao, Lakewood 72-72–144
T3. William Chadwick, Fairview 72-72–144
6. Grant Alqatami, Boulder 73-72–145
7. Brett Reamon, Fairview 71-75–146
T8. Ryder Heuston, Fairview 71-76–147
T8. Owen Cornmesser, Fossil Ridge 72-75–147
10. Matthew Wilkinson, Arapahoe 77-71–148
CLASS 4A AT THE BRIDGES IN MONTROSE
Team
1. Montrose 217-214–431
2. Pueblo West 231-235–466
3. Ponderosa 239-229–468
4. Frederick 239-233—472
T5. Cheyenne Mountain 244-229–473
T5. Mullen 238-235–473
Individual
1. Micah Stangebye, Montrose 67-66–133
T2. Hunter Swanson, Northfield 70-72–142
T2. Kaden Ford, Discovery Canyon 70-72–142
4. Gregory Lewis, Lewis-Palmer 72-72–144
5. Ethan Aubert, Palisade 76-69–145
6. Gabe Marmon, Cheyenne Mountain 73-73–146
T7. Ryan Lords, Montrose 73-74–147
T7. Lance Phillips, Palmer Ridge 76-71–147
9. Noah Wagner, Pueblo West 76-72–148
10. Jake Chesler, Frederick 76-74–150
CLASS 3A AT EISENHOWER GOLF CLUB'S BLUE COURSE
Team
1. Lutheran 232-234–466
2. Holy Family 235-236–471
3. Colorado Academy 242-236–478
4. Aspen 232-247–479
5. Kent Denver 237-243–480
Individual
T1. (won playoff) Westin Pals, Lutheran 74-70–144
T1. (lost playoff) Walker Franklin, Prospect Ridge 70-74–144
3. Jacob Mason, Holy Family 78-73–151
T4. Nic Pevny, Aspen 72-80–152
T4. Jeffrey Zhou, Kent Denver 74-78–152
T4. Tayleb Schaefer, Sterling 75-77–152
T7. Jack Pevny, Aspen 74-79–153
T7. Max Noffsinger, Frontier Academy 77-76–153
T7. Jacobo Arango, Kent Denver 79-74–153
T7. Peter Stinar, St. Mary's 77-76–153