9 1/2 months removed from major ski accident, Fairview's Heuston trails by one at 5A state golf; Fossil Ridge's Hagstrom leads in 5A, while Stangebye setting pace in 4A and Franklin in 3A
By Gary Baines – 10/07/2019
Ryder Heuston was visibly upset and frustrated at making bogey on his final hole of Monday's first round of the 5A state high school tournament at Pinehurst Country Club in Denver.
That was the heat of competition taking hold. But less than a half-hour later, perspective kicked in, and he knew that making a closing-hole bogey on a beautiful afternoon in early October was a very nice problem to have.
"I try my best to remind myself that I'm just lucky to be out here, I'm lucky to be alive, I'm lucky to be able to walk again," he said.
And the fact that, despite that bogey, Heuston (pictured above) shot a 1-over-par 71 and shares second place at state, one behind leader Gavin Hagstrom from Fossil Ridge, with one round left in his high school career — it's not far from miraculous.
Just 9 1/2 months ago, such matters were far from major concerns for Heuston, now a senior at Fairview High School in Boulder. You see, on Dec. 23 while skiing at Breckenridge, Heuston intentionally went off about a 45-foot cliff. But he missed his planned landing spot and went face-first into a rock, resulting in a traumatic brain injury and three broken vertebrae.
A Flight for Life team transported him from the mountain to St. Anthony Hospital, where he spent 18 days, followed by another 18 days at Craig Hospital. And then there was the subsequent eight or nine weeks of out-patient physical therapy.
"For golf, recovering from three (broken) vertebrae has been a long road," Heuston said. "It's been a heck of a journey, a lot of physical therapy, a lot of dry-needling, a lot of massages.
"I'm still not feeling quite as strong (as before the accident). But I'm just lucky to be out here playing golf again."
And now he has a chance to make his a Ben Hogan-esque story, albeit on a less-grand scale. Hogan, of course, survived a head-on collision with a Greyhound bus in 1949, but sustained a double fracture of the pelvis, a broken collar bone, a broken ankle, a chipped rib and severe blood clots. He spent 59 days in a hospital, but went on to win the 1950 U.S. Open and six major championships in all after the accident.
For his part, Heuston is in the mix to possibly win both team and individual state high school titles on Tuesday at Pinehurst. After placing sixth as a sophomore and seventh as a junior at state, Heuston is one of four players who sit one stroke behind leader Hagstrom after Monday's first round.
"I made a goals sheet at the beginning of July," Heuston said. "Those goals consisted of shooting 74 and hitting more than 12 greens in a round. And I had a separate goals sheet which was to win a (Junior Golf Alliance of Colorado) major, and to win individual state and to win team state (at the high school tournament). I set those goals probably in mid-July before the season even started. Now I'm just trying to close out on that."
Since his accident, Heuston has undergone four surgeries, including the first one, which lasted about 10 hours and included putting a significant amount of hardware in his face — 36 screws and six plates. The other operations have been primarily work on his eyes, eyelids and tear ducts.
Following the accident, Heuston didn't pick up a golf club until late March or early April as he spent three months in a back brace.
"At that time I don't think I could hit a ball over 90 or 100 hundred yards," he said. "I had zero mobility. Probably the first time I was able to take a full swing was mid- to late April. I played in a tournament round on May 13."
To not put so much stress on Heuston's back, he and swing instructor Ed Oldham (known for his work with Jennifer Kupcho, winner of the inaugural Augusta National Women's Amateur) changed his swing somewhat. Heuston now rotates his hips a little more, rather than his back so much, and he's a little more upright at impact. But, he noted, "pain is something I rarely feel anymore."
In July, he won a JGAC Tour event at Legacy Ridge. And during the high school season, which started in early August, he's captured a handful of individual titles, including tying for the top spot at regionals. He won one invitational with a bogey-free and personal-best 62 at Legacy Ridge, where he prevailed by five strokes. And he earned the season-long individual title in the Front Range League, beating Hagstrom by six strokes over the course of the four counting rounds. Coincidentally, Heuston and Hagstrom played together again on Monday at state.
"This high school season so far has been a phenomenal one and far and away my best one yet," Heuston said.
"I've made a lot of headway this fall with my game. I've gotten a lot of confidence. If you put me in almost any junior tournament, I would think I'm good enough to win it."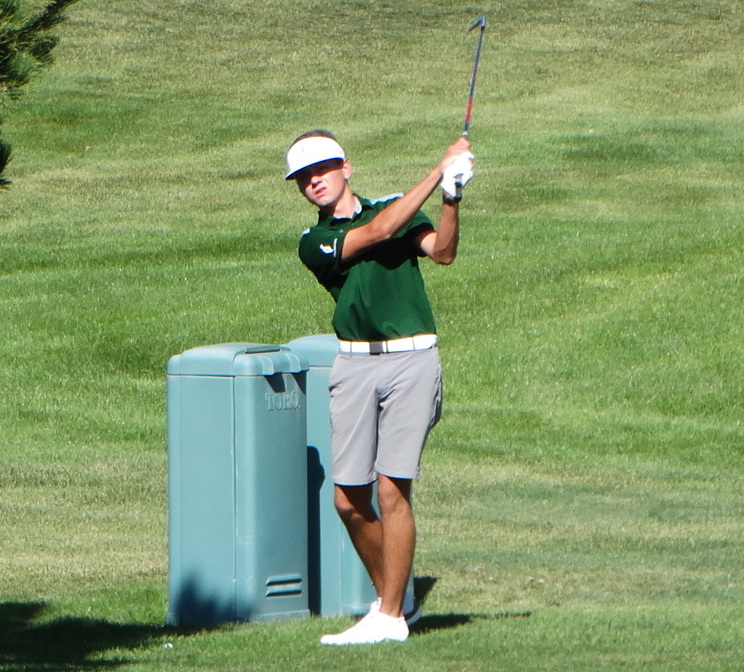 But Hagstrom will take a one-stroke lead into the final round after his even-par 70 on Monday. Tied for second with Heuston at 71 are teammate Brett Reamon, Arapahoe's Will Kates and Highlands Ranch's Tarek Salem. Hagstrom, Heuston and Salem were in the same threesome on Monday and will be paired again on Tuesday.
Hagstrom finished with five birdies and five bogeys in round 1, when he made just one par on the back nine.
"I hit the ball really good," Hagstrom said. "I was putting myself in good positions, but the greens here are so tough that if you're not exactly in the perfect spot on the greens then it's really tough to hole putts.
"I definitely missed a lot of gettable putts that I should have made, but in the end I was able to put together a pretty solid round. I'm pleased. If I hole some more putts tomorrow, I think I'll have a decent chance" at the title.
Fossil Ridge won the 5A state team title last season behind individual champion Dillon Stewart, who now plays at Oklahoma State. Hagstrom didn't play on that team as he was attending a golf academy in South Carolina. But he hopes Fossil Ridge can repeat on Tuesday with him in the fold.
"I'd love to graduate with the fact that we were able to take a team title and maybe an individual title as well," Hagstrom said. "That would feel great. Ultimately that would just be giving back to the coaches for all the hard work they've put in to help us succeed."
But it's Fairview, not Fossil Ridge, that will take the advantage into Tuesday at Pinehurst. With three players in the top eight individually (Heuston, Reamon and William Chadwick, who shot 72), the Knights posted a 4-over-par 214 on Monday and lead the team competition by four over Fossil Ridge. Highlands Ranch is in third place at 224.

— Montrose's Stangebye Opens Up 3-Shot Lead in Title Defense in 4A: Senior Micah Stangebye of Montrose, the defending 4A individual champion, fired a bogey-free 4-under-par 67 at The Bridges in Montrose on Monday to grab a three-stroke lead in the 4A state meet.
Playing in his hometown, Stangebye made four birdies in round 1.
Two other players broke par on Monday — Kaden Ford of Discovery Canyon and Hunter Swanson of Northfield, who each shot 70. Ford, a Drive, Chip & Putt National Finalist in 2017, played his final 10 holes in 3 under par.
In the team competition, where Montrose is going for a 4A three-peat, the Indians shot a 4-over-par 217, giving them a 14-stroke advantage over Pueblo West. Windsor is third at 234.

— Prospect Ridge's Franklin Ahead By 2 in 3A at Eisenhower: Prospect Ridge senior Walker Franklin, who finished fifth out of 209 players at the prestigious IMG Academy Junior World Championships in July, grabbed a two-stroke lead in the 3A state tournament at Eisenhower Golf Club's Blue Course at the Air Force Academy.
Franklin, the state high school runner-up in 2017 and a fourth-place finisher last year, opened with a 2-under-par 70. He made four birdies and two bogeys, and played his final three holes in 2 under par.
Nic Pevny of Aspen made a hole-in-one on No. 17 and holds second place at 72, while brother and teammate Jack Pevny is tied for third at 74. Also 2 over par are Kent Denver's Jeffrey Zhou and Lutheran's Westin Pals.
Former 3A champion Davis Long of Peak to Peak posted a first-round 79.
Defending team champion Aspen shares the lead with Lutheran after day 1 as both carded 16-over-par 232 totals. Holy Family is third at 235, Kent Denver fourth at 237 and Sterling fifth at 238.
Here are the leaders in each class:
CLASS 5A AT PINEHURST COUNTRY CLUB IN DENVER
Team
1. Fairview 214
2. Fossil Ridge 218
3. Highlands Ranch 224
4. Arapahoe 226
5. Regis Jesuit 230
Individual
1. Gavin Hagstrom, Fossil Ridge 70
T2. Brett Reamon, Fairview 71
T2. Ryder Heuston, Fairview 71
T2. Tarek Salem, Highlands Ranch 71
T2. Will Kates, Arapahoe 71
T6. Owen Cornmesser, Fossil Ridge 72
T6. Ryan Liao, Lakewood 72
T6. William Chadwick, Fairview 72
CLASS 4A AT THE BRIDGES IN MONTROSE
Team
1. Montrose 217
2. Pueblo West 231
3. Windsor 234
4. Durango 237
5. Mullen 238
Individual
1. Micah Stangebye, Montrose 67
T2. Hunter Swanson, Northridge 70
T2. Kaden Ford, Discovery Canyon 70
4. Gregory Lewis, Lewis-Palmer 72
T5. Alex Tanner, Windsor 73
T5. Greg Marmon, Cheyenne Mountain 73
T5. Ryan Lords, Montrose 73
CLASS 3A AT EISENHOWER GOLF CLUB'S BLUE COURSE
Team
T1. Aspen 232
T1. Lutheran 232
3. Holy Family 235
4. Kent Denver 237
5. Sterling 238
Individual
1. Walker Franklin, Prospect Ridge 70
2. Nic Pevny, Aspen 72
T3. Jack Pevny, Aspen 74
T3. Westin Pals, Lutheran 74
T3. Jeffrey Zhou, Kent Denver 74
6. Tayleb Schaefer, Sterling 75
7. Suchit Sharma, Peak to Peak 76