Birdie putt gives Pepperdine's William Mouw, one of world's top amateurs, victory in Trans-Miss playoff at Denver CC; CSU's Connor Jones becomes latest Coloradan to finish runner-up in the event
*****For all the scores from the Trans-Miss at Denver CC, CLICK HERE.*****
By Gary Baines – 7/9/2022
When all was said and done, the 118th Trans-Miss at Denver Country Club produced a champion ranked among the top 40 amateurs in the world, as well as a runner-up from Colorado.
What more can an elite amateur event ask?
William Mouw, a Pepperdine golfer who played in last month's U.S. Open and who is No. 39 in the World Amateur Golf Rankings, defeated Connor Jones of Westminster on the second hole of a sudden-death playoff on Saturday, draining a 25-foot birdie putt and punctuating the moment with a big fist pump.
But it wasn't over yet as Jones, the 2022 CGA Match Play champion from Colorado State University, then just missed his 14-foot birdie attempt that would have forced another extra hole. Jones' putt agonizingly skirted the left side of the cup, leaving him with a share of second place with Duke golfer Luke Sample, who exited after a bogey on the first playoff hole.
"I had an idea what this putt was going to do," Mouw said of the tournament-winner, which was very similar to the putt he had left just short on the first playoff hole. "I was in the left rough and this is what I was aiming for. I saw it break the first time. It broke a little right and it was right on line and just ended up a foot short (on the first extra hole). I knew if I hit it back over here I had a good idea what it was going to do. I hit the best putt I could and it went in, which was pretty cool."
Mouw — who has earned All-American honors all three years of college golf (first team in 2020 and honorable mention the last two years), joins an illustrious list of winners of the Trans-Miss over the last decade, including Bryson DeChambeau (2013), Will Zalatoris twice (2014 and '16), Collin Morikawa (2015), Cameron Champ (2017) and Pierceson Coody (2019). Plus Pepperdine teammate Derek Hitchner won the Trans-Miss title last year.
"I was looking on the trophy and saw some of those really good players that have won this event," the 21-year-old from Chino, Calif., said. "I'm very honored to be up there with my name engraved on that trophy. This is why I practice, this is why I play.
"Anytime you win an event like this, it's special, a boost of confidence. It's such an elite event and it was on such an incredible course — one of the oldest courses west of the Mississippi. Getting to be able to play out here at Denver Country Club it just incredible. This is the culmination of a lot of hard work the past couple of years and it's cool to see it pay off."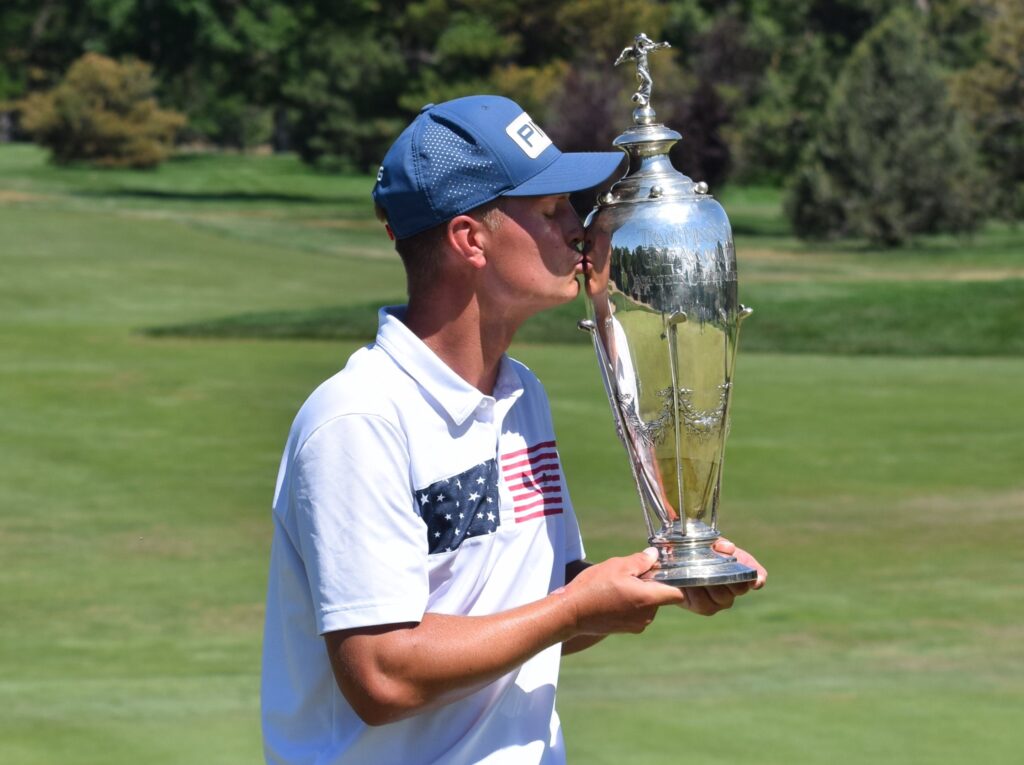 Mouw shot four rounds in the 60s — 66-68-68-69 — for a 9-under-par total of 271. Jones, the 2022 Mountain West Conference individual champion, closed with a 66 to reach the same total, while Sample posted a 64 marred only by a bogey on No. 16.
Fresno State golfer Kevin Huff held the outright lead until bogeying the last three holes, which left him sharing fourth place at 273 with five other golfers, including 17-year-old Australian Jeffrey Guan.
Jones joined a stellar list of then-Coloradans who have finished second in the prestigious Trans-Miss. Among those are John Olive (1998 when it was a mid-am event), Gregg Jones (1980), Babe Lind (1946), Larry Bromfield (1921), M.A. McLaughlin (1914) and Walter Fairbanks (1905). Colorado Golf Hall of Famer Jim English captured a Trans-Miss title in 1950.
To finish second out of 144 players at the Trans Miss is no small matter considering it's part of the Elite Amateur Golfer Series and this year featured 10 of the top 100 ranked amateurs in the world after one golfer withdrew on the eve of the tournament.
"I think all these guys, we can all beat each other," Jones said. "We can all hang with each other. I've known I can hang in the big tournaments. It's just a matter of doing it.
"I definitely felt like I could have won. There were a lot of silly mistakes I made over the four days. But overall it was good. There's a lot of good players and it's always fun to play against good players."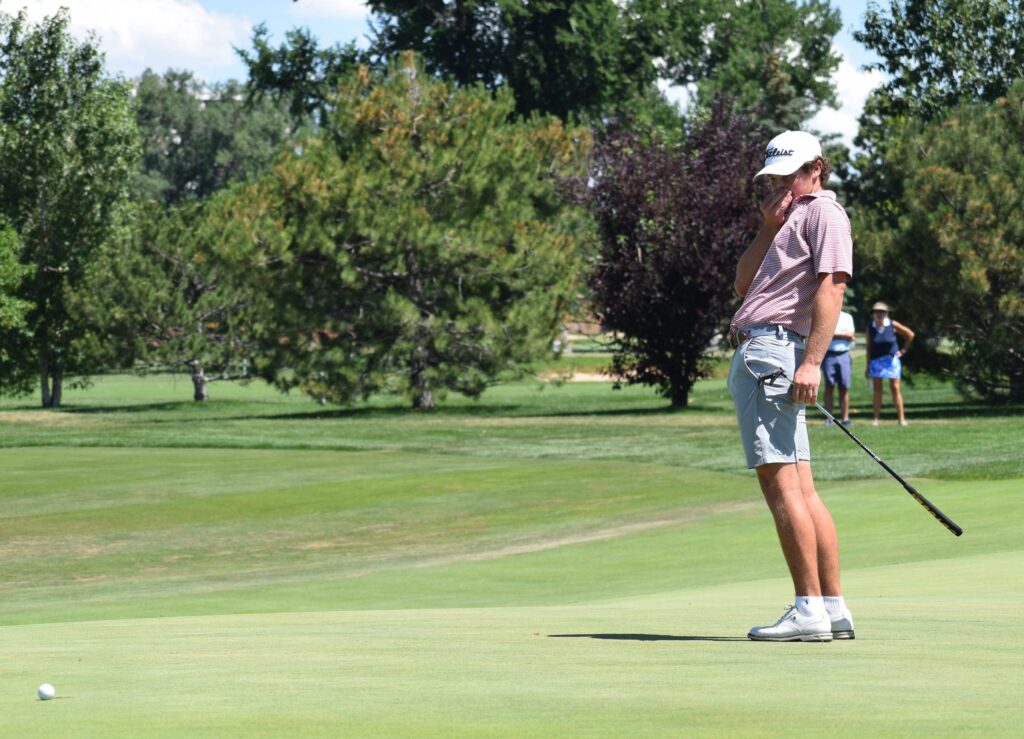 On Saturday, Jones made six birdies and two bogeys. He shared the lead after nine holes, then again after after he drained an 8-foot birdie on 15.
But on No. 16, he hit his tee shot into a fairway bunker, left his approach 60 feet from the pin and three-putted for a bogey. It was his second three-putt in three holes. Still, he found his way into a playoff and came ever so close to forcing it to a third extra hole.
"It was all you can ask for. It was fun," said the 20-year-old. "I had a blast. Sometimes it goes your way and sometimes it doesn't. It was a great putt (by Mouw). There's not much you can do."
Helping Jones' performance on Saturday was the fact that his buddy and fellow member at The Ranch Country Club, Walker Franklin, caddied for him after the University of Louisville golfer missed the cut at the Trans-Miss on Thursday.
"Walker is my best friend," Jones said. "We play together a ton. He knows my game probably better than anyone that I play with. He keeps it light and he knows my game so it was a good combination. I trust what he thinks."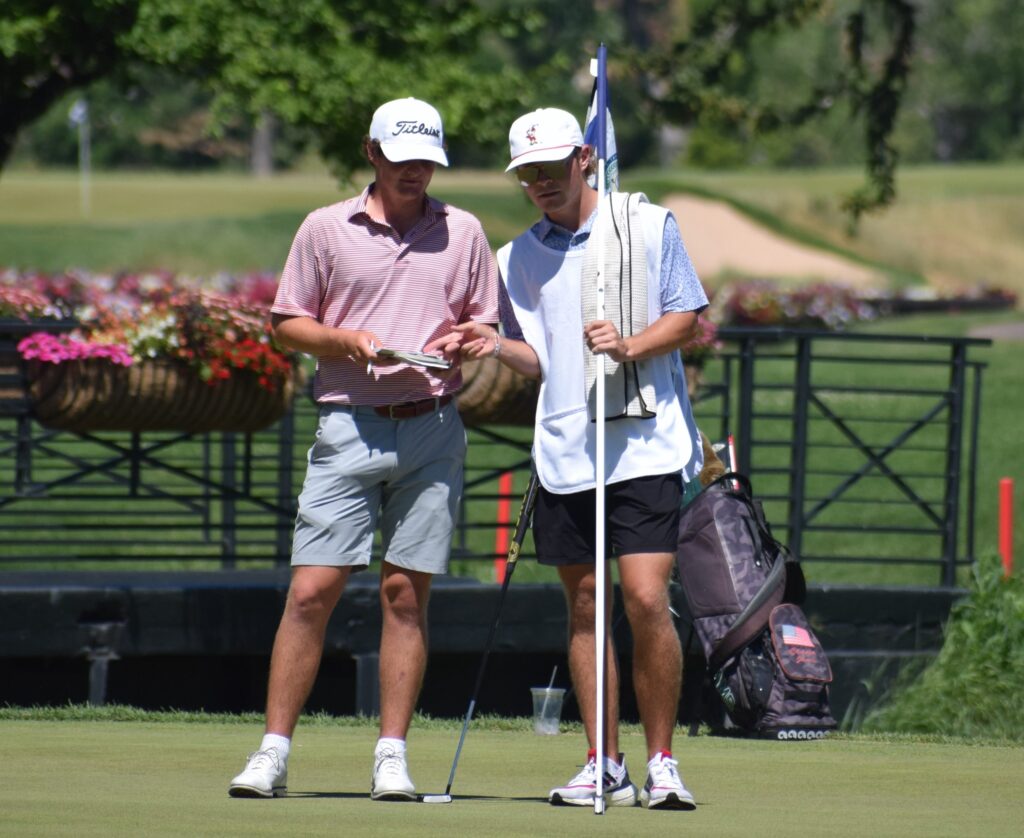 If Jones had one downfall for the week, it was that his bunker play sometimes went awry. On Wednesday, he took three to get out of the sand on No. 17 and made a triple bogey. And on Friday, he went from one greenside bunker to another on No. 12 and ended up with a double bogey.
"I don't think it's a problem with the bunkers here," he said. "It's just a hole in my game. It's something I can work on and it got exposed this week. That happens."
As for Mouw, he was 1 over par through three holes on Saturday, but rebounded with birdies on 6 and 8. Wearing an American-flag-themed shirt, he parred the final 10 holes of regulation and first of the playoff before making his tournament-winning birdie.
"I kind of got off to a slow start again, but I just kept going with the flow — the good breaks and the bad breaks," he said. "Stay patient and do what I do — execute my game plan. If the putts are going to fall, great. If not, keep moving forward. I was lucky enough the putt went in on the last hole.
"I knew I was the last group out here, so if I needed to do anything, I had one more hole than the other guys. … It's cool that it worked out this way."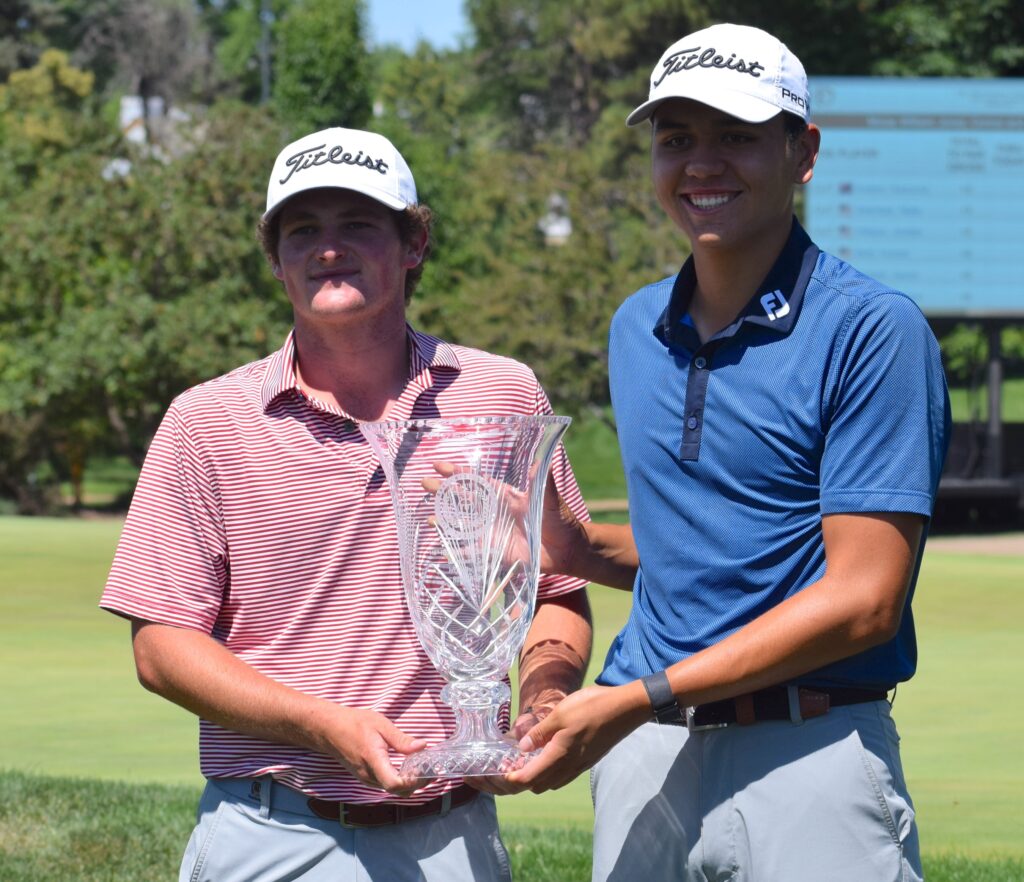 Sixth Time Around for Trans-Miss at DCC: This week marked the 17th time Colorado has hosted the Trans-Miss, with Denver Country Club now having done the honors six times since 1910.
"It was an awesome tournament," said Colorado Golf Hall of Famer Gary Potter, the tournament chairman and a Trans-Miss board member since 1979. "I think the course held up well — particularly when we got to the last two days when (Trans-Miss officials Rob Addington and Amanda Kolb) set the hole locations more aggressively. It was hard and firm and the greens were fast like always.
"And we got a great champion."

Notable: Three other players with strong Colorado ties — besides Jones — posted top-20 finishes on Saturday. Davis Bryant of Aurora and CSU tied for 16th at 5-under 275, while Dillon Stewart of Fort Collins and Oklahoma State was 20th at 276 with University of Colorado golfer Dylan McDermott. … Samuel Jones of New Zealand captured the title in the mid-amateur division on Saturday. His 4-under-par 66 gave him a 4-under 276 total and a four-stroke victory over Joe Neuheisel, son of former University of Colorado football head coach Rick Neuheisel.
Here are the scores of all the Coloradans — and golfers playing for Colorado-based schools — who competed at the Trans-Miss:
P2. CSU golfer Connor Jones of Westminster 65-67-73-66–271
16. CSU golfer Davis Bryant of Aurora 69-64-71-72–275
20. Dillon Stewart of Fort Collins 68-71-69-68–276
20. CU golfer Dylan McDermott 68-68-70-70–276
48. Jackson Klutznick of Denver 70-68-72-73–283
Missed 36-Hole Cut
Cal McCoy of Highlands Ranch 71-70–141
Griffin Barela of Lakewood 68-73—141
CU golfer Justin Biwer 71-72–143
Walker Franklin of Westminster 73-71–144
DU golfer Carson Griggs 70-76—146
DU golfer Esteban Missura 70-78–148
Jay Livsey of Lakewood 66-85—151