Colin Prater, Davis Bryant rally for wins, while Nick Nosewicz aces first test at CGA Match Play; Leigha Devine prevails in CGA Women's Match Play opener days after competing in U.S. Women's Open
By Gary Baines – 6/7/2021
On Monday — the first day of the new-look CGA Match Play and Women's Match Play Championships that are being held concurrently — many of the pre-tournament favorites prevailed in the first of their three round-robin matches in pod play, all of which is being conducted at CommonGround Golf Course in Aurora. But often it wasn't easy.
In the 121st Match Play, Monday's action included:
— Defending champion Colin Prater of Cherokee Ridge Golf Course, who swept the CGA's two men's major championships last year (the Amateur and the Match Play), posted a 3-and-1 victory over Michal Wolk of Eagle-Vail Golf Club. But Prater had to rally after being 2 down through six holes, doing so with birdies on 7, 8 and 10.
— Davis Bryant of Green Valley Ranch Golf Club, the 2019 CGA Player of the Year, also won after trailing early. Jordan Jennings of Montrose, who will be a Colorado State University teammate of Bryant's starting this fall, was 3 up after three. But Bryant came back with birdies on 7 and 8 and went on to prevail 4 and 3.
— Nick Nosewicz of Meadow Hills Golf Course, who won the 2015 CGA Match Play at CommonGround, defeated Bryan Rusin of Overland Park Golf Course, 4 and 3. Helping the cause was a hole-in-one for Nosewicz at the 191-yard 12th hole, where he went 3 up.
— Beyond Prater and Nosewicz, one past Match Play champion won on Monday, while another lost. Michael Harrington of Garden of the Gods Club, the 2014 CGA Player of the Year, beat Colorado Golf Hall of Famer — and 1989 Match Play champ — Kent Moore of Cherry Hills Country Club 4 and 3. And 2019 Match Play winner Josh McLaughlin of the Olde Course at Loveland defeated Darren Edwards, 3 and 2.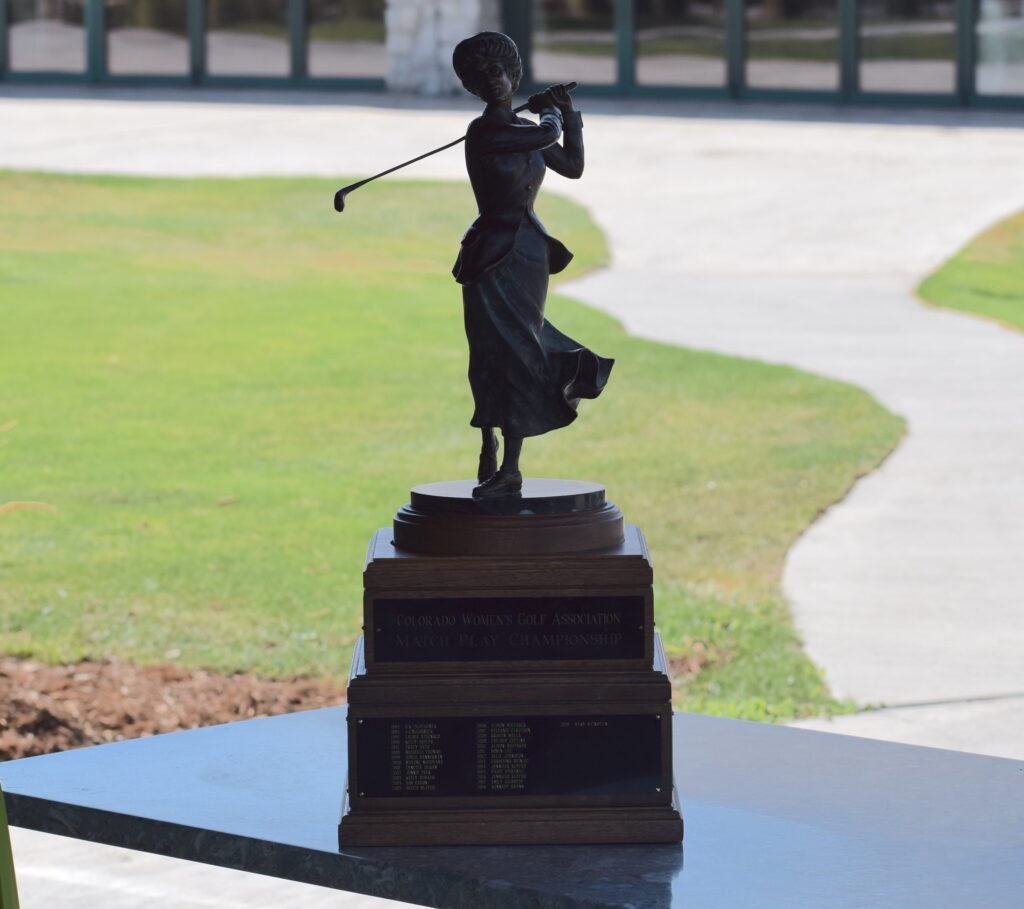 As for the 106th Women's Match Play:
— Leigha Devine of Ptarmigan Country Club, who qualified for and competed in last week's U.S. Women's Open, started off with a win on Monday, recording a 3-and-2 victory over Marie Jordaan of Cherry Hills.
— Three golfers who made the cut in last week's CoBank Colorado Women's Open scored wins on Monday. That would be Caroline Jordaan of Cherry Hills (7 and 6 over Haejeong Son of Blackstone/Black Bear); Lauren Lehigh of Loveland (7 and 5 over Elaine Terrell of University of Denver Golf Club at Highlands Ranch) and Kaylee Chen (1 up over Colorado Christian University golfer Courtney Andersson).
— Three prominent senior players started off the championship with victories. Colorado Golf Hall of Famer Janet Moore beat Caitlin O'Donnell of Blackstone/Black Bear, 3 and 1. Three-time CGA Women's Senior Player of the Year Kristine Franklin of The Ranch Country Club defeated Jessica Zapf of Pelican Lakes, 3 and 1. And 2020 CGA Women's Senior Stroke Play champion Marilyn Hardy of Dos Rios Golf Club prevailed over Deb Pearson of Colorado Springs Country Club.
Round-robin pod play will continue through Wednesday at CommonGround with the winner of each pod (16 on the men's and eight on the women's) advancing to single-elimination matches. Then after an optional practice round on Thursday at Colorado Golf Club, the quarterfinals and semifinals will be held Friday at the Parker-based course, with the 36-hole men's and women's finals set for Saturday at the same site.
This week marks the first time the CGA Match Play and Women's Match Play have been held concurrently and at the same sites. Utilizing pod play on the early days of the championship is also new for the championships — as is switching courses during the course of the competitions.
The Match Play (which debuted in 1901) and the Women's Match Play (1916) are the CGA's oldest two championships.
Colorado Golf Club has hosted a Senior PGA Championship, a Solheim Cup and a U.S. Mid-Amateur in the last 11-plus years. Both the Solheim Cup and the Mid-Am are match-play events.
For results from the men's Match Play, CLICK HERE.
For results from the Women's Match Play, CLICK HERE.