The teaching never stops for Schnitzer, the CGA Women's Volunteer of the Year
By Gary Baines – 3/26/2020
Sandy Schnitzer spent 33 years of her life in the education business.
Actually, let's amend that. She spent 33 years getting paid for her work in the education field. And though she's been retired for about 18 years, she's still in the teaching and education business. It's just taken on a different form, and these days she does it on a volunteer basis.
And does it very well, by all accounts.
Schnitzer has served as a volunteer for the CWGA, and now the CGA, for the last 11 years. Her particular focus has been the Rules of Golf — not only officiating at tournaments herself, but teaching people about the Rules. That includes everyone from beginners who come in with very little knowledge of the game, to instructing people how to be rules officials — and about everything in between. 
"Her dedication to rules education, to volunteer recruitment, to promoting women in golf as well as the CGA, is remarkable," Karla Harding , another prominent Colorado-based rules expert, said at this month's CGA Women's Golf Summit. "And she's all in with all of those."
For those reasons and more, Schnitzer was named the 2019 CGA Women's Volunteer of the Year at the Women's Summit.
Schnitzer certainly qualifies as a volunteer extraordinaire for what she does for the CGA, devoting dozens of days each year to her tasks.
"As with any organization, if you believe in what their mission is and their goals, it's important to support that in some way," Schnitzer said. "And I think all of us have skills and experiences that we can bring to that. And that's kind of what I'm trying to do — bring whatever experiences and skills that I had that might be useful to help move those goals forward."
To note just some of the volunteer work Schnitzer has done for the CGA and the CWGA over the last 11 years:
— She served on the CWGA board in 2016-17 and on the CGA board in 2018-19 after the integration of the two organizations.
— She remains on the CGA's Rules of Golf Committee, spearheading education efforts. In other words, she recruits and trains new rules officials, helping them get into the process and monitoring their progress and training.
Each year, the CGA initially trains about 15 people interested in officiating, with about half of those completing the training and actually going on to be rules officials. The process involves the initial training, an on-course officiating academy, then one or more ride-alongs with experienced officials during tournaments.
"Even if we get a third of them, to me that's a good return because the rest of the people who maybe don't go on to be rules official, they have an appreciation of what it takes to be rules official," Schnitzer said.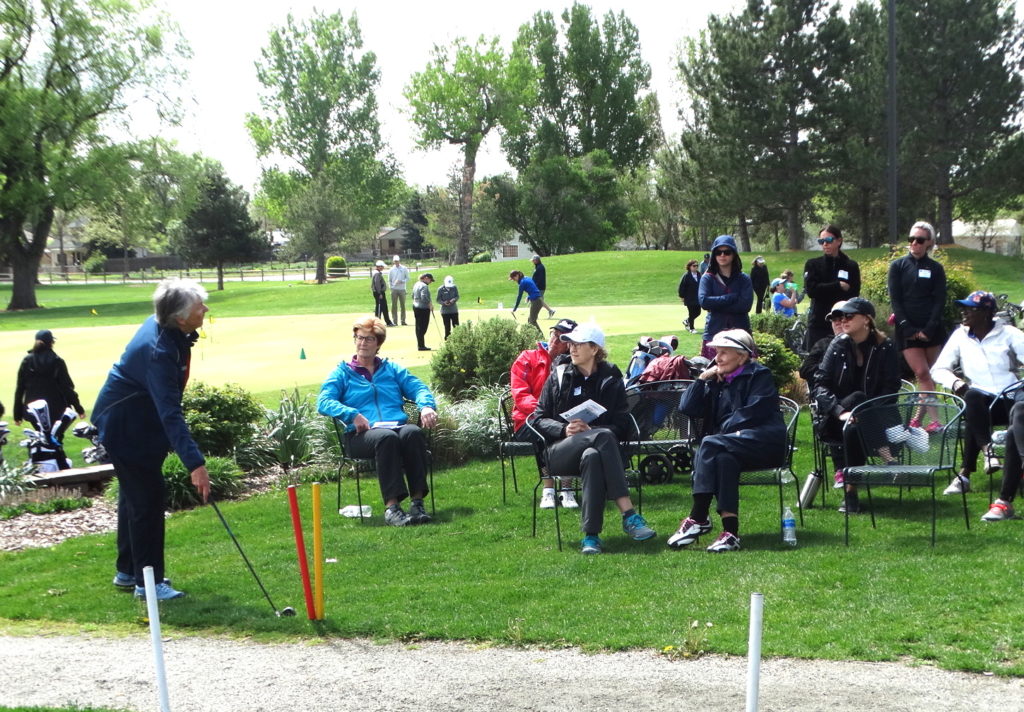 — As part of rules eduction, Schnitzer conducts rules clinics at individual clubs around the state. Last year alone, she did 19 of these.
"I try to tailor it to each club's needs so that it feels personal to them rather than just a generic presentation," she said. "Most of the time, they're about an hour, but often they are two hours. Sometimes it's the men's club and the ladies club together, sometimes it's nine-hole and 18 (clubs) together — whatever works for them."
— At the CGA Women's Golf Summit, Schnitzer typically teams up with Harding and Jan Fincher to conduct Rules of Golf breakout sessions. Depending on the year, it's not unusual for the sessions to have a theme, like a clever rhyming take-off on Dr. Seuss, Fun With Two Balls, Jeopardy, etc.
— Schnitzer also normally teaches rules sessions at a couple of CGA Women's Clinics each year. Those clinics attract a variety of golfers, including quite a few newcomers to the game.
— Then there's the occasions Schnitzer volunteers as a rules official herself during tournaments. She works a few CGA women's events each year, in addition to perhaps one college and one high school tournament annually.
Schnitzer has gone "above and beyond the call of duty," Harding said. "Sandy Schnitzer has put in hours upon hours as a volunteer.
"Her experience in education as a teacher and vice principal (was brought) into this group of rules geeks. And certainly my thought on her biggest contribution is teaching us how to teach. When you get into the rules, you can be very focused, very lawyer-like, watching the rules, and to impart that information to others is not always natural. And Sandy has helped us all learn how to teach, how to relate to our audience, how to speak in terms that are understandable, and not just in the geekdom of rules."
As noted, Schnitzer spent 33 years in the education field — all in either the Denver Public Schools or Aurora Public Schools — serving as a teacher, strategic plan facilitator and vice principal at various times.
All in all, this transition from her professional career to her time as a volunteer makes plenty of sense. In both cases, Schnitzer is using her skills as a teacher.
"It makes sense to me," she said. "I think it's important as a volunteer to know what skills and resources you can bring to that volunteer engagement. And I'm hoping that those teaching skills and those experiences are maybe not entirely unique, but of good quality and valuable to the organization."
Schnitzer fully realizes she's one of many volunteers that allows the CGA to do all it does.
"You look around and think how many volunteers the CGA has — on all the committees, the board and everything like that, and this is just really a humbling honor" to be recognized as the association's Women's Volunteer of the Year, she said.
As with many longtime CGA/CWGA volunteers, Schnitzer can point to one person as being the impetus for her taking the step to volunteering herself.
"I was playing in one of the CWGA golf tournaments at that time, and we had a little difficulty and a rules official came over and helped us out," Schnitzer said. "And it happened to be somebody I knew (Roben Deines, who has since passed away). And I thought, 'Well, by golly, that was such a nice job helping us out.' It was so useful and we were so grateful to have the help and I thought, 'Well, I could do that. You know, that would be a great way to help other golfers.' So I just asked her how she came to do it and how I could get signed up and the rest is history, as they say."
Schnitzer became a CWGA rules official in about 2009. Why did working with the rules particularly interest her?
"Even though I think a lot of people think the rules are confusing and complicated and hard, I think they're really pretty logical and that appeals to me," she said. "I kind of look at the rules as a tool to help us make good decisions, or the best decision we can make on the golf course when we get into trouble. When we go someplace we didn't mean to go or get ourselves in a situation we didn't mean to get into, it just helps us to make decisions. And I think it helps make the game fair that we're all playing by the same rules. And we're all responsible for that. We're all responsible for our own integrity. And it makes it unique — really unique — among all sports."
Schnitzer, a Coloradan since 1954 (she now lives in Erie), was a tennis player growing up, but an injury took her a different route.
"I had a little issue with my Achilles tendon and the doctor said, 'You can continue to play and that will rupture and then you'll be in a cast for about eight months, or you can find another sport,'" she recalls. "And I said, 'Oh, I think I'll find another sport.' There you have it; that was golf. And so that was when I was about 35 years old when I started to play."
Nowadays, Schnitzer owns handicap of 23.6 and competes in one or more CGA tournaments a year — either as an individual or often partnering with Bunny Ambrose in a team event.
But mainly, Schnitzer has made her mark in golf by helping others understand the rules.
"Her passion for introducing people, especially women,
to the world of rules is really infectious," Harding said. "If you've ever had Sandy help you on the course with a ruling, there's no doubt that when you are done and you hit the ball and she walked away, you've learned something. She wasn't there just to tell you the point where to put the ball and hit it. She made sure you understood why. And you walked away with some knowledge and you felt totally respected."