Gunnison's Marilyn Hardy breaks through for first CGA title by winning Women's Senior Stroke Play; Franklin's women's senior major victory streak ends at 4
By Gary Baines – 8/18/2020
It's been a while since someone not named Kristine Franklin won a CGA women's senior major title.
July 13, 2018, to be exact. That's when Tiffany Maurycy defeated Franklin in 20 holes to win the CGA Women's Senior Match Play.
Since then, Franklin had reeled off four consecutive victories in CGA women's senior majors.
But the streak ended on Tuesday as Marilyn Hardy of Dos Rios Golf Club in Gunnison fended off Franklin, five-time champion Kim Eaton and the rest of the competition to win the CGA Women's Senior Stroke Play at The Olde Course at Loveland.
Hardy has accomplished plenty in golf. She's qualified for more than 40 USGA championships, including two U.S. Women's Opens, and advanced to the semifinals of the U.S. Women's Mid-Amateur in its inaugural year (1987). She's also captured state amateur titles in Arizona in the late 1980s and in the Texas Women's Senior Stroke Play in 2011.
But on Tuesday, the 58-year-old golfer managed something she hadn't before. She earned a title in a CGA championship.
In just the fourth CGA women's senior major — and fifth CGA championship overall — in which she's competed, Hardy cruised to a six-shot victory in Loveland.
"It feels great," Hardy said of the breakthrough. "I have a lot of competition here with Kris and Kim. They're such good players. You have to play well to beat them. There's no slacking."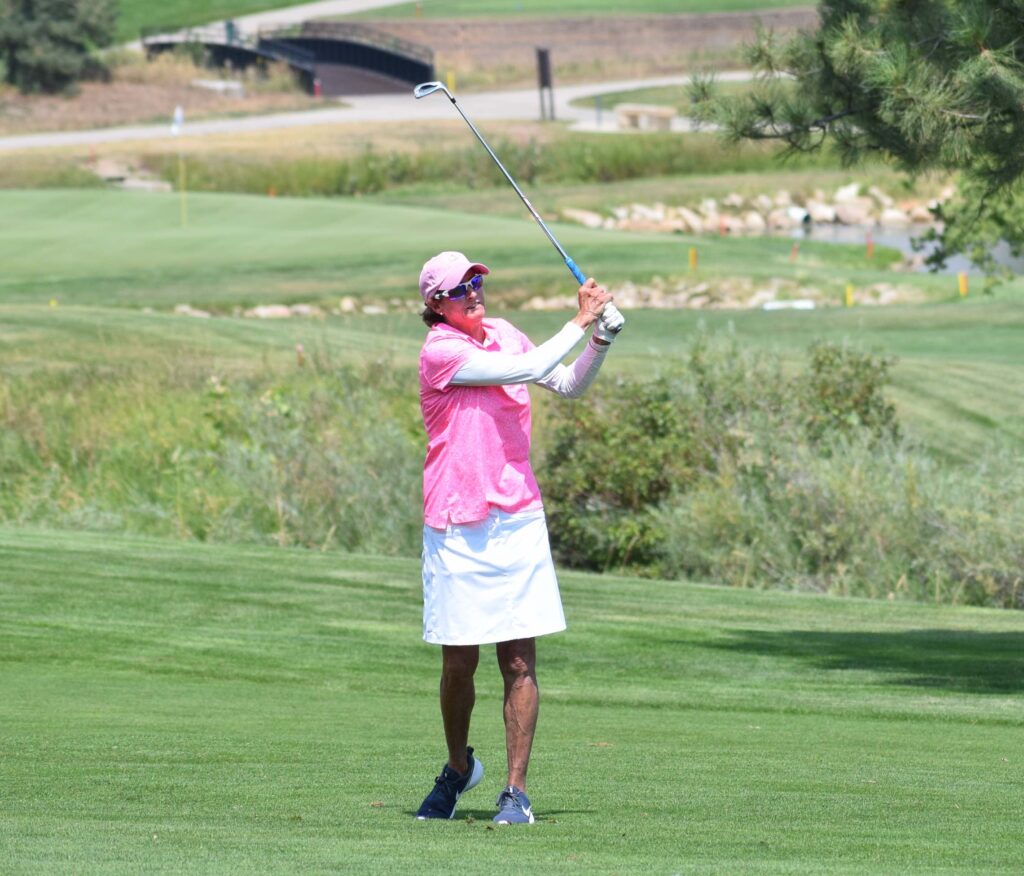 Hardy — along with husband and heralded instructor Jim Hardy, the 2007 PGA of America national Teacher of the Year — split time between Gunnison and Magnolia, Texas, typically residing in Colorado for about 4 1/2 months during the warmer time of the year. As is often the case, Jim Hardy caddied for Marilyn this week, with the two often talking over shots before Marilyn hits them.
This week in Loveland, Marilyn Hardy was solid throughout, posting back-to-back rounds of 71 for an even-par 142 total. For the two days, she made five birdies and five bogeys, with two of each coming on Tuesday.
Franklin, who plays out of The Ranch Country Club, and Eaton, a Colorado Golf Hall of Famer who now resides in Arizona, tied for second place at 148, with Eaton closing with a 71 and Franklin a 73. Stacey Arnold of West Woods Golf Club took fourth place at 152 after a 75 on Tuesday.
Hardy took a four-stroke lead into Tuesday, and Franklin cut that in half through 10 holes, while Eaton got as close as three behind after her 30-foot birdie on 11. But Hardy's consecutive birdies on 12 and 13 — where she picked up four strokes total on Franklin and two on Eaton — proved crucial in rebuilding a comfortable lead.
Hardy hit a 7-iron to within 18 inches of the cup on No. 12, and a wedge to 18 feet on No. 13, draining both birdie putts.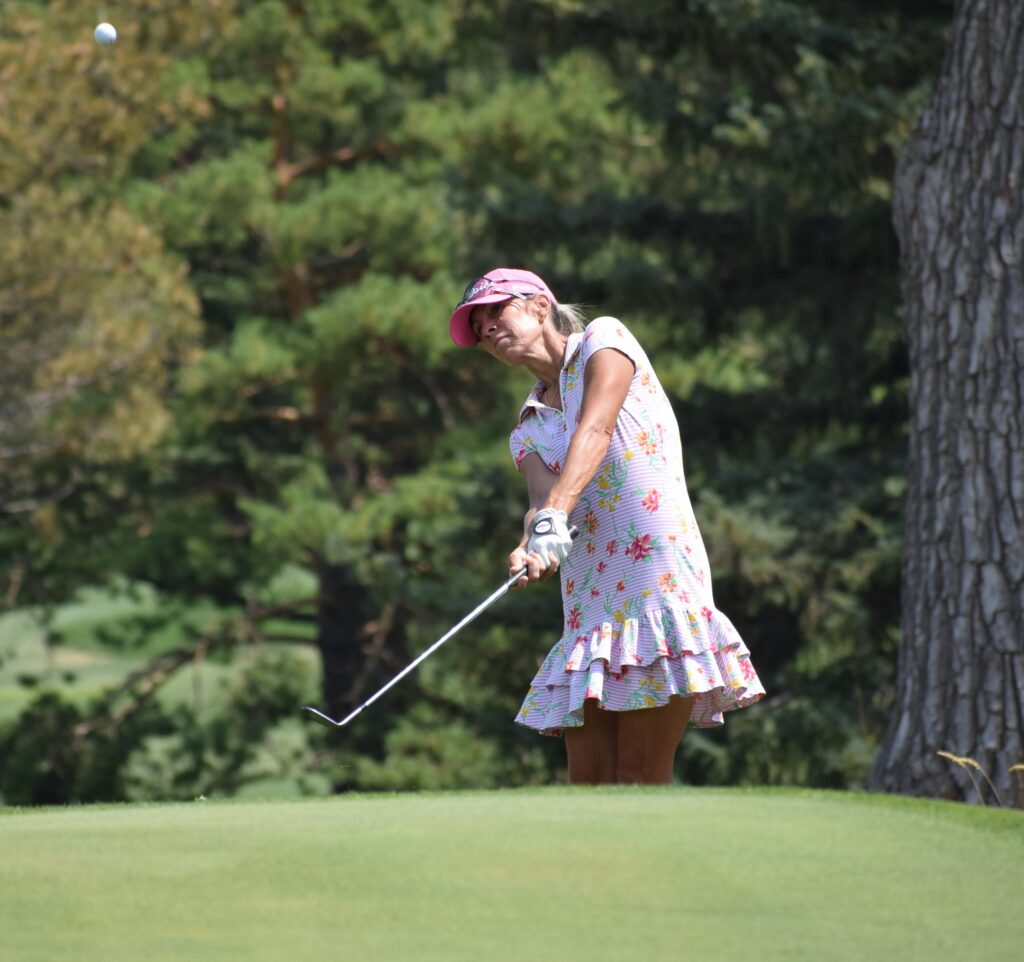 "The good thing was, Marilyn played great, so you don't mind getting beat when you got beat," Franklin said. "You know, I didn't lose it. It's disappointing but I'm glad to see her play well to win."
After the Women's Senior Stroke Play the last two years has been decided by one shot and in a playoff, Tuesday marked the largest margin in the event since Eaton won by 13 strokes in 2017 with a 2-under-par total.
"I've been playing well the last few weeks," Hardy said. "I did not play well in the (CGA Women's) Mid-Am or the Match Play, so I'm glad I finally did here."
In the process, Hardy kept Franklin and Eaton from building on stellar accomplishments. As noted, Franklin was seeking her fifth straight title in CGA women's senior majors. And Eaton was trying to win her 26th CGA/CWGA championship title, which would be an outright record. She currently shares the top spot at 25 with fellow Colorado Golf Hall of Famer Carol Flenniken.
"I'm disappointed," Franklin said of seeing her streak end. "You always want to win. Now it's like, 'OK, I've got to start earning them again and start the thing over.' I think I put a lot of pressure on myself, but I worked as hard as I could. I think the thing that was most disappointing was knowing I wasn't quite hitting on all cylinders coming into this week. I was trying to fight without really having anything in the tank.
"But hats off to Marilyn. She played so well, so it's more fun being beat like that."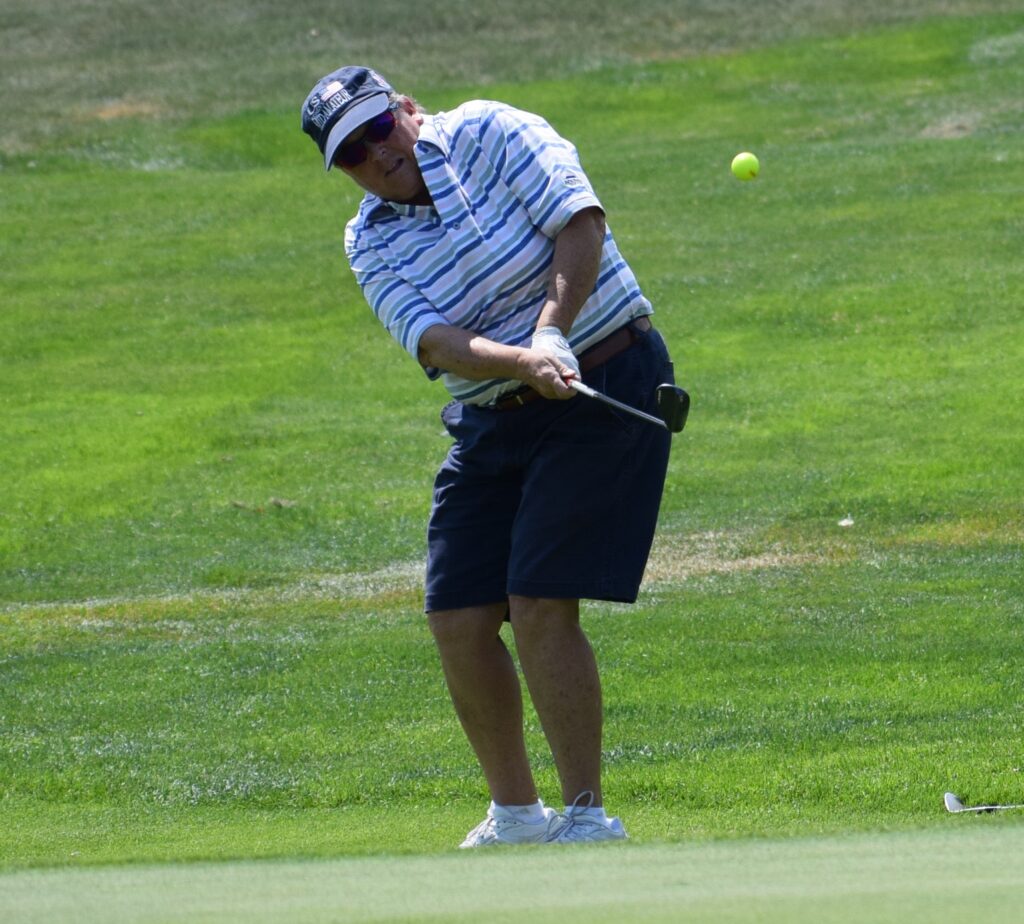 As for Eaton, she competed this week despite having a partially torn biceps tendon in her right arm, and she plans to undergo surgery next week. But after previously hoping to capture the outright record for CGA/CWGA titles by winning an individual event, she indicated she may compete in next year's CGA Women's Brassie, a two-person team event.
"Depending on when it is and how I'm feeling," Eaton noted. "(Franklin) made a good point. The other Brassies (Eaton won — seven overall) — all counted. I'm old. I'm the oldest one now. It's just getting tough. We'll just see."
As for this week, Eaton matched Tuesday's low round with her 71.
"Today I felt a lot better except for those three (straight bogeys, on Nos. 15 through 17). I played a lot better. I'll take 71," said Eaton, who birdied No. 18 from 15 feet.
As for Hardy, after seeing Franklin win all the recent CGA women's senior majors, she flipped the script this time around. So how did that come about?
"I'm hitting my irons a lot better and putting a whole lot better," Hardy said. "My putting has improved a lot.
"I have a new putter and I've been working on my stroke too. I'm trying to putt like Kris Franklin."

CGA Women's Senior Stroke Play Flight Winners
At the Olde Course at Loveland
CHAMPIONSHIP FLIGHT
Gross — Marilyn Hardy, Dos Rios GC 71-71–142
Net — Marilyn Hardy, Dos Rios GC 70-70–140
FIRST FLIGHT
Gross — Lynda McManus, Highland Hills GC 76-82–158
Net — Lynda McManus, Highland Hills GC 69-75—144
SECOND FLIGHT
Gross — Tracey Hess, Colorado Springs CC 81-85–166
Net — Tracey Hess, Colorado Springs CC 71-75–146
THIRD FLIGHT
Gross — Darlene Evans, West Woods GC 88-81—169
Net — Roni Crain, Mariana Butte GC 74-64–138
FOURTH FLIGHT
Gross — Becky Finger, Riverdale GC 94-87–181
Net — Becky Finger, Riverdale GC 76-69–145
FIFTH FLIGHT
Gross — Holly Hester, Collindale GC 95-100—195
Net — (tie) Kayle Boyle, Eagle Trace GC 71-73–144; Patricia Martinez, West Woods GC 72-72–164
For all the scores from the Olde Course, CLICK HERE.