Jon Lindstrom, one of the top-ranked senior amateurs in the world, captures CGA Senior Match Play title in his debut in the event
By Gary Baines – 6/30/2023
Jon Lindstrom's first victory in a CGA senior championship was a long time coming.
In 2016 and earlier, golfers 50 and older were eligible to compete in CGA senior events. But starting in 2017 the eligible age rose one year annually (51 minimum in '17, 52 in '18, etc.) The idea was to have age restrictions for those senior tournaments eventually match those of the U.S. Senior Amateur, where no one younger than 55 can compete.
That left a guy Lindstrom's age — he didn't turn 50 until September 2017 — in a sort of limbo for five years regarding state senior amateur championships.
Each year, he was just a little too young to compete in events such as the CGA Senior Amateur and CGA Senior Match Play.
But the golfer from Lakewood Country Club turned 55 late last summer and played in the CGA Senior Amateur, finishing third. And on Friday at the 54th CGA Senior Match Play — in his first appearance in the event — Lindstrom lifted the trophy as champion. He rallied from an early two-hole deficit to score a 2-up victory over Victor Minovich of Foothills Golf Course in the title match at Flatirons Golf Course in Boulder.
"It feels pretty good to win obviously," Lindstrom said. "I turned 55 last September and I was able to play in the (CGA Senior Amateur). Most of the other stuff I've been playing is out of state. I've been traveling quite a bit playing events that have (World Amateur Golf Ranking) points, trying to work my way up that board. It's good to be back in Colorado and playing some events this summer."
Lindstrom is no stranger to CGA championship victories, having reached double digits in such events. That includes three CGA Mid-Amateurs, four Four-Balls, two Two-Man titles and now the Senior Match Play.
But Lindstrom's abilities far surpass state boundaries. In fact, he's ranked sixth in the world among amateur golfers 55 and older. Since late last summer, he's won the Trans-Miss Senior Championship, the Heron Creek National Senior Invitational, the International Senior Individual Championship and the CGA Senior Match Play. In addition, late last August, he finished low amateur in the Inspirato Colorado Senior Open for the fourth time.
"It's nice being in the top 10 (worldwide in his amateur age group)," Lindstrom said. "I'm getting into a lot of events. I'd like to stay in the top 10. It's kind of fun to chase that. I wasn't really aware of WAGR before 55. I guess I played well at the right time and moved up the charts pretty quick. I'm playing a lot more out of state. There's a lot of really good events outside the state year around on really good golf courses I've never played before. I'll try to do that as long as I can."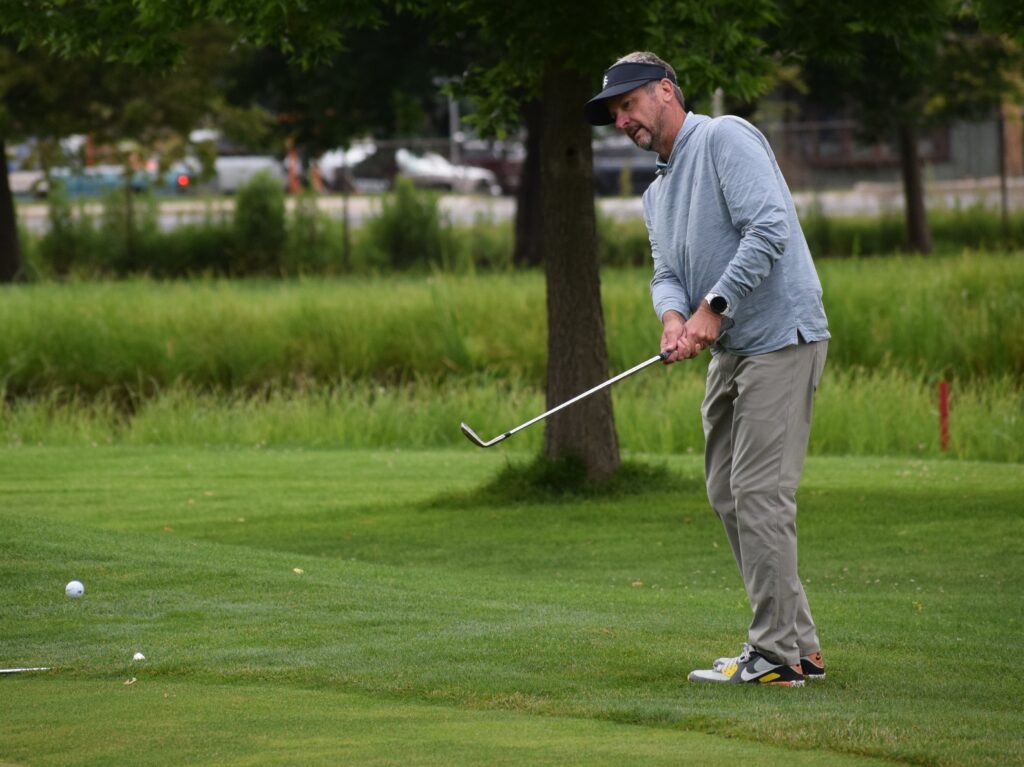 Lindstrom had to rally after being 2 down through seven holes in Friday's final at Flatirons Golf Course.


On Friday in his home state, the objective was to defeat Minovich, who won the CGA's last senior major, the CGA Senior Amateur. But things didn't go well for Lindstrom early in the title match as he bogeyed the first two holes and Minovich birdied the third from 12 feet to take a 2-up advantage. Minovich's lead remained in place through six holes, when Mother Nature intervened.
Two lightning delays before 9 a.m. — lasting a total of more almost an hour — seemed to coincide with a momentum change in the match. Just before the second delay, Lindstrom sank a 15-foot birdie putt on No. 8 to improve to 1 down. And — after tying the next two holes despite missed putts of 4 and 3 feet — Lindstrom tied the match with a par on No. 11, then went 2 up with birdies on 12 and 13, the second being conceded after Minovich lost his first tee ball and hit his second out of bounds.
"Us stopping and starting really got to me," said Minovich, who has twice qualified for the U.S. Senior Amateur. "Then it got cool, and in that weather I lost my swing. I didn't really think about it at the time, but it would have been much better if we were just going. We were moving (early in the match). I think we played the first six or seven holes in close to an hour.
"Neither one of us I don't think was playing great, but I was 2 up (early) and I was feeling good at that point. Then I just lost my swing. My driver's my weapon. It was like, 'I don't even know how to swing it.' That's usually my No. 1 club."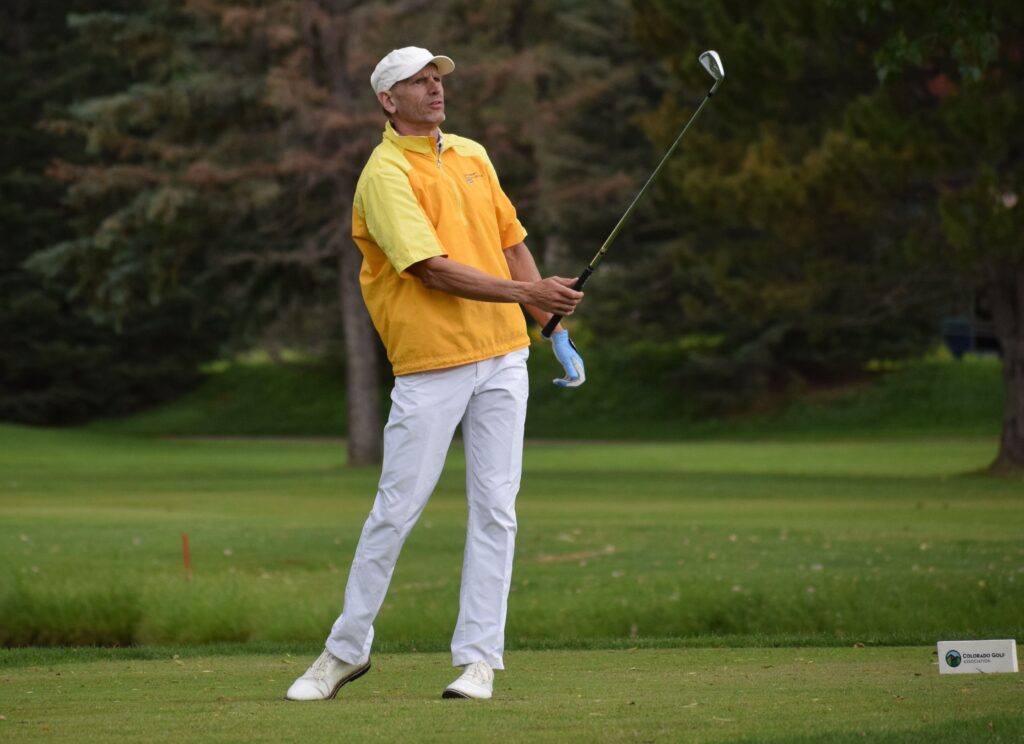 Victor Minovich struggled during the middle stretch of Friday's round.


After winning five holes in the stretch from Nos. 8-15 — where Lindstrom demonstrated some very accurate ball-striking at times — he was 3 up with three left.
"I thought I could close it out on 16, I thought I could close it out on 17," Lindstrom said. "It was a good match even though it was kind of ugly today."
Lindstrom missed a 10-foot par attempt that would have ended it on No. 16, and Minovich regained his game down the stretch and drained a 12-foot birdie putt on 17 to push the match to No. 18.
Minovich hit an apparently good drive there, but unknown to Lindstrom until later the ball kicked left and against a tree, and Minovich had to pitch out almost sideways before hitting his third on the green. Meanwhile, Lindstrom's tee shot stopped just 15 feet short of the water right of the fairway, and he had to keep his approach shot low — under tree branches — to nicely leave his ball on the fringe, 18 feet from the flag. After being told by Minovich that the latter was lying three on the green — instead of what Lindstrom presumed was two — Minovich missed his 20-foot par attempt and conceded the hole and the match.
"When you don't care as much, sometimes everything changes," Minovich said of his late rally. "It wasn't that bad a drive (on 18). But it hit and went straight left.
"Jon is a great player. I know what I'm up against. But I can hang with these guys. I can hang at the national level. But it's hard as you get older (Minovich is 59): you know what you want to do but your body doesn't do it."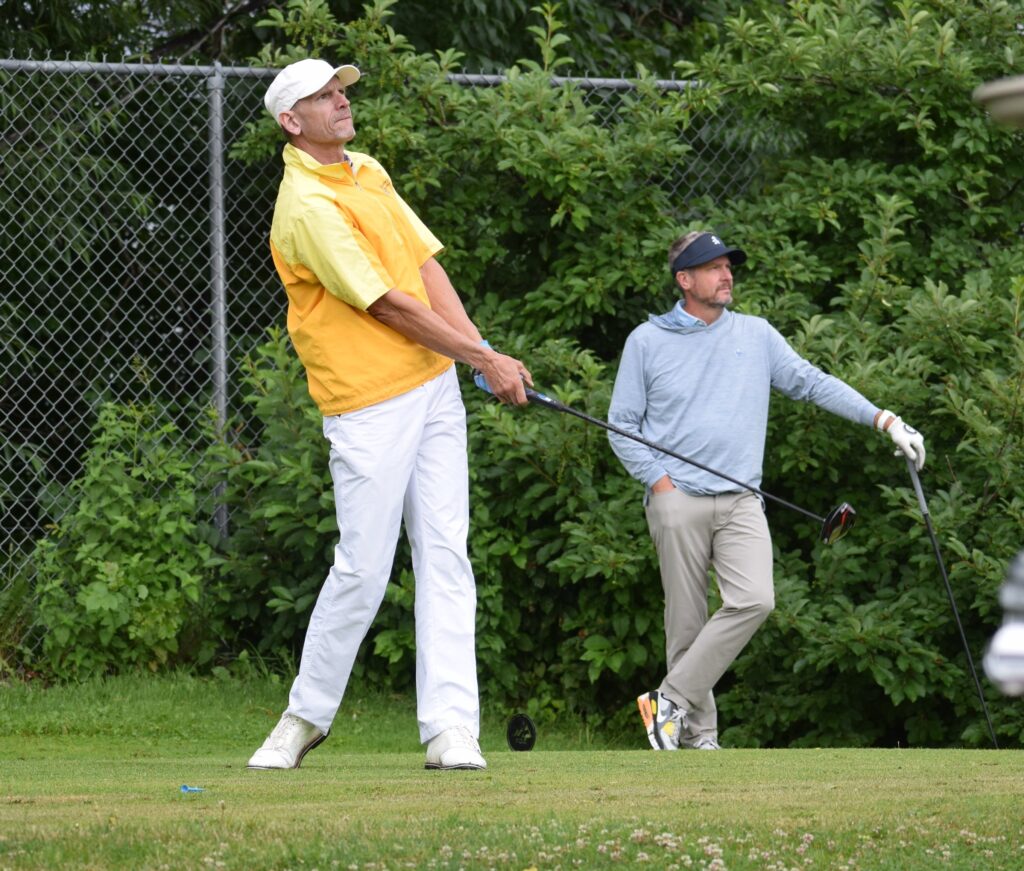 Minovich and Lindstrom went to 18 after the latter was 3 up with three holes left.


As for Lindstrom, this week he won all seven of his matches, but twice in pod-play, he had to rally from deficits to prevail.
"It wasn't easy by any means," he said.
Then in the single-elimination bracket, he had to run a gauntlet for his four victories en route to the title. He defeated three past Senior Match Play champions — Robert Polk, Steve Ivan and 2022 winner Chris Carlson — before taking on the 2022 CGA Senior Amateur champ Minovich in the final.
"I wasn't happy about the bracket," Lindstrom said. "I thought it was more work than it needed to be."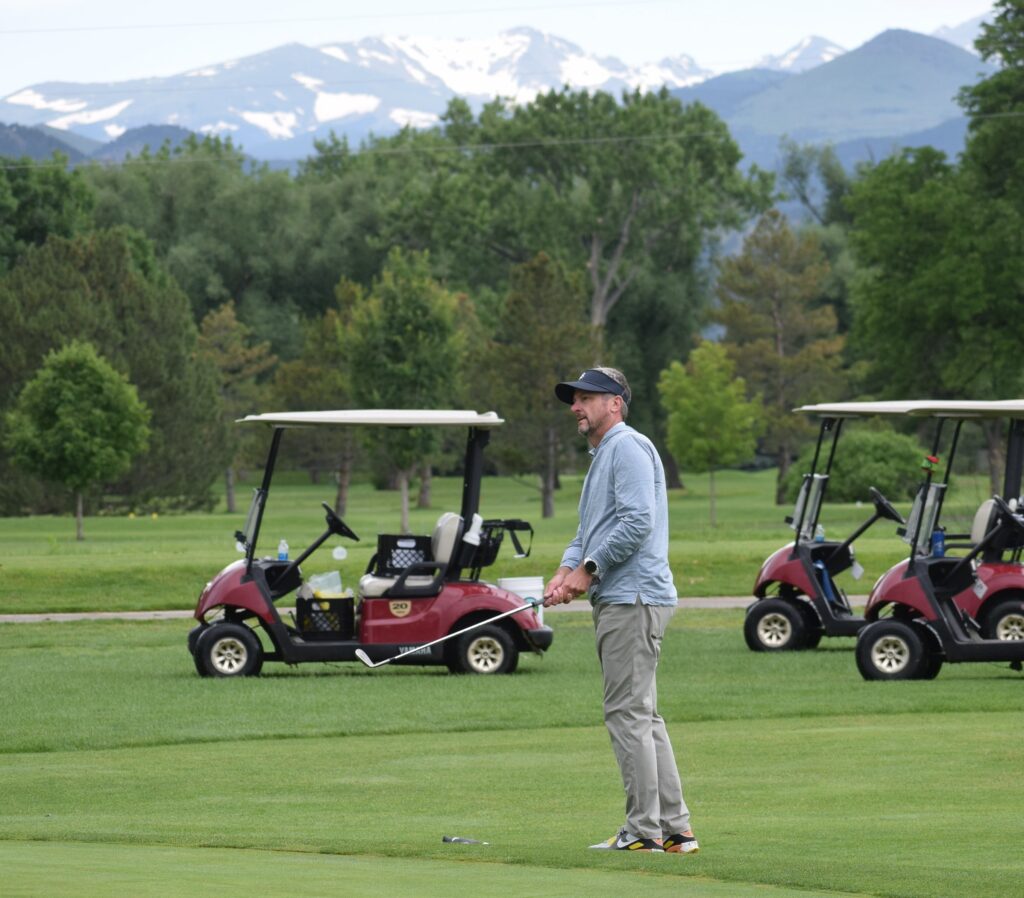 The CGA Senior Match Play was hosted by the picturesque Flatirons Golf Course.



Next up for Lindstrom is competing internationally at the British Senior Amateur, July 11-14 in England. The U.S. Senior Amateur comes Aug. 26-31 in Truckee, Calif.
CGA Senior Match Play Results
At Flatirons GC in Boulder
THURSDAY'S QUARTERFINALS
Chris Carlson, The Links GC, def. Roger Walters, Battlement Mesa GC, 5 and 4
Jon Lindstrom, Lakewood CC, def. Steve Ivan, Patty Jewett GC, 1 up
Victor Minovich, Foothills GC, def. Mark Brown, Pinery CC, 2 up
Mike Glaesel, Indian Tree GC, def. Scott Sullivan, Redlands Mesa GC, 4 and 3
THURSDAY'S SEMIFINALS
Jon Lindstrom, Lakewood CC, def. Chris Carlson, The Links GC, 5 and 4
Victor Minovich, Foothills GC, def. Mike Glaesel, Indian Tree GC, 4 and 3
FRIDAY'S FINAL
Jon Lindstrom, Lakewood CC, def. Victor Minovich, Foothills GC, 2 up
For all the results from the CGA Senior Match Play, CLICK HERE.

About the Writer: Gary Baines has covered golf in Colorado continuously since 1983. He was a sports writer at the Daily Camera newspaper in Boulder, then the sports editor there, and has written regularly for ColoradoGolf.org since 2009. He was inducted into the Colorado Golf Hall of Fame in 2022. He owns and operates ColoradoGolfJournal.com