Charlie Tucker, Brenna Higgins join stellar list of CGA junior champions by winning CGA State Junior
By Gary Baines – 6/30/2023
Shortly after things wrapped up at the CGA State Junior Championship on Friday, several golfers not affiliated with the tournament were looking over the event's trophy.
They were amazed at the names of some of the winners of CGA junior titles that were engraved on the prize. Hale Irwin, Mark Hubbard, Mike Reid, Brandt Jobe and 2023 U.S. Open champion Wyndham Clark on the boys side. Jennifer Kupcho, Jill McGill, Lauren Howe and social media sensation Paige Spiranac on the girls.
And the boy and girl whose etched names will soon be joining them — after victories Friday in the CGA State Junior at CommonGround Golf Course — were certainly enamored by the idea of being alongside those icons of Colorado golf.
"This means a lot," boys champion Charlie Tucker of Castle Pines said. "I think it's really cool getting your name on a trophy with Hale Irwin, Wyndham Clark — all those guys who have done a lot of good in the game. Hopefully one day I can get up there too with those names."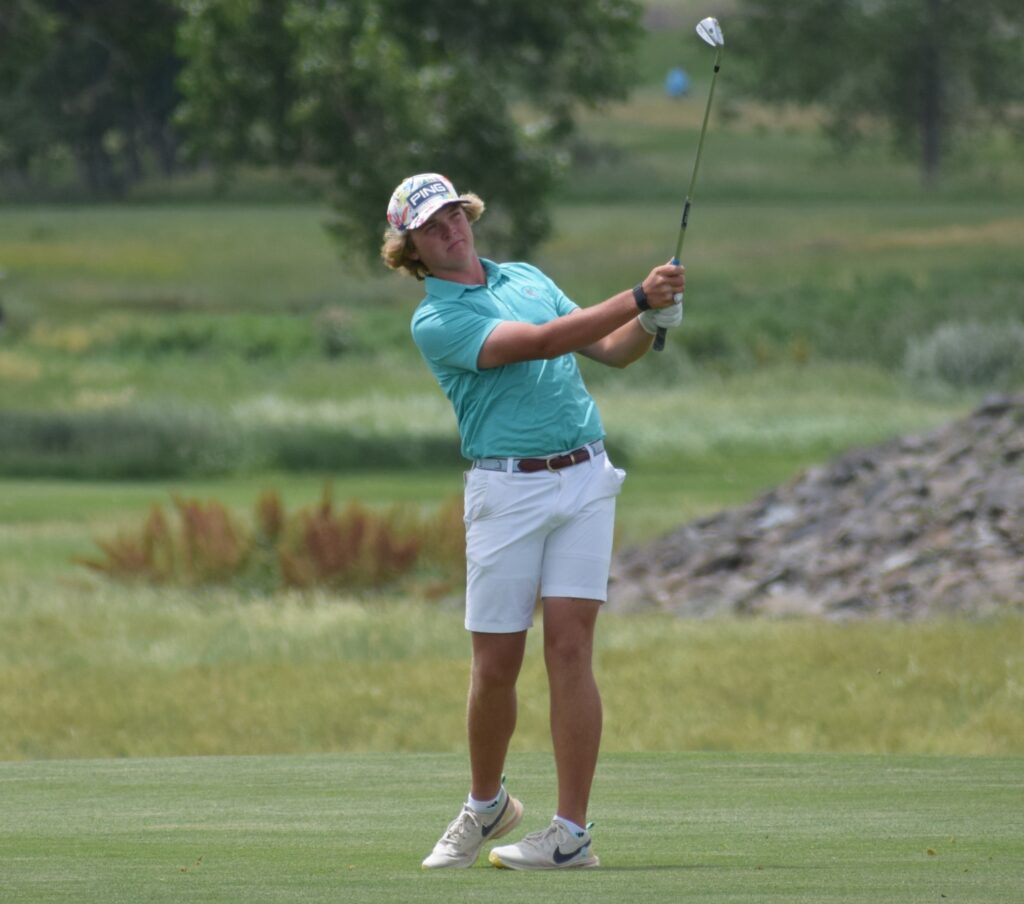 Tucker played his first eight holes of the boys final in 4 under par.


And girls winner Brenna Higgins of Centennial actually attends the same high school as Clark — the U.S. Open champion — did, Valor Christian in Highlands Ranch. In fact, Higgins went to the last two days of the U.S. Open this month, watching Clark close out for the national championship.
"We were on the 18th green when he won so that was really cool," Higgins said. "Wyndham worked with my swing coach (Craig Koy) when he was younger. I talked with him a little bit after he won. I just said, 'Congrats, Wyndham.'"
On Friday, Tucker and Higgins capped their seven-rounds-in-five-days odyssey to capture their titles. The CGA State Junior is in its second year of being a hybrid of stroke-play and match-play championships that have been held for decades. The format is very similar to how the USGA conducts most of its amateur championships, with two rounds of stroke play leading into the title being decided via match play.
And considering that Thursday and Friday were back-to-back 36-hole days — and that it was a walking-only event; no carts — it was a test of endurance as well as golf.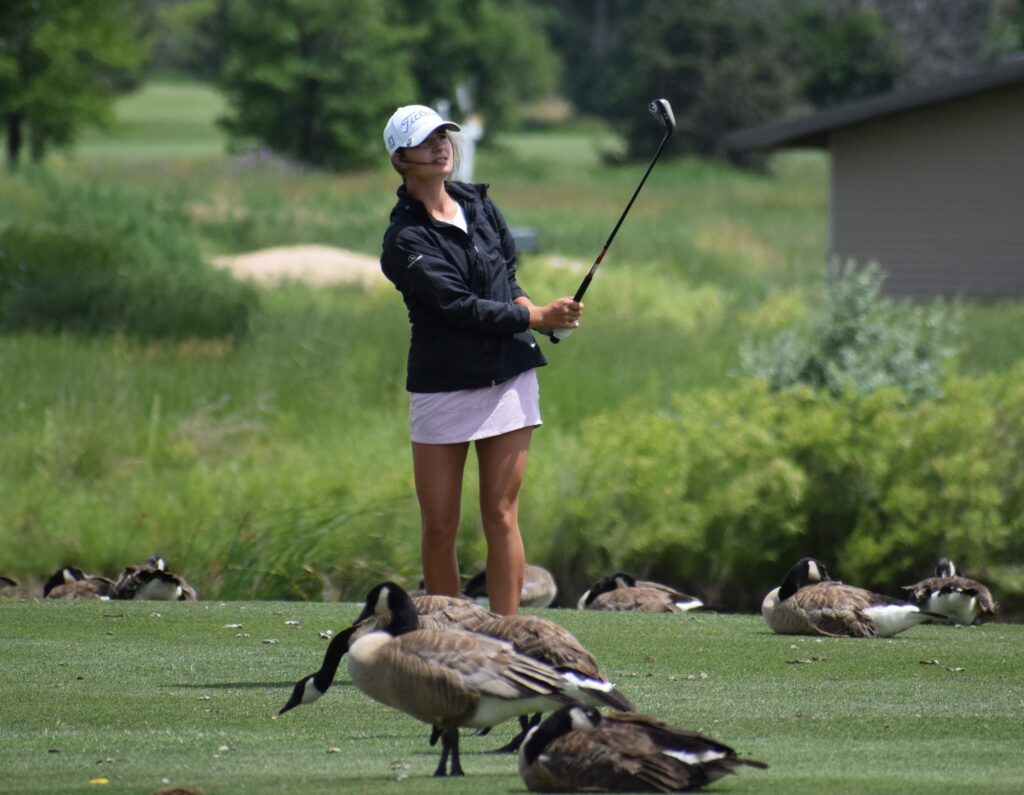 Higgins certainly didn't run afoul — or even afowl — of the golf course this week.



"It was seven rounds of walking, which was a lot," Higgins said. "But I pulled through so it feels really good."
Added Tucker: "Five days to kind of outlast everybody and do what it takes, it's pretty cool to get it done."
Higgins, who recently won a 5A state high school individual title for Valor, completed a tour-de-force at the CGA State Junior, defeating 14-year-old Addison Hines of Arvada in the final, 5 and 4. Higgins won her five matches by margins of 6 and 4, 2 up, 5 and 3, 4 and 3, and 5 and 4.
As for Tucker, a U.S. Junior Amateur qualifier in 2022, he won both of his matches on Friday by 1-up margins — over Kyle Leydon of Commerce City in the semifinals and against Noah Richmond of Montrose in the final. His quarterfinal was also a 1-up affair.
With their victories, both Tucker and Higgins will be invited to represent Colorado at the boys and girls Junior America's Cup matches, respectively, later this summer.
Here's how the CGA State Junior competitions broke down: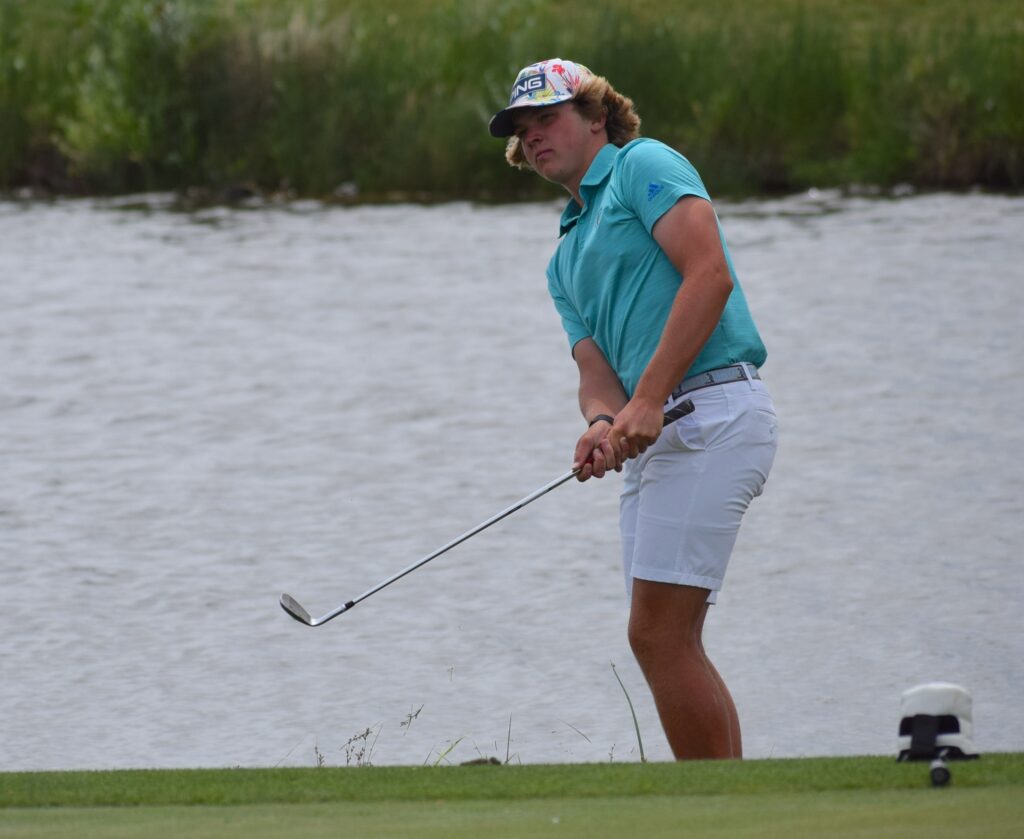 Tucker never trailed in the final, but never had a comfortable lead either.


— BOYS: Tucker, a 17-year-old senior-to-be at Rock Canyon High School, never trailed in the final, but never could pull away either.
Tucker took his only 2-up lead when he parred 14 and Richmond bogeyed. But the champion-to-be hit three straight balls into deep hay left of the 15th hole and lost that. Then he bogeyed No. 16 from over the green, leaving the match tied.
"This morning (in the semis vs. Leydon) I had the same thing happen where I was 2 up and lost 15 and 16," Tucker said. "I kind of knew going into 18 (a par-5) I had an advantage because I can get to the green in two pretty easily. So I wasn't too worried as long as I did what I needed to do."
Indeed, while Tucker hit his second shot just to the right of the green in the final, on an upslope of a bunker, Richmond hit a poor second shot and had some tree issues before getting on the green in five and sinking a 20-foot putt for bogey. Tucker needed just a two-putt for par from 7 feet to notch the 1-up victory for the title.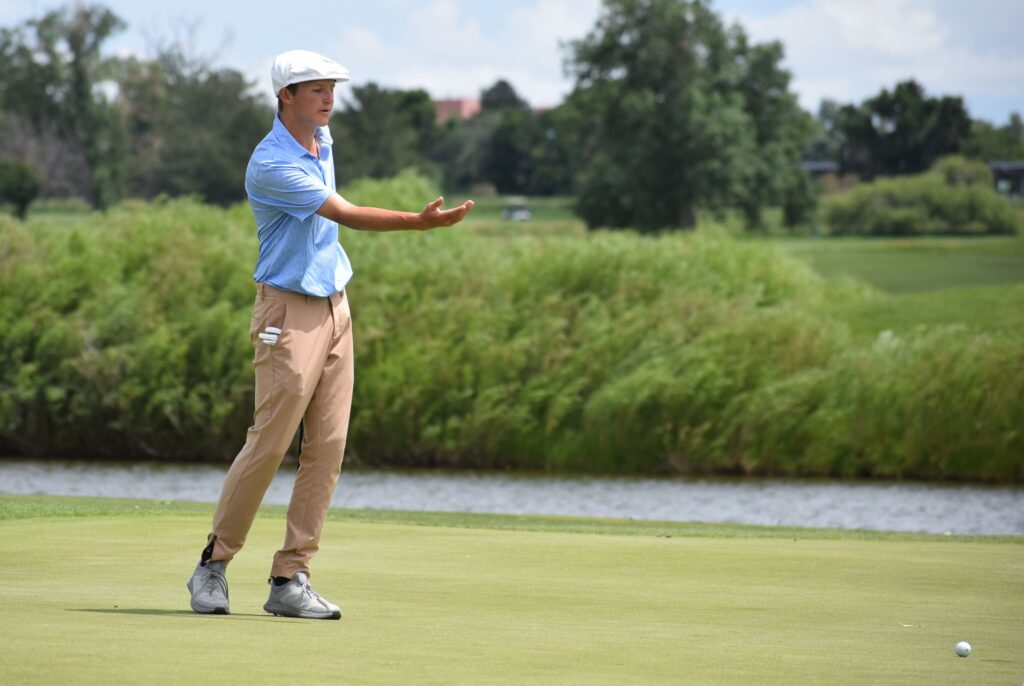 Runner-up Noah Richmond of Montrose tries to coax in a putt on Friday.


"It kind of hurts (to finish that way)," said Richmond, a 17-year-old senior-to-be at Montrose High School. "I was playing pretty well the whole tournament, but it happens. It's just golf. It's life. I played well, so we'll take it and move forward.
"This was probably my best performance. I'll take just not giving up this week. I went (to the 18th hole or beyond in matches four times this week). You're just never out of it. You just keep going. I'll take this tournament and move forward with a lot of confidence because I played well. It was a lot of fun."
As for Tucker, who played his first eight holes of the final in 4 under par, he called Friday's victory a highlight of his young career.
"I would say this is definitely my biggest win — probably my best tournament finish too," said Tucker, who plays out of The Ridge at Castle Pines North. "I haven't really won a ton of tournaments — I've played pretty solid — but it's good to finally get a win.
"This (finals) match, I might not have played my best, but with what was on the line, I think it was definitely my best match of the week."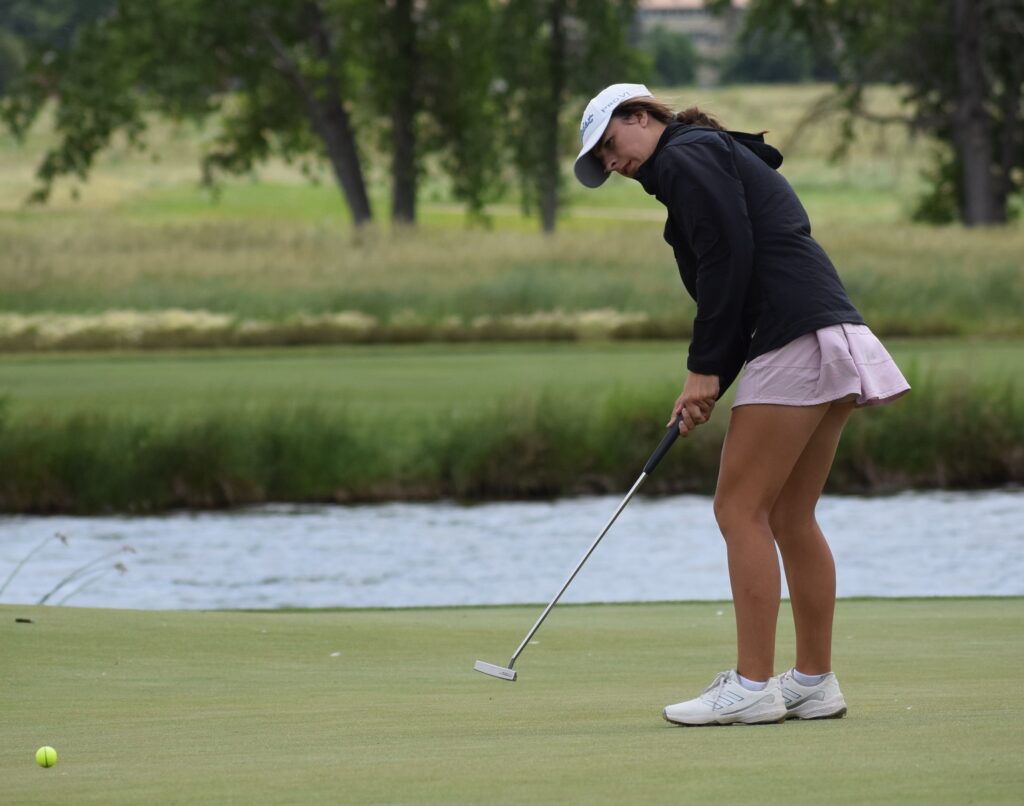 Higgins wasn't seriously challenged this week, except for in one match.


— GIRLS: It was quite a week at the CGA State Junior for Higgins and her older sister, Elle. The latter was the medalist by four strokes after the 36-hole stroke-play portion of the championship. Then Brenna, who was 11 strokes behind in stroke play, came out the overall champion after the ensuing five matches.
Following a 4 and 3 victory over Kaleigh Babineaux of Aurora in Friday's semifinals, Brenna Higgins likewise never trailed in her 5 and 4 finals victory over Hines. She birdied the first hole from 8 feet and was 3 up at the turn. Wins with pars at 13 and 14 closed out the match.
"I was nervous teeing off, but my first drive was pretty good, then I birdied the first hole," Higgins said." That kind of put me in a groove. My putting was really good today."
With her victories in the 5A state high school tournament and now the CGA State Junior, Higgins has certainly discovered a recipe for success recently.
"I switched to a new swing coach (Koy), and I feel like he's really helped my game — also my mental game, and managing the course," said the junior-to-be at Valor, who plays out of Colorado Golf Club.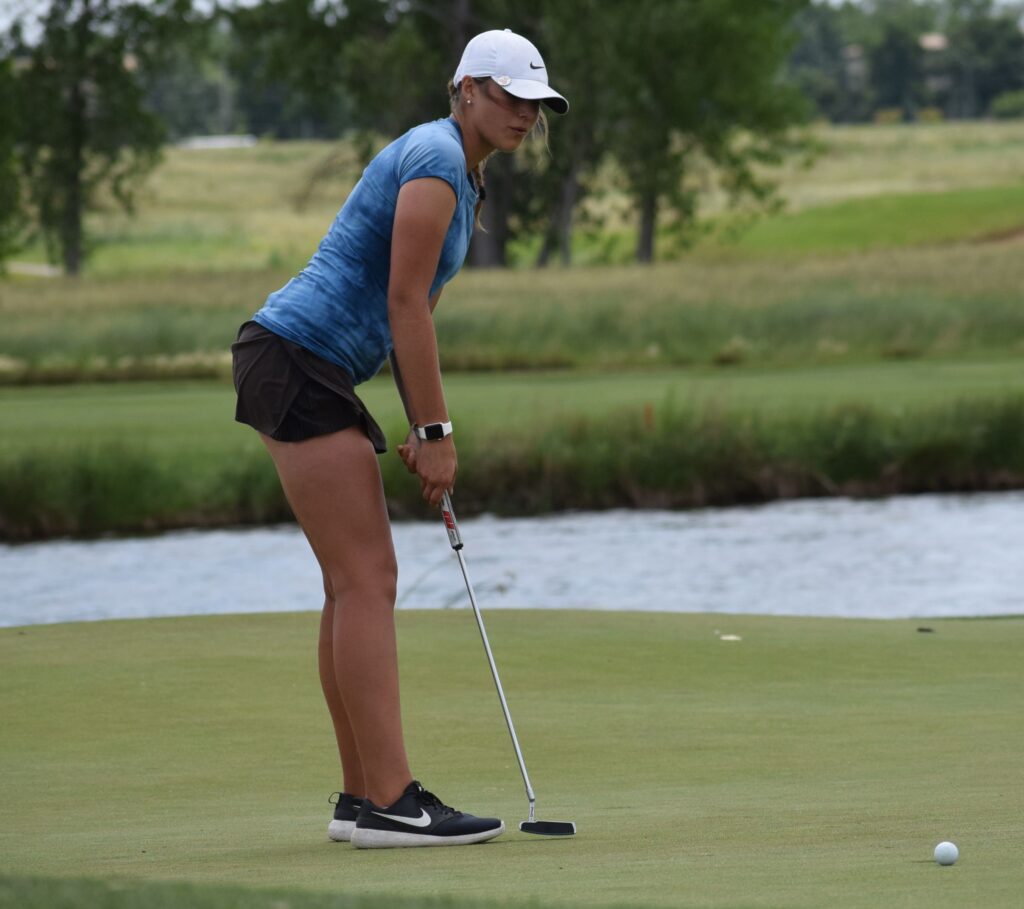 Addison Hines was a girls finalist at age 14.


As for the 14-year-old Hines, while she certainly would have loved to capture the title, what she did accomplish exceeded her expectations.
"I didn't expect myself to make it all the way to the finals, so I was proud of myself for that," she said. "In the final, I didn't feel like I played my best. I feel like I could have done better. But I was just proud of myself for making it there."
Asked what her expectations were coming into the week, Hines said, "To make it to the top eight. I lost my first match last year (in the event). I just wanted to do a little better than that."
Last year's winners of the inaugural CGA State Junior were Matthew Wilkinson and Katelyn Lehigh, who went to to play their freshman seasons of college golf at Colorado State and Fresno State, respectively.

CGA State Junior Championship
At CommonGround GC in Aurora
BOYS QUARTERFINALS ON THURSDAY
Noah Richmond, Montrose, def. Caleb Michaels, Lafayette, 1 up
Conner Scheich, Highlands Ranch, def. Gavin Amelia, Castle Rock, 1 up
Charlie Tucker, Castle Pines, def. Luke Cushman, Castle Rock, 1 up
Kyle Leydon, Commerce City, def. Noah Wagner, Pueblo West, 5 and 4
BOYS SEMIFINALS ON FRIDAY
Noah Richmond, Montrose, def. Conner Scheich, Highlands Ranch, 1 up
Charlie Tucker, Castle Pines, def. Kyle Leydon, Commerce City, 1 up
BOYS FINAL ON FRIDAY
Charlie Tucker, Castle Pines, def. Noah Richmond, Montrose, 1 up
GIRLS QUARTERFINALS ON THURSDAY
Brenna Higgins, Centennial, def. Caitlyn Chin, Greenwood Village, 5 and 3
Kaleigh Babineaux, Aurora, def. Mollie Todd, Golden, 1 up
Addison Hines, Arvada, def. Zoe Bar-Or, Greenwood Village, 1 up
Ava Schroeder, Colorado Springs, def. Hope Torres, Broomfield, 5 and 3
GIRLS SEMIFINALS ON FRIDAY
Brenna Higgins, Centennial, def. Kaleigh Babineaux, Aurora, 4 and 3
Addison Hines, Arvada, def. Ava Schroeder, Colorado Springs, 3 and 1
GIRLS FINAL ON FRIDAY
Brenna Higgins, Centennial, def. Addison Hines, Arvada, 5 and 4
For all the results from the CGA State Junior, CLICK HERE.

About the Writer: Gary Baines has covered golf in Colorado continuously since 1983. He was a sports writer at the Daily Camera newspaper in Boulder, then the sports editor there, and has written regularly for ColoradoGolf.org since 2009. He was inducted into the Colorado Golf Hall of Fame in 2022. He owns and operates ColoradoGolfJournal.com