'Rookie' Chris Carlson captures CGA Senior Match Play title in his first attempt; 2010 champ Guy Mertz falls in 19 holes after 3-putting 18
By Gary Baines – 6/24/2022
Chris Carlson let out a guttural yell — including a four-letter word for emphasis which shall go unrepeated here: "XXXX Yeah!" — as his winning birdie putt fell into the hole Friday at Highland Meadows Golf Course in Windsor.
The golfer from The Links in Highlands Ranch had waited much longer than anticipated for his debut in a CGA senior individual championship. But when that debut finally arrived, his long-awaited dream came to fruition as he won the CGA Senior Match Play in dramatic fashion.
The 55-year-old drained a 12-foot birdie putt on the 19th hole — sudden death — of his title match against 2010 champion Guy Mertz of TPC Colorado, claiming the championship in the process. After his subsequent triumphant yell, he quickly apologized to Mertz for his colorful language — I think (the word) was "fudge," he joked later — explaining that it just king of burst out of him.
You see, this event was a long time coming for Carlson and those of a similar age and younger. In 2016 and earlier, those 50 and older were eligible to compete in CGA senior championships. But, starting in 2017 in a move made to put the CGA in alignment with the USGA regarding senior amateur events, the CGA increased the age eligibility of its senior championships one year each year (51+ in 2017, 52+ in 2018, etc.) until reaching 55 in 2021. So guys like Carlson, who turned 55 in mid-May, had to wait to make his CGA senior debut until this year.
And when Carlson became eligible, he wasted no time in putting his name on the trophy for one of the CGA's senior majors.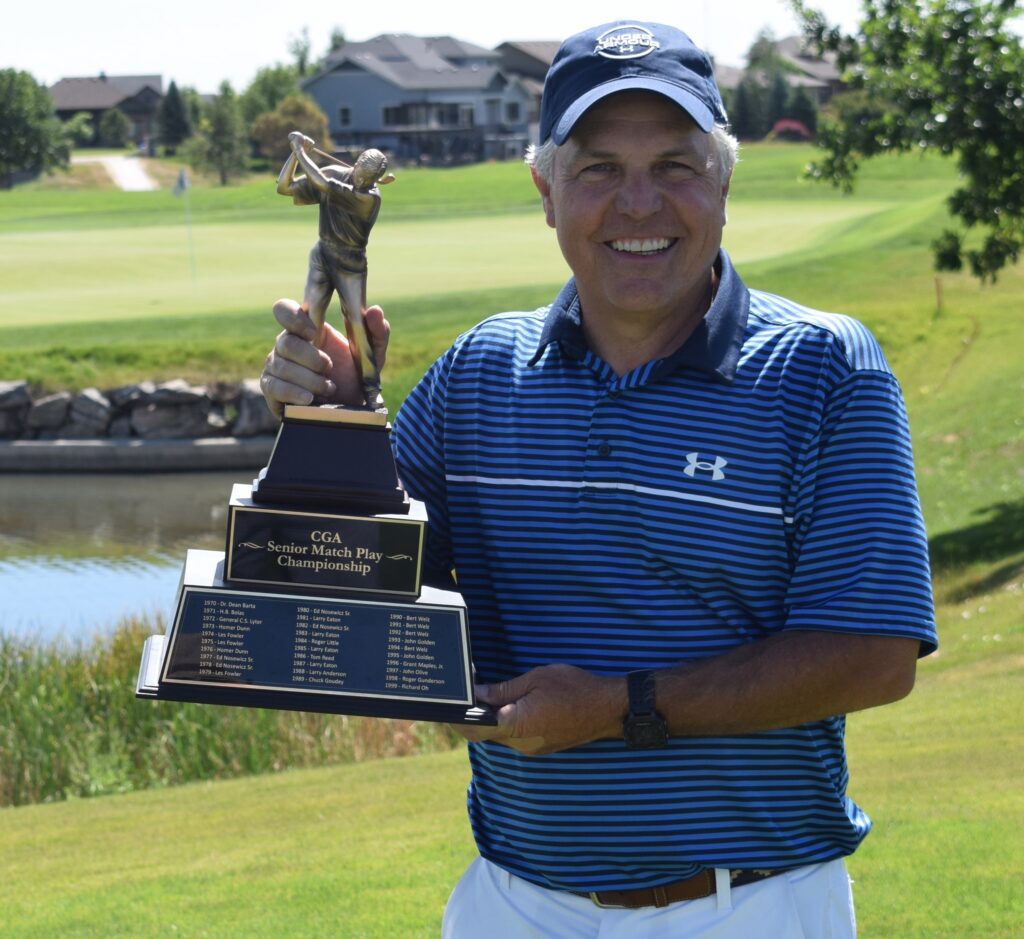 "I've been waiting five years for this because when they (gradually started changing the minimum age requirements), I missed it by five months," he said. "So when I say I've been waiting five years, that's what you saw (on the playoff hole). … I also thought I had let (victory) slip away earlier. Golf is hard and it's a little cruel sometimes. So I was bursting at the seams. I kept it all in for (five) days, and he we are."
Carlson was 1 down after Mertz two-putted for par from 60 feet at No. 17, while Carlson made bogey. But Mertz three-putted for bogey on No. 18, missing a 4-foot par putt that would have won him the Senior Match Play for the second time.
That forced sudden death, starting with the par-5 first hole, where a finger of water guards much of the front of the green. After a strong drive, Carlson hit a 7-wood — one he recently purchased from 2015 CGA Match Play champion Nick Nosewicz — from 218 yards and his ball finished in the middle of the green.
With Mertz also on the green, but in three, Carlson left his 60-foot eagle attempt 12 feet short. After Mertz missed his birdie attempt, Carlson made his lone birdie of the day — the championship winner.
"My dad always said, 'You can always stop choking for two seconds,'" Carlson said. "I thought of that thought."
And with the birdie, Carlson let out his primal yell while thrusting his arms in the air.
"Winning in golf is so hard," he said. "That's what you saw in that emotional outburst here."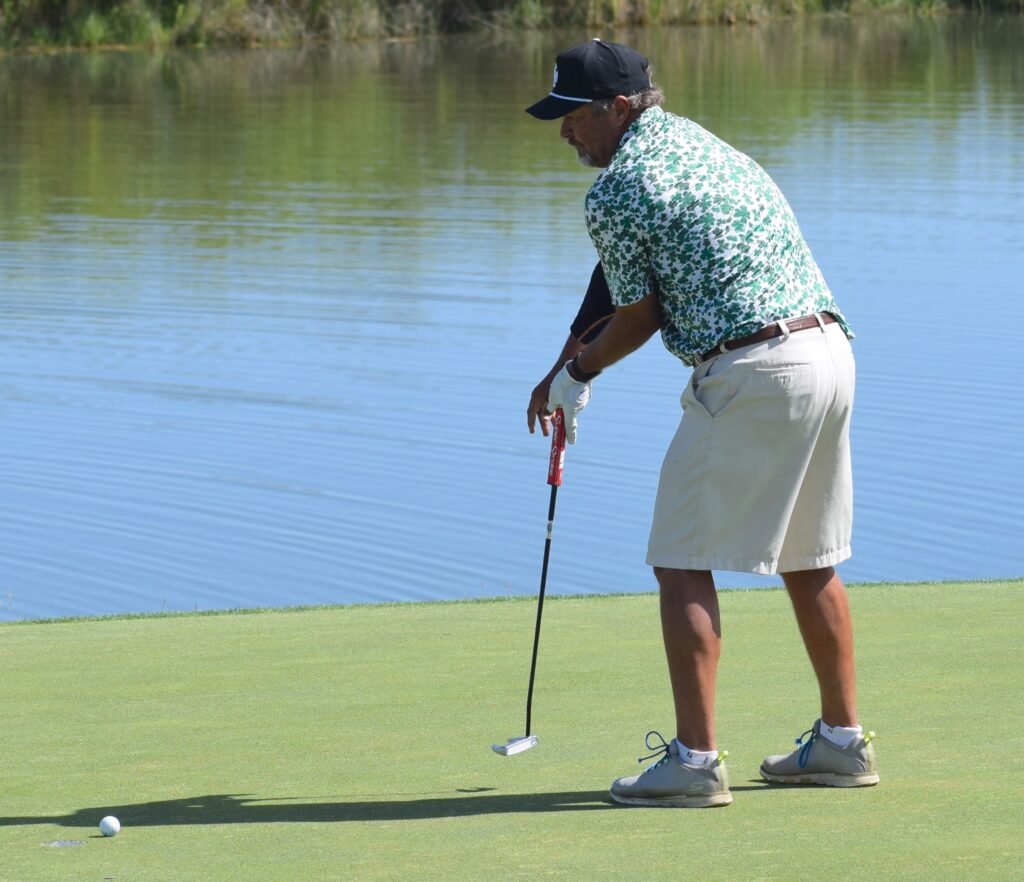 After Carlson apologized for his language, Mertz put his arm over the shoulder of the champion as they walked off the green.
The victory marked Carlson's third CGA championship title — but first in a dozen years — following the 2004 Mid-Amateur and the 2010 Four-Ball with teammate Michael Love.
Meanwhile, between Carlson's 19th-hole birdie and Mertz's four missed putts of 5 feet or less on Friday, the latter was denied his fifth CGA title (to go along with the 1988 Public Links, a club team championship with Fox Hill, the 2010 Senior Match Play and the 2018 Parent-Child with son Nick.
"I had my chances," said the 63-year-old retired dentist, who was a finalist in this event for the third time. "To three-putt the last hole is hard to take, but that's golf. All my mistakes today were three-putts. I had four. I hit the hole on all of them, but they didn't go in. The better man won today because he finished and I didn't.
"You just can't (miss that many short putts) in match play. It's such an emotional swing. Your opponent thinks he's going to go down and you give him a reprieve. He gets energy and you don't. That's why putting is so important — to finish it."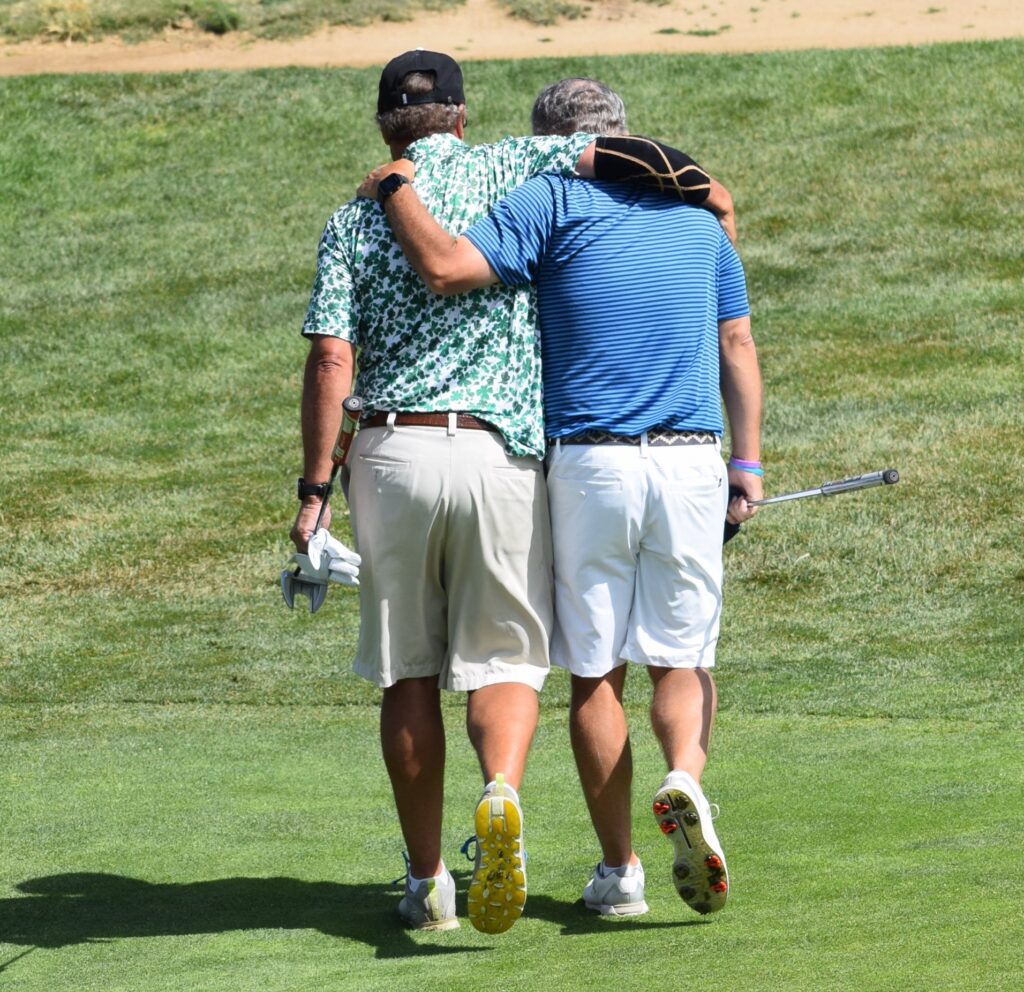 Neither player led by more than 1 up on Friday, and Carlson's only lead before sinking his 19th-hole birdie was after the 13th hole, where Mertz three-putted. The momentum see-sawed the rest of the way as Carlson lost 14 and 15 with a three-putt and a tee shot into the penalty area, respectively. Carlson evened the match again with a routine par on 16 as Mertz hit his tee shot over the green and lipped out a 10-foot par try.
Mertz went back up with his 60-foot two-putt for par on 17 as Carlson mishit his approach shot and made bogey. And on 18, Carlson tied it again with a 30-foot two-putt par, while Mertz three-putted from 40 feet for bogey.
Then came Carlson's 19th-hole birdie for the victory, which sent his mind racing.
"I thought of my dad, a PGA professional (Terry Carlson, a former director of golf at the Estancia Club in Scottsdale and a onetime PGA Tour Champions player)," Chris Carlson said. "He's like Jack Nicklaus to me. He's my hero in the golf world. And I thought of my wife and my kids, who put up with me hitting balls every night and practicing."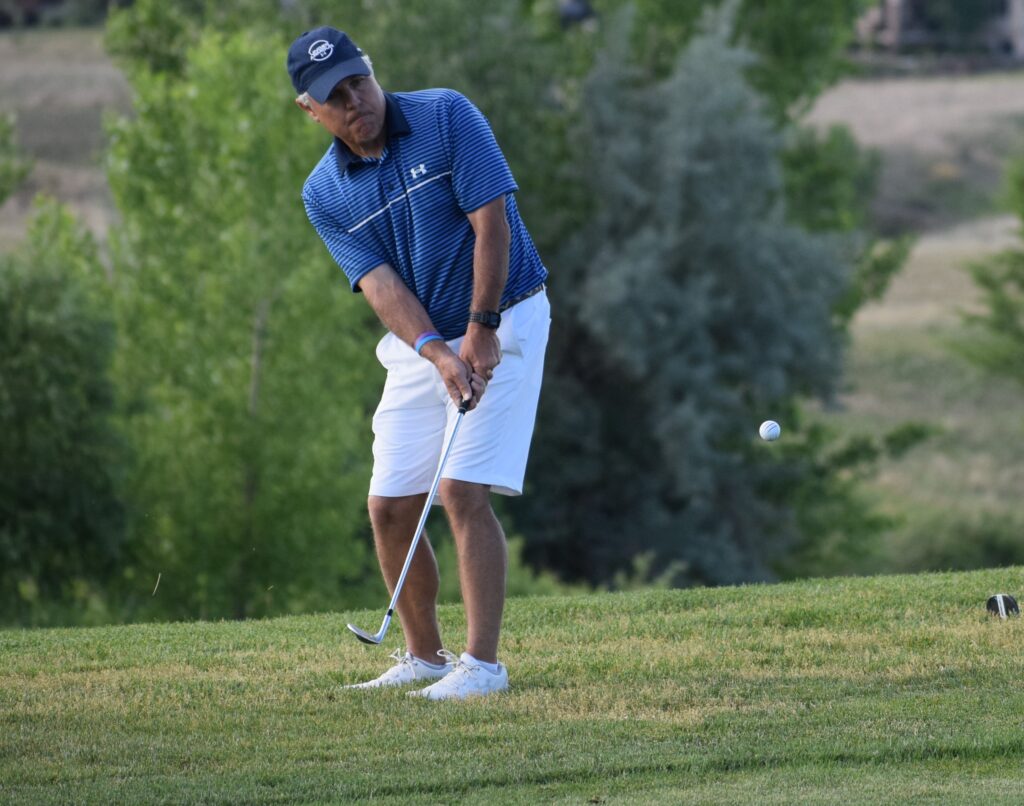 Also helping the cause this week, Carlson said, was a putting tip he received from his CGA Senior Four-Ball partner, David Delich, the onetime hockey standout who's won the CGA Senior Match Play three times.
"That really helped me," Carlson said. "There's no bigger, greater competitor. He grinds."
Carlson also thanked fitness guru Dee Tidwell, who also works with Robert Polk, who swept the CGA senior majors in 2021.
All in all, it was one sweet win for Carlson.
"This victory was more emotional (than the others in CGA play) because of the patience. This one is sweeter because of the wait," he said. "I had to wait because of the change in age (for CGA senior events). In the meantime, I tried to put in the work because that's what the game awards you for."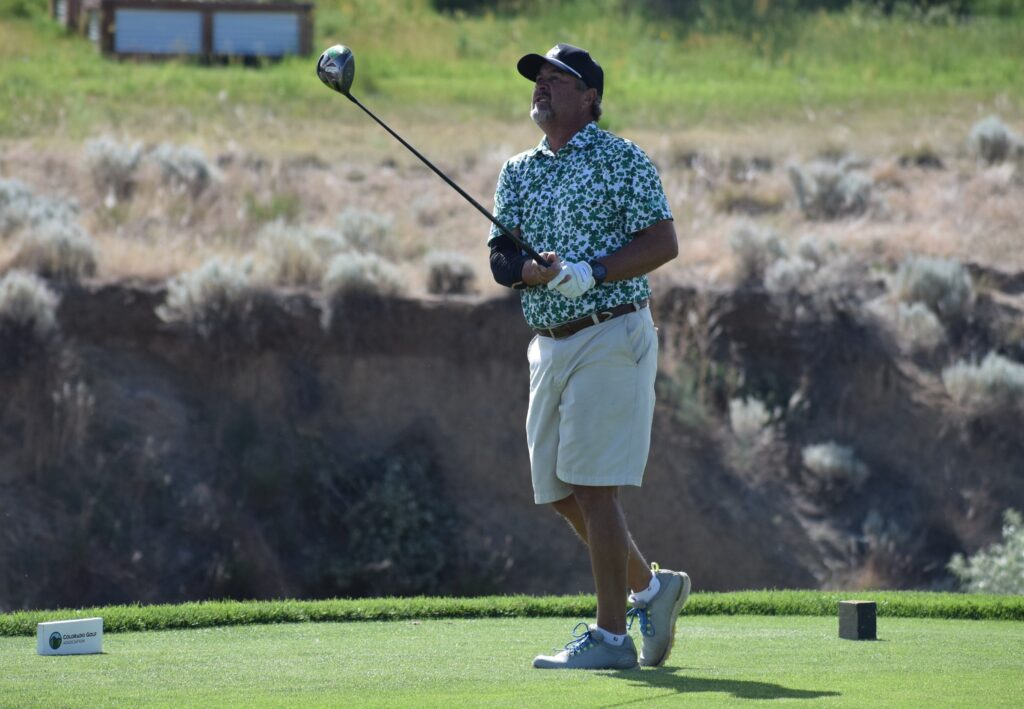 Meanwhile, Mertz played his fourth consecutive knockout match which went at least 18 holes, with three of those going 19.
"As you get older, this would have really meant a lot because I know the number of times I'm going to be able to compete is less and less," Mertz said. "I'm 63. Chris is 55. It doesn't seem like a lot, but 55 to 63 is a big difference. But I feel like I can still play. As long as I enjoy it I'll keep doing it."
This week ended a streak of nine straight CGA senior majors in which Steve Ivan of Patty Jewett Golf Course finished either first or second. This time, Ivan didn't make it out of the pod-play portion of the event.
Meanwhile, Polk, the defending champion, was ousted in the round of 16 this week.

CGA Senior Match Play at Highland Meadows GC in Windsor
THURSDAY QUARTERFINALS
Dean Sitkowski, Collindale GC, def. Keith Atkins, Highland Meadows GC, 19 holes
Guy Mertz, TPC Colorado, def. Scott Sullivan, Redlands Mesa GC, 2 up
Chris Carlson, The Links GC, def. Jeff Slepe, Pelican Lakes G & CC, 6 and 4
Owen Ellis, Flatirons GC, def. Kent Moore, Cherry Hills CC, 6 and 4
THURSDAY SEMIFINALS
Guy Mertz, TPC Colorado, def. Dean Siskowski, Collindale GC, 19 holes
Chris Carlson, The Links GC, def. Owen Ellis, Flatirons GC, 3 and 2
FRIDAY FINAL
Chris Carlson, The Links GC, def. Guy Mertz, TPC Colorado, 19 holes
For all the results from the CGA Senior Match Play, CLICK HERE.
Watch the post-round interview with Chris Carlson, CLICK HERE.
To view photos from the event, CLICK HERE.