Matthew Wilkinson wins his 4th Colorado junior major; Katelyn Lehigh caps in-state junior career with another title
By Gary Baines – 6/23/2022
The inaugural CGA State Junior — a hybrid of stroke-play and match-play championships that have been held for decades — produced two winners who are no strangers to success on a state level, no matter the format.
Matthew Wilkinson of Centennial defeated a former Arapahoe High School teammate, Will Kates of Centennial, 2 and 1 for the boys crown on Thursday at CommonGround Golf Course in Aurora. And Katelyn Lehigh of Loveland beat the 2021 Junior Golf Alliance of Colorado Girls Player of the Year, Kaylee Chen of Parker, 4 and 3 for the girls title.
The title matches culminated a championship that included seven rounds of golf in five days — two stroke play and five match play.
It was enough to tire anyone out, especially considering the contestants were walking for the entirety of the event — no carts — and that Wednesday and Thursday featured two rounds of golf per day.
Wilkinson particularly got to know CommonGround GC, the home course of the CGA, well over the last two weeks. In the course of 10 days (June 14-23) he played 11 competitive rounds at the facility — four in the CGA Match Play and seven in the CGA State Junior.
"I think I can play it maybe even lefty at this point," Wilkinson said regarding his proficiency at CommonGround. "I've seen every part of the course. It's definitely fun. I can't complain."
Meanwhile, you won't hear any complaints from Lehigh about how she closed out her junior career in Colorado. Last month, she captured her second consecutive 5A state high school individual title, and on Thursday she prevailed in her final junior golf event in the Centennial State.
"It's a nice sense of closure," she said. "It kind of gives me the idea I'm ready for the next step. I'm ready for college."
Lehigh will play her college golf at Fresno State, while Wilkinson will tee it up at Colorado State starting in the fall.
Both champions won two matches on Thursday, just as they had on Wednesday.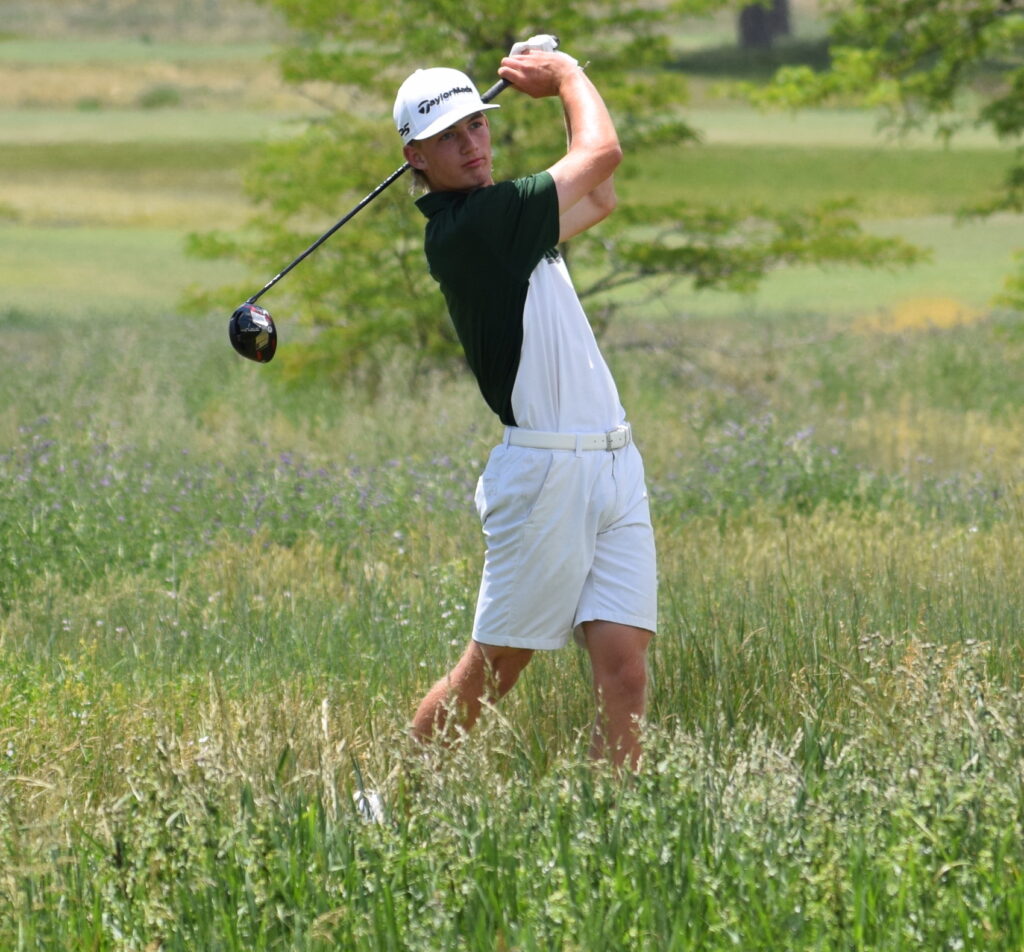 All three of Thursday's boys matches ended with 2 and 1 scores. In the semifinals, Wilkinson beat Dylan Everett of Highlands Ranch in a match that was tied after 14 holes, while Kates defeated Tyler Long of Evergreen after never trailing.
That resulted in two players that helped Arapahoe win the 5A boys state team title in October meeting for Thursday's championship. In addition, a third member of that team, Max Zadvorny of Centennial, was the stroke-play medalist on the boys side at the CGA State Junior.
"It's pretty cool" to have that happen, Wilkinson said. "I don't know if it's ever been done before, but it's pretty cool to have (the medalist and the two finalists) from the same golf team."
On a more individual level, it's quite an accomplishment for Wilkinson to earn his fourth major title in Colorado junior golf over the last two years. In fact, he's won the last three junior majors in which he's competed — the Colorado Junior PGA and Junior Golf Alliance of Colorado Tour Championship in 2021, and now the 2022 CGA State Junior. He previously captured the 2020 Colorado Junior Match Play.
"They all feel good in general," the 18-year-old said of those victories. "Obviously it's super fun to win. I enjoy playing and I love coming out and competing.
"(Winning that many junior majors) helps my confidence, telling myself I can compete with those (similarly successful) people who have gone on to do great things — whether it's in college or going pro on the PGA Tour. It feels nice to be among those."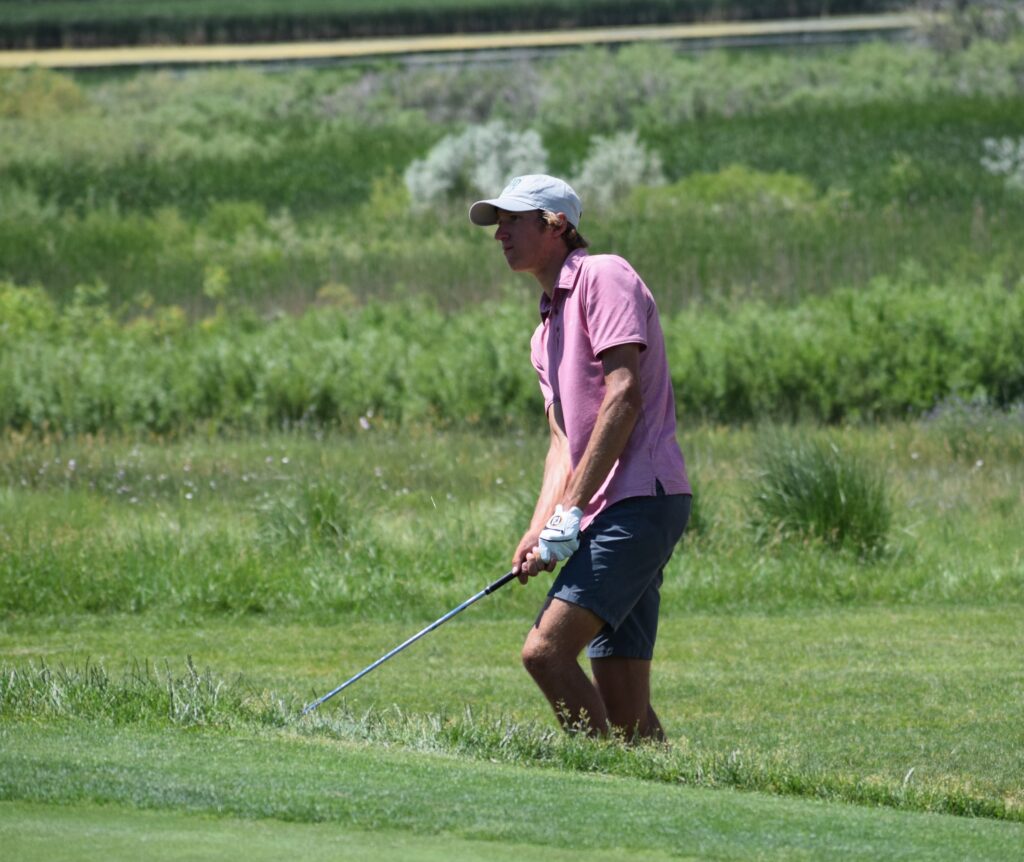 Kates, a two-time 5A state individual champion for Arapahoe who will play his college golf at Ohio University, birdied two of the first three holes of the afternoon and was 1 up on Wilkinson after three. But a 2-foot birdie on the fourth hole by Wilkinson tied the match, then a 4-foot birdie on No. 8 put him ahead for good.
The long-hitting future CSU golfer made another short birdie on No. 11 — and went 2 up — despite hitting his drive well right into the deep native grass. Kates would get no closer the rest of the way.
"I missed a couple of putts today that could have maybe gotten me closer, but I made some too," Kates said. "Matt played really good and I think he deserved to win.
"It was good to play my teammate from Arapahoe in the final. We're good friends."
Asked if that made it harder or easier for Thursday's final, Kates said, "It's easier in the sense you know his game, but it's hard because he's such a good player."
Indeed, Wilkinson didn't give Kates many opportunities on Thursday as the player from Lone Tree Golf Club was 5 under par for the 17 holes and didn't make a bogey. He was also 5 under for 17 holes in the quarterfinals, while going 3 under for 17 in the semis. CommonGround, by the way, is the same course at which Wilkinson qualified for the 2021 U.S. Junior Amateur.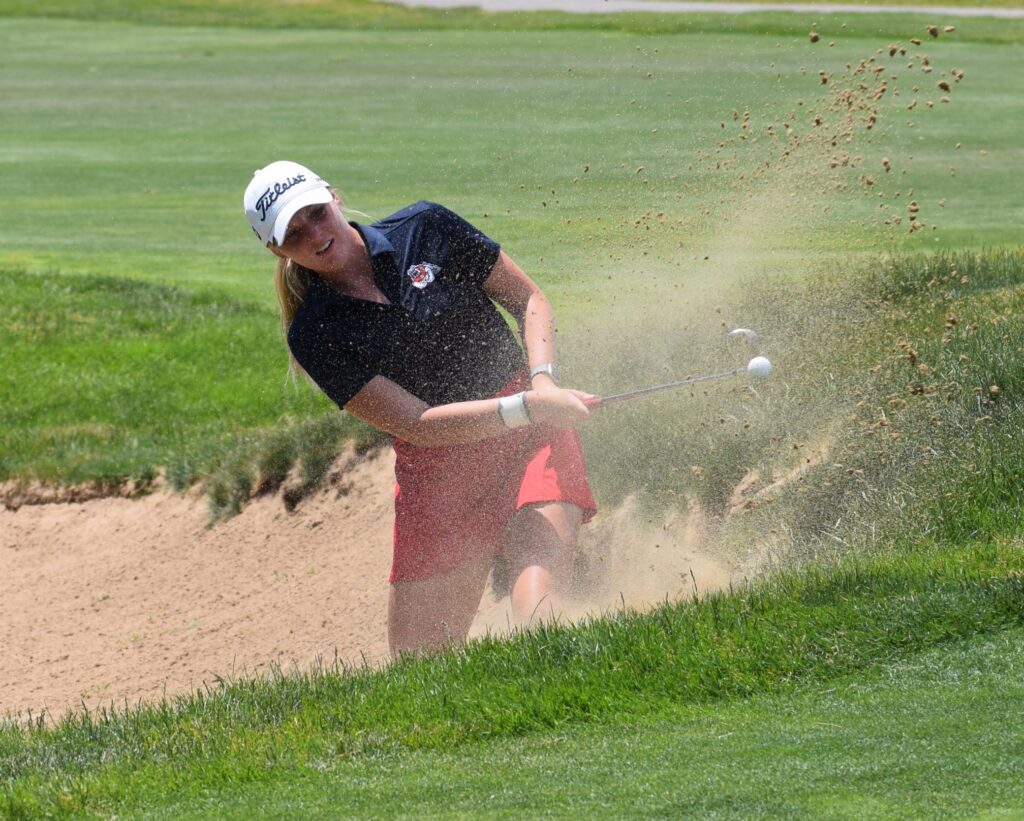 On the final day for the girls, Lehigh started with her second straight 1-up victory, this one over Kaitlin Zingler of Lakewood in the semifinals. Lehigh tied the last three holes with pars to hold off Zingler. Meanwhile, Chen, the 2019 Colorado Amateur champion on the girls side, never trailed in beating Lily Nelson of Commerce City 2 and 1 in their semifinal.
In Thursday afternoon's final, Chen gained a 1-up lead with a par on the fifth hole, but Lehigh won the next two holes to take a lead she would never relinquish. She parred the sixth hole, while Chen made bogey after hitting her tee shot into the sand on the par-3. Then Lehigh came up with the shot of the afternoon, hitting a 3-wood from 260 yards on the par-5 seventh hole to 18 inches from the cup, where an eagle was conceded.
"That definitely felt really good," Lehigh said. "But I turned around and tried to make bogey on 8 and made a 6-footer to save par. The turning point in the match in my mind was my bunker shot on 9. I got up and down (for par from 7 feet) and Kaylee missed her (5-foot) birdie putt. That kind of set the tone for the entire back nine."
Indeed, that seemed to take a little steam out of Chen, who lost the 11th, 12th and 13th holes with a double bogey and two bogeys. A birdie on No. 14 stopped Lehigh's momentum for a bit, but the Loveland golfer closed things out with a birdie on No. 15.
"I played really well in match play," Lehigh said. "I had some trouble putting at different spots (over the five days) but I used the morning between my morning (semifinal) and the finals to work with a putting tutor, which really helped."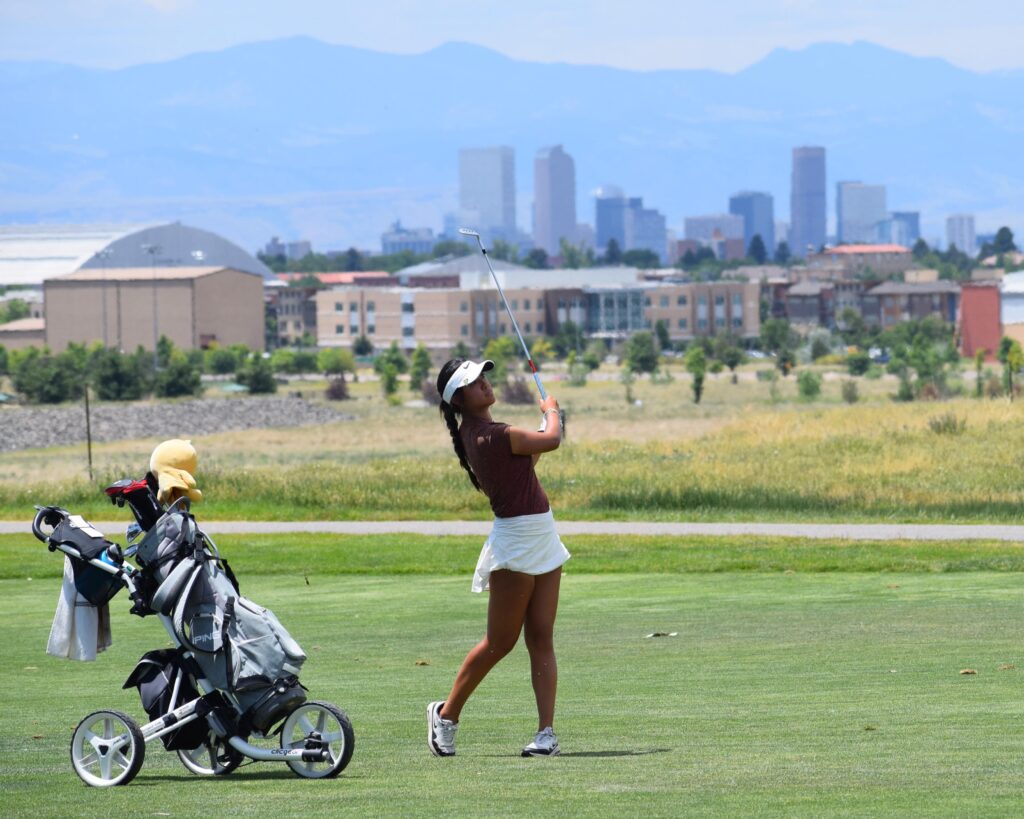 Chen was similar to Wilkinson in that she had competed in a lot of matches at CommonGround over the past 10 days. Between the CGA Women's Match Play and the CGA State Junior, it was 10 matches during that stretch, which ended up taking a bit of a toll.
"I was thinking about that on the course," the future New Mexico State golfer said afterward. "Could it be that I'm tired? … I just came back from last week's CGA Women's Match Play. I probably did start getting a little tired after that first nine. It does probably have a little to do with it, but I don't want to make any excuses.
"I didn't play like I wanted to (in the finals). It's disappointing. But I played the best golf I've ever played the last few days (prior to the finals). I've been in a slump for quite a while. I'm honestly proud of myself, even though I lost. The way I think about golf is everything happens for a reason and if now is not my time, my time will come. You've got to persevere."
Meanwhile, Lehigh proved very formidable on Thursday afternoon as she was 3 under par through 15 holes.
"It's super awesome," the 18-year-old from Harmony Club said of her latest victory. "It's definitely different, being match play vs. stroke play (that settles the titles). But it's definitely one of the coolest things I've won."
Like many USGA championships, the CGA State Junior starts with two rounds of stroke play, followed by match play to decide the champions.

CGA State Junior Championship at CommonGround GC
BOYS QUARTERFINALS ON WEDNESDAY
Matthew Wilkinson, Centennial, def. Talan Gover, Lafayette, 2 and 1
Dylan Everett, Highlands Ranch, def. Miles Atkinson, Timnath, 5 and 3
Tyler Long, Evergreen def. Grant Samuelson, Fort Collins, 8 and 6
Will Kates, Centennial def. Sawyer Sales, Boulder, 2 and 1
BOYS SEMIFINALS ON THURSDAY
Matthew Wilkinson, Centennial, def. Dylan Everett, Highlands Ranch, 2 and 1
Will Kates, Centennial, def. Tyler Long, Evergreen, 2 and 1
BOYS FINAL ON THURSDAY
Matthew Wilkinson, Centennial, def. Will Kates, Centennial, 2 and 1

GIRLS QUARTERFINALS ON WEDNESDAY
Katelyn Lehigh, Loveland, def. Ashleigh Wilson, Highlands Ranch, 1 up
Kaitlin Zingler, Lakewood def. Logan Hale, Erie, 2 and 1
Lily Nelson, Commerce City, def. Kylee Hughes, Eagle, 6 and 5
Kaylee Chen, Parker, def. Caitlyn Chin, Greenwood Village, 6 and 4
GIRLS SEMIFINALS ON THURSDAY
Katelyn Lehigh, Loveland, def. Kaitlin Zingler, Lakewood, 1 up
Kaylee Chen, Parker, def. Lily Nelson, Commerce City, 2 and 1
GIRLS FINAL ON THURSDAY
Katelyn Lehigh, Loveland, def. Kaylee Chen, Parker, 4 and 3
For all the results from the CGA State Junior, CLICK HERE.
To view pictures from the event, CLICK HERE.
To view interviews from the event, CLICK HERE.