Coloradan Tyler McCumber flirts with 59, finishes fourth at RSM Classic after rough stretch on PGA Tour; Jennifer Kupcho places 35th on final 2021 LPGA money list
By Gary Baines – 11/21/2021
Sometimes you just never know.
Looking back on his recent form, Lyons resident Tyler McCumber would have seemed highly unlikely to be in contention at this week's RSM Classic on the PGA Tour. In fact, the way things have been going, just making the cut appeared to be a nice accomplishment.
After all, over the stretch run of last season and the beginning of this one, McCumber had missed the cut in 11 of his past 13 events on Tour.
But, based on what happened Sunday in Sea Island, Ga., the Coloradan showed how fine the line can be between success and failure on the PGA Tour.
McCumber, son of former Tour veteran Mark McCumber (who was on hand this week), matched the Seaside Course record and shot a 10-under-par 60 — marking the 50th time in PGA Tour history a player has shot 60 or lower. But a 60 or better hasn't been shot in the final round of a PGA Tour event since Jim Furyk fired his Tour record 58 in the 2016 Travelers Championship.
"I feel like I've been tested, but sort of staying strong on being patient," McCumber said. "I've been playing well — missed a few cuts by a shot this fall season. So I knew my game was trending; I knew I was playing well. I was staying patient and (thought) it would click.
"Then finally when I made that (49-foot) eagle putt on 15 today on my front nine, I was like, 'Man, maybe this momentum will just shift a little bit for me (and) I can get them falling. And sure enough they did."
After making five straight birdies on his 13 through 17th holes (Nos. 4-8), McCumber had a putt at 59 — albeit a long one, from 53 feet after having a 52-degree wedge approach from the fairway. He missed the birdie attempt a couple inches left of the hole.
"It looked great the entire way," he said.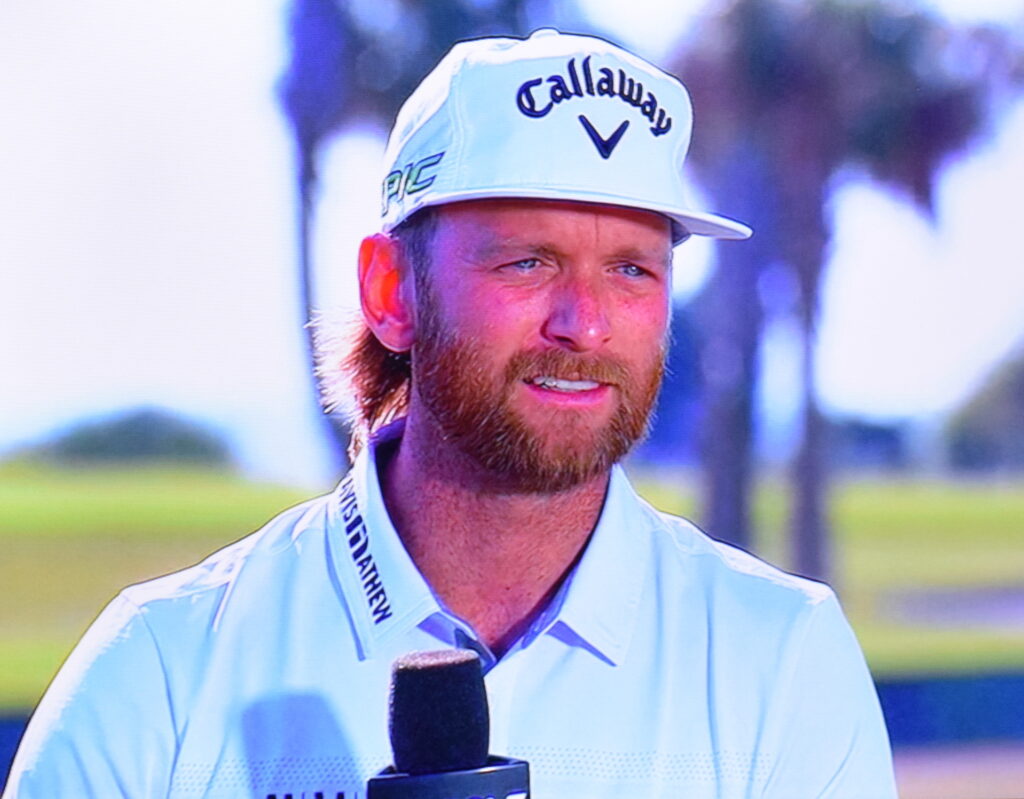 Then McCumber sank a 3-footer for a 60, bettering his previous PGA Tour low by five strokes. It was also three better than the best by Mark McCumber, who won 10 times on golf's top circuit.
"I have a long ways to go in (my) career to match (his), but I'll hold the 60 over his head tonight over a beer," Tyler said.
With the 60, Tyler McCumber jumped 31 spots up the scoreboard. At 15-under-par total of 267, he tied for fourth place, seven strokes back of winner Talor Gooch. McCumber made an eagle and eight birdies in a bogey-free final round.
It was McCumber's second-best finish in 53 PGA Tour starts, bettered only by his runner-up in the Corales Puntacana Resort & Club Championship 14 months ago.
For all the results from the RSM Classic, CLICK HERE.
Elsewhere in major professional golf for competitors with strong Colorado ties:
— Jennifer Kupcho's third season as an LPGA Tour player — actually more like 2 1/2 — came to an end on Sunday as the Colorado-born-and-bred golfer finished 40th at the CME Group Tour Championship in Naples, Fla.
And a solid season it was for the 2020 CoBank Colorado Women's Open champion, though she didn't get over the hump for her first LPGA victory. The 24-year-old ended up 35th on the 2021 money list, earning $591,680. That gives her nearly $1.5 million in official LPGA prize money since turning pro in the late spring of 2019.
Kupcho recorded five top-10 finishes on the LPGA Tour in 2021 — giving her 10 for her career. She finished second and third once each this year. Overall, she has three career LPGA runner-up showings to her credit. Kupcho also earned a spot on the U.S. Solheim Cup team for the first time, chalking up a 2-1 record in that competition against the Europeans.
While Kupcho remains a very good ball-striker — she ranked eighth in greens in regulation this season — putting remains a weakness by LPGA standards as she was 139th in putts per round at 30.92.
Meanwhile, former University of Colorado golfer Jenny Coleman ended up 65th on the 2021 LPGA money list with $292,327. She posted three top-10 finishes this year — a third place, a fifth and a ninth.
For all the scores from the Tour Championship, CLICK HERE.