Taylor Wilson adds to family success in girls 10 & under Junior Series Championship; Nichols claims boys title
By Gary Baines – 08/10/2019
In recent years, the 10 & under division of the Junior Golf Alliance of Colorado's Junior Series Championships have been dominated by just a couple of players.
Ashleigh Wilson won the girls competition for three straight years from 2015 through '17. And Andre Dumonteil did likewise on the boys side from 2016 through '18.
So on Saturday, for the first time in several years, both the boys and girls 10 & under winners were first-time champions in the event. 
Ten-year-old Tate Nichols of Wheatland, Wyo., captured the title on the boys side, while 10-year-old Taylor Wilson of Highlands Ranch picked up the victory in the girls tournament.
But in the case of Taylor Wilson (pictured above), she's keeping it all in the family as Ashleigh Wilson is her older sister.
Taylor Wilson shot a 10-over-par 76 to prevail by four on Saturday at Heather Gardens Golf Course in Aurora. She made one birdie and six pars on the day.
Placing second for the girls was Adrielle Miller of Highlands Ranch (80), while Amalei Lagrimas of Castle Rock (81) and Sophia Lee of Centennial (81) shared third place.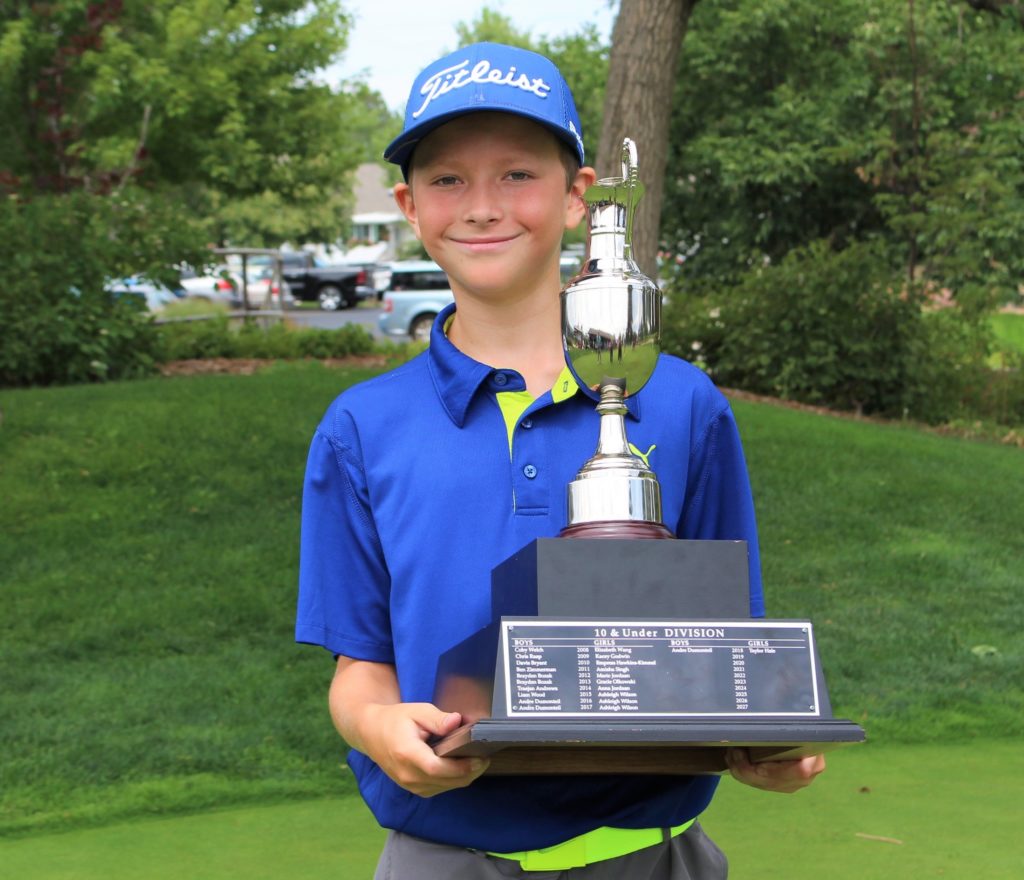 On the boys side, Nichols carded a 3-under-par 63 for a three-stroke win. He made five birdies and two bogeys for the day.
Brayden Destefano of Colorado Springs finished second at even-par 66. Tying for third at 68 were Everett Ruf of Denver, Collen Todd of Golden and James Flaxbeard of Greenwood Village.
Elsewhere in the Junior Series Championships:
— 11-13 at Boomerang Golf Links in Greeley: Defending champion Matai Naqica of Centennial made seven birdies, shot a 6-under-par 66 and grabbed a three-stroke lead after Saturday's opening round of the 36-hole event.
Austin Barry of Fort Collins holds second place at 69 after a five-birdie day.
On the girls side, 12-year-old Alena Kasanicky of Longmont opened up a nine-stroke lead by shooting an even-par 72 on Saturday. She carded three birdies and three bogeys in round 1.
Tied for second place at 81 are three-time 10 & under Junior Series champion Ashleigh Wilson of Highlands Ranch and Addison Hines of Arvada.
— 14-18 at Boomerang Golf Links in Greeley: Two-time Drive, Chip & Putt National Finalist Caitlyn Chin of Greenwood Village grabbed the girls overall lead with one round remaining. Chin shot a 3-over-par 75 to build a three-stroke advantage, making one birdie and four bogeys on the round. 
Trinity Stuart of Westminster and Kalai Hamlin of Monument carded 78s to share second place.
In the boys tournament, Yusuke Ogi of Arvada made three birdies in a round of even-par 72 and holds a one-stroke lead. Max Noffsinger of Greeley carded three birdies and two double bogeys for the 73 that left him in second place.
For scores, click on the following: 10 & under, 11-13, 14-18.