UNC's Castiglia cuts lead of CSU's Bryant to 1 going into final round of CGA Amateur
By Gary Baines – 08/10/2019
Davis Bryant can still remember when he edged out Jack Castiglia for the CJGA Junior Series Championship in the 10 & under division.
That was nine years ago. And not about nine years ago, but exactly nine years ago on Sunday.
Coincidentally, Sunday is when Bryant (pictured above) and Castiglia will vie for another trophy, this one with considerably more prestige as the winner can say he's the state amateur champion for 2019.
The two teenagers — Bryant is 19 and Castiglia is 18 for another week or so — who have played countless junior tournaments together over the years have put themselves 1-2 through 54 holes of the the CGA Amateur at historic Lakewood Country Club.
"We started playing together when we were like 8 years old in the CJGA 10 & under events at those par-3 courses," Bryant recalled following Saturday's third round. "We'd always go back and forth. I'd win one, he'd win another, I'd win one, he'd win another.
"I remember when I was 10 I won the (Junior Series) Championship. I beat him by one shot. That was pretty cool. We've played a bunch of golf together. Now that we're both going to in-state colleges, we play a lot against each other. We'll probably see each other four or five tournaments during the college season. We see each other quite a bit and are great competitors, so we'll have a good day tomorrow."
Bryant, a sophomore-to-be on the Colorado State Univesity golf team who plays out of Green Valley Ranch Golf Club, has led after each of the first three days of the CGA Amateur, though that advantage slipped from five starting the day Saturday to one at the end of the round.
A 2-over-par 73 in round 3 left the former Junior Golf Alliance of Colorado Boys Player of the Year at 7-under-par 206.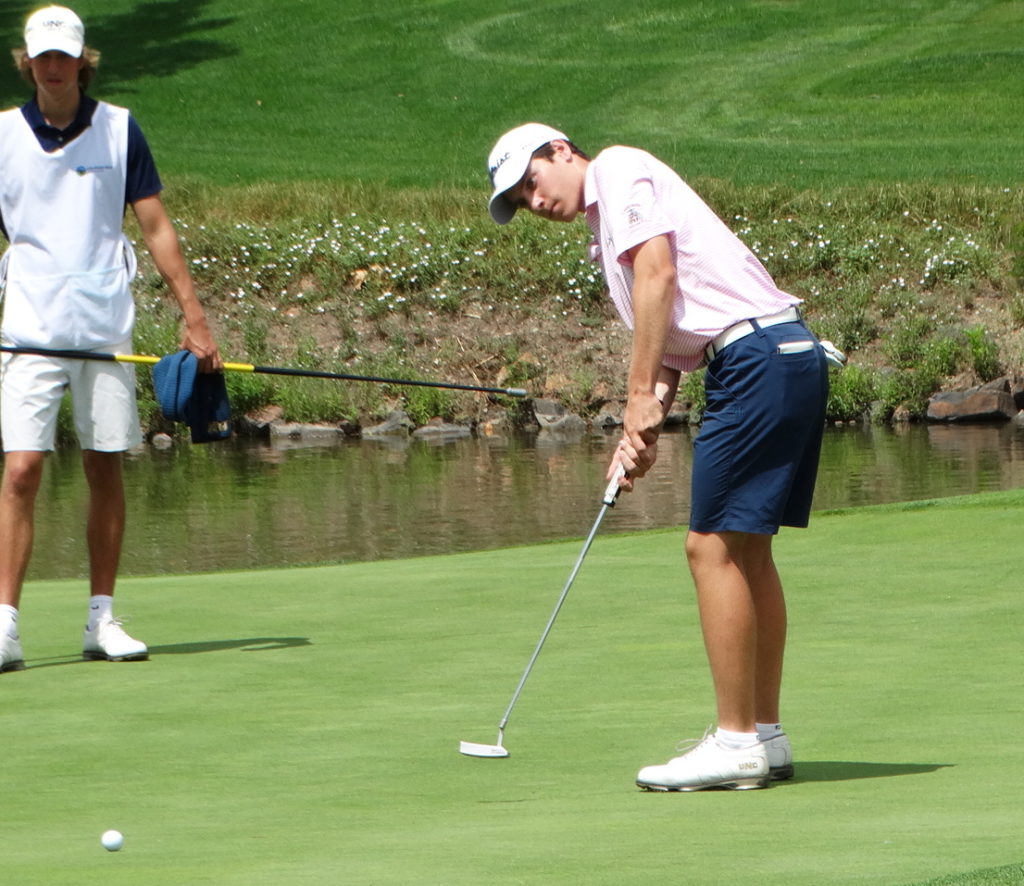 Castiglia, a sophomore-to-be on the University of Northern Colorado golf team who plays out of Greeley Country Club, went from six behind to one back thanks to a 3-under-par 68 that was highlighted by an eagle at No. 12 on Saturday.
"I feel good," said Castiglia, the 2018 Colorado Junior Match Play champion who recently competed in the U.S. Junior Amateur. "My swing feels good. I've been working a lot to try to get it back on plane. I was struggling with my swing a little midway through the summer, especially at the (U.S.) Junior. It feels like it's come back into place. And if I can get the putter going a little more tomorrow, it's going to be a good day."
After a gap of three strokes behind Castiglia, Griffin Barela of Bear Creek Golf Club, a University of Wisconsin golfer, shares third place at 210 with former UNC golfer Sam Marley from South Suburban Golf Course. Barela carded a third-round 68 and Marley a 70.
And still within five strokes of the lead, at 211, are 2019 CGA Match Play champion Josh McLaughlin of the Olde Coure at Loveland, University of Colorado golfer Ross Macdonald from the Country Club at Castle Pines, and University of Denver golfer Jackson Solem from The Club at Fox Hill. Macdonald fired a 70 on Saturday, Solem a 71 and McLaughlin a 72.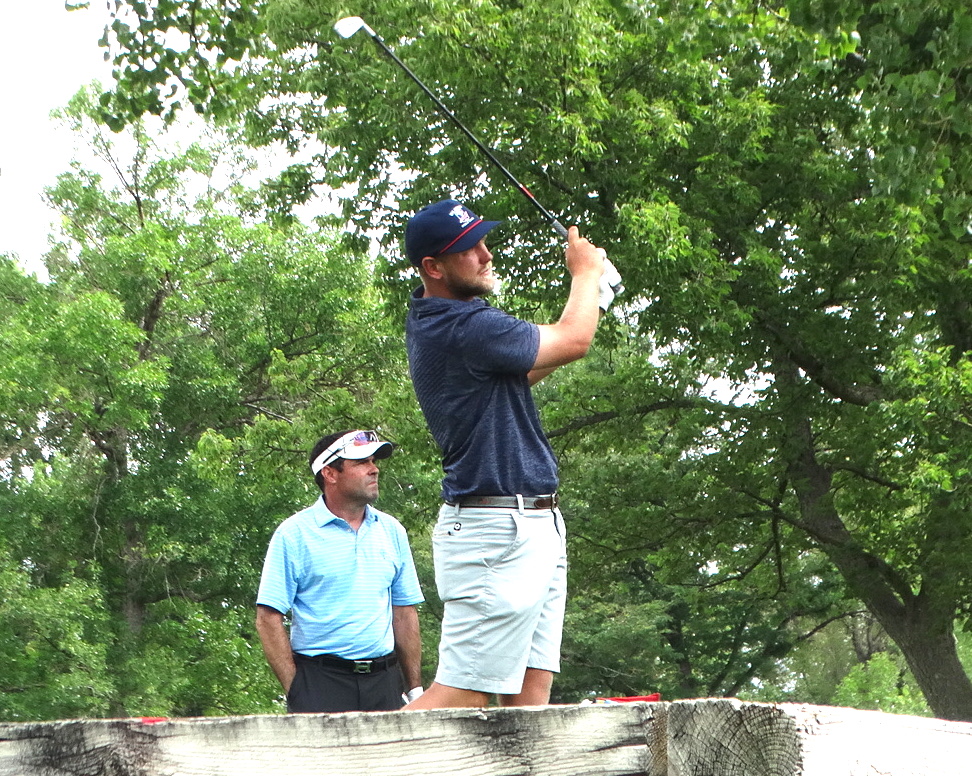 Bryant, who was second low amateur at the CoBank Colorado Open two weeks ago, made a dozen birdies through the first two rounds at Lakewood and added one on the first hole on Saturday. But he didn't card another in round 3 and played his final 16 holes in 3 over par, making two 6s along the way.
"I didn't quite have it," he admitted. "I hit a few squirrelly shots but I got some unlucky bounces. I was just a little off, and you can't really be off because there's too many trees out here. I've got to go back to what I did the first day (when he shot 65). I wouldn't say go back to the fundamentals, but reset and go back to my game plan. I wasn't uncomfortable today, but I couldn't really get anything going and obviously I didn't play as well as I wanted to.
"But a one-shot lead is better than no lead at all. I need to have the same mentality when I started the tournament — be aggressive and don't let my foot off the gas. I think I did that a little bit today. It's a learning experience because I've never really been in that position through 36 holes of having a five-shot lead — having quite a bit of room to make some mistakes. You can't play good golf like that. I'm not too worried about it. I've just got to clean it up a little bit."
After winning four JGAC majors during his junior career, this is Bryant's first summer competing in big open-age division championships in the state.
"Amateur golf is really good here in the state of Colorado," he said. "The college player kind of have a leg up on some of the other guys.
"I feel very good with where I'm at right now. I wouldn't want it to be any other way. This is a great course and I'm hoping for a good ending tomorrow to kick off my amateur division (career)."
Bryant still had a very healthy lead through 11 holes of play on Saturday, but the par-5 12th changed all that. Bryant pulled his drive and hit a tree, then ended up playing his second shot up the fourth fairway. Hit hit a tree limb with his third shot and finished short of the green, chipped up and missed an 8-foot putt, giving him a bogey.
Castiglia meanwhile, hit a 7-iron from 197 yards for his second shot, ending up a mere 6 feet from the pin and draining the eagle putt. And just like that there was a three-shot swing, with Bryant's lead going from five to two.
"Honestly I pushed (the second shot) and it didn't fade at all like I wanted it to, but it ended up really good," Castiglia said. "I kind of got away with one there. That helped a lot."
And the lead dwindled to one when Bryant came up short of the green on the par-4 18th and failed to get up and down, making bogey.
Castiglia, meanwhile, finished the day with an eagle, two birdies and a bogey.
"I hit the ball really well," said Castiglia, who lives in Lakewood, about a five-minute drive from the course. "Today was my best ball-striking day. It was pretty stress-free, honestly. I think I hit 15 greens (in regulation) and when I missed the green I was in pretty good position except for one hole (No. 11), which was my only bogey."
The lead threesome — Bryant, Castiglia and Barela — will tee off at 10 a.m. for Sunday's final round.
For all the scores from the CGA Amateur, CLICK HERE.
For Sunday's tee times, CLICK HERE.