CSU's Davis Bryant fends off UNC's Jack Castiglia to win CGA Amateur as a teenager
By Gary Baines – 08/11/2019
One of the oldest golf clubs in Colorado produced one of the youngest winners of the CGA Amateur Championship on Sunday.
Davis Bryant of Green Valley Ranch Golf Club, who as recently as last year was winning major junior championships in Colorado, earned a major title in an open-age tournament on Sunday in capturing the top spot at the CGA Amateur at Lakewood Country Club.
At age 19, Bryant (pictured above) becomes just the fourth player under 20 to win this event in the 21st century, joining Wyndham Clark (age 16 in 2010), Steven Kupcho (19 in 2012) and Chris Korte (19 in 2015).
"That feels really cool," said Bryant, a former Junior Golf Alliance of Colorado Boys Player of the Year who won four junior majors in Colorado. "I feel really confident. There's a difference between cocky and confident. I believe in myself and I believe in my ability. I want to play against the best players and today I beat a lot of the best players in the state. It feels really good after four long days of a marathon to get the job done."
In fact, the Colorado State University sophomore-to-be went wire-to-wire at Lakewood Country Club, leading after every round starting with his 65 on Thursday. And, mind you, this was his first time competing in this event, and this is his first season of playing regularly in open-age tournaments.
"Winning the amateur is great — in my first attempt too," he said. "It feels good to finish this one how I wanted to."
But despite taking a three-stroke lead into the final hole, Bryant made it interesting at the end. After not making anything worse than a par all day, he hit his tee shot a combination of too far and a bit too far right so that he was forced to punch his approach shot on the par-4 below the limbs of a large tree and over the water in front of the green. He did so, but the line drive went about 30 yards over the green. He pitched on from there and three-putted from 45 feet for a double bogey.
Still, with his closest competitor, University of Northern Colorado golfer Jack Castiglia, making a routine par, it was enough for the victory in regulation.
"I hit 3-wood (on 18) every day and it was in the perfect spot (in previous rounds)," Bryant said. "But I pushed it too far to the right and the wind was going to the right. I should have hit less club. But I had some cushion to play with so that was nice."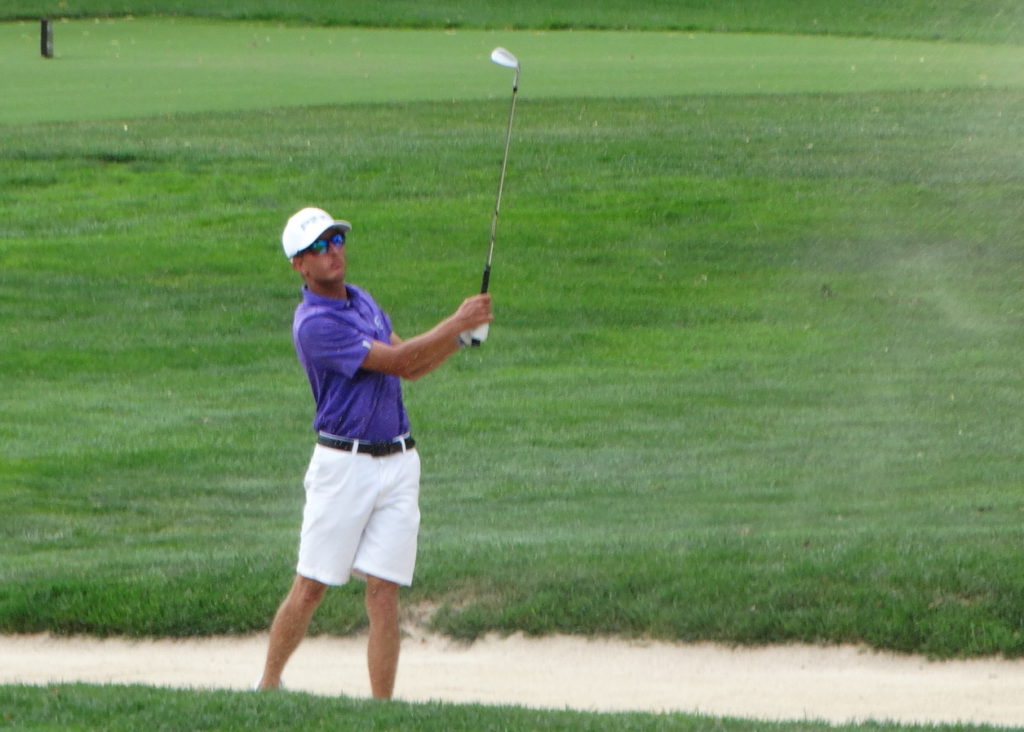 Even with the double bogey, Bryant shot a 1-under-par 70 in the final round, giving him a winning total if 8-under-par 276.
Castiglia, a player from Greeley Country Club who has competed in many a junior event over the years with Bryant, matched his final-round 70 to end up one behind and in second place.
Griffin Barela of Bear Creek Golf Club, a former teammate of Castiglia at Lakewood High School who now plays golf for the University of Wisconsin, finished third in the CGA Amateur for the second straight year and in the top six for the third consecutive summer. Barela, paired with Bryant and Castiglia on Sunday, also posted a final-round 70 for a 280 total.
Another college golfer, the University of Denver's Jackson Solem, who plays out of The Fox Hill Club, took fourth place at 281, also after a 70 on Sunday. Solem was in contention on the back nine before bogeying three of his final four holes.
Both of Bryant's playing partners — and Solem — made runs at his lead early in Sunday's final round. With an eagle on No. 3, Solem was 4 under through four holes and just two out of the top spot. Barela was 3 under through four and also only two back. But Castiglia actually caught Bryant with back-to-back birdies on 2 and 3. But a couple of mid-round bogeys, combined with a birdie by Bryant at No. 8, put him behind for good.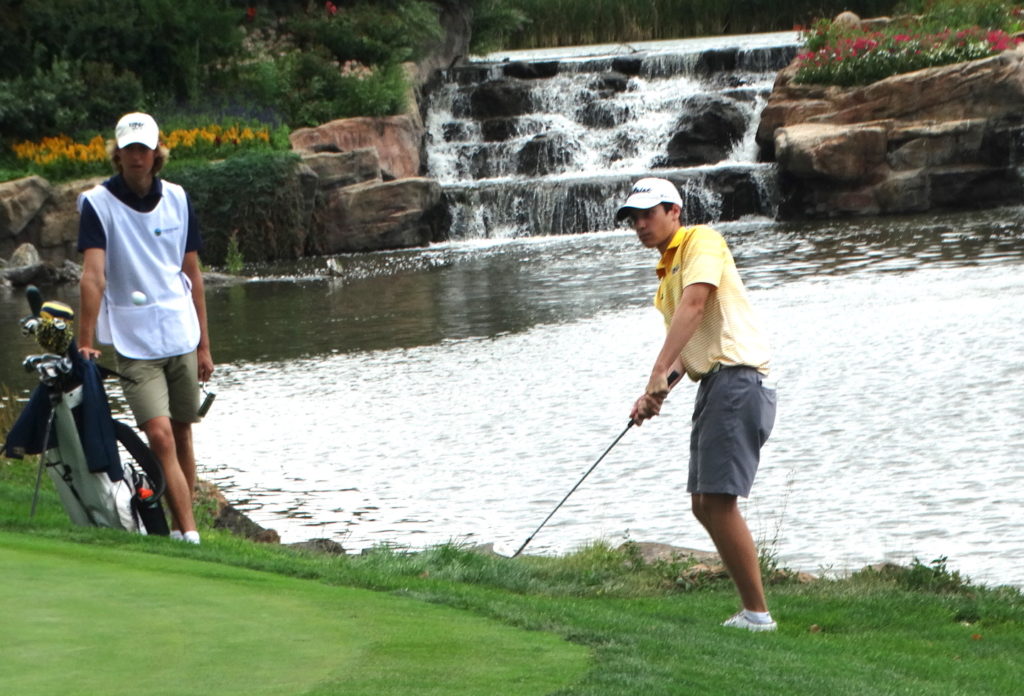 "You're always going to be happy starting 2 under through three holes," said Castiglia, a 2019 U.S. Junior Amateur qualifier. "But (after that) I didn't convert on any opportunities really."
A two-putt birdie by Bryant on the par-5 13th left his lead at three, and the margin got no closer until his double bogey on the final hole.
"I would have liked to get the job done, but given where I was about a month ago with my swing and confidence level, it was definitely good playing well this week and finishing near the top," Castiglia said. "The tournament overall was a lot of fun. I feel like I made a lot of progress with my game."
Added the 20-year-old Barela: "Davis played solid all day until the last hole. I still would have had to shoot 5 or 6 under (on Sunday) to have a chance, which would have taken a perfect round of golf today. I'm pretty pleased with my performance."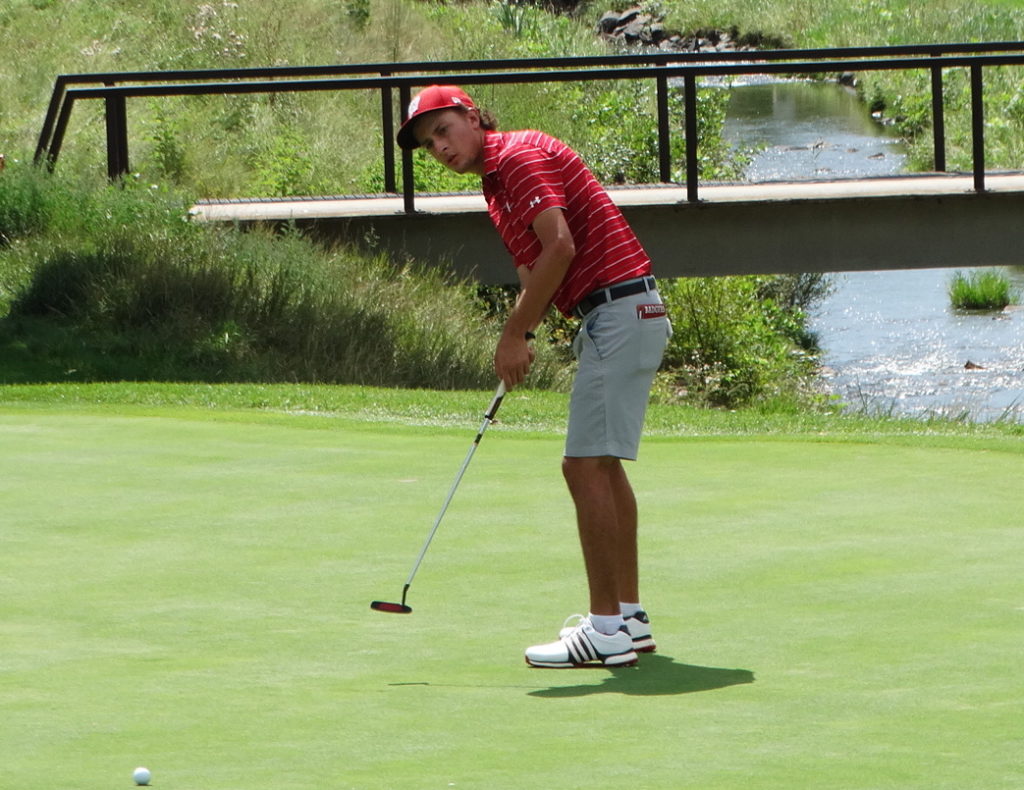 As former members of the Lakewood High school golf team, Castiglia and Barela used to play part of the front nine at Lakewood Country Club a couple of times a week during the prep golf season. But they very seldom played the back nine, and most of their experience at the course took place before the changes that came with the restoration work done at Lakewood CC by designer Gil Hanse in 2017.
Suffice it to say that the lead threesome on Sunday — Bryant, Castiglia and Barela — were certainly no strangers to one another, having played countless junior tournaments together over the years, and with Castiglia and Barela being former teammates.
"It was comfortable," Bryant said. "We're all rooting for each other. We're all pushing each other and want to beat each other. That's what you want and that's how you have the best competition."
Keeping the outright lead after each day of the tournament was no small feat for Bryant. He led by five after going 65-68 on Thursday and Friday, then was up by one after both Saturday and Sunday.
"That feels pretty cool," he said of going wire-to-wire. "It's easier to get off to a good start, but it's harder to maintain your lead, so that gives me a lot of confidence going into the college season."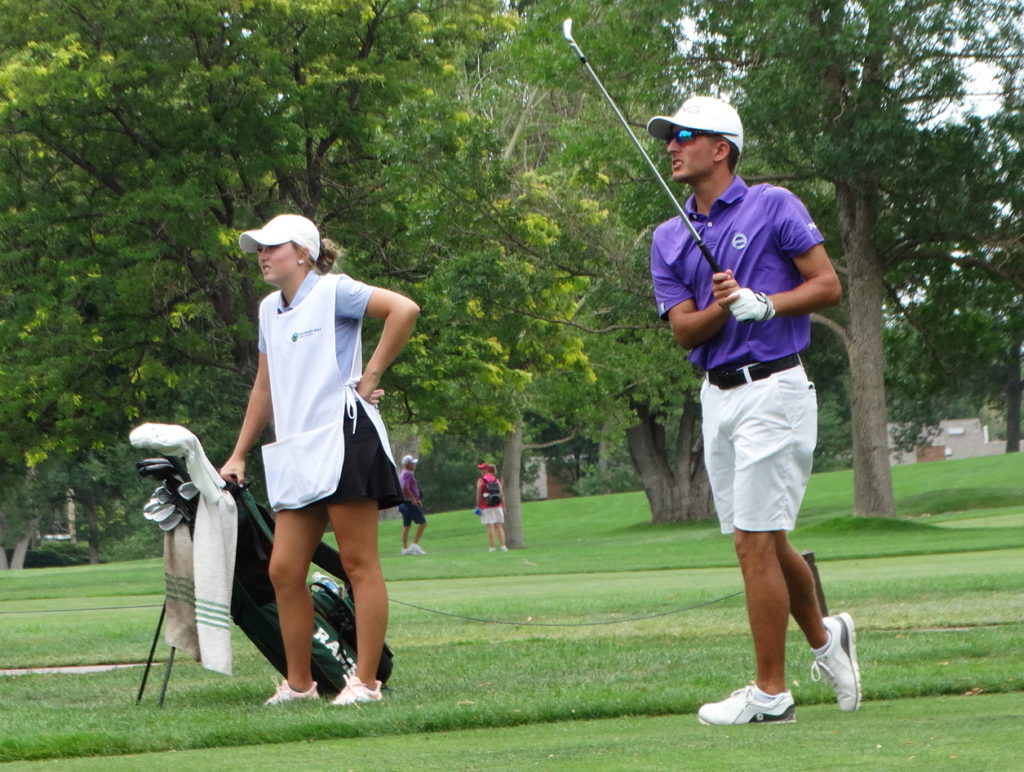 Getting an assist for Sunday's victory was Bryant's younger sister, Emma, who caddied for him three of the four rounds this week. Emma Bryant is no stranger to success at high-level tournament golf herself, having won the 2017 Colorado Junior Match Play and the 2018 5A girls state high school tournament.
All in all, Davis Bryant said, "It's a good way to end the summer. I know coach (Christian Newton from CSU) is happy, I know my teammates are happy. A lot of us are playing well now."
Indeed, it was just two weeks ago that CSU teammate AJ Ott edged Bryant by one stroke for low-amateur honors at the CoBank Colorado Open. And a week earlier, Ott won the Southern Amateur.
Ott will be playing in his third consecutive U.S. Amateur starting on Monday in Pinehurst, N.C.
For all the scores from the CGA Amateur, CLICK HERE.