In wake of Covid-related death of former CGA Match Play champ Michael Lee in late 2020, his family and friends launched a foundation and annual tournament that continue to do 'tremendous good' in his name
By Gary Baines – 5/15/2023
When the participants in the Mike Lee Memorial Tournament approach the 15th tee at Greeley Country Club, a big headshot of Mike awaits them. Appropriately enough, he has a big smile on his face.
For people fortunate enough to have known Michael Lee, it's a familiar recollection. He was an upbeat, popular young man who often was smiling.
"Michael had touched so many different people," recalls John Lee, his dad. "Whatever he was involved with, people gravitated to him."
Michael Lee passed away at age 28 on Dec. 22, 2020, as Covid-19 sadly hit home in the Colorado golf community with the former Colorado School of Mines player almost unfathomably falling victim to the pandemic well before reaching his 30th birthday.
But, thanks to his parents, John and Amy Lee, and many other Coloradans, what was a tragic loss has become an outstanding legacy for Michael — one that continues to do him proud through the support of many positive causes in Colorado golf while promoting attributes that made Michael the promising young man that he was.
"What the Lee family has done to honor Michael's life is truly remarkable," said executive director Ed Mate of the CGA, one of the organizations with which John and Amy Lee have partnered to do positive things through the Michael Ray Lee Foundation. "They have taken their grief and turned it into tremendous good. We are so proud to share the Michael Ray Lee Foundation platform to celebrate Michael's life, and to give others who follow his example meaningful support in their golf journeys."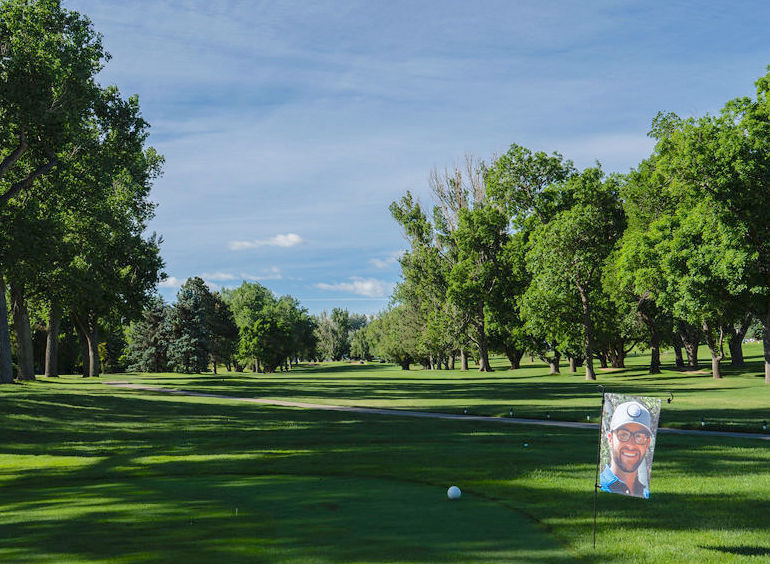 A headshot of Michael Lee greets golfers at the 15th hole at Greeley CC.



Very soon after Michael Lee's passing, his parents and others started putting together plans that would make Lee's legacy live on. One of the outcomes was the Mike Lee Memorial Tournament, which will be held for the third time on June 5 at Greeley Country Club.
In a tribute to the esteem in which Michael was held, the 2023 tournament was sold out months ahead of time, marking the third straight year the event has been at its set capacity. After being a single shotgun affair in 2021, it was a double shotgun in 2022 and will be again this year.
Next month, 241 people are expected to play in the tournament.
"We've got a wait list of folks; we could almost have three shotguns," John Lee said. "It's wonderful and heartwarming for us. We've got some really good support; that's for sure."
Besides being an appropriate way to remember Michael, the tournament raises money for the MRL Foundation and all the work it does supporting worthy causes. If this year is like last year, the foundation will net about $100,000 on June 5.
"The tournament helps support things that would be important to Mike as well," Amy Lee said. "It's doing things he would be proud of. It's helping to grow the game of golf — a game that he loved so much. That's kind of our mission."
Michael Lee was a stellar amateur golfer as a teenager and a young adult. At age 19, the golfer from Greeley won the 2011 CGA Match Play — one of arguably the two most prestigious amateur tournaments in the state — and twice he was named the Rocky Mountain Athletic Conference Golfer of the Year while a collegian at Mines. The Greeley Central grad captured four individual titles while teeing it up for the Orediggers. He earned NCAA Division II honorable-mention All-American status in 2013.
Lee, who earned his degree at Mines in petroleum engineering, subsequently had been working as a Colorado-based senior drilling engineer for Occidental Petroleum. He was living in the Denver metro area.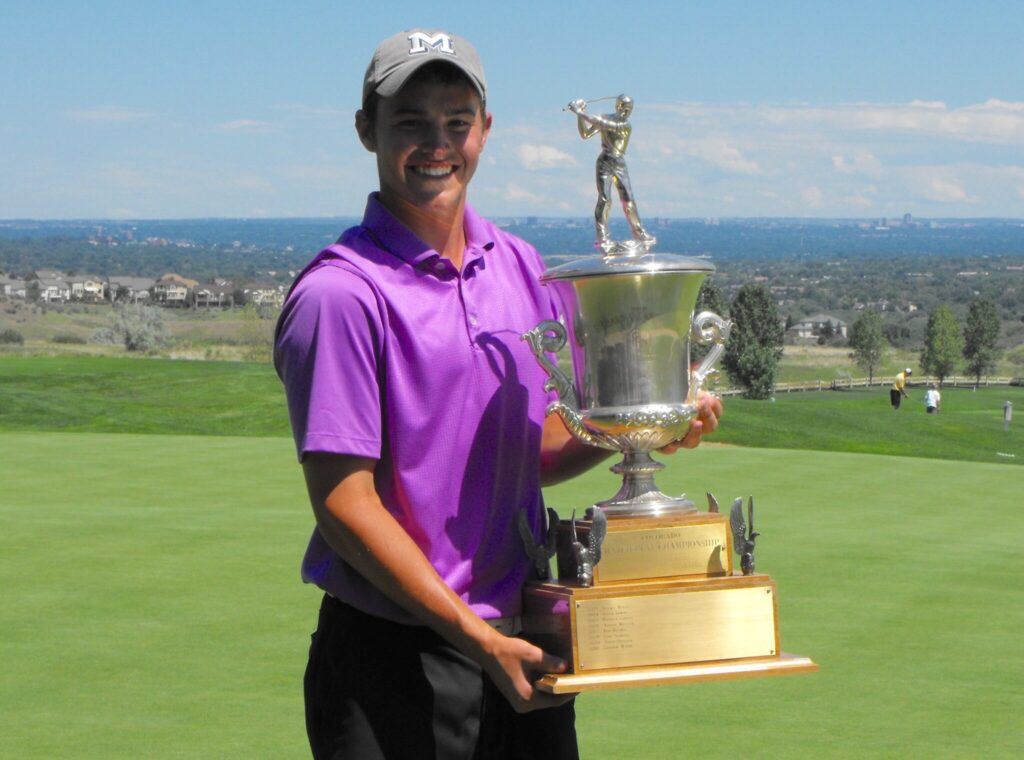 Lee won the 2011 CGA Match Play at age 19 at Bear Creek Golf Club.


Thanks to the tournament at Greeley Country Club and other contributions, the MRL Foundation has contributed to the following causes in golf — or sports in general:
— With Michael having been a captain of the Mines golf team for two seasons, the foundation contributes to the program's Captain's Scholarship to the tune of $10,000 this year.
— Integrity Scholarships go to college-bound senior high school athletes (in golf or otherwise, and boys or girls). The scholarships are "named for Michael because he was a man of integrity," Amy Lee said. This year three athletes are being awarded Integrity Scholarships. Applicants write an essay about how they show integrity in their sport, their classroom and their family. They need good grades — Michael always was a high performer in that department as well — and letters of recommendation.
— At three schools in Greeley-Evans District 6 — all in close proximity to Boomerang Links Golf Course — the foundation is funding a development golf program for kids that goes by the acronym SNAG (Starting New at Golf). It's initially implemented during physical education classes — roughly for third to eighth graders. And some of the kids get to test out what they've learned by going to the driving range at a course.
"Most of these kids have never even been on a golf course before," John Lee said. 'But there are kids out there that are really talented and interested. We're going to connect with some of those kids through the summer on Saturdays to keep promoting golf and getting them involved."
— The foundation helps support several high school golf programs (boys and/or girls) in the Greeley area, including Roosevelt H.S., Windsor, Greeley Central, Greeley West, Northridge and Eaton.
— The boys Junior America's Cup team from Colorado, which is chaperoned at the event each summer by the CGA, receives considerable funding from the foundation. And, starting last year, the Colorado players at the event wore shirts with Michael Lee's initials on them. Lee represented Colorado on the boys Junior America's Cup team in 2009.
— Nothing is finalized on this yet, but the Lees are in talks with the city of Greeley about the possibility of building a SNAG golf course at Boomerang Links. The course would be similar to a par-3, but takes even less land — roughly an acre and a half.
— In addition, the Lees met a local man and his son playing at Highland Hills Golf.Course, and the son has a great desire to play tournament golf, though the family has limited financial means. The foundation is providing some financial help for the cost of tournament registrations. "He's a talented young kid — he just turned 10 — and he absolutely loves the game of golf and has such a passion for it," John Lee said. And at the June 5 Michel Lee tournament, the youngster will have an opportunity to raise additional funds for his golf expenses.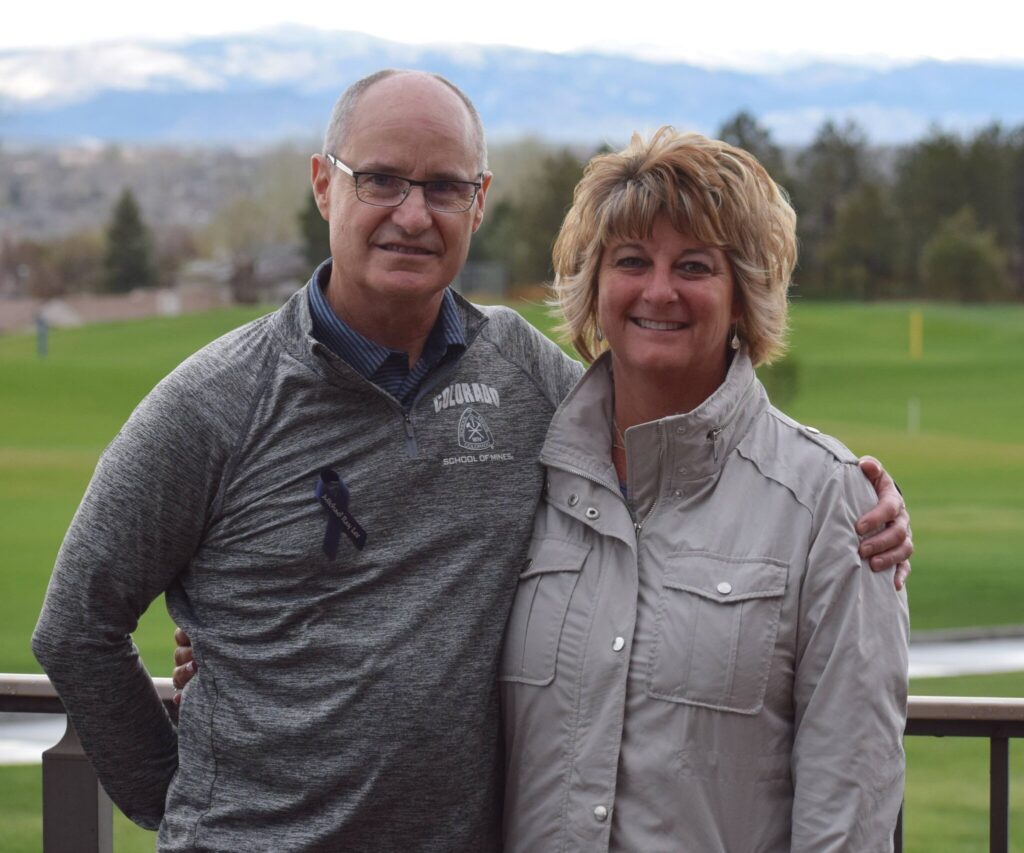 John and Amy Lee at a 2021 CGA championship where their late son, Michael, was honored.


John and Amy Lee are heartened by the fact that so many people were touched enough by Michael and his story to support the Mike Lee Memorial Tournament — and subsequently all these causes — in such an impressive way.
"It is really heartwarming to keep Mike in everyone's heart," John said. "It's just meant the world to us. … And to keep his name alive means the world to us.There's not a day that goes by that our thoughts aren't with Michael. The tournament kind of brings everything together — seeing old friends, old (co)-workers, high school classmates and college classmates. It's truly amazing. We're very honored to be able to celebrate Mike the way we're doing it."
Helping the cause considerably has been Windsor-based drilling company Total Directional, which is serving as a title sponsor for the tournament for the third straight year. Michael worked alongside Total Directional on some projects during his work life.
A mix of people attend and/or sponsor the tournament, including friends of Michael (high-level amateurs Parker Edens and Jimmy Makloski among them), acquaintances through college golf, and friends of John and Amy — along with folks in Colorado golf and the Greeley-area community in general that are moved by Michael's story.
"It's really a team effort" to make the tournament successful and fund the various causes to the extent the foundation does," John said. "And I think that's why we have so much support is because of how Mike got people together and included his parents and his brother (Joe). It's truly amazing."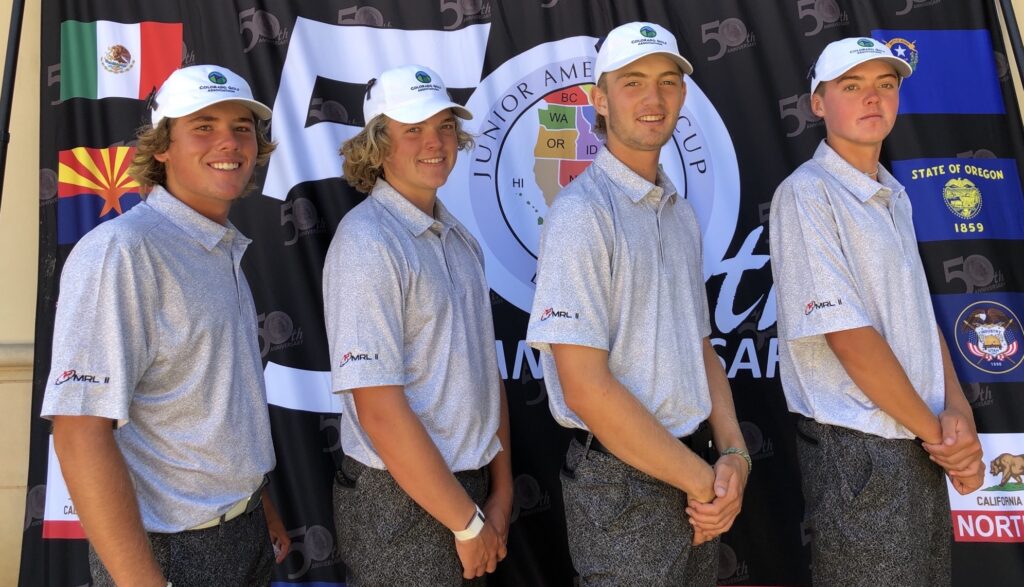 Last year's Colorado boys Junior America's Cup team wore shirts featuring the initials of Michael Ray Lee. From left are Kyle Leydon, Charlie Tucker, Matthew Wilkinson and Hunter Swanson. Michael Lee played on Colorado's JAC squad in 2009.


It took very little time after Michael's passing for John and Amy Lee and family and friends to coalesce around the ideas of honoring Michael and establishing a legacy by creating a tournament and a foundation in his name. In fact, those plans started to take form just a month after Michael died.
That first year, 2021, the tournament was a one-shotgun affair — simply because the Lees didn't realize the strength of support that was out there — and sold out. And, as noted, it's turned into a two-shotgun affair the last two years.
"We're really pulling the community together now — outside of friends and coworkers," John noted.
And, beyond what's happening with the tournament and the foundation, Michael Lee's name is living on in other ways.
For instance, Michael was inducted into the Colorado School of Mines' athletics Oredigger Hall of Fame in 2022. That same year, the Mines' indoor golf center was dedicated to the memory of Lee and renamed in his honor.
"His name will live on at Mines for a great long time, which is heartwarming for us," John said.
And, regarding the CGA, the 2021 men's championship season was dedicated to the memory of Michael Lee. And the winner of the CGA Match Play from the period from 2021 through '30 receives a medal in honor of Lee, and a plaque with the names of those champions hangs in the CGA offices.
And, as noted, Michael Lee's initials will adorn the shirts of the Colorado team at the boys Junior America's Cup for the near future.
"It really was a no-brainer (to do all this in Michael's name) and honestly we've helped so many different people just in two years," John Lee said. "We could not have imagined what all we have been doing with the foundation."
For more information on the Michael Ray Lee Foundation and the work it does, CLICK HERE.

About the Writer: Gary Baines has covered golf in Colorado continuously since 1983. He was a sports writer at the Daily Camera newspaper in Boulder, then the sports editor there, and has written regularly for ColoradoGolf.org since 2009. He was inducted into the Colorado Golf Hall of Fame in 2022. He owns and operates ColoradoGolfJournal.com