Women's course-record-tying 64 gives Savannah Vilaubi 5-stroke lead going into final round of CoBank Colorado Women's Open; Coloradan Becca Huffer, who's 5 back, has twice made big final-day rallies to win CWO
***For CoBank Colorado Women's Open scores, CLICK HERE.***
By Gary Baines – 6/3/2021
Savannah Vilaubi has a confession to make, of sorts.
"I'm nervous every single time I play golf," the 27-year-old from the Los Angeles area said on Thursday. "It's like this relaxed intensity, hyper-focused, until I finish. I'm really grateful to be done every time I play. I am never without nerves."
But you'd never have thought that on Thursday when the Symetra Tour pro put a stellar 8-under-par 64 up on the board at the CoBank Colorado Women's Open. That matches the best women's tournament round ever at Green Valley Ranch Golf Club. Only Lexi Harkins, who fired a 64 in the final round en route to winning the 2018 CWO has done as well.
The thing is, Vilaubi didn't realize that she shot what she did until in the scoring area.
"I didn't know that until a minute ago," she said. "So I'm like, 'That's kind of nice.'"
She was 7 under par through her first 11 holes and finished the day with an eagle, seven birdies and a bogey. She drained two birdie putts of 40 feet, and eagled the second hole (her 11th of the day) by hitting a 2-utility from 260 yards to 6 feet and making the putt.
With that, Vilaubi vaulted to a five-stroke lead through 36 holes, standing at 11-under-par 133. That's just one higher than Jennifer Kupcho was after two days last year when she set the CWO scoring record of 16 under par.
Vilaubi came into the Women's Open on a high note, having finished second on Sunday — a stroke behind winner Min Lee at the Symetra Tour's Mission Inn Resort and Club Championship in Florida. It was her third top-5 finish on the Symetra Tour since Oct. 1. She currently sits 21st on the 2021 Symetra money list. The top 10 players on that list at season's end earn LPGA Tour cards for 2022.
And, obviously, her strong play has carried over this week with rounds of 69-64.
"Everything comes together when you shoot 64," said Vilaubi, who has played in three LPGA Tour events in her career. "The strategy going into this week — and that seemed to work last week — was course management. Get to the fairway first at all costs. And once I got to the green, the putts were dropping. My speed on the green was much better today than yesterday."
This week marks Vilaubi's second time competing in the Colorado Women's Open as she tied for 13th place in 2016.
"I had always thought that this course was so much bigger than me," said the former Texas Women's Open champ. "I remembered it being so wind-y and so tight and really difficult. But playing a practice round and maturing in the game over the last five years, I felt like I was equipped to play well here."
Which she feels will put her in good position going into Friday's final round, which she anticipates will be "a little intense."
"Playing the higher percentage shot and taking advantage whenever I have a wedge in my hand makes the round a lot more stress-free," she said. "The goal is going to be another stress-free round tomorrow. That's how my course management has changed over the last few weeks."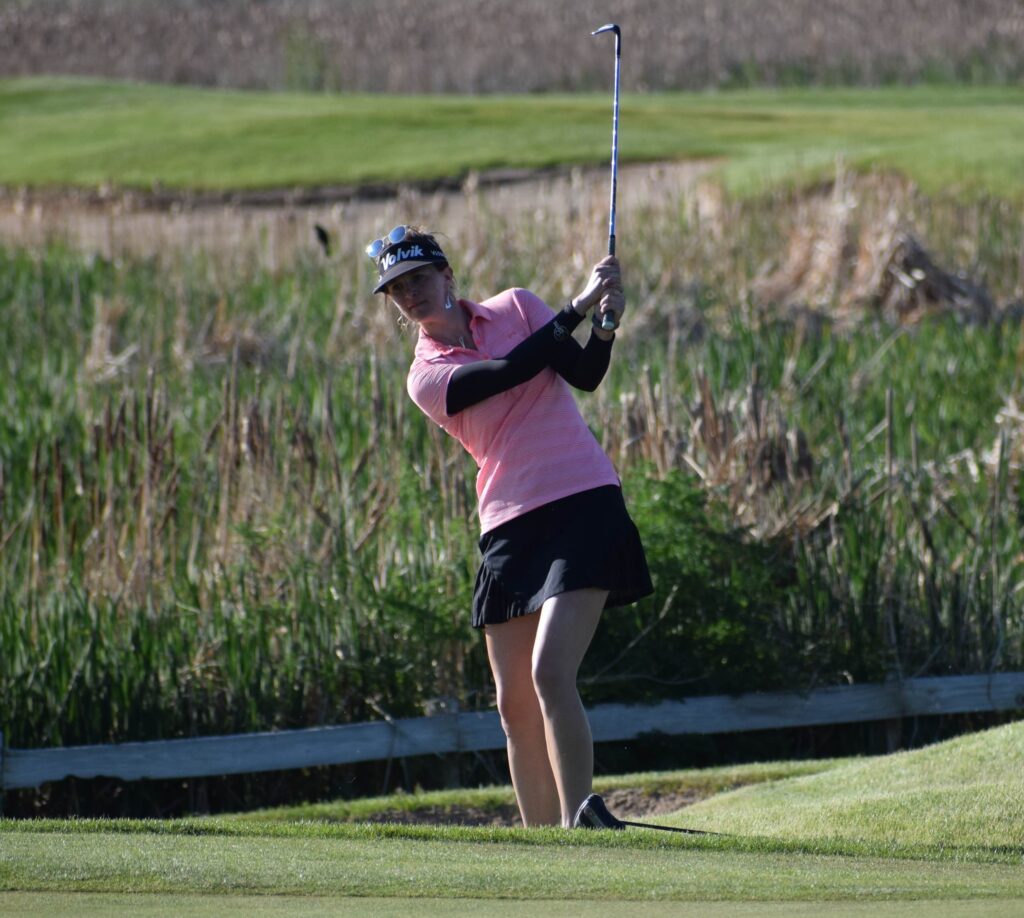 Huffer Hopes History Repeats Itself: While Vilaubi's five-stroke lead may seem all but insurmountable, Colorado Women's Open history tells us it's not. And, coincidentally, Coloradan Becca Huffer has proven that point — twice.
In both the times the Monument resident has won the Women's Open — in 2013 and '19 — she trailed by five strokes going into the final round, then won in a playoff. The 2019 edition was particularly notable as Yealimi Noh — now an LPGA Tour regular — led by three going into her final hole of regulation, but a quadruple-bogey 9 led to a playoff that Huffer won with a birdie.
Will history repeat itself — again?
"It just depends on the day," said Huffer, a 30-year-old former LPGA Tour player. "You always try to put a good round in and see what happens. Hopefully I'll get a few more birdies tomorrow and see where they leave me.
"There are birdies out here. If you get them rolling in, there's low numbers that can definitely happen — definitely. Maybe they will be mine tomorrow."
Huffer, who knows Vilaubi from playing on the Symetra Tour together, shot her second straight 3-under-par 69 on Thursday, this time making four birdies and a bogey. She saw Vilaubi had gone low in the morning wave before Huffer teed off at 1:35 p.m.
"I briefly looked and saw she was playing well," the Littleton High School graduate said. "And I know she's been playing well. That 8 under (today) is a great round."
Huffer estimates she's competed in the Colorado Women's Open about 10 times now. Besides her victories, she finished runner-up as a teen-aged amateur in 2008, and was also second as a pro in 2012.
"I really like this course and obviously play it pretty well," she said. "I think at some point in time I've birdied every hole out here. I've played it quite a few times."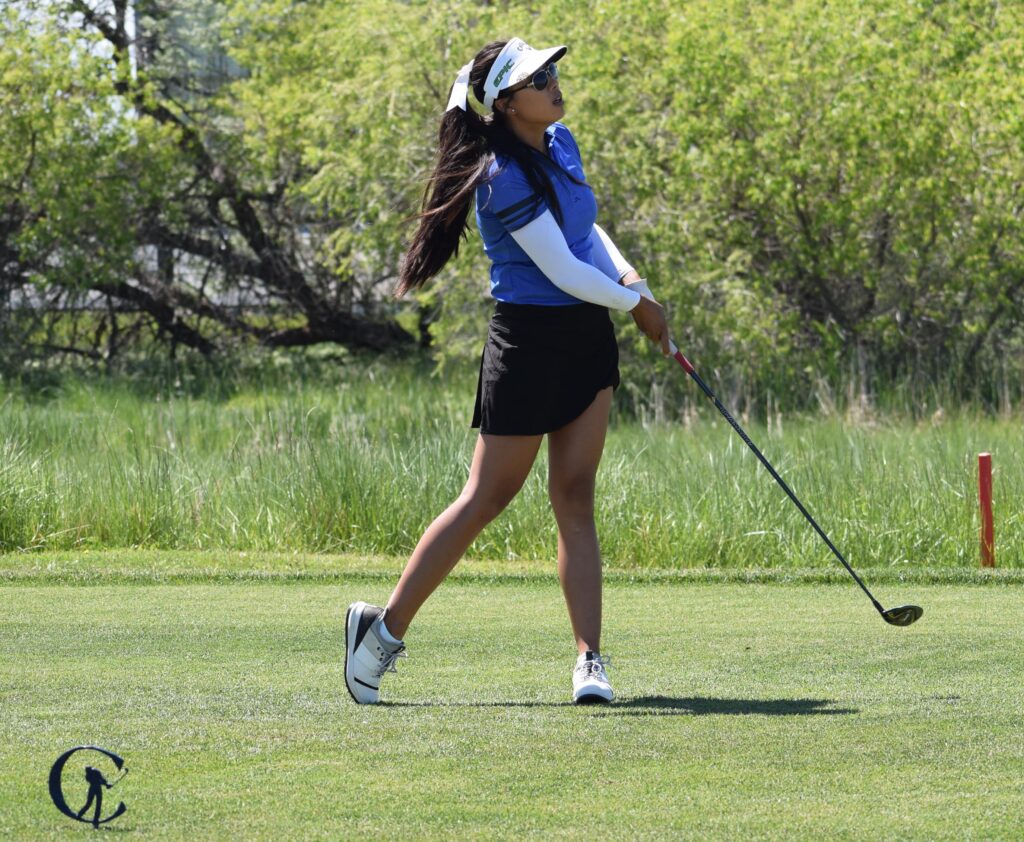 Former CU Golfer Fan Also Hopes for Rally: The good news for former University of Colorado golfer Brittany Fan is that she stands in third place after two rounds of the Colorado Women's Open. The not-too-good news is that she trails leader Savannah Vilaubi by six strokes going into the final day — and the prize money difference between first and even second place is $50,000 vs. about $11,000.
Fan, who finished fourth in the 2018 Women's Open, was 2 under par for her first 10 holes on Thursday, but played her last eight in 2 over for an even-par 72. She stands at 5-under 139 overall.
"It's obviously better in my opinion coming from behind rather than (trying to hold) the lead because there's less pressure," Fan said Thursday. "So I'm just going to go out and have fun and play confident and committed and try to make as many birdies as possible. And no dumb errors. There were a couple today.
"You wake up different every day. Some days you've really got it going and that's the days you capitalize on it. Sometimes you wake up not as sharp — which was kind of what happened today. But It was more just judging distances coming in with the approach shots (that was the issue, along with firm greens). My hitting was still fine, so I'm not really worried."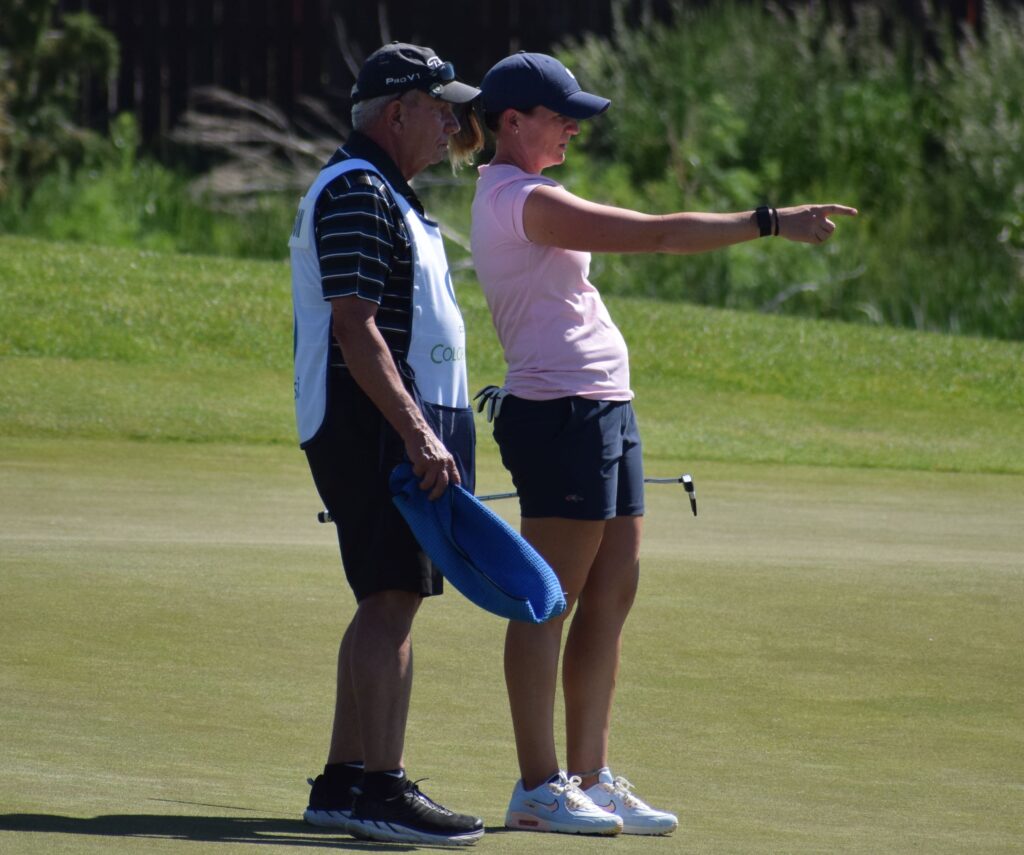 Joining Fan in the top six after three rounds is her former CU teammate, Robyn Choi, who shares sixth place at 141. Choi, a two-time U.S. Women's Open qualifier, has gone 70-71 this week.
Also tied for sixth is Stefanie Ferguson of Broomfield, who overcame a double bogey on Thursday to shoot a 72. Ferguson, the women's golf coach at Metropolitan State University of Denver, made three birdies on day 2.

Most Improved Award for Lehigh: Lauren Lehigh won't win the Colorado Women's Open this week, but the amateur from Loveland did earn one destination during the tournament at Green Valley Ranch. No championship player who made the cut made a bigger improvement in score from round 1 to round 2 than did the University of New Mexico golfer.
The former Junior Golf Alliance Girls Player of the Year rebounded from a 5-over-par 77 on Wednesday with a 5-under-par 67 on Thursday. And that's despite playing her last four holes of round 2 in 2 over par. She attributed the improvement to better decision-making and club choices — along with some better ball-striking and putting.
"I said something to Sam (her caddie) right before I made my seventh birdie: 'It hasn't felt like I've done anything crazy today,'" Lehigh recounted. "I just hit a lot of really solid shots and made a couple of really good, long two-putts. I didn't really have anything that felt like I was grinding to make par. You get a couple of the long putts to go in, you're not grinding to make par, it just happens. It really felt easy today. It didn't feel like I was forcing anything. Everything kind of looked like it was going in and flowed really well."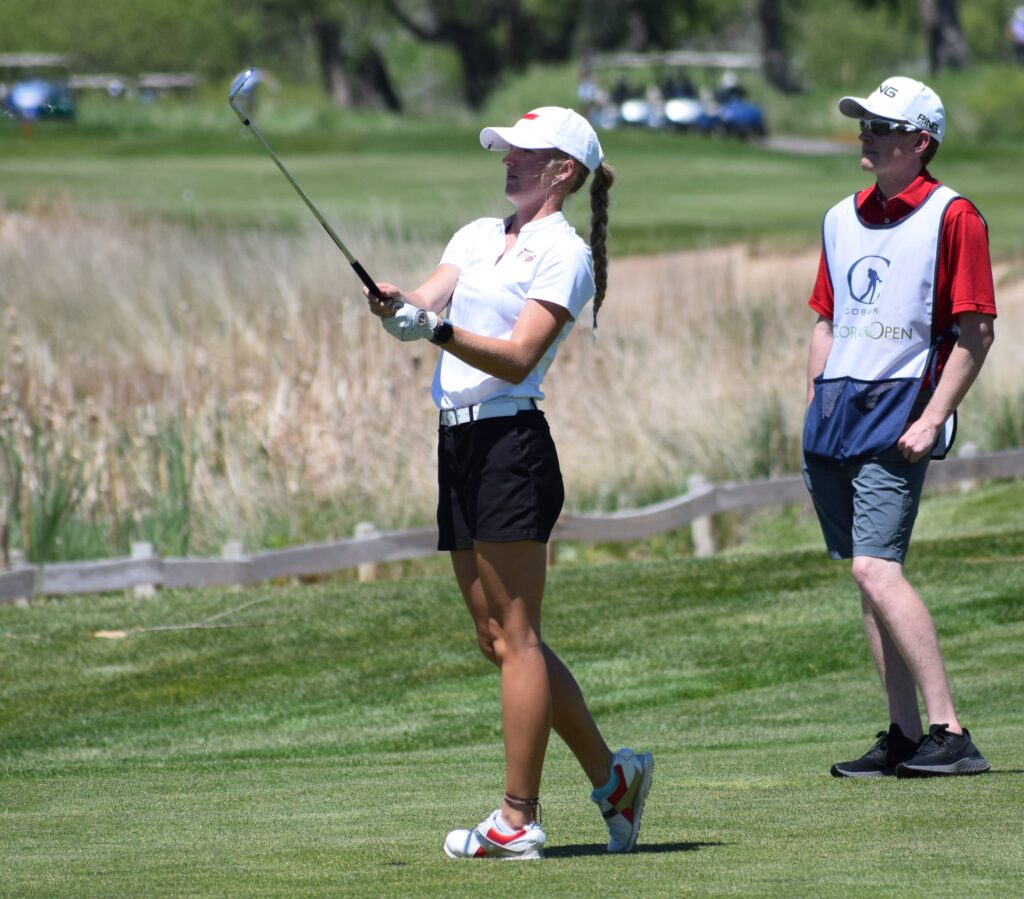 And the seven-birdie, two-bogey round came despite the 20-year-old being in the midst of a swing change. She finished runner-up in a playoff at the women's Mountain West Conference tournament in late April, but still saw some flaws on her game.
"I wasn't as consistent as I wanted it to be," she said. "The end part of this semester was really good for me, but there were still shots I hit that I was just like, 'That cannot happen.' I kind of had a two-way miss going. I really wanted to narrow those misses down. So I saw my coach again and we put in a couple of different swing changes. I'm going to try to take the summer and work on that (with next week's CGA Women's Match Play being the only tournament on her summer schedule for now). But I thought it would be great to play in this event again and whatever happened happened — and it worked out well for me today."

Two-Day Stay for Neumann: New part-time Aspen resident Liselotte Neumann, winner of 13 LPGA Tour events, won't be around for the final day at GVR as the 55-year-old missed the 36-hole cut.
The captain of the 2013 European Solheim Cup team that prevailed over the Americans at Colorado Golf Club posted rounds of 78-81 for a 15-over-par total of 159. A total of 147 or better was necessary to advance to the final round.
Neumann, competing in her first tournament in a year and a half, made two birdies, eight bogeys and a triple bogey in round 2. The 1988 U.S. Women's Open champion is gearing up to play in the U.S. Senior Women's Open late next month in Fairfield, Conn.

Schalk Takes Lead Among Ams: Two Coloradans who play NCAA Division I golf in the state are 1-2 on the low-amateur leaderboard after Thursday's second round.
The University of Colorado's Hailey Schalk, a former JGAC Girls Player of the Year and three-time girls state high school individual champion, grabbed the amateur lead with a 2-under-par 70 on Thursday, leaving her at 2-under 142 overall.
Schalk, winner of the Colorado National Women's Amateur last fall, was 4 under par for the day through 15 holes, but bogeyed 16 and 17 coming in. She finished with five birdies and three bogeys.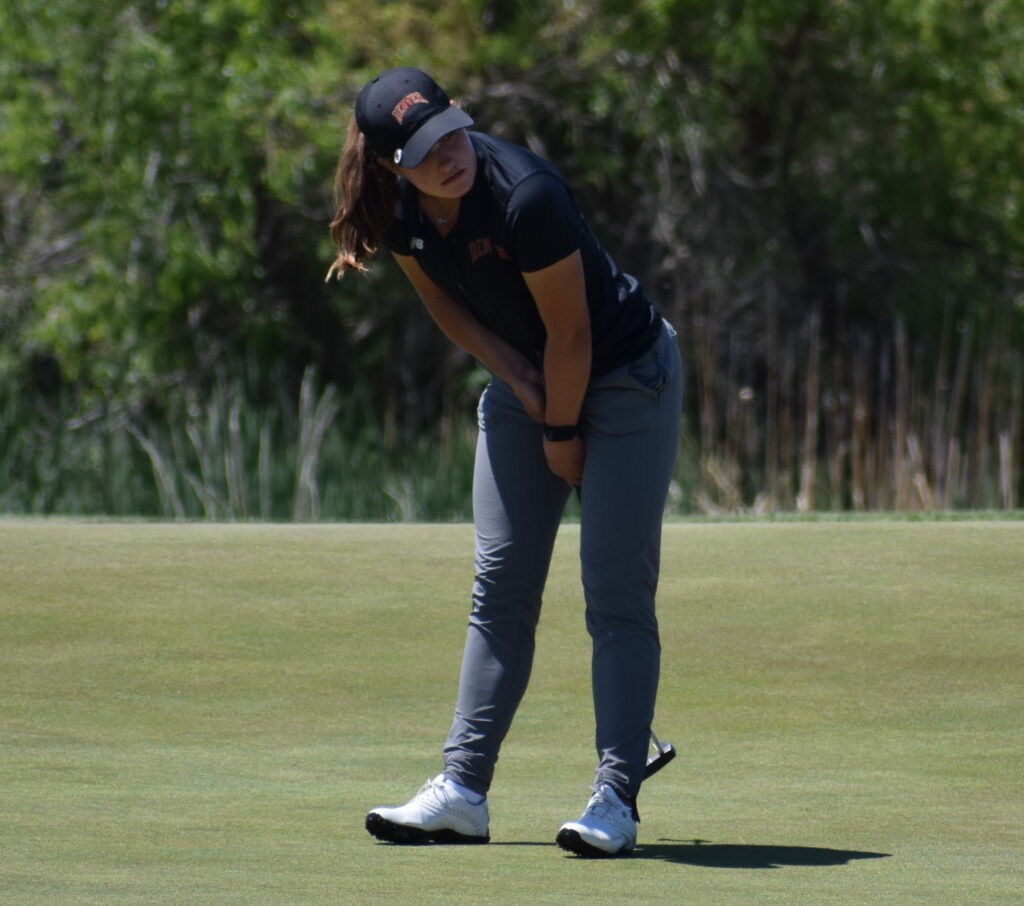 Meanwhile, one stroke back of her, in second place among amateurs, is the University of Denver's Caroline Jordaan, who's gone 71-72. Jordaan is a past winner of the girls portion of the Colorado Junior Match Play and of a state high school individual title.

Notable: Forty-eight players — all those at 3-over-par 147 or better — survived the 36-hole championship cut on Thursday. … The leaders will tee off for Friday's final round at 9:25 a.m. … Two teams — Oakwood Homes No. 1 (Dana Finkelstein of Chandler, Ariz. and Oakwood homes founder Pat Hamill of Denver) and Colorado AvidGolfer (Savannah Vilaubi and Allen Walters) — share the lead in the better-ball pro-am portion of the Women's Open as they stand at 15-under-par 129 overall.