5 days after runner-up finish on Symetra Tour, Savannah Vilaubi wins CoBank Colorado Women's Open by 5; Coloradan Becca Huffer records third second-place finish in the event to go along with her two wins; CU's Hailey Schalk low-am — and finishes top-10 overall
***For CoBank Colorado Women's Open scores, CLICK HERE.***
By Gary Baines – 6/4/2021
All in all, it's been quite a six-day stretch for Savannah Vilaubi.
On Sunday, the 27-year-old Los Angeles-area resident recorded her best Symetra Tour showing ever, finishing runner-up at the Mission Inn Resort & Club Championship in Florida, earning $16,733 in the process.
Then on Friday, she earned the championship trophy at the CoBank Colorado Women's Open, which brings with it a check of $50,000 — the best tournament payday of Vilaubi's life.
Six days, one title, a runner-up and $66,733 in paychecks. A person could get used to that.
"This is incredible to have pulled this off," Vilaubi said. "It feels like that. A win is a win, but here it's incredible — absolutely incredible.
"I'm immensely humbled. Obviously the money is a byproduct of it. But the accomplishment itself and having my best finish on Symetra and then winning this event, it blows my mind."
Vilaubi, who owns three top-five finishes on the Symetra Tour since Oct. 1, went into Friday's final round with a five-stroke lead over two-time Colorado Women's Open champ Becca Huffer. But in both of her CWO wins, Huffer had come from five out of the lead going into the final day to prevail in a playoff.
But Vilaubi made it clear that history wasn't going to repeat — again — on Friday. She backed up her 8-under-par 64 on Thursday — which tied the women's course record at Green Valley Ranch Golf Club — with a 4-under 68 on Friday.
The two-time Texas Women's Open champion (2016 and '19) was 5 under par through her first 10 holes of the final round and led by seven. If she would have just parred out from there, she would have tied the tournament record of 16 under par that Jennifer Kupcho set last year. But a bogey on No. 11 — where Vilaubi hit her tee shot in the native on the right side and pitched out — proved the only blemish in her final round. And she finished at 15-under 201.
Despite Huffer going bogey-free on Friday and matching Vilaubi's 68, she still finished five back, in second place, earning $13,000. That's the largest victory margin at the CWO since 2006, when then-amateur Paige Mackenzie also prevailed by five.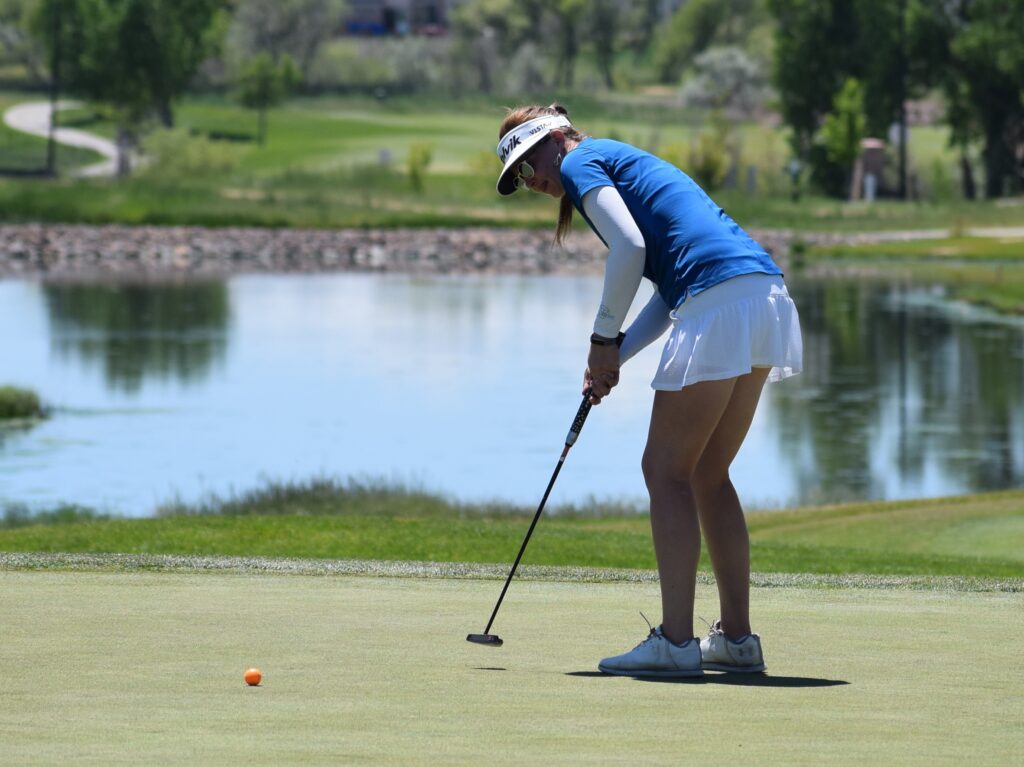 "I'm pleased with my play this week," said Huffer, the CWO champ in 2013 and '19. "Savannah played really well. (A five-stroke deficit) is a big number to come from when she is playing well, as well.
"I'm glad to get another second out here."
Indeed, Huffer remains the standard for Colorado Women's Open success. Besides her two victories, she's now finished second three times (2008, '12 and '21).
"It's always great playing out here — at home," the 30-year-old Symetra Tour regular said. "It's just such a fun tournament. I enjoy myself.
"I really can't complain. I played well. This is my best number for this tournament — 10 under."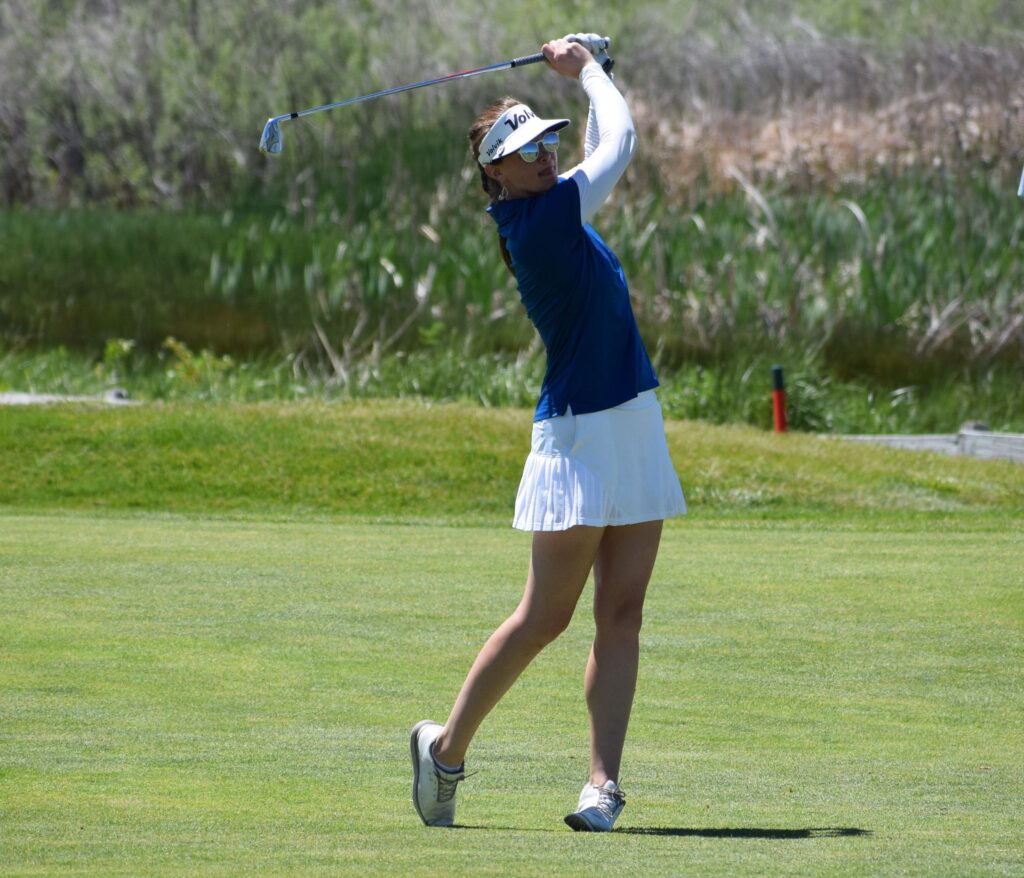 Though it was primarily a two-player competition on Friday — or maybe just one — four golfers shared third place at 7-under 207. One of the four was Jessica Dreesbeimdieke, a former University of Denver golfer who was low amateur at the Women's Open in 2016.
Dreesbeimdieke closed with a bogey-free 5-under-par 67.
But Vilaubi, a former golfer at UC-Riverside, set a target no one came close to matching. For the week, she made just three bogeys to go with an eagle and 16 birdies.
"I was hoping it would repeat something low today," she said. "I was hoping not to go more than two holes without a birdie, but good enough is good enough. I'm happy with that. Obviously it was a fantastic performance by Jennifer (Kupcho last year). We'll continue to chase that record, I guess."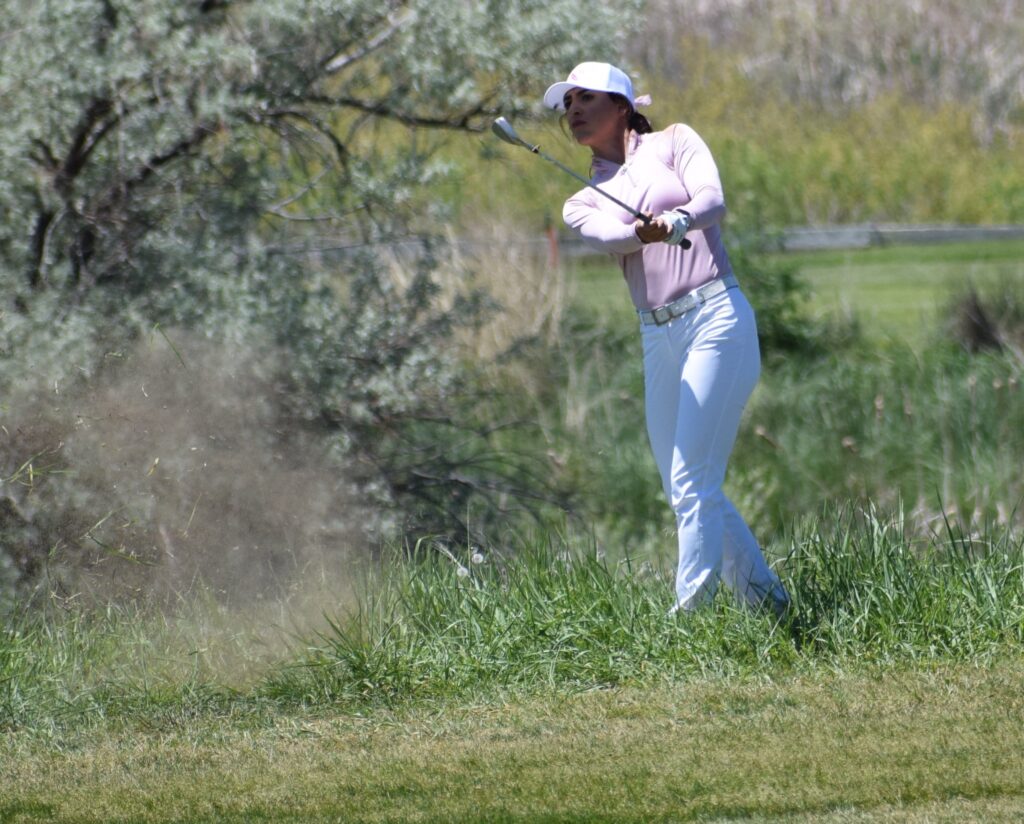 Despite a comfortable lead throughout Friday, Vilaubi felt it was anything but a walk in the park.
"The feeling was the same (as it always is during tournaments for her)— just shy of nausea," she said. "Literally, that was it the whole day. I was so process-oriented and was focused enough in little spurts to hit golf shots well.
"I made peace with the fact that my stomach kept flipping. I don't want to eat, I'm starving, I also have no appetite. Like, 'What is going on?' It was uncomfortable to be honest. But I know that I will acclimate to that. The goal is to continue to put myself in positions like this and perform well under pressure. Pressure is a privilege."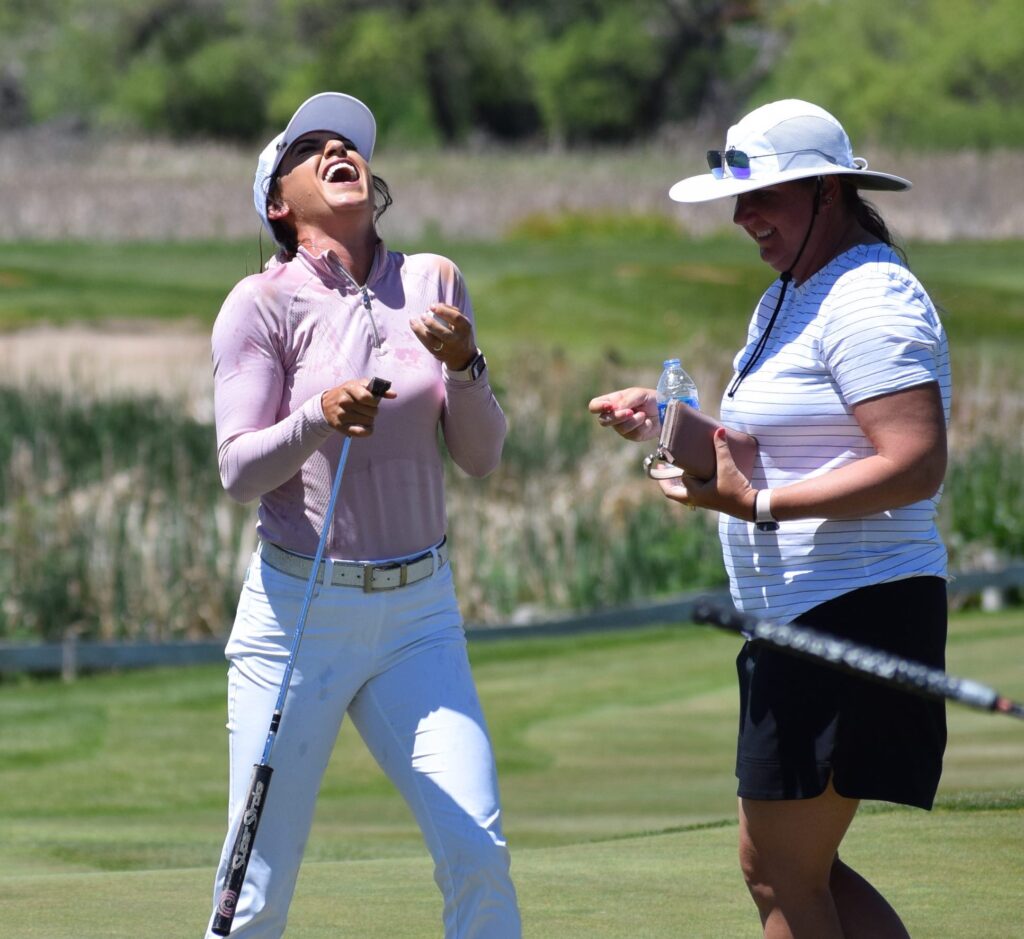 In fact, though Vilaubi's lead on Friday never varied from the 5-7-shot range, she tried to think of it in a totally different way.
"I played like it was 0-0 today and that was what kept pushing me," she said. "I figured, 'I don't think I've lost a stroke to her yet (for the day).' And anytime I got too deep into that kind of result thinking, I was like, 'What is our goal here? Our goal is honestly to shoot like a 63 today.' I didn't even want it to be close. And I knew if I simply stuck to my process and my strategy on the golf course, I was going to make birdies. So despite the nerves, I kept going back to my process. That was my fail-safe today."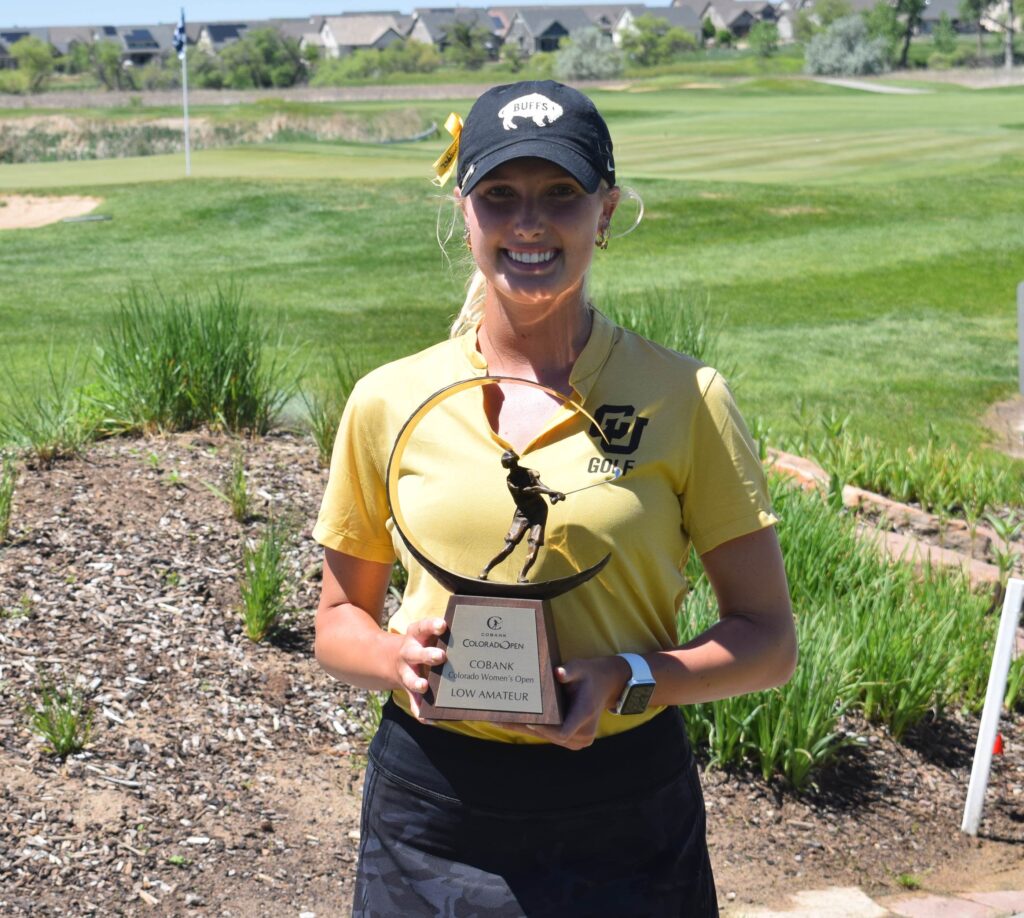 Schalk Exceeds Her Goals With Low-Am and Top 10: Hailey Schalk has accomplished plenty in her young golf career. That includes winning all three of the state high school tournaments in which she competed, a couple of AJGA titles, being Junior Golf Alliance of Colorado Girls Player of the Year and landing a spot on the University of Colorado women's golf team. And that's just for starters.
But what she did this week at the Colorado Women's Open ranks pretty darn high on her personal list of golf accomplishments.
After not previously making the 36-hole cut at the CWO, the 19-year-old from Erie not only overcame that hurdle, but she claimed low-amateur honors on Friday.
"It's really awesome," she said. "My goal this week was to make the cut — because I had never made the cut. I was like, 'You're a better player now. I think you can make the cut.' I played well. Under par was definitely better than I expected so I'm happy about it."
Schalk, who just completed her freshman year at CU, prevailed by one over University of Denver golfer Caroline Jordaan of Denver for the low-am honor. Both players closed with 1-under-par 71s on Friday, with Schalk checking in at 3-under 213 overall and Jordaan at 214.
But not only was Schalk the top amateur, she tied for 10th place overall — which is no small feat considering she was competing against a field with many Symetra Tour regulars — and a few LPGA Tour pros. Even in her own threesome on Friday, she finished ahead of former LPGA card holder Robyn Choi, a former CU golfer who has qualified for two U.S. Women's Opens. Choi finished 15th on Friday, one back of Schalk.
"Robyn is a great player," Schalk said. "So is everybody ahead of me and below me. To get top 10 is really cool. My mom and I were talking about it last night. She said, 'If you could get top 10 that would be so cool.' And it is really awesome."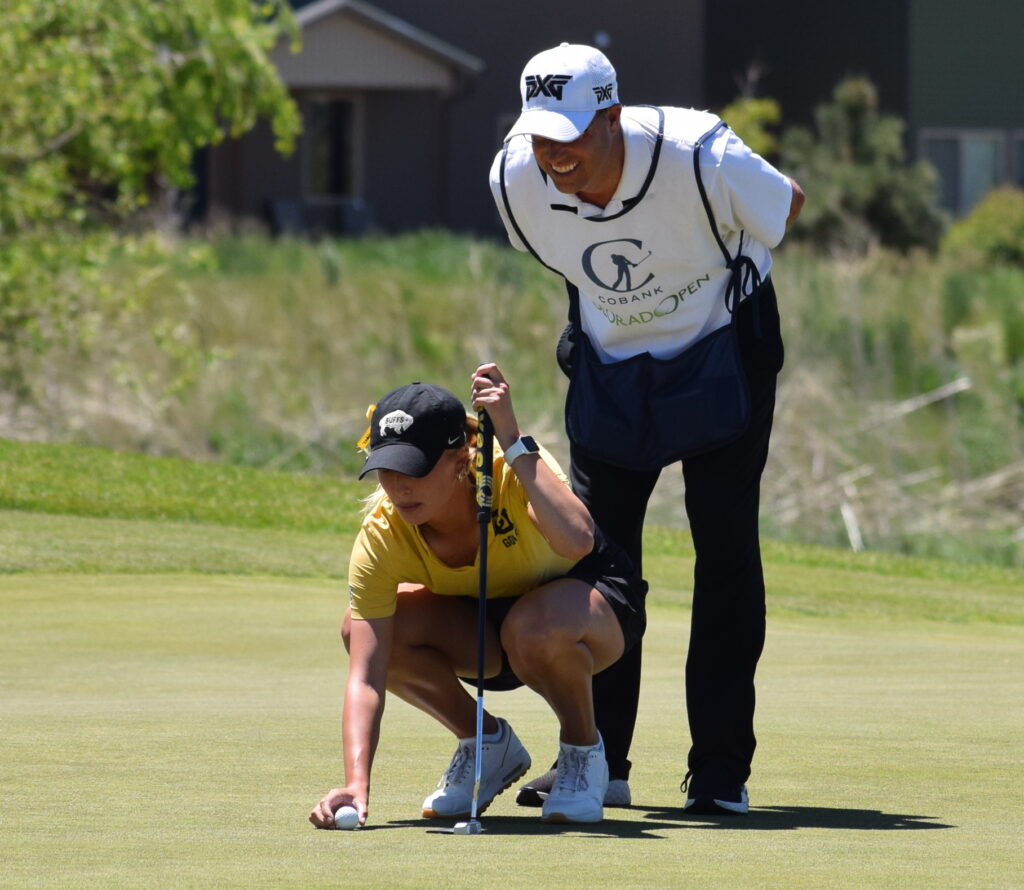 Schalk this week teamed with her dad, Colorado National Golf Club PGA general manager Matt Schalk, at the CWO, with Matt serving as caddie.
"It went well. He did a good job," Hailey said of Matt. "We worked well together. And even playing just one semester in college really helped me too — with course management stuff."
On Friday, Schalk went ahead in the amateur competition when she reeled off three consecutive birdies to conclude her front nine — with all three coming from inside 3 feet. Even a final-hole bogey didn't keep her from receiving the low-am trophy.
"This is definitely toward the top of my successes for sure," she said. "Just with the mix of amateurs and pros, it's a really good event to make the cut and (have a good finish). It's really cool."

Notable: With her $13,000 payday, Becca Huffer easily remained No. 1 on the Colorado Women's Open career money list. She now has earned $86,776. … Champion Savannah Vilaubi on the Colorado Women's Open: "It's nice to have women's golf be as celebrated as it has been this week. We hope other tours and tournaments can learn from the example you guys set." … Team Ackerman (pro Jessica Dreesbeimdieke and amateur Mike Ackerman of Cherry Hills Village) won the pro-am competition by one on Friday with a three-day better-ball total of 24 under par after closing with a 61.