In a game where rules officials sink or swim, things are going swimmingly for 2021 CGA Topliff Award winner Dave Herrick
By Gary Baines – 12/13/2021
It took a while for Dave Herrick to become a rules official in golf — he was well into his 60s — but when he did, he was quickly thrown into the deep end.
Herrick specifically remembers his debut as a rules official. It came at a junior tournament at Murphy Creek Golf Course, where he would be working alongside veteran Dave Wining.
"You read the CGA stuff that 'You'll be under the wing and ride along with an experienced official your first few times out,'" Herrick noted in a recent phone conversation. "I get out there and I was issued my own cart and Dave (Wining) was the only other official out there. I think it was the second hole at Murphy Creek where we ran into a ruling situation that I'll not forget. I didn't make a mistake on it, but it was something where all of a sudden on your first day out you're hip deep in the middle of a rules situation. I was kind of thrown into it fairly precipitously.
"We were out there together and I think the kid had lost his drive. Dave was transporting him back to the (tee) while I was up and found the kid's ball. I was thinking, 'What do I do here? I was comfortable at that point that it had been more than five minutes (back when that was the maximum allowed time for a search) so it wouldn't have done any good to radio back to Dave and tell him that I'd found the ball. But that was where I had to think for a second in terms of what I should do. 
"I wasn't even used to using the radio. It didn't even dawn on me, 'I could call Dave on the radio.' That was how green I was back at that time."
From those humble — and memorable — beginnings as a rules official a handful of years ago, Herrick now finds himself among a select group. This month it was announced that the 72-year-old Denver resident has been named the 2021 winner of the CGA's Jim Topliff On-Course Rules Official of the Year Award.
The honor — named for Jim Topliff, a longtime tournament director for the CGA who passed away in 2007 — has been given out annually since 1995 to a volunteer rules official who typically works quite a few days and makes an impression while conducting his or her duties.
In Herrick's case, he worked roughly three-dozen days as a rules official at various tournaments and qualifiers held throughout 2021. That includes 33 event days and two or three others where he did course setup for tournaments.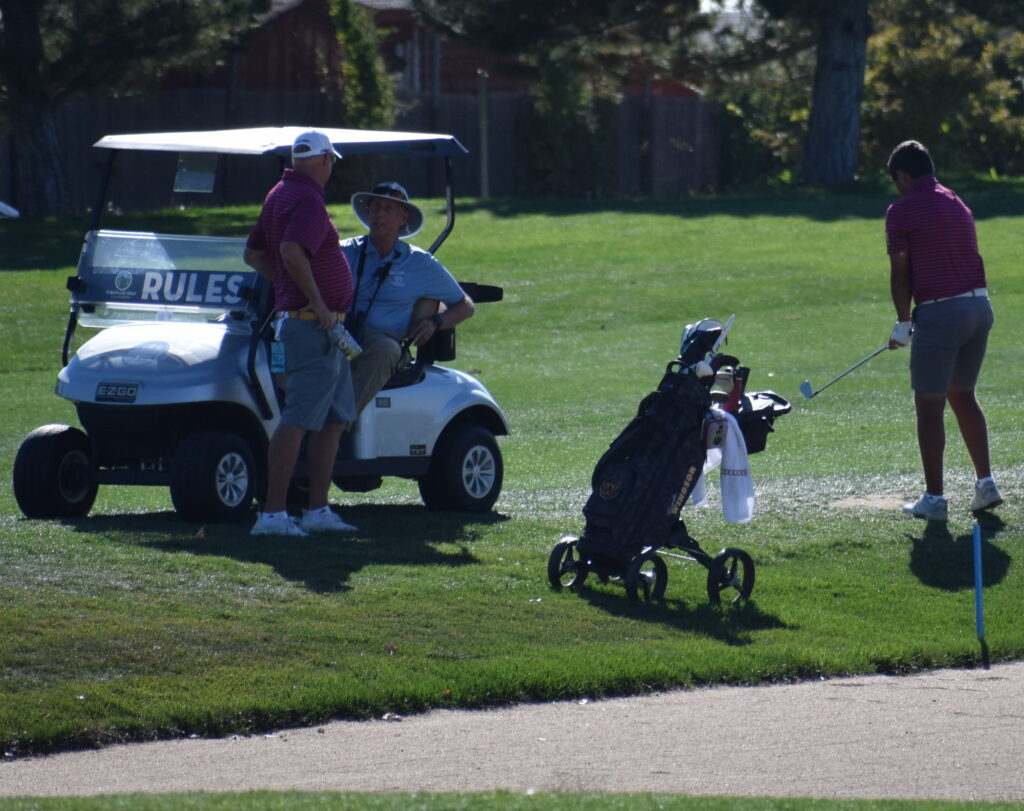 Greg With, a prominent rules official and the 2011 winner of the Topliff Award, serves on the CGA board of directors and chairs the CGA Rules Committee, which decides on the Topliff Award recipients. The honorees have demonstrated a commitment to the Rules of Golf, working tournaments, positive interaction with players, and a variety of subjective elements.
"I first met Dave at an advanced USGA (rules) workshop in 2017," With said in an email. "The first thing we do at these workshops is go around the room and introduce ourselves, tell everyone where we're from and what we expect to learn. … I know all the rules officials in Colorado and Dave wasn't on our radar. I introduced myself and asked him to consider working as a rules official with the Colorado Golf Association. The rest is history as Dave has been working CGA tournaments ever since. He has an encyclopedic command of the rules (and) is great with players and tournament administration."
Herrick started the journey toward becoming a rules official 10 or 11 years ago in Dallas as he was preparing to retire in 2012 after a long career as an attorney, working for financial services firms for much of his professional life.
So what attracted him to learn more about the Rules of Golf?
"I had a long-term interest in the rules," he said. "I'd always heard about the USGA rules workshops and this terribly tricky 100-question exam. And I was kind of curious to see what the workshop was like and what the exam was like. About 10-11 years ago, I was living in Dallas and went to the workshop in Austin. I think a lot of people go through their whole playing careers — however serious they might be — and they know a fraction of the rules. I think my education there was figuring out exactly what a small fraction of the rules I actually understood. I enjoyed that."
So after living in the Denver area from 1972-96, and Dallas until 2012, Herrick retired and moved back to his his old home in Denver, which he'd never sold.
"I was thinking rules officiating might be something that would be interesting to do," he said. "I took subsequent rules workshops and gradually increased my knowledge and thought as long as I've done that I might as well apply it beyond my own personal playing around the course.
"It's the typical thing with a lot of the rules officials — they feel as though they want to give something back to the game. That's really what started me down the path."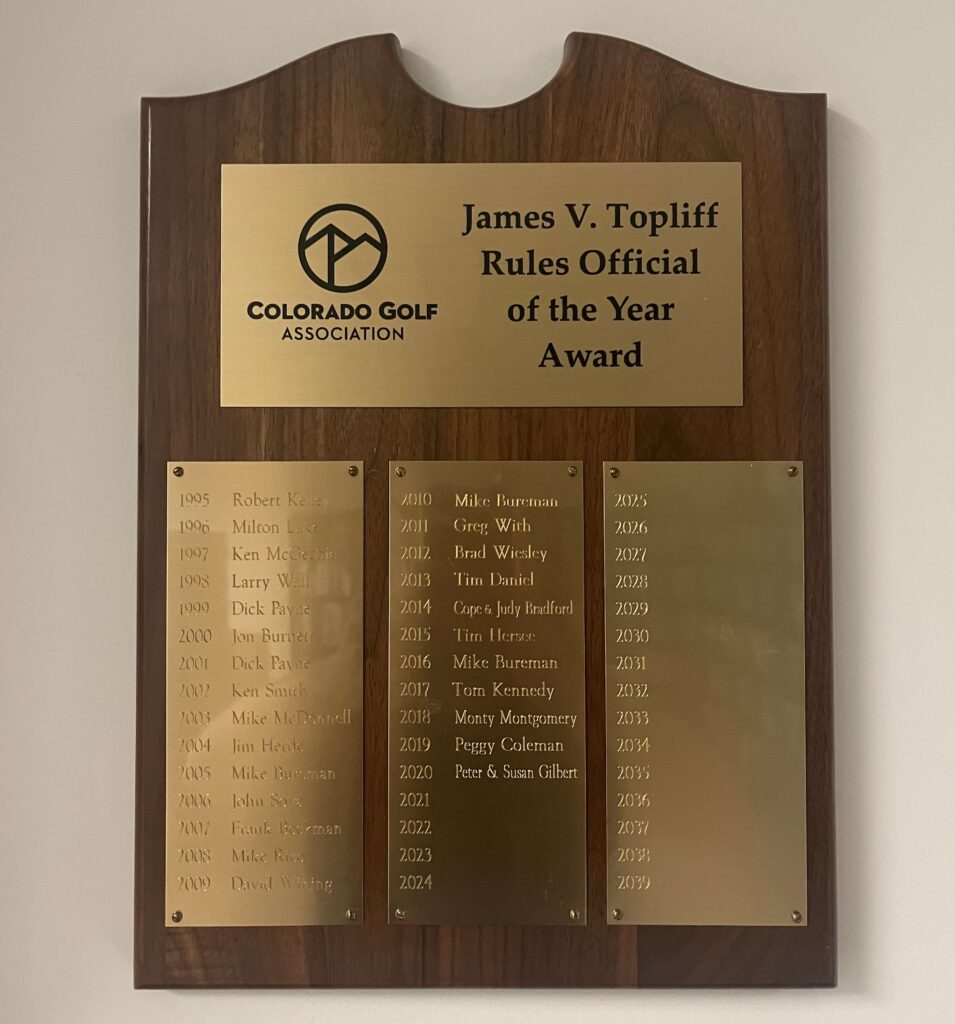 So five or so years ago, Herrick started working as a rules official. In 2019, he was "promoted" to the point that he began serving at a chief rules official at some tournaments. And nowadays, he's a regular at such events as the CoBank Colorado Open, Colorado Women's Open and Colorado Senior Open, along with the CGA Match Play, and he works on occasion at competitions such as the U.S. Women's Open qualifying and boys and girls state high school tournaments.
"I enjoy the opportunity to analyze and figure out rules situations when they come up," he said. "And golf courses are beautiful places to spend days. More than anything else, it's just a wonderful group of people (doing rules work in Colorado). I enjoy spending time with everybody I've come to know through being out there as part of a rules team. It's fun to be part of a group that's like that."
When Herrick isn't on the golf course officiating, the University of Denver law school graduate often is on the course playing the game himself. He didn't take up golf seriously until 1990 — he was more into running, triathlons, mountain climbing and backpacking — but 31 years ago he was "compelled" to play a round of business golf.
"I had to have rental clubs and I discovered the wonders of perimeter-weighted irons," he noted. "I said, 'Oh, I can see how people find this game enjoyable.' So I kind of caught the bug in 1990 and having been doing it seriously — maybe I should say avidly — ever since."
Indeed, Herrick estimates he plays 90-100 rounds of golf a year. Most of that golf — three or four days a week during the season — comes at Lakewood Country Club, where he's been a member since 1993. It's not unusual for Herrick and some fellow retirees to be in the first group off of the day, and conclude their round in three hours — all while walking.
"It's a great walking course. I still walk but I seem to carry fewer clubs every year," the owner of a 12.9 Handicap Index said with a little laugh.
Herrick also is a member at Ballyneal in Holyoke and Olympic Club in San Francisco, in addition to two clubs in the United Kingdom.
Suffice it to say that golf plays no small part in Herrick's life. Therefore, it put a smile on his face when With called with the news about earning the Topliff Award.
"I felt honored in particular because I was aware of the people who had won it in the past," Herrick said. "If you look at that list, it was pretty much all the people I was familiar with who had been working with the rules group for quite some time. I felt honored to be made part of that group."