'Creative solution' keeps CoBank as title sponsor of Colorado Open championships for 2021 — a year longer than originally planned; former U.S. Women's Open champ Liselotte Neumann entered in next month's Colorado Women's Open
By Gary Baines – 5/5/2021
It was in November 2019 that officials from the Colorado Open championships announced that CoBank had notified them that it was ending its title sponsorship of the three tournaments — and related events — after 2020.
Yet here we are in 2021, and CoBank will remain the title sponsor for the Colorado Open, Colorado Women's Open and the Colorado Senior Open for this year. And the purses for the events will remain the same as in 2020 — which is to say, pretty much setting the standard for state opens: $250,000 for the Open and $150,000 for the Women's Open, along with $65,000 for the Senior Open.
So what happened to extend CoBank's title sponsorship for a year?
In short, improvisation, which isn't unusual with Covid-19 having affected so many businesses and organizations over the last 14 months.
When Colorado Open championship organizers were having trouble nailing down a title sponsor starting in 2021, they cobbled together a plan which kept things status quo for this year and bought them some time to secure a new sponsor.
CoBank had budgeted for 2020 special events including a kids clinic and a PEAK Performers event in which prominent tour players are brought it to participate. But those events were nixed last year due to Covid safety concerns. So CoBank was asked if that money could be applied to the 2021 budget for the Colorado Open championships, with CoBank continuing title sponsorship for those tournament this year, according to Kevin Laura, the CEO of the championships. And CoBank agreed to that plan.
But that only accounted for about one-third of the money that comes from a title sponsor package. Another third was secured when Laura received a "very large grant" from a donor who wished to remain anonymous. And the remaining third was accounted for via the financial performance of the championships in 2020 and from Colorado Open Golf Foundation board members.
"What we came up with is a pretty creative solution on how to fund 2021," Laura said recently. "It was a combination of many things. It (worked out) really nice because we would have had to take CoBank's name off of everything this year without another title sponsor, then we would have spend all that money and re-spend it again in '22, putting on the name of whoever becomes our title sponsor. That was a big help to us as well. We got to continue to brand it the CoBank Colorado Opens instead of just the Colorado Opens."
No tour player kids clinics or PEAK Performers event is planned in 2021, Laura confirmed. The CoBank Colorado Women's Open is set for June 2-4 at Green Valley Ranch Golf Club in northeast Denver, while the CoBank Colorado Open is June 29-Aug. 1 at GVR, and the CoBank Colorado Senior Open Aug. 25-27 at GVR.
As for a new title sponsor for 2022 and beyond, Laura said, "We've had multiple meetings with one of the banks in town who I think is very excited." And several other companies remain possibilities. "We're working really hard on trying to get one of those to the finish line.
"I'm hoping we can have something official by the men's Open. By the end of August — the Senior Open — we will have our business model for the next year at least mapped out and decided upon."
In other Colorado Open-related news: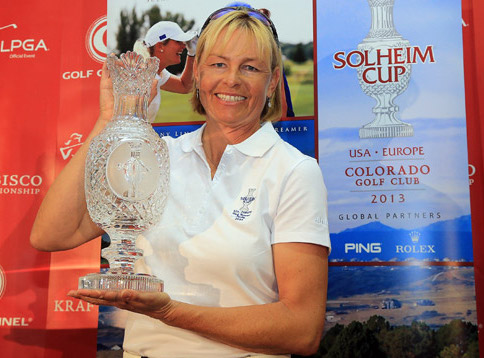 — The entry deadline for the CoBank Colorado Women's Open was on Wednesday, and among the prominent players who have signed up for the June 2-4 event is former LPGA Tour standout Liselotte Neumann. Neumann has won 13 times on the LPGA Tour, including the 1988 U.S. Women's Open, and 10 times on the Ladies European Tour. The Swede is 54 years old, with her last LPGA victory coming in 2004.
In 2013 at Colorado Golf Club, Neumann was the captain of the first European team to win the Solheim Cup on U.S. soil.
Other entrants in the 2021 CWO include two-time champion Becca Huffer of Monument; onetime CWO champion and former LPGA regular Kendall Dye; 2020 Symetra Tour Player of the Year Ana Belac; and 2005 CWO winner Erin Houtsma.
The Colorado Women's Open is being held opposite the U.S. Women's Open, where 2020 CWO winner Jennifer Kupcho is exempt.
To view a list of 2021 CWO participants, CLICK HERE.
— In what may come as a welcome development to participants in the Colorado Open championships, a big tree just short and right of the 16th green at Green Valley Ranch Golf Club — one that has been known to catch just slightly errant shots, sometimes deflecting them into a nearby penalty area — was cut down in March. That will make the challenging par-4 a little more accommodating starting with this year's championships.
"It was naturally coming down. It was totally hollow inside and was losing big pieces," Laura said. "We didn't want it to crash down on the green or hurt anybody or any property. It was a monster, 33 inches in diameter."
— Organizers are hoping that the CoBank Colorado Open's dates this year (July 29-Aug. 1) will yield quite a few very notable players in the field. What might help in that regard is that there are no conflicting tournaments scheduled that week on the PGA Tour, PGA Tour Champions or Korn Ferry Tour — aside from the men's Olympic competition in Japan.
"We should have a really good field for the men," Laura said.