Lizette Salas calls Jennifer Kupcho Team USA 'MVP' after clutch play by Coloradan in first 2 days of Solheim Cup; however, the Americans will need a rally in Monday's singles
By Gary Baines – 9/5/2021
Jennifer Kupcho, who as of midday Saturday had never played in a Solheim Cup match, is now the proud owner of one of just four undefeated individual records through the first two days of the 2021 event in Toledo, Ohio.
The 24-year-old born and raised in Colorado won one match and tied another on Sunday, giving her a 2-0-1 record going into Monday's singles. Only her and Lizette Salas, her partner for the last three sessions, are unbeaten so far this weekend for the Americans at Inverness Club. Two Europeans are also undefeated — coincidentally the two players Kupcho and Salas faced in Sunday's four-ball — Leona Maguire (3-0-1) and Mel Reid (2-0-1).
The two Americans knocked off previously undefeated players in Sunday morning's foursomes (alternate shot) and tied the afternoon better ball. They toppled Europeans Anna Nordqvist and Matilda Castren 3 and 1 in foursomes, and earned a half point against Maguire and Reid in four ball. Nordqvist and Castren were each 2-0 prior to facing Kupcho/Salas, while Maguire was 3-0 and Reid 2-0.
"I feel like the MVP of our team is this one right here (Kupcho)," Salas told Golf Channel on Sunday evening. "She played amazing golf again today. … She definitely doesn't play (like a Solheim Cup rookie) and she definitely doesn't have the game like one."
For the second straight day — and third consecutive session — Kupcho came up with highlight-reel shots on the back nine.
In three rounds, she's made five birdie putts between 15-50 feet and pitched in from 18 feet for another birdie. That includes 15-and 30-footers in Sunday's foursomes and a 35-foot putt in Sunday's four-ball, plus the pitch-in on 17 that gave the Americans a 1-up four-ball lead. Not bad for a player for whom putting is a relative weakness, statistically.
"This one here is ice cold," Salas said of Kupcho after Sunday morning's session. "I don't have to tell her anything. She was an all-around amazing team player. … This one right here was rock solid."
But the Europeans Kupcho and Salas faced on Sunday afternoon were also clutch. Just in the last three holes, Maguire drained a 14-foot birdie on 16 after a Kupcho birdie had been conceded, and Reid won the 18th with a 2-foot birdie to tie the match. Reid's second shot on the par-4 barely cleared a greenside bunker and the ball hopped in the rough and trickled down to the hole.
"They're obviously two great players and they played perfect four-ball," Reid said of Kupcho and Salas. "If one was out, one had a look at birdie. … I knew I had to pull something off (on 18)."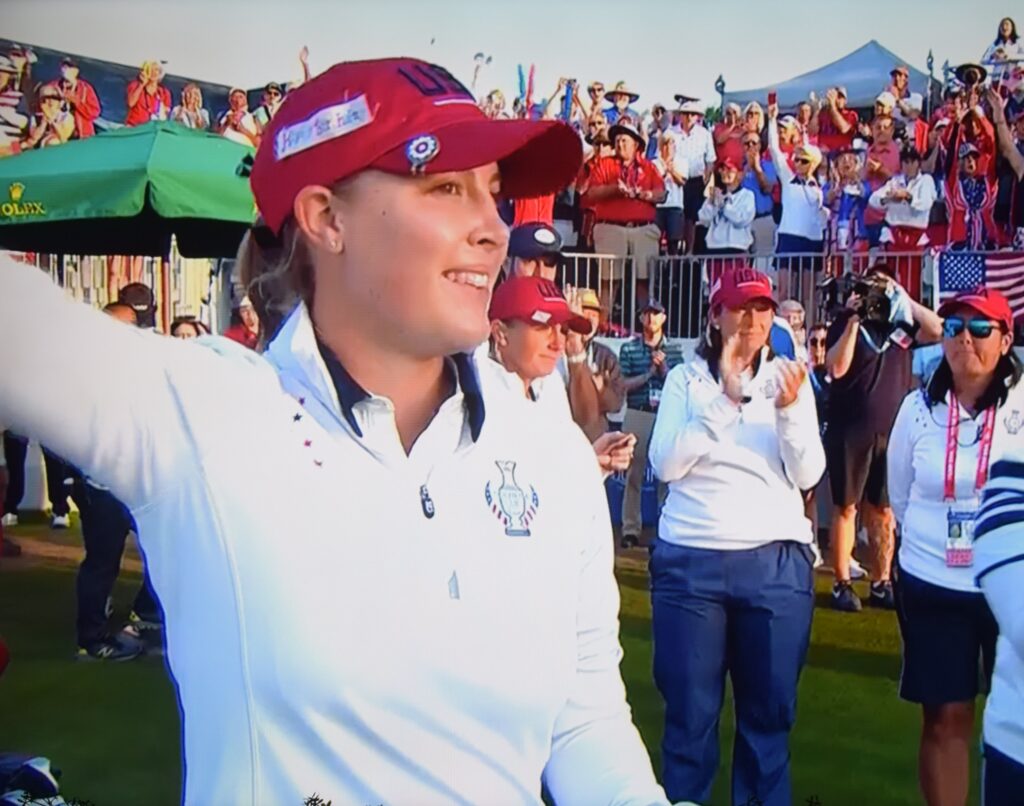 The tied match left Europe up 9-7 going into Sunday's 12 singles matches. For Kupcho, that will be another chance to show her stuff on a weekend she's already shined on multiple occasions.
"It's been really fun," Kupcho said. "To be able to play with Lizette on all three matches has been really fun and we definitely have a friendship for life now. I'm excited — and excited for tomorrow."
After serving as an NBC/Golf Channel analyst for Sunday's matches, Judy Rankin was taken aback by all the clutch moments in the Kupcho/Salas-Maguire/Reid matchup.
It's amazing the "way people rise to the occasion and do things when the pressure is greatest," Rankin said.
After rallying for wins after being 2 down after seven holes in each of their first two matches together, Kupcho and Salas never were more than one hole down on Sunday afternoon.
Kupcho was certainly no stranger to her and Salas' four-ball opponents on Sunday. Maguire was a college rival as she was at Duke while Kupcho was at Wake Forest, and the two finished 1-2 in women's college player of the year voting in 2017. As for Reid, she won the 2020 Shoprite LPGA Classic where Kupcho finished second.
Kupcho's 35-foot birdie on No. 10 put her team ahead, and her 5-foot birdie on No. 11 gave her and Salas a 2-up lead. But a birdie by Reid on 12 and a winning par by Maguire on 15 squared the match. Kupcho's stellar pitch and 2-foot birdie on 16 were matched by Maguire's 14-foot birdie.
Then Kupcho's pitch-in for the win on 17 was countered by Reid's tight approach shot and birdie on 18 that left the match knotted.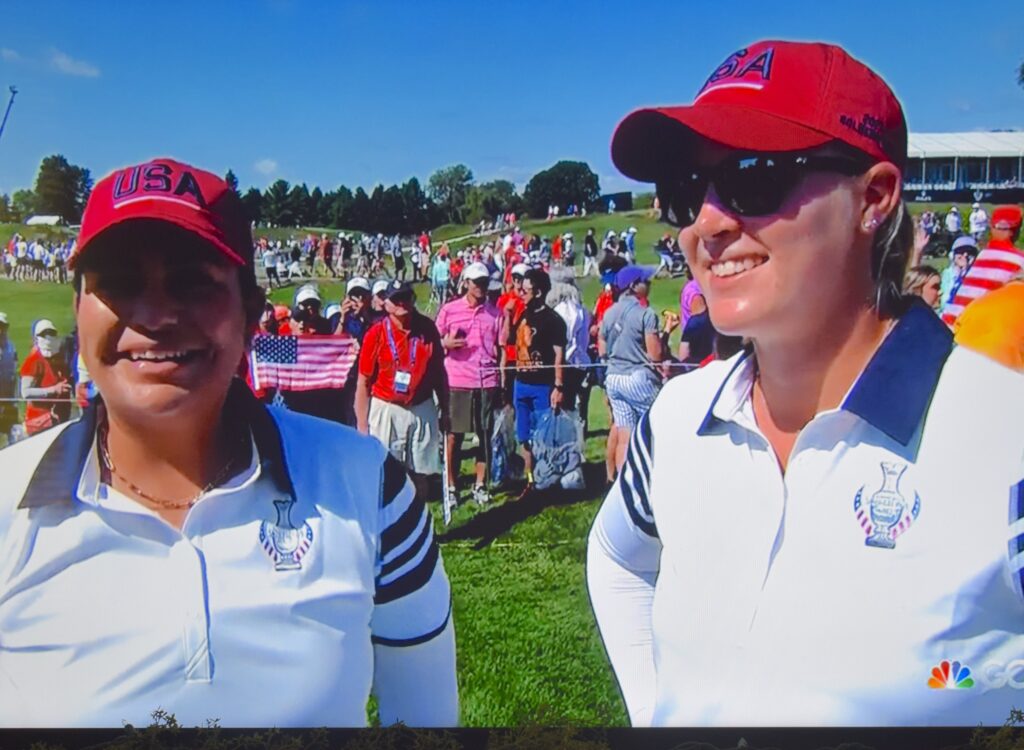 In Sunday morning's foursomes, Kupcho and Salas were 1 down through 13, but won the last four holes of the match. The Europeans double bogeyed No. 14, Kupcho knocked in a 15-foot birdie from the fringe on 15, the Euros bogeyed 16, then Kupcho ended things in style with her 30-foot birdie on 17.
The Europeans played the final 10 holes of the match in 6 over par, making two double bogeys in the process. This is from a partnership that included Nordqvist — who two weeks ago won the AIG Women's Open, her third major championship title — and Castren, who qualified this year for the U.S. Women's Open at the course (The Ranch Country Club) where Kupcho once worked and where she now on occasion receives instruction from PGA professional Ed Oldham.
Monday's singles matches will begin at 10 a.m. and be televised by Golf Channel. So what is Salas going to tell Kupcho going into the singles?
"I'm just going to tell her to keep doing what she's doing," Salas said. "She's a tough competitor and I feel bad for whoever is playing her tomorrow."
Kupcho's opponent on Monday will be none other than Maguire, her former college rival. They're scheduled to tee off at 10:25 a.m. (MT), in the third match of the day.
For all the scoring from the Solheim Cup, CLICK HERE.

Jennifer Kupcho Match-by-Match at Solheim Cup
Saturday Four-Ball — Kupcho and Lizette Salas def. Carlota Ciganda and Sophia Popov, 1 up
Sunday Foursomes — Kupcho and Salas def. Anna Nordqvist and Matilda Castren, 3 and 1
Sunday Four-Ball — Kupcho and Salas tied with Leona Maguire and Mel Reid