2 long birdie putts on back nine by Jennifer Kupcho help her notch victory in her first Solheim Cup match as four-ball partner Lizette Salas sinks winning putt on 18th hole; however, Europeans lead after day 1
By Gary Baines – 9/4/2021
This year's Solheim Cup in all likelihood has more Colorado flavor than any such competition aside from when the event was contested at Colorado Golf Club in Parker in 2013.
Among those playing in Toledo, Ohio, you have Jennifer Kupcho, the first Solheim Cup contestant who grew up in the Centennial State. And there's four other competitors this week at Inverness Club who have played tournaments in Colorado in the last couple of years or so.
American Yealimi Noh finished second in a playoff at the 2019 CoBank Colorado Women's Open. Spaniard Carlota Ciganda was runner-up to Kupcho in the 2020 Colorado Women's Open, while Sophia Popov of Germany was 26th in the same event. And Matilda Castren of Finland and San Diego was co-medalist in U.S. Women's Open qualifying at The Ranch Country Club in Westminster in May.
After not playing in Saturday morning's foursome matches — which resulted in a 3.5-0.5 European lead — Kupcho teamed with veteran Solheim Cupper Lizette Salas for a four-ball matchup against Ciganda and Popov. And, in her first Solheim match ever, Kupcho won, with her and Salas prevailing 1 up after Salas sank a 6-foot birdie putt on No. 18.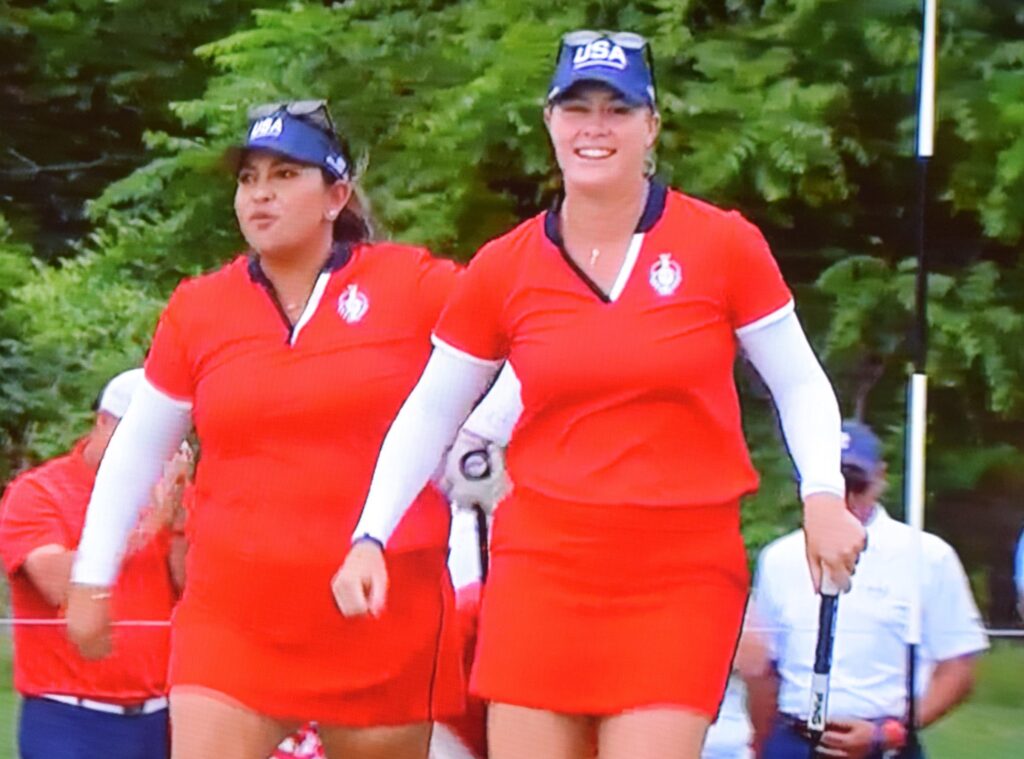 Kupcho, ranked No. 28 in the world among women, was solid in the pressure-cooker that is the first hole of a Solheim Cup, hitting a good drive and nestling her approach on the first hole to 7 feet, though she missed the birdie putt.
In the middle of the front nine, the Europeans won three holes to go 2 up. But after a winning Salas chip-in for birdie at No. 8, Kupcho pulled her team even with a 25-foot birdie on No. 10 — her first winning birdie of the day.
Then on 14, Kupcho drained an even-longer birdie putt — in the neighborhood of 50 feet from off the front edge of the green — to put the American team 1 up again. However, Popov responded with a birdie of her own at No. 16 to square the match. After Ciganda missed a 4-foot birdie attempt that would have won No. 17 for the Europeans, Salas stroked in the difference-maker for her and Kupcho with her 6-foot birdie on 18.
"Her chip-in, my long putts on the back nine, those both helped us get us to the end and really fight it out," Kupcho told Golf Channel afterward.
Said Salas: "Jennifer was rock solid all day and just kept me in it. I think we worked well together. It was a team effort today. … To get that red point up on the board for our team on home soil, my legs are still shaking. I'm just so proud of Jen and our whole team."
Kupcho and Salas will pair up again on Sunday morning for the foursomes/alternate shot matches. They'll tee off at 5:51 a.m. (MT) against Castren and Anna Nordqvist.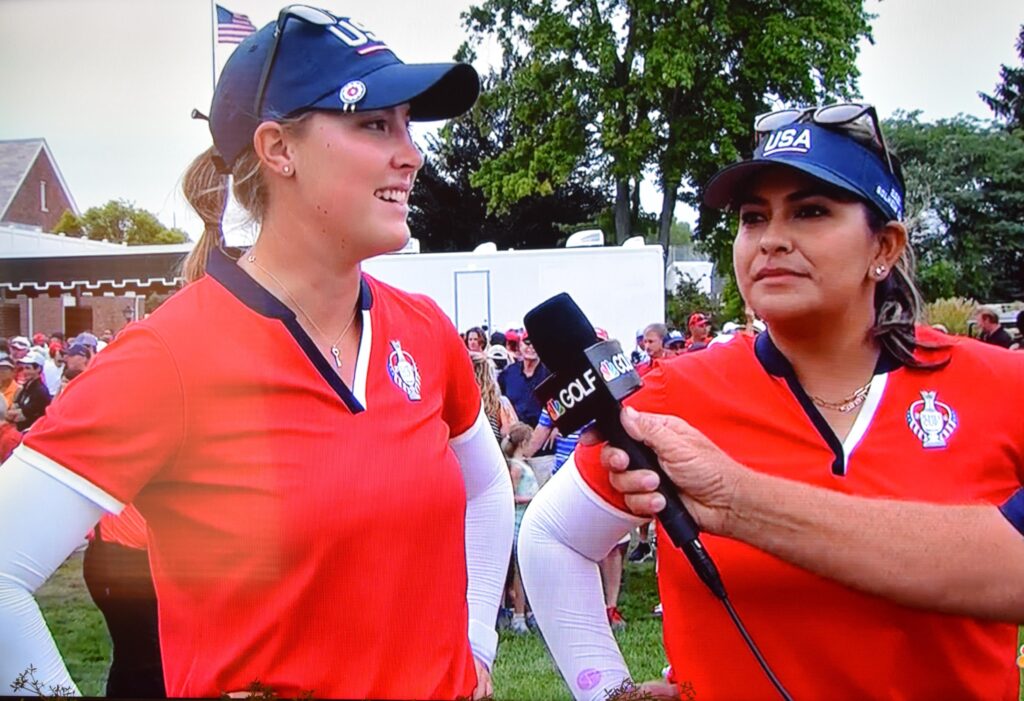 Despite Saturday's win by Kupcho and Salas, the Europeans finished day 1 with a 5.5-2.5 lead over the Americans.
The only other U.S. match victory on Saturday came via Nelly Korda/Ally Ewing's 1-up four-ball win over Madelene Sagstrom and Nanna Koerstz Madsen, which came after a contentious ruling on the 13th hole. On that par-5, Korda's eagle attempt came to rest slightly overhanging the cup and Sagstrom quickly picked it up and tossed the ball to the American. However, match referee Missy Jones ruled that because Korda's ball was overhanging the cup and Sagstrom didn't wait the prescribed 10 seconds — per Rule 13.3b — before grabbing it, Korda's 20-foot eagle putt was deemed holed. That gave the Americans a 1-up lead.
The Europeans are seeking just their second Solheim Cup victory on U.S. soil, trying to replicate what they did in 2013 in Colorado.
Sunday will be another day of foursomes/alternate shot in the morning and four-ball/better ball in the afternoon. Then the competition will conclude with singles matches on Monday. Here's Sunday's TV lineup for the event (all times Mountain):
(Foursomes/Alternate Shot in Morning; Four Ball/Better Ball in Afternoon)
5-10 a.m. (Golf Channel)
10-11:30 a.m. (NBC)
11:30 a.m.-3:30 p.m. (Golf Channel)
For all the scoring from the Solheim Cup, CLICK HERE.