Denver native Hubbard looks determined to make impact in his second go-around on PGA Tour
By Gary Baines – 11/7/2019
It was a little more than five months ago, on a visit to his native state of Colorado, that Mark Hubbard said something that has proven to be all so true, notably in retrospect.
The Colorado-born and bred golfer was promoting the inaugural TPC Colorado Championship at Heron Lakes that was coming to Berthoud in July. Hubbard was going to be competing in the event in his second season back on the Korn Ferry Tour, but had already all but locked up his PGA Tour card for the 2019-20 season.
Hubbard had spent three seasons on the PGA Tour, from 2014-17, and had played OK, but never posted a top-10 finish. He placed in the top 20 six times during those three seasons, with best-ever showing being a 15th at the 2016 Puerto Rico Open.
Back in late May at TPC Colorado, Hubbard was asked about how his next stint on the PGA Tour may be different from his last one, after his two seasons back in the Triple-A level of golf.
"I think it makes me appreciate it more and want it more," he told ColoradoGolf.org at the time. "What I will say is when I first got my (PGA Tour) card I think I was talented enough to be up there, but I don't think I was ready as a golfer. I think I needed to come back down to the (Korn Ferry) to figure out how to get myself in contention and figure out what my game is.
"When you're growing up dreaming about being on the PGA Tour, you're dreaming about making the putt for the win. You're not dreaming of tapping in on 18 for 45th place. The money is great, everything is great, but that's not what you dream of. When I was up there the last time, I was ready to be there, but I wasn't ready to win and compete. I know the next time — hopefully this coming year — when I do get back up there, I will be ready to compete."
Sure enough, those remarks have proven prescient.
After winning an event on the Korn Ferry Tour in February — the LECOM Suncoast Classic — and finishing ninth on the season-long Korn Ferry Tour points list in 2019, the 30-year-old Hubbard easily regained his PGA Tour card.
And talk about hitting the ground running when the 2019-20 tour season began …
Hubbard played the first five events of this season — and won over $1 million in that five-week stretch. To put that into perspective, that's approaching the amount he earned in his three-plus previous PGA Tour seasons combined ($1,214,990 in 84 events).
And, after not placing better than 15th in those first 84 PGA Tour starts, Hubbard has three showings that fall into that category in his first six starts upon his return to golf's big leagues. He was 10th in his season opener (A Military Tribute at The Greenbrier), 13th in the Safeway Open. Then, last month, at the Houston Open near his adopted home in The Woodlands, Texas, Hubbard very nearly picked up his first PGA Tour victory.
He led outright after 14 holes, but a bogey on 15 and a birdie on No. 16 by Lanto Griffin — a fellow Korn Ferry Tour player in 2019 — led to a runner-up finish.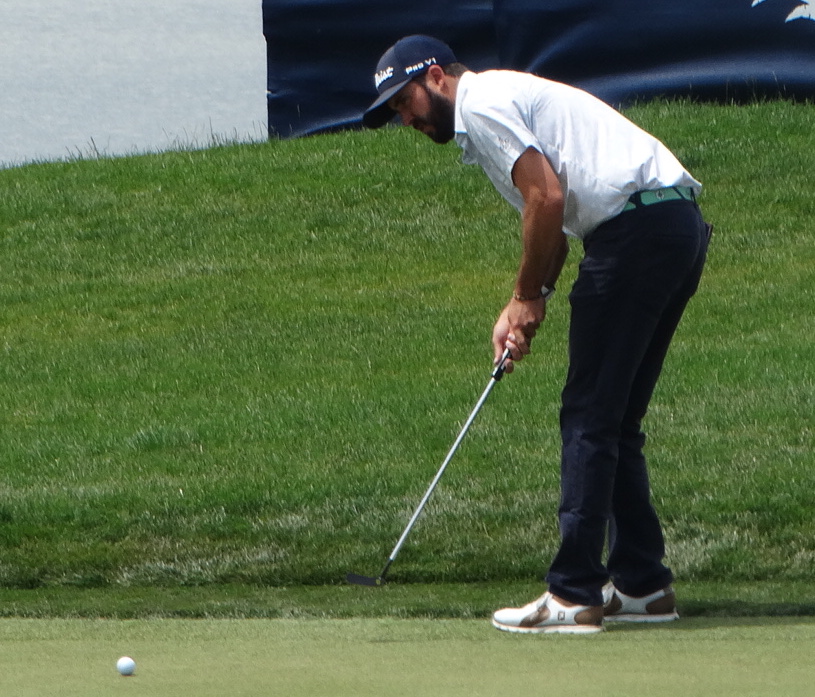 Even after taking a couple of weeks off and then finishing 41st at the Bermuda Championship on Sunday, Hubbard stands 13th early in the season in the FedExCup point standings. And he's 15th on the 2019-20 PGA Tour money list with $1,018,475.
Hubbard was asked on the Golf Channel after the Houston Open showing what's been different for him upon his return to the PGA Tour. And his response just complemented what he said back in May at TPC Colorado.
"I think I've gotten better for sure, but my mindset more than anything," Hubbard said. "I'm just in a lot better place mentally — worried about the stuff I can control and not worried about the stuff that's out of my control. I'm just enjoying being out here a lot more.
"I've played out of this (exemption) category before, coming off of the Korn Ferry Tour. You've got to play well in the fall. I knew I've kind of had to grind it out, and I've done that. I'm playing awesome. I really feel like I can win one of the next (tournaments) I'm playing."
To show how far Hubbard has come in 2019, there's this: At the end of last year, he was No. 1,051 in the World Golf Rankings. Now, he's No. 184. Out of the people ahead of him, only Collin Morikawa (No. 2006 to No. 70), Scottie Scheffler (No. 1,589 to No. 73), Viktor Hovland (No. 1,157 to No. 90), Doc Redman (No. 1,356 to No. 150), Zach Zucher (No. 2,006 to No. 152) and Kristoffer Ventura (No. 1,169 to No. 157) have made bigger jumps.
Hubbard first broke onto the Colorado golf scene in a significant way when he swept the CGA Junior Stroke Play and Junior Match Play titles in 2007 after just graduating from Colorado Academy. He then won the inaugural Mark Simpson Colorado Invitational college tournament in 2010 as a San Jose State golfer.
In the pro ranks, Hubbard has gone from PGA Tour Canada in 2012 and 2013 (winning once in '13) to the Korn Ferry Tour in 2014 to the PGA Tour for three years, then back to the KF circuit for the past two.
And, having now climbed back to the big time, Hubbard appears determined not to go back anytime soon.