Coloradans Thomas, Browder beat the cold to earn medalist honors at U.S. Amateur Four-Ball qualifying; Wyoming teammates Dales, Starzinski win playoff to land second berth
By Gary Baines – 10/01/2019
USGA championship qualifying tournaments at Saddle Rock Golf Course always seem to produce notable results.
For example, in the 2010 U.S. Amateur qualifying held at the Aurora course, the co-medalists were 16-year-old Wyndham Clark and 18-year-old Patrick Cantlay, who recently finished 64th and 21st, respectively, in the 2018-19 PGA Tour FedExCup standings.
And while it's unlikely that the results from Tuesday's U.S. Amateur Four-Ball qualifying at Saddle Rock produced any future stars of similar stature, the event wasn't short on drama — or impressive golf.
On a day when temperatures hovered in the low 50s, often with a brisk wind making it seem much colder, two guys busy recently with matters other than golf shot a stellar 9-under-par 63 best-ball to claim medalist honors and spots in the 2020 Four-Ball national championship. Sean Thomas of Castle Rock and Jason Browder of Montrose, competing in this qualifier for the second time, got the job done on Tuesday after Browder went birdie-birdie-eagle on holes 15-17.
"We both haven't been playing a lot lately," Browder noted. "Sean got married and bought a house in the last month, and I just haven't been playing much, so it's nice to ease into a tournament with a partner. It makes it a little easier."
(The medalists are pictured above, with Thomas at left.)
The second and final national berth was claimed in a playoff by two University of Wyoming golfers who looked to be in good shape to claim the spot in regulation until the final group of the day posted its score. But after carding a 64 and waiting around for about an hour, Jimmy Dales of Northville, Mich., and teammate Dan Starzinski of Phoenix did secure the second national position thanks to an 18-foot birdie made by Dales on the second playoff hole.
With that, they relegated Aurora residents Nick Nosewicz and Brian Richmeier to the first alternate position.
"It was tough," Starzinski said of how things played out late in the day. "It was just kind of painful to watch and watch and watch (the scores come in). And, of course, it was the last group (who forced a playoff). But part of me expected it, honestly."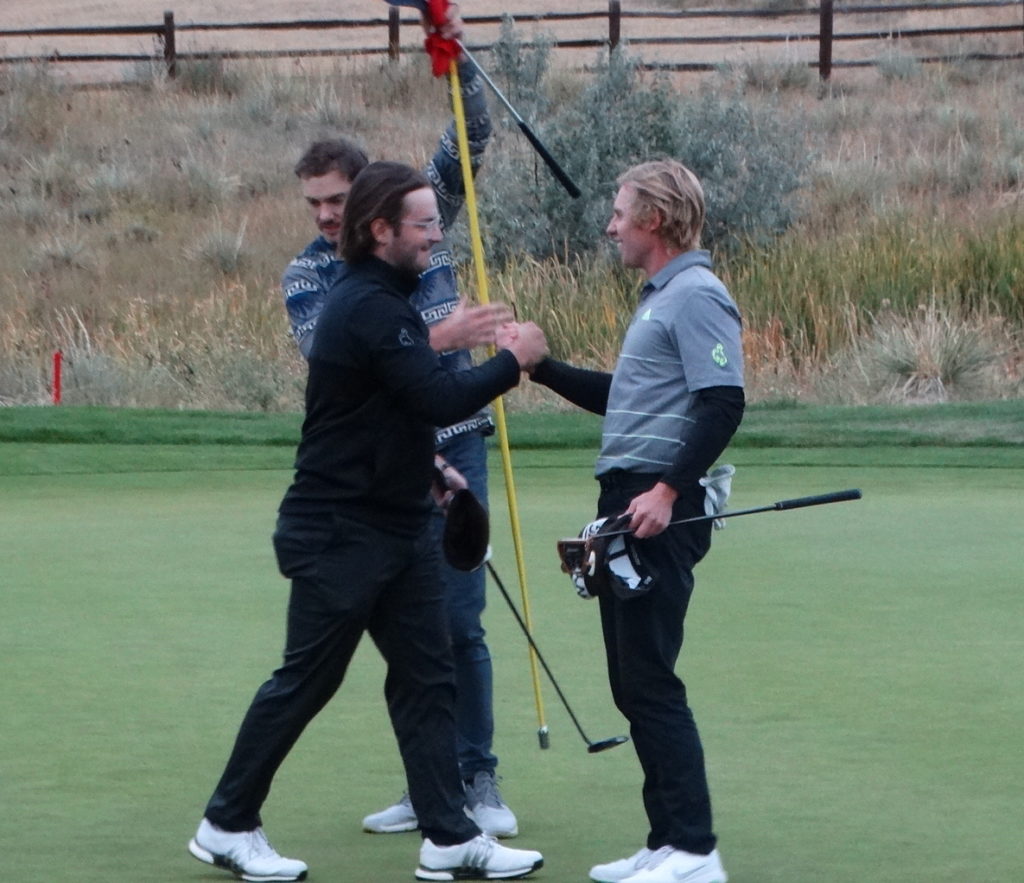 But Dales didn't fail the team with his birdie the second time playing the par-5 first hole in the playoff.
"I've never won a playoff before," the 19-year-old redshirt sophomore said after hammering his winning putt into the back of the hole. "I just looked at the back of the cup and hit it."
The top two finishers out of a field that originally numbered 55 teams will be headed to the 2020 U.S. Amateur Four-Ball, which will be held May 23-27 at Philadelphia Cricket Club.
Thomas — who qualified for the 2012 U.S. Amateur Public Links Championship and finished second in the 2010 CGA Publinks — and Browder actually started their round with a best-ball bogey, which is never a good thing in this format. But Thomas, 31, chalked up five birdies over the next 12 holes, with Browder making two during that run (one on top of Thomas). 
Then Browder took over down the stretch, making an 8-foot birdie on 15 and a 30-footer on 16 after Thomas had hit into penalty area off the tee on the par-3. Then the Montrose resident smacked a 3-wood from 268 yards to 6 feet and made eagle on No. 17.
After Thomas was in an iffy position with his second shot on 17, "I was debating going for it," Browder said. "Sean was like, 'Go for it.' I'm glad he said that. … It was a fairly easy eagle, which was nice because we could use one. I'm glad Sean told me to go for it because I was going to bail out."
After a par on the last, the bottom line was a 63, which drew plenty of praise from fellow competitors given the conditions.
"Last year we made three birdies combined (in the Four-Ball qualifying) and we missed it by a bunch (five strokes)," Thomas noted. On Tuesday, after the first-hole bogey, "We just had to keep our pedal to the metal, hit good wedges and make some putts. A few holes in a row on the front nine I hit it pretty close, then he hit some close. We just really ham-and-egged it well."
And, as Browder noted with a laugh, "It's a lot more fun playing with (Thomas) than against him."
It will be the first USGA championship for the 33-year-old Browder, who, like Thomas, tied for 10th place at the 2018 CGA Mid-Amateur.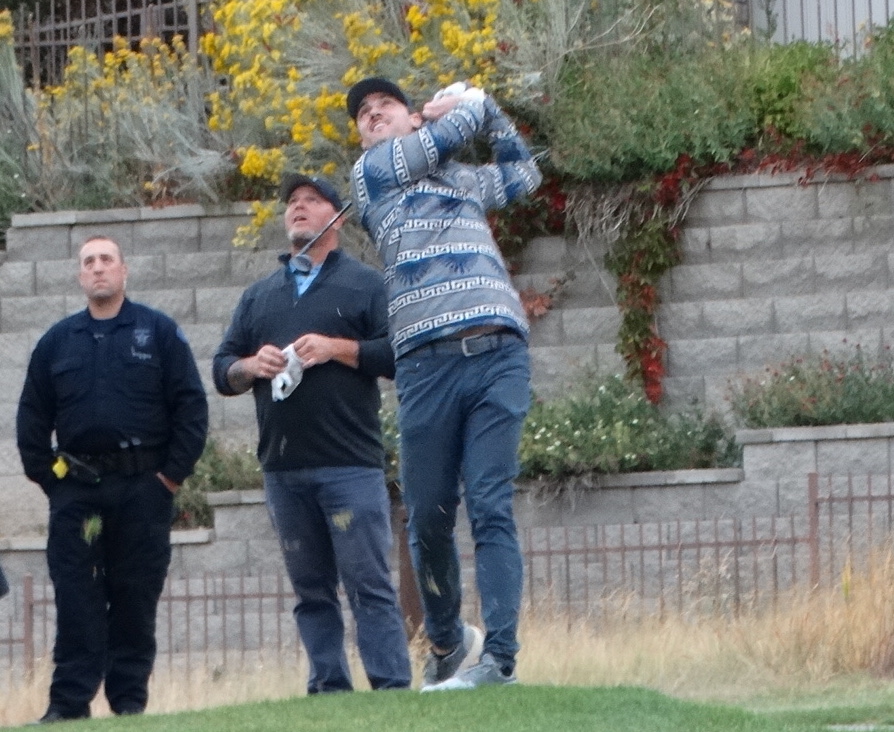 As for the second qualifiers, Dales made a 3-foot birdie on his and Starzinski's final hole of regulation to shoot their 64. And  Nosewicz, who went to the round of 32 at the U.S. Mid-Amateur at Colorado Golf Club last month, birdied his last two in regulation to help him and Richmeier match that 64 and force a playoff.
After both teams made pars on the first extra hole, Dales hit a 3-wood just over the green for the second time in the playoff. But this time, he got up and down for birdie to end the proceedings.
"I told Jimmy before we teed off (for the round), 'I think the best think we could do today is have two birdie putts on every hole,'" said Starzinski, who won the 2018 CSU Ram Masters Invitational in Fort Collins by seven strokes. "And we pretty much did that every single time — and not like outrageous birdie putts. We hit the ball pretty well and had a lot of very makeable putts.
"We didn't leave anything out there. We made a lot of mid-range putts and hit a lot of good shots. To be honest, we had a really good vibe out there. We had a pretty good ham-and-egg situation. He would make par to free me up to make birdie and when I made par it freed him up to make birdie. I felt like we executed really well."
It will be the first USGA championship for the 23-year-old Starzinski and the second for Dales, who advanced to the 2016 U.S. Junior Amateur.
During regulation, Dales chalked up five birdies on Tuesday, while Starzinski matched that total.
"I thought this course was pretty tricky," Dales said. "Yesterday (during a practice round) we were both kind of like, 'Man, how are we going to get this to go low?' With some of the tee shots, it can get away from you pretty fast. But today, a lot of the time one of us would make a 5-footer for par. We just never missed those. It made it easier to go at mid-range putts knowing we had pars locked up."
Starzinski and Dales have competed together plenty of times during University of Wyoming practices, but Tuesday had a slightly different feel.
"We're always having two-man team events, so it wasn't anything new," Starzinski said. "If anything it was a little more fun because it actually mattered because we were playing for something rather than playing to beat our teammates. I think it made us play better.
"It'll be really fun (to compete in a national championship). It's a great honor, but more than anything it'll be fun to go with Jimmy — a buddy and a teammate — and have a blast with it."

U.S. Amateur Four-Ball Qualifying
At Par-72 Saddle Rock GC in Aurora
ADVANCE TO NATIONAL CHAMPIONSHIP
Sean Thomas, Castle Rock/Jason Browder, Montrose 63
Jimmy Dales, Northville, Mich./Dan Starzinski, Phoenix 64
ALTERNATES
Nick Nosewicz, Aurora/Brian Richmeier, Aurora 64
Ryan Blechle, Arvada/Casey Spiess, Cincinnati 66
For all the scores from Saddle Rock, CLICK HERE.