6 full- or part-time Coloradans — Houtsma, Smith, Besant, Hardy, Moore and Roh — qualify at Thorncreek for U.S. Women's Mid-Amateur
By Gary Baines – 08/01/2019
Susie Roh of Denver hit a 5-iron from 195 yards to 3 feet from the cup and sank the birdie putt on the second hole of a playoff to earn the final available spot in the U.S. Women's Mid-Amateur and cap a noteworthy day Thursday at Thorncreek Golf Course in Thornton.
Among the six qualifiers — all full- or part-time residents of Colorado — for the national championship for female players 25 and older were:
— A co-medalist who is a former pro who regained her amateur status in October and qualified for her first USGA championship in 17 years (Erin Houtsma of Denver).
— A woman who made it to the semifinals of the first U.S. Women's Mid-Amateur ever played, in 1987 (Marilyn Hardy of Gunnison).
— A player who qualified for her 30th USGA championship on Thursday (Janet Moore of Centennial), including 17 Women's Mid-Ams, with a dozen in a row.
— A golfer who has gone 13 years since her last USGA championship — one played in Colorado: the 2006 U.S. Women's Public Links at Walking Stick in Pueblo (Jessica Smith of Grand Junction).
— Two former playing professionals (Houtsma and Roh).
— Two players who also qualified in Colorado last week for the U.S. Senior Women's Amateur, giving them two USGA championships within three weeks in the late summer (Moore and Hardy).
The U.S. Women's Mid-Amateur is set for Forest Highlands Golf Club in Flagstaff, Ariz., from Sept. 14-19.
— Age-wise, two players in their 30s (Smith and Houtsma), two in their 40s (Roh and Allison Besant of Broomfield) and two in their 50s (Moore and Hardy, who advanced to the match play round of 32 at last year's Women's Mid-Am).
— One former Colorado Women's Open champion (Houstma, the 2005 winner).
— A player whose husband once played in a U.S. Mid-Amateur at Forest Highlands GC (Moore, spouse of fellow Colorado Golf Hall of Famer Kent Moore).
All told, the six players who qualified out of the 19-woman field on Thursday were Houtsma and Smith, who shared medalist honors at 3-over-par 75; Hardy and Besant (77); Moore (78); and Roh (79). (The top five are pictured at top, from left: Besant, Houtsma, Smith, Hardy and Moore. Roh is seen below.)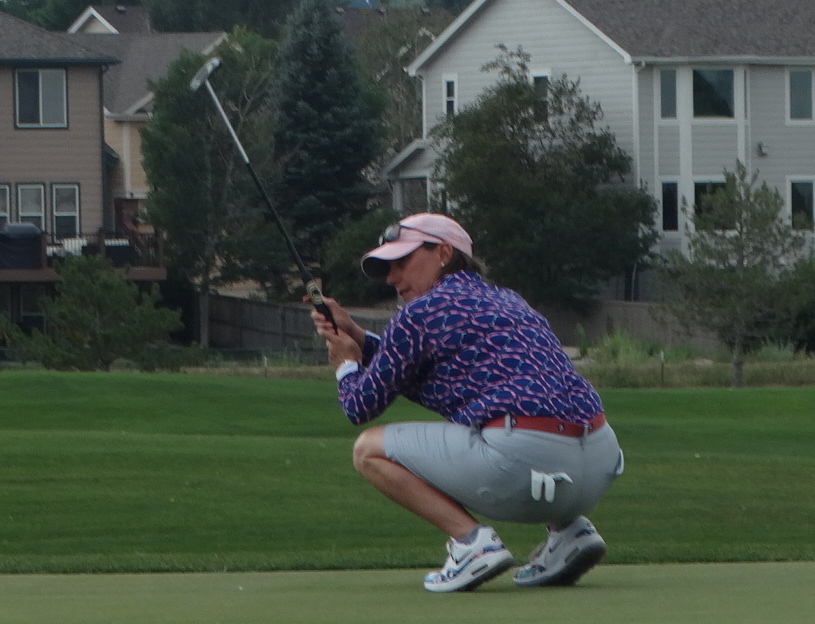 Roh was one of three players who shot 79 and had to play off for the sixth and final national berth. Jennifer Cassell of Denver hit her approach over the first green and made a double bogey to end up with the second alternate spot. Roh sank a 20-foot par putt and Tiffany Maurycy of Denver a 6-foot par to play on.
On the par-4 second extra hole, Roh hit the aforementioned 5-iron from 195 yards that rolled up a mere 3 feet from the cup. The 45-year-year-old drained that birdie to qualify after Maurycy failed to get up and down, made bogey and landed the first alternate position.
The result is that Hardy has qualified for more than 20 U.S. Women's Mid-Ams, while Moore has managed 17. Roh will be going to her fourth, and Houtsma, Smith and Besant each to her first.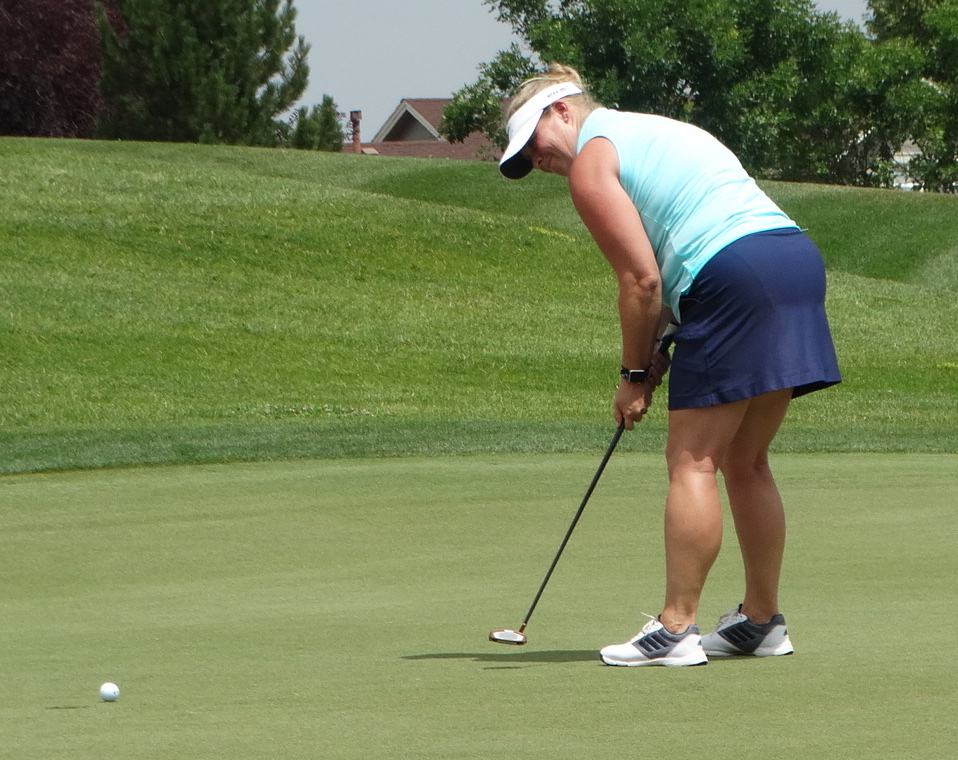 Houtsma's dad, Steve Kerr, was caddying for his daughter on Thursday and noted that he had been wearing a Forest Highlands visor leading up to the qualifier — and again on Thursday — as motivation for Erin.
"This one I've been preparing for a really long time," Houtsma said of the event at Thorncreek. "I have a lot of friends from Arizona who are at Forest Highlands in the summertime. Forest Highlands has been on my radar for a really long time, and it's been the goal since I got my amateur status back."
Making it particularly special — besides it being her first Mid-Amateur since regaining her amateur status — is that Houtsma has plenty of close ties to Arizona. She was born in Colorado, but moved to Arizona in 1991 and attended middle school and high school there before becoming a University of Colorado golfer, marrying a Coloradan and now raising a family in the Centennial state.
This will be her first USGA championship since competing in three straight U.S. Women's Amateurs from 2000 through '02.
"They're always so special," Houtsma said. "Just to play for a national championship, it's important and it means something. Golf has always been a part of my life. That's the closest you can get to winning a major if you're an amateur golfer."
Houtsma, who made two birdies on Thursday, has been getting reaccustomed to amateur golf after playing just a couple of events each year as a pro in recent years. Over the weekend, she placed second to University of Denver golfer Mary Weinstein in the Denver Women's City Amateur.
"Getting my amateur status back, I've played more in the last two months than I had in the last two years," the 39-year-old said. "In tournament golf, it took me a second to get my footing. I posted a really shocking score the second round of the Colorado Women's Open (89) and I thought it had the potential to be a very long summer. But I got my rhythm back in the (CGA Women's Stroke Play) a few weeks later. I've hit my stride and played really well this summer."
Smith, a one-time girls state high school runner-up who qualified for the 2006 U.S. Women's Amateur Public Links in Pueblo, didn't play any competitive golf for more than a decade, but is now dipping her toes back into the water, having also played in the 2019 CoBank Colorado Women's Open.
"It's been a long time," the 33-year-old said. "It means a lot (to qualify), but I'm just glad to be back out here.
"In the last year I've actually played a lot better golf than I even did in college (at Grand Canyon University). It's been fun. And it's always your dream as a golfer to get out there and play in a USGA event."
Hardy, 57, can attest to that, having competed in 40-plus USGA national championships. In recent year's she's been a fixture in the U.S. Senior Women's Open, Senior Amateur and Mid-Amateur.
Hardy has been to the quarterinals of the Senior Amateur and to the semis of the Mid-Amateur, and would love to make a deep run like those again.
"I'd like to get back so I don't have to qualify," she said, noting that all the quarterfinalists in those two events earn exemptions for the following year.
On the other end of the spectrum is Besant, who will experience being a USGA championship contestant for the first time at the Mid-Amateur.
"I kind of just can't believe it," the 49-year-old said of qualifying. "I'm very excited. I work for a living and just play golf for fun. This is awesome."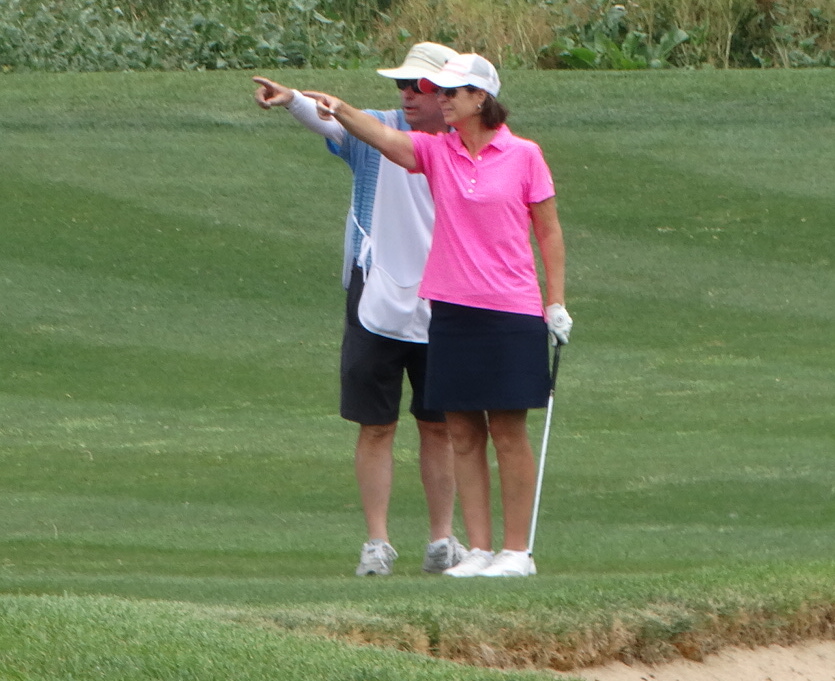 It's been a long time since Moore failed to qualify for the U.S. Women' Mid-Amateur, but when she posted her 78 on Thursday, she thought her streak might end.
"I'm very excited to go because I didn't think I would be because I played really poorly today," the recently-turned 55-year-old said after failing to make a birdie on Thursday. "It was a really frustrating day because I literally hit one shot the way I wanted to the whole day. (Husband and caddie) Kent said, 'That's one of the worst rounds I've ever seen you play.'
"It was just one of those days, so I feel very fortunate. I really didn't think I'd be going to the Mid-Am. I'm really excited I get to go."
Moore had an awkward lie for her second shot on the 18th hole Thursday and needed to get up and down for par to avoid a playoff, which she did.
The Mid-Amateur will be USGA championship No. 30 for the Colorado Golf Hall of Famer, which is no small feat.
 "Thirty is kind of fun," she said. "I remember 20; it was at a Mid-Am in Louisiana. Just by chance I was the first group off and it was so much fun. Who knows what will happen for the 30th? Hopefully I'll actually play well."
Roh, who competed professionally on mini tours from 1996 to 2001, plays little tournament golf these days, but savors that she does get. This will be her sixth USGA championship overall, having also played in the U.S. Girls' Junior and the Women's Public Links early in her life.
"It's really fun" to return to the U.S. Mid-Am, she said, noting that Thursday marked her first competitive round of 2019. "This is something I get to do with my family and my friends. I don't get to play as much as I want, so I love getting the opportunity to play.
"It's so great (at USGA championships). You get to be like a kid again. They treat you like you're a top athlete. It's really fun, such a great experience."

U.S. Women's Mid-Amateur Qualifying
At Par-72 Thorncreek GC in Thornton
ADVANCE TO NATIONAL CHAMPIONSHIP
Jessica Smith, Grand Junction 75
Erin Houtsma, Denver 75
Allison Besant, Broomfield 77
Marilyn Hardy, Gunnison 77
Janet Moore, Centennial 78
Susie Roh, Denver 79
ALTERNATES (In Order)
Tiffany Maurycy, Denver 79
Jennifer Cassell, Denver 79
For all the scores from Thursday, CLICK HERE.