Coloradans Janet Moore and Sherry Andonian-Smith qualify again for U.S. Senior Women's Open, while Californian Corey Weworski advances to her first
By Gary Baines – 7/12/2021
When the U.S. Senior Women's Open debuted in 2018, Coloradans Janet Moore and Sherry Andonian-Smith were paired together in the qualifying tournament at CommonGround Golf Course — and they both landed spots in the national championship.
So when the pairings came out for the 2021 qualifying for the Senior Women's Open, the two were understandably pleased to see they were again placed in the same threesome — this time at City Park Golf Course in Denver on Monday.
And, sure enough, the good mojo worked again as both players qualified for the third Senior Women's Open, set for July 29-Aug. 1 at Brooklawn Country Club in Fairfield, Conn.
"When we saw we were playing together today, we were both really excited," Moore said on Monday. "We enjoy playing together and we're good friends."
Moore and Andonian-Smith, who both live in Centennial, will be joined at the 2021 Senior Women's Open by Corey Weworski of Carlsbad, Calif., the 2004 U.S. Women's Mid-Amateur champion. It will be the third USSWO for Andonian-Smith, a PGA instructor at Valley Country Club; the second for Moore, a Colorado Golf Hall of Famer who has won 23 CGA/CWGA championships; and the first for Weworski, who like Moore is a lifelong amateur.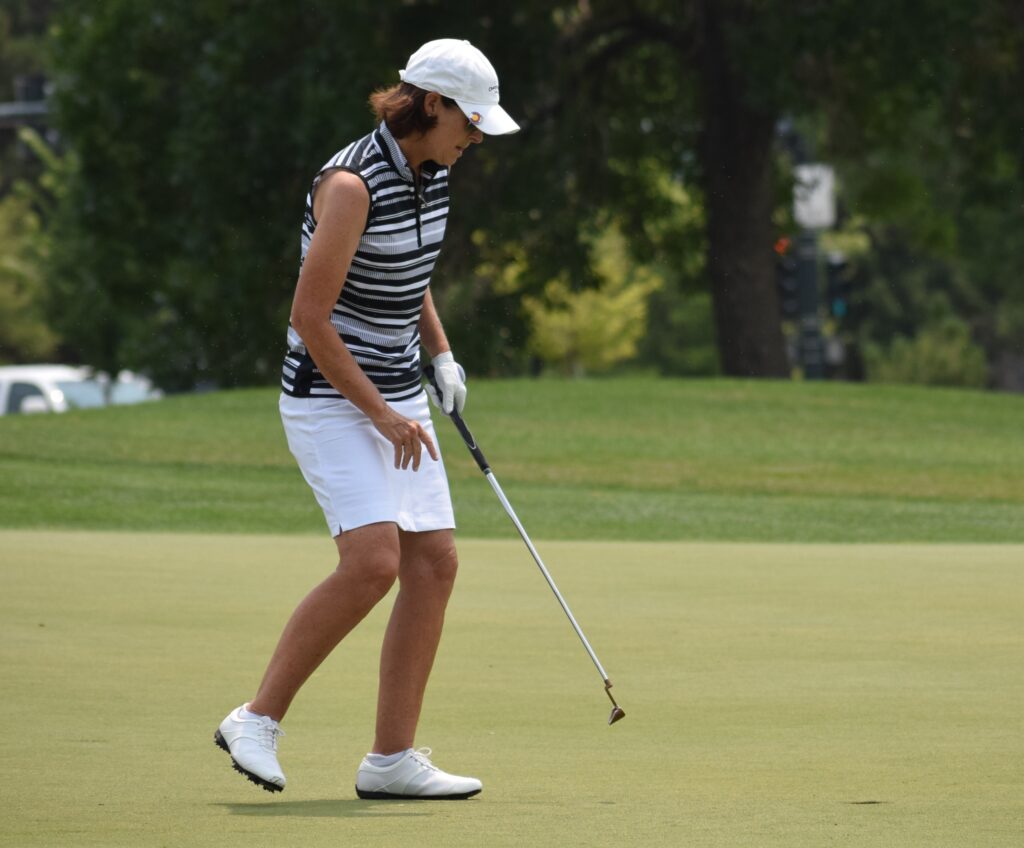 Moore birdied her last two holes on Monday to grab medalist honors with an even-par 70, while Andonian-Smith posted a 71. Weworski gained the third and final national berth by shooting a 72 and then defeating professional Debbie Zamprelli, a golf instructor at The Broadmoor, on the second hole of a sudden-death playoff.
After sinking an 8-foot par putt on the first extra hole to extend the playoff, Weworski two-putted for a par on the par-3 second hole to beat Zamprelli, who three-putted No. 2, missing a 7-foot par attempt.
Moore, 56, has long been aiming for the opportunity to return to the U.S. Senior Women's Open.
"Ever since they started (this championship), it's been my goal to play in it," said Moore, who will be competing in her 31st USGA championship. "To play in a Senior Open for me, especially at my age, is the ultimate. That's my goal when I start out at the beginning of the year.
"I have a little pin that they gave me of the trophy at the first Senior Open. And I literally keep it on my dresser so it reminds me every day when I don't want to work out and when I don't want to practice that I need to do that. So this is kind of what I shoot for every year, so I'm very excited. … But right now I'm in a little disbelief that I made it into the tournament."
In fact, Moore put in extra work leading into this season — on her game and her fitness — after spending time with a couple of USGA champions (Ellen Port and Lara Tennant) and Kris Franklin, the CGA Women's Senior Player of the Year each of the past three years.
"I see how dedicated all three of them are to their game and how hard they practice and how seriously they take it. That was a huge motivator for me this spring," Moore said, "(I thought) 'Janet, you better step up your game if you want to compete at the level I want to compete at.' So I've tried to practice more and get in better shape and focus a little more on my golf game."
On Monday, after making a 6-foot birdie on No. 10, Moore birdied her last two holes of the day, draining putts of 15 and 2 1/2 feet, respectively. That gave her three birdies to offset three bogeys.
"I wasn't hitting it very well today," she said. "I had to work really hard. I tried to stay really patient and joyful and enjoy the process. And it worked. And (husband Kent, a fellow Colorado Golf Hall of Famer) is such a great caddie and he keeps me calm and he reads the greens well. He just keeps me in it. There's just no way I would have qualified without him — no way."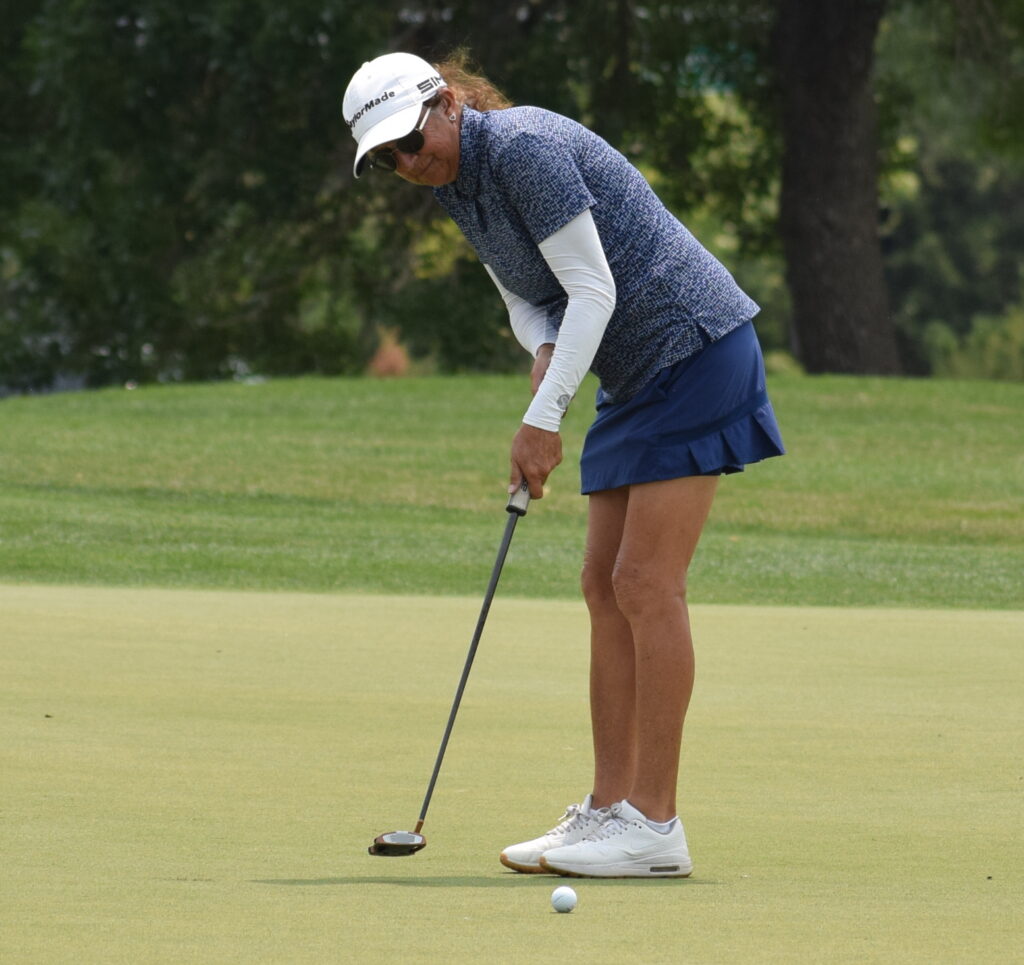 Meanwhile, Andonian-Smith kept her record intact of having qualified for every U.S. Senior Women's Open, now at 3-for-3.
"This is a big one for me," said Andonian-Smith, the Colorado PGA's Women's Player of the Year each of the past three years. "I didn't sleep last night. And when I don't sleep, I know they're big."
Andonian-Smith hit 16 greens in regulation on Monday and finished with two birdies and three bogeys.
"My driver was awesome," the 58-year-old said. "It was amazing until the last hole. I got my power back. I thought at my age maybe it was gone."
All in all, her game showed a marked improvement at City Park after being in a slump.
"It's pretty incredible," she said. "This year has been quite a struggle because I've hit the ball terrible. I know my friends would say you still shoot 75, but it hasn't been good. But today I hit 16 greens. I watched my son (Nicholas, 24) swing last week and saw the tempo. It came down to tempo — slowing down. So I'm very, very happy because it had not been great."
Andonian-Smith, a longtime PGA professional, will be headed to her seventh USGA championship, with four coming an an amateur; twice she's qualified for the U.S. Women's Amateur and twice for the U.S. Women's Amateur Public Links.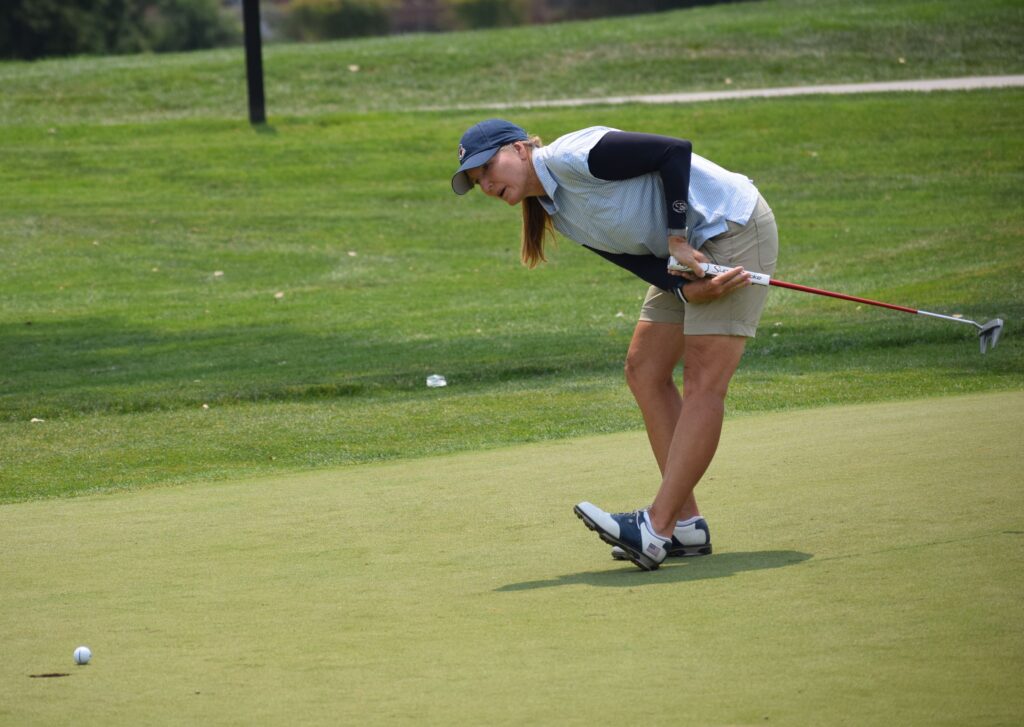 Weworski, 59, has competed in so many USGA championships that she's lost count how many. "It's got to be in the 40s, 50s, 60s," she said. But this will be her first U.S. Senior Women's Open, so that sets this one apart.
"I'm excited," she said. "Just to be on the hallowed grounds (with some of the top women's players of yesteryear) … I hope I do OK. I have some friends who have qualified and they say it's such a great experience. I'm just going to play golf and have fun and watch (the outstanding competitors)."
One of those well-known players expected to tee it up at the Senior Women's Open is 1988 U.S. Women's Open champion Liselotte Neumann, a part-time Aspen-area resident who was following Weworski in the playoff on Monday after caddying for longtime friend Evelyn Orley. The three are all residents of the San Diego area and have played in a pro-am tournament together.
Previously, Weworski has attempted to qualify for the Senior Women's Open in California, but since she had no luck there in 2018 and '19, she decided to give Colorado a go.
"This setup (at City Park) was perfect for me," she said. "I never hit a driver the whole day — I hit my 3-wood right down the middle. I hit 16 greens but had two three-putts."
Weworski finished the day with two birdies and four bogeys.

U.S. Senior Women's Open Qualifying
At Par-70 City Park GC in Denver
(a-indicates amateur)
ADVANCE TO NATIONAL CHAMPIONSHIP
a-Janet Moore, Centennial 70
Sherry Andonian-Smith, Centennial 71
a-Corey Weworski, Carlsbad, Calif. 72 (won playoff)
ALTERNATES (In Order)
Debbie Zamprelli, Colorado Springs 72
a-Marilyn Hardy, Gunnison 73
For all the scores from Columbine, CLICK HERE.