TJ Shehee, 20, and Sean Crowley, 50, qualify at Columbine CC for U.S. Amateur that Oakmont will host; it will be Crowley's third USGA championship of 2021
By Gary Baines – 7/12/2021
The day of competitive golf lasted basically from dawn to dusk on Monday at Columbine Country Club, with just two players out of a starting field of 77 walking away with coveted tickets to the U.S. Amateur at Oakmont Country Club, home to one of the most storied golf courses in the world.
One of the fortunate two is a Coloradan who plays college golf in his home state. The other is a 50-year-old who will be competing in his third USGA championship of 2021 after never having qualified for one before.
TJ Shehee of Mead, who plays on the University of Northern Colorado golf team, earned medalist honors on the 36-hole day, going 71-67 for a 6-under-par 138 total. Meanwhile, 50-year-old Sean Crowley of Columbine Valley, playing his home course, needed a three-hole playoff on top of the 36 holes of regulation to advance. He parred all three holes of sudden death, with a 6-foot par on the par-5 12th punching his ticket to the U.S. Amateur.
Both Shehee and Crowley will be making their U.S. Am debuts Aug. 9-15 at Oakmont (Pa.) CC , which has hosted a record nine U.S. Opens.
"That means the world to me" to compete at a place like Oakmont, said Shehee, whose parents Tray and Terra are both PGA professionals. "I'm a golf fanatic so anything like that, it would be an honor to go and play there."
It will be the second USGA championship for Shehee, a 20-year-old who qualified for the U.S. Junior Amateur four years ago.
"It means so much to me," Shehee said. "This is my biggest (golf) accomplishment. I've done a lot of hard work my whole life and especially this last year. I've kind of struggled this last year on and off the golf course, but I've got a really good support system."
Besides his parents, that includes three-time PGA Tour winner Gary Hallberg, who has allowed Shehee to tag along with him on occasion at Boulder Country Club and learn some things about competing at a high level.
"He helped me out a lot and gave me confidence in myself," Shehee said of Hallberg. "I can't thank him enough for that."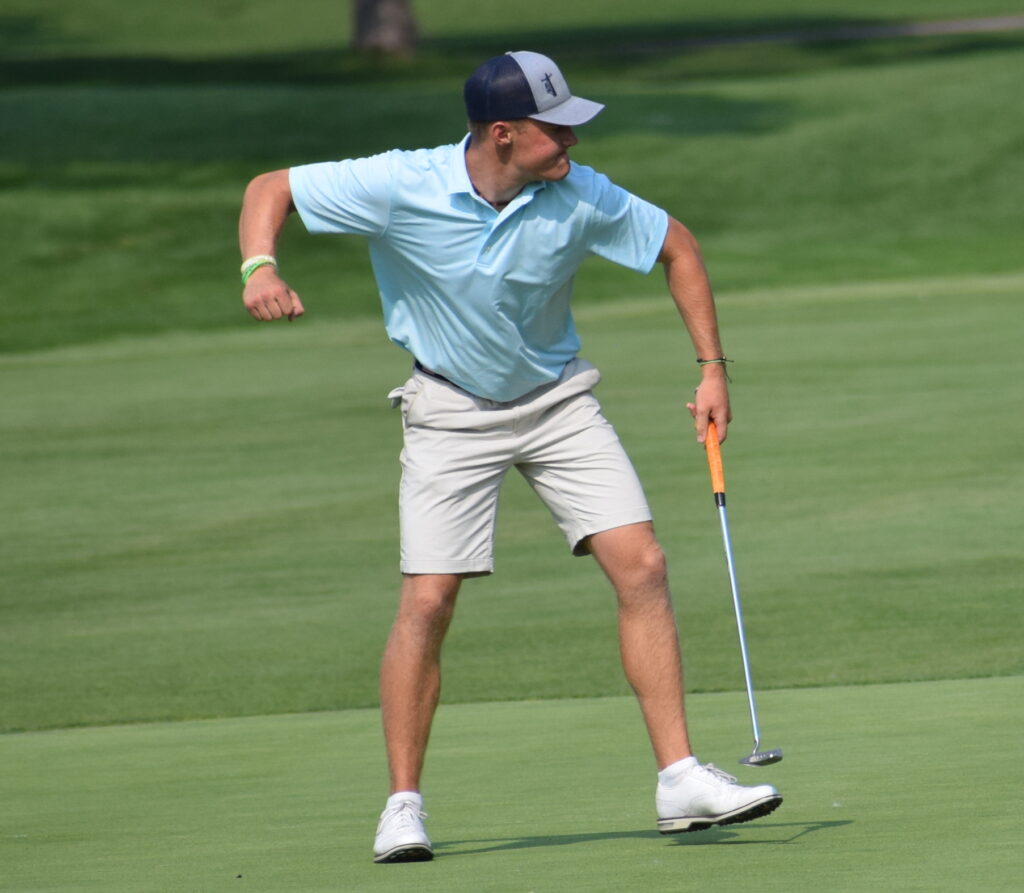 Meanwhile, Crowley will make the U.S. Am his third USGA championship of 2021. He competed in the U.S. Amateur Four-Ball — with Aaron Irving — in late May. Then he played in the U.S. Senior Open last week in Omaha, missing the cut on Friday. And now the U.S. Am is on the horizon.
"It's been a hot year," Crowley said. "It's honestly getting over the hurdle in your mind that you can do it. Once you start playing in some of these events, you know what it feels like to be under the gun. You start to kind of feel the adrenaline. When I came out here today, I knew I could go deep on this golf course because this is my home course. I just tried to manage my game and hit it into the middle of the greens. I know all the breaks, so I'm not nervous over any putt.
"It's really getting into the moment and knowing how your body reacts."
Crowley, who finished at 3-under 141 (70-71) can thank a stellar stretch of golf in the mid-afternoon for getting him in position to qualify. He was 2 over par for his afternoon round and even-par for the day after 27 holes.
"I told my caddie, 'We've got to do something,'" Crowley recounted. "I went 3 (birdie on No. 1), 3 (eagle on No. 2), 3 (par on No. 3) and 3 (birdie on No. 4). I'm usually happy if I'm even par after the first four holes here — and I was 4 under this time."
Crowley ended up one of four players who finished 36 holes at 141, along with three-time CGA Mid-Amateur champion Chris Thayer of Golden, Blake Trimble of Denver and Easton Paxton of Riverton, Wyo., a North Carolina State golfer.
After Thayer exited on the first extra hole — with a three-putt bogey on No. 10 — and Paxton departed with a bogey on No. 11 after pulling his tee shot into the left trees, it came down to Crowley and Trimble, both members at Columbine.
Though Trimble made a nice recovery after having tree issues with his second shot on No. 12, his third from the fairway not far from the green went over the putting surface. Then his chip ended up on the fringe and he two-putted for bogey. Crowley, whose approach had bounded over the green, pitched to 6 feet and drained the par putt to win the playoff.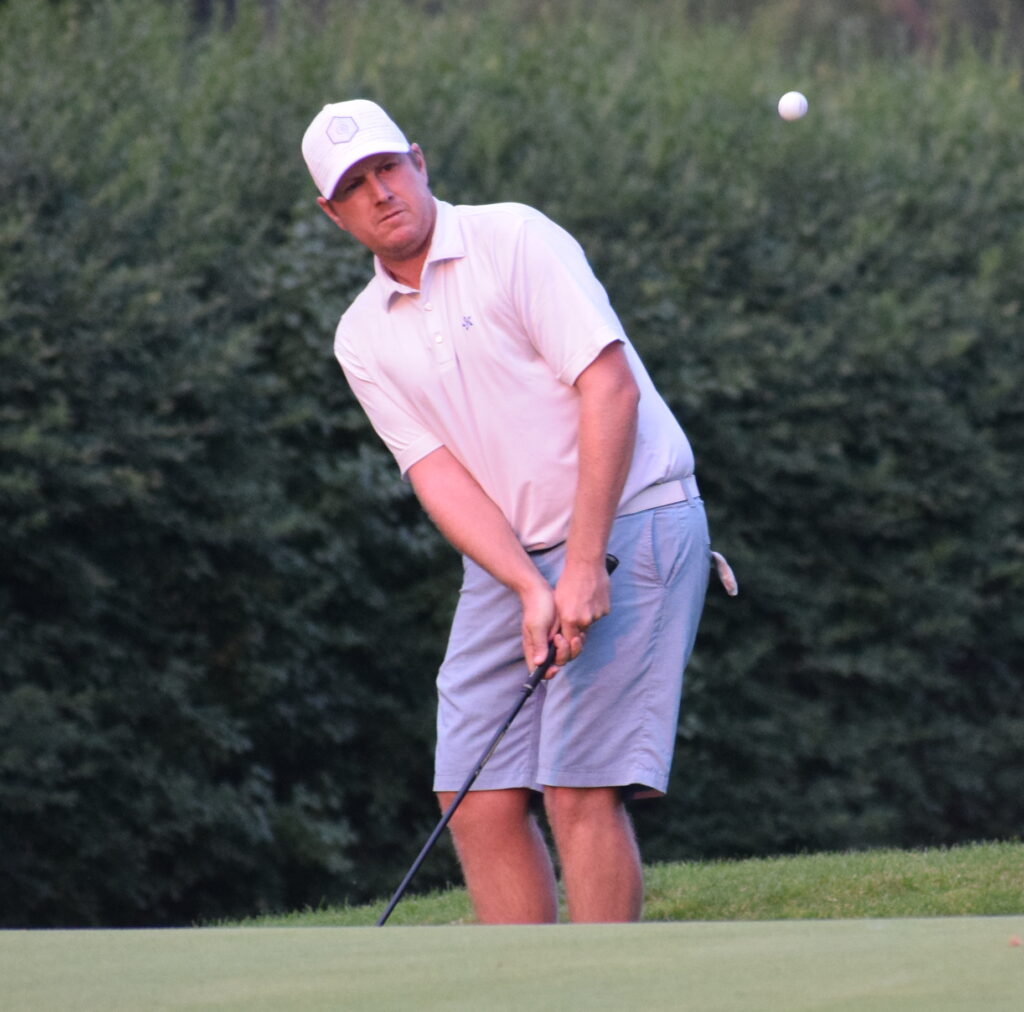 Little wonder why, but numerous Columbine members watched the playoff with two of their own involved. For his part, Crowley has been a member of the club for 15 years.
"It's exciting," Crowley said of qualifying. "The Senior Open was something special, but I kind of feel like it's a once-in-a-lifetime event. I was pretty disappointed in my play, to be honest with you. I felt like that was a golf course I could really score on, but I didn't come through.
"To come here to play today — and to come through — really feels good, because I know I have it in me. It's just (a matter of) doing it."
Shehee credited his caddie on Monday, good friend and University of Denver golfer Connor Jones, for helping him pull through for medalist honors.
"I had a great caddie today," Shehee said. "He helped me out so much. (In the first round), I missed the fourth green way left and then I went under my chip. I was so frustrated. He said, 'Don't hit that next chip until the other guys have hit, and calm yourself down.' So I waited, then I chipped that one in for par.
"It was a huge game-changer for me. I drove it on the green on 6 and made eagle (from 20 feet). (Then late in the day), I played my last nine in 4 under. I played really clutch coming down the stretch." For the last 11 holes of the day, Shehee went 5 under par.
Shehee, by the way, plans to return the favor by caddying for Jones when the latter tries to qualify for the U.S. Amateur on July 19 at Fort Collins Country Club. Two more national berths will be up for grabs at that site.

U.S. Amateur Qualifying
At Par-72 Columbine CC in Columbine Valley
ADVANCE TO THE NATIONAL CHAMPIONSHIP
TJ Shehee, Mead 71-67–138
Sean Crowley, Columbine Valley 70-71—141
ALTERNATES (In Order)
Blake Trimble, Denver 71-70–141
Easton Paxton, Riverton, Wyo. 66-75—141
For all the scores from Columbine, CLICK HERE.