Zahkai Brown fires 60 and shares lead with amateur Cal McCoy going into final round of Rocky Mountain Open; Nick Mason 1 back after 61, along with ex-Buff Yannik Paul
By Gary Baines – 8/22/2020
Several Coloradans took this "moving day" thing seriously on Saturday at the 82nd Sinclair Rocky Mountain Open in Grand Junction.
Let's count the ways:
— Zahkai Brown of Golden, winner of the 2013 CoBank Colorado Open, matched the course record at Tiara Rado Golf Course with an 11-under-par 60. Previously posting 60s at Tiara Rado in the RMO were Sam Saunders (2019) and Brandon Bingaman (2018).
— Brown was one of four players — three of them Coloradans — who carded scores of 63 or better in round 2 of the 54-hole event. Nick Mason of Parker, the 2016 RMO champ, shot a 61, and amateur Cal McCoy of Highlands Ranch and Canadian Blair Hamilton recorded 63s.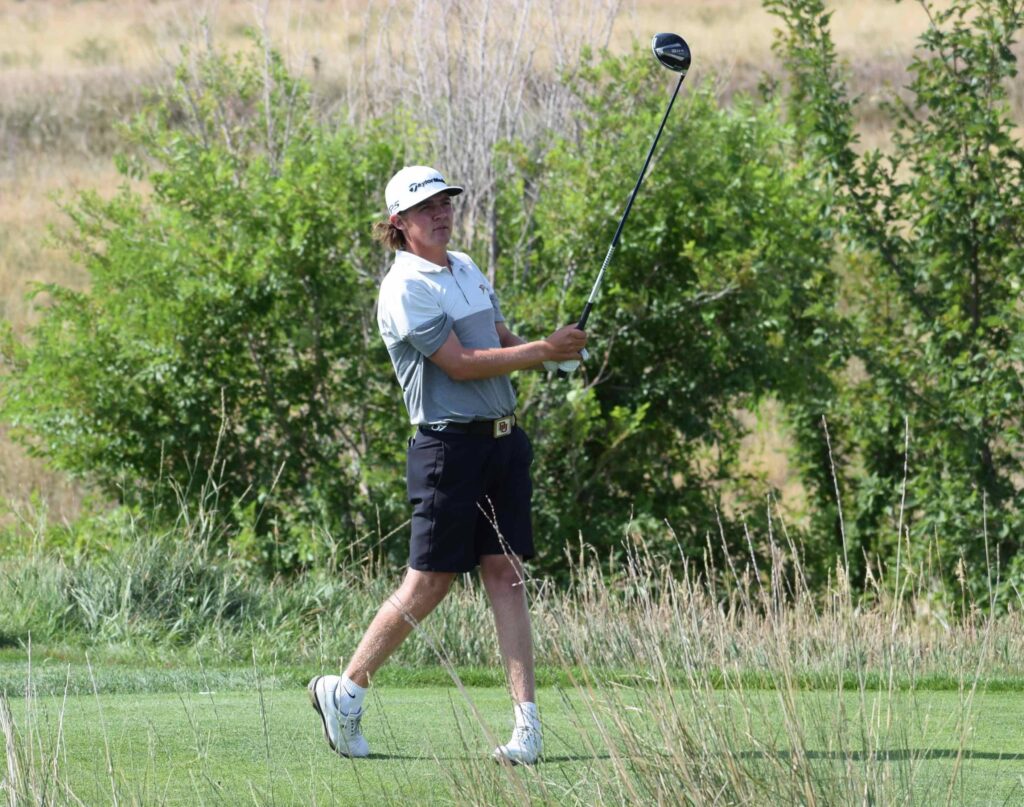 — McCoy, a University of Denver golfer, is a serious threat to become the first amateur since Paul Brown in 1987 to win the RMO overall title as he shares the lead going into Sunday's final round.
— Speaking of which, in the last decade, more out-of-state players than Coloradans have won the Rocky Mountain Open, but this year the Centennial State contingent has a better chance than most, given the way the leaderboard stood after Saturday's second round.
McCoy, who finished third in the CGA Amateur earlier this month, and Brown share the lead at 14-under-par 128. Mason is tied for third place at 129 with former University of Colorado golfer Yannik Paul, who recently won the Arizona Open. Also in the top five is amateur Kyle Pearson of Highlands Ranch, the Colorado Mesa University golfer who won the CGA Western Chapter Championship at Tiara Rado this month. Pearson stands at 130.
Pearson fired a 65 on Saturday, while Paul had a 64. Very good rounds, but nowhere near the best of the day.
Brown posted 11 birdies in his bogey-free day, including an astonishing eight straight in the middle of his round — holes 13 through 18 and 1 and 2 as he started on the back nine. He shot a 6-under 29 for his first nine holes.
McCoy, meanwhile, chalked up nine birdies and a bogey for his 63. He had runs of four and three straight birdies during his round.
For his 61, Mason carded an eagle, nine birdies and a bogey. For his part, Paul recorded nine birdies and two bogeys.
Overall, a dozen players stand anywhere from 9 to 14 under par going into Sunday's final round.
Meanwhile, in the senior amateur division, Gary Carpenter of Las Vegas leads by two with a 3-over-par 145 total after a 74 on Saturday. Matt Hall of Grand Junction is second at 147.
For all the RMO scores, CLICK HERE.