Topgolf started the trend, and Colorado entrepreneurs have taken it seriously. This winter, the golf lounge is everywhere.
By Susan Fornoff
A foursome of 30-something, single-digit members of the CommonGround men's club searched all over Denver for a place to hone their games over the winter. They tried Trackman simulators at Topgolf, golf clubs and sports bars.
"We got sick of getting rusty and we wanted to train," says Ry Hawley. "But we wanted to have a lot of space in a place where we could hang out and play golf, or not. We wanted it to have a sense of community, with leagues and tournaments. We wanted to be able to have a drink and a bite to eat. And we wanted technology that was even more precise than Trackman."
In November, the foursome finally opened their own golf lounge, Stick & Feather, in the York Street Yards complex, which is fast becoming the golf capital of the state even though it doesn't have a golf course. The National Golf Foundation estimates that more than half the nation's 40 million golfers now play "nontraditional off-course forms of the game," surpassing the green-grass total. In Colorado alone, there are at least 30 options, ranging from a divey bar with nine putting greens out back to the upscale, date night possibilities of The Local Drive, to the golf-intense, raucous experience of X-Golf.
If you're one of those who find minigolf and Topgolf too frivolous for real golfers, there's a venue for you now where you can play 18 holes in less than half the time it takes on green grass. If you're a new golfer, there's a place for you to analyze every feature of your swing. And if you're a nongolfer, there's surely an option where you can enjoy hanging out with your golfing partner.
Some have great food (mmm, the pizza at the Walnut Room's Back Nine), some have no kitchen (but check out the Van De Velde and other golf-themed cocktails at South Broadway Country Club). Some have Trackman, others (Stick & Feather, X-Golf) their own technology. Some are kitschy and whimsical, others merely sports bars with a simulator bay or two, others full-fledged golf clubs like Optimum Golf and Tribe Golf offering memberships, lessons, leagues and tournaments.
Here's what we found on a little tour of Colorado winter golf destinations. To see a complete list of indoor facilities in Colorado, CLICK HERE.
Our server at Rino's Walnut Room turns out to be Tyler Miller, daughter of Broadmoor Director of Golf Russ Miller! She's not giving golf lessons on the Trackman simulators the owners installed in the Back Nine, where there used to be live music until the pandemic silenced that for the better part of a year. There's a rack of clubs here, and couches, and a selection of hundreds of bottled beers. At $50 an hour nights and weekends, it's doing well, the owners say, and the overhead is lower than that of a concert hall. On Mondays through Thursdays, you can book the simulators for just $30 an hour between 11 a.m. and 2 p.m. They fit the vibe of the Walnut Room, which is part sports bar, part restaurant and feels like a good hangout for grownups, golfers or not.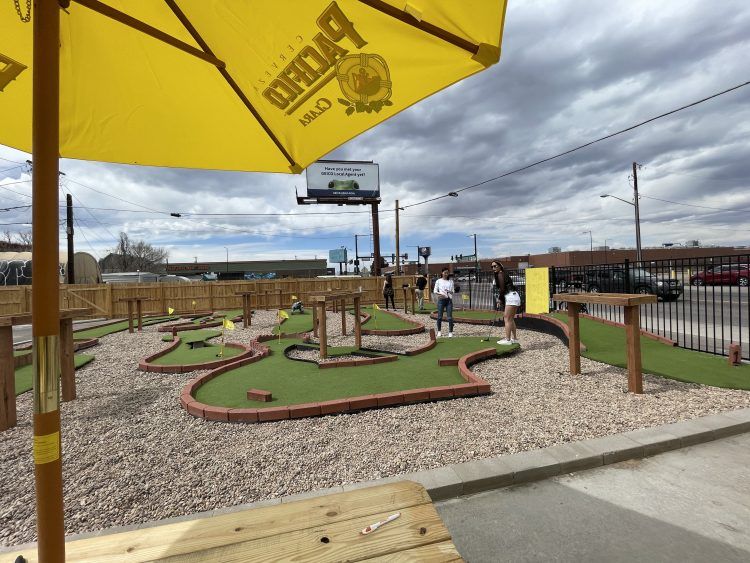 Across the tracks from the Walnut Room, we nearly missed this sunny spot, site of the old Rebel Kitchen, because the sign out front said "Hooligan's." Owners Josh Schmidtz and Matt Haberman snapped up the place in May because it had a parking lot, which has since been converted into nine holes of putt-putt golf with shelves for cocktails. A day of fun here costs $3, or you can buy a lifetime membership card for $10. It doesn't exactly fit the "indoor golf" label, but RiNo CC promises to shovel the greens and stay open year-round. What might otherwise seem like a dive bar feels so fun, so whimsical, with its inverted Masters logo and "course rules," we wouldn't leave it out. Plus, the burgers are getting raves.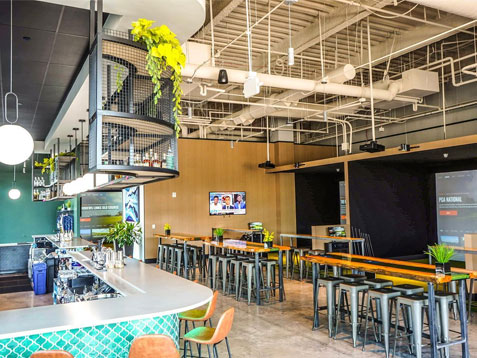 Our third stop in RiNo struck us as an ideal date night destination. The Local Drive's sexy, modern décor and striking artwork only added appeal to the five Trackmans, which included two in oversized bays of 16 feet by 9 feet. Indeed, we came across a couple from the Westminster area spending a sunny afternoon in one of the back bays, and another couple wandered in when we were leaving. "It's designed to be gender neutral," says co-owner Joe Lynch. "A lot of what you find elsewhere is on a smaller scale or more blue collar. My background is in the hotel and hospitality business, so that's the emphasis here, along with 'local.' At least 80 percent of our bar is Colorado product." Lynch has more locations in the works, including at least one more in Colorado. Bays are $60 an hour except during happy hours, from 8 to 10 p.m., when they're $45.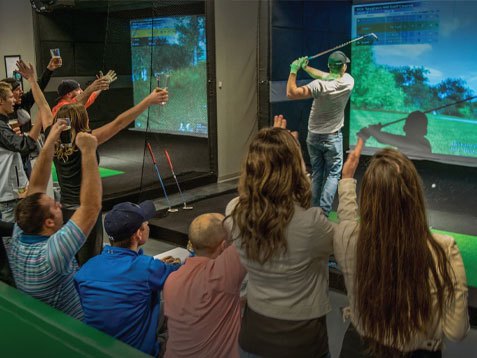 The Landmark location of X-Golf was rollicking when we walked in on a snow day. A foursome of avid golfers who had had a tee-time at South Suburban swung away in the first bay with the national franchise's proprietary simulators, which are so realistic that when one player hit a (simulated) tree, the ball ricocheted back at him (really). In another bay, a single player spent an hour trying out demo clubs he had brought along, but the rest were booked ($45/hour and up) by foursomes and sometimes sixsomes playing courses from all over the world. Nothing fancy here and not really for the nongolfer, with everyone drinking while playing but not eating or lingering. It's probably as close a feel to the vibe at your local muni course as you'll find under a roof.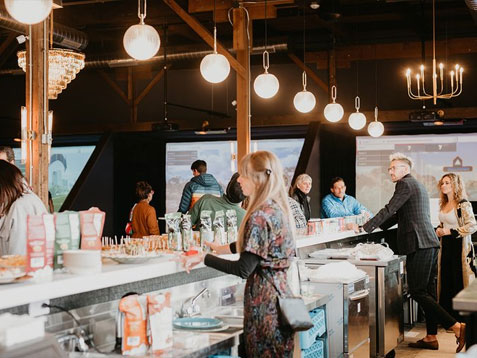 The single-digit golfer-owners wanted a place to work on their games with plenty of space and the most precise technology. They've done that in the York Street Yards with five extra-wide bays and a camera-based Korean system called Uneekor. High ceilings, a luminous bar and leather seating areas add a welcoming feel that the foursome sought. "We're very committed to golf being inclusionary," says Hawley. To that end, the club has CommonGround's Experience Golf coaches on site, with memberships and leagues soon to come. Green fees are $50 an hour on weekdays and $60 an hour on weekends.
Future stops
Stick & Feather was still waiting for liquor licenses at press time, so we would definitely check out their bar when they're up and running this year. Coming soon to Lowry, in a massive former military space, is the Hangar Club, which promises full-service hospitality, 10 simulator bays and a putting green that uses a technology called PuttView. And the golf capital of Colorado has one more golf lounge on the way, Puttshack, which begin in San Francisco as a yearly party challenging attendees to design minigolf holes and has evolved into a high-tech eating, drinking and putting installation soon to have a RiNo address.
Veteran journalist Susan Fornoff has written about golf for publications including the San Francisco Chronicle, ColoradoBiz magazine and her own GottaGoGolf.com. She became a CGA member when she moved from Oakland, CA, to Littleton in 2016, and ghost-writes as "Molly McMulligan," the CGA's on-course consultant on golf for fun.