New CGA president Gary Albrecht hopes to build on success of association and its CommonGround Golf Course
By Gary Baines – 1/10/2023
If a well-rounded background in golf and a deep love of the game are promising leadership traits, the CGA can very reasonably expect to continue to grow and flourish under its new president, with plenty of help from the rest of the volunteer board of directors, along with the association staff.
That's come to be the expectation for the CGA, and Gary Albrecht hopes to continue the trend as different times present their own unique challenges.
Albrecht, who is expected to serve a two-year term as president of the board (2023-24) after formally being elected last month, brings plenty to the leadership table in terms of background and experience:
— He's a devout golfer himself, as the numbers will certainly attest. He's averaged more than 190 rounds of golf over the past three years. "I play a lot of golf," Albrecht noted with a bit of understatement.
— While few golfers master the game, Albrecht is pretty darn good at it. He owns a plus 2.4 USGA handicap index, won the 2017 CGA Super-Senior Amateur, and has qualified for two U.S. Senior Amateurs. As a 60-something, he won the open-age club championship at CommonGround Golf Course in Aurora. And back in the early 1980s, he twice qualified for the world long-drive championship, and competed in the one held in conjunction with the 1982 PGA Championship at Southern Hills in Tulsa, Okla.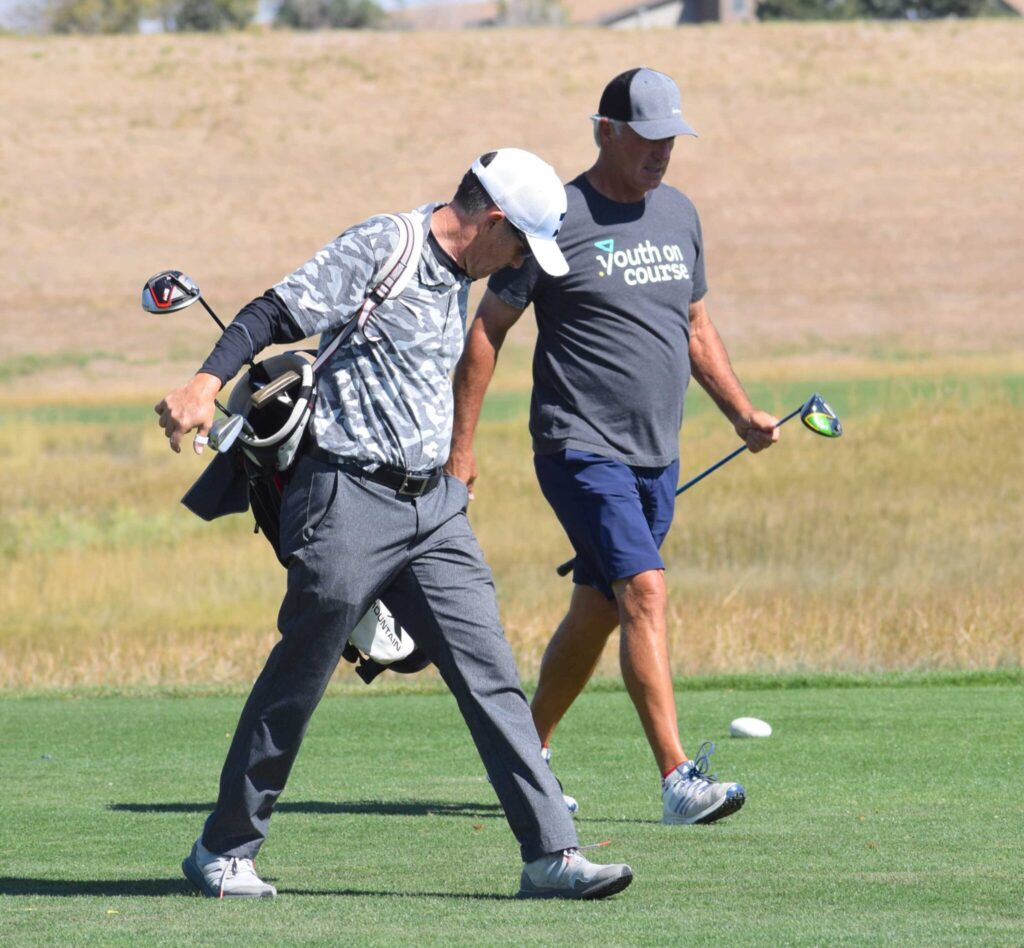 "Everyone had persimmon drivers and steel shafts and the long drive was 346 yards," Albrecht recalls. "It was really fun as a young guy — I think I was 26 years old at the time. I just liked to swing hard and try to find it."
— He learned the game from humble beginnings, originally getting into golf by hitting balls in a park in his small hometown of Jackson, Minn. — until those balls started to go "through the park into Mrs. Pribyl's yard," as Albrecht noted. He "graduated" to launching balls into a gravel pit near his house, then to an athletic field. And finally, it was out to the nine-hole municipal golf course, where the going rate for junior membership to play all summer was $11.
"We rode our bikes up to the golf course and we'd play barefoot with no shirts on and we would play 45 holes. It was so much fun," he said.
Albrecht went on to play a couple of years of golf at NCAA Division III St. John's University in central Minnesota, then focused his athletic attention on being a javelin thrower on the track team.
After moving to Colorado in the mid-1990s, Albrecht was a member at Lakewood Country Club (1995-97), Hiwan Golf Club (1998-2005) and Ballyneal (2013-18).
These days, while Albrecht and his girlfriend, Suzy Leprino, often play some of the best of the best in the way of golf courses — including Castle Pines Golf Club and The Vintage Club in Indian Wells, Calif., both where Leprino is a member, along with Frost Creek — Albrecht has been a member since the outset at CommonGround Golf Course. CommonGround is a highly regarded public facility — owned by the CGA — which prides itself on a very diverse clientele and numerous programs and initiatives that both serve the community and grow the game.
— Albrecht has served on the CGA's volunteer board of directors for more than a decade, having been recruited for the role by former CGA director of rules and competitions Pete Lis, who has worked as a rules official on the LPGA and PGA Tours for the last decade. In his CGA work, Albrecht has taken a particular interest in all that goes on at CommonGround. In fact, he chaired CCGO, the board that guides the operations at the course, along with the Caddie Development Committee. In recent years, he served as a CGA vice president when Colorado Golf Hall of Famer Kent Moore was the president.
"Gary joined the CGA Board in 2012 and has been one of the most active and engaged board members I have worked with," Ed Mate, the CGA's executive director and CEO, wrote in a recent email. "His passion for golf is remarkable — particularly when it comes to golf course architecture and competition. Gary is a true purist and an accomplished player, but he is NOT a golf snob. If you love golf, Gary is your friend regardless of how well you play.
"… Gary is extremely thoughtful and always open to new ideas. These qualities will serve the CGA extremely well over the next two years."
— In addition, Albrecht's background as an attorney — one focusing largely on business disputes and risk management — has its benefits, as well.
"I'm such a fan of the game of golf," the 66-year-old said in a recent phone interview. "I really like being busy helping out in this way if I can. There are many ways I've seen over the years that I can contribute and have contributed. So it's really just sort of a labor of love."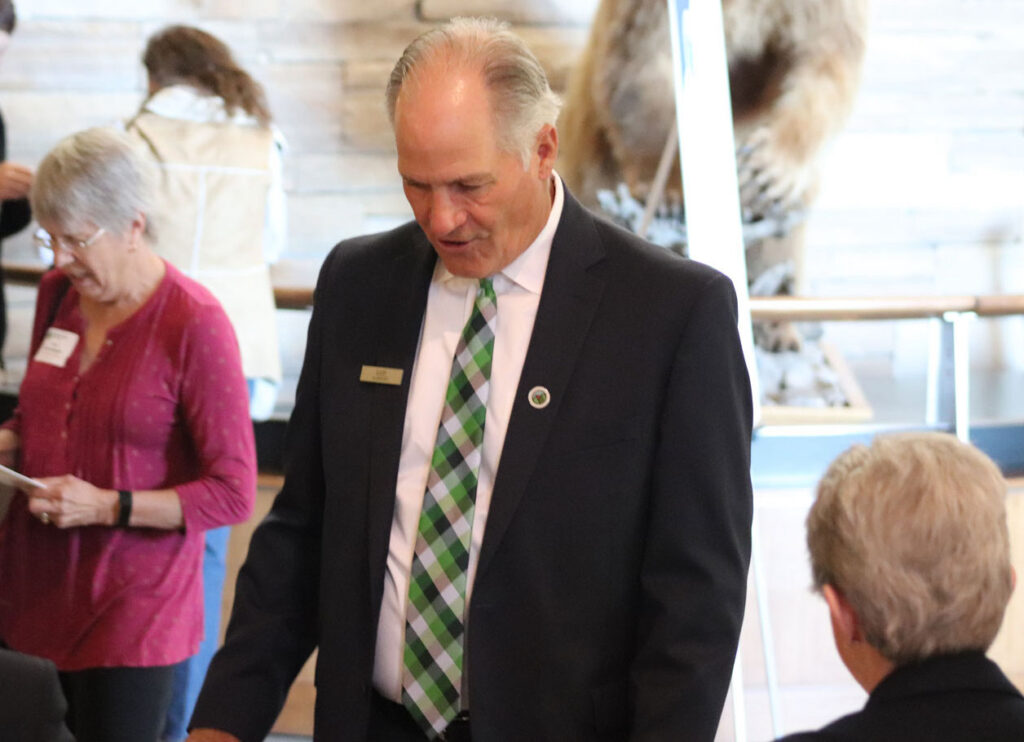 As president, Albrecht succeeds another prominent figure in golf in the state — Moore, who headed the board in 2021-22.
"I think the CGA is such a wonderful organization with an amazing staff and a great leader in Ed," Albrecht said. "They're really good people (and) they run great tournaments. It's a really good model of how I think a golf association should be run.
"Man, it's a privilege (to become president). I have nothing but respect for what the CGA does and the people who have been in this position before me. I can see how dedicated they are. I felt like I had the time and the interest. I think I have some institutional knowledge now that I've been on the board and been pretty embedded into what's been happening for the last few years. There have been some really important things that have happened, and I was very happy to bring my background and some of my expertise to bear on that. I think it's time that's so well spent. We're doing such great things."
But that doesn't mean there isn't room for improvement, as always.
Given the CGA's ownership of CommonGround — where Albrecht has been a member of the men's club since the course's opening in 2009 — he's particular fervent about what goes on there. That includes the Solich Caddie & Leadership Academy, which began at CommonGround, the Kids Course there, and the many community and wellness programs at the site.
"My attitude — I don't care what business it is — is, you have to be relentless about trying to make it better," said Albrecht, a Colorado resident since 1995. "So any way that we can make the experience at CommonGround a better experience, while being prudent about cost obviously, would be on my list.
"With CommonGround, I'm especially passionate about what we are able to do out there, the quality of the golf course we have. That really sets us apart. Anything that we can do to bring people to golf, bring people to golf at CommonGround, is something I'll definitely support and promote. … It's been a very neat time to be part of (the leadership team) because (what we do) transcends golf; that's largely because of the fact we own this wonderful golf facility."
And, the plan is to soon expand the small clubhouse that CommonGround has had in place since the beginning — one that houses the golf shop and staff, a bar & grill, and restrooms. If everything goes according to plan, square footage will be added on the west, north and east sides of the building, providing more office space for the golf shop staff, some extra retail display room, additional storage and support for food/beverage services, and more restroom space.
"It'll be useful because it's mostly functional; it's not intended to be really cosmetic upgrades, though the clubhouse will look a little different, with some new exterior finishes," Albrecht said.
Said Mate: "Gary has been an active member of the men's club at CommonGround and does a great job spreading the word about" the course and what goes on there.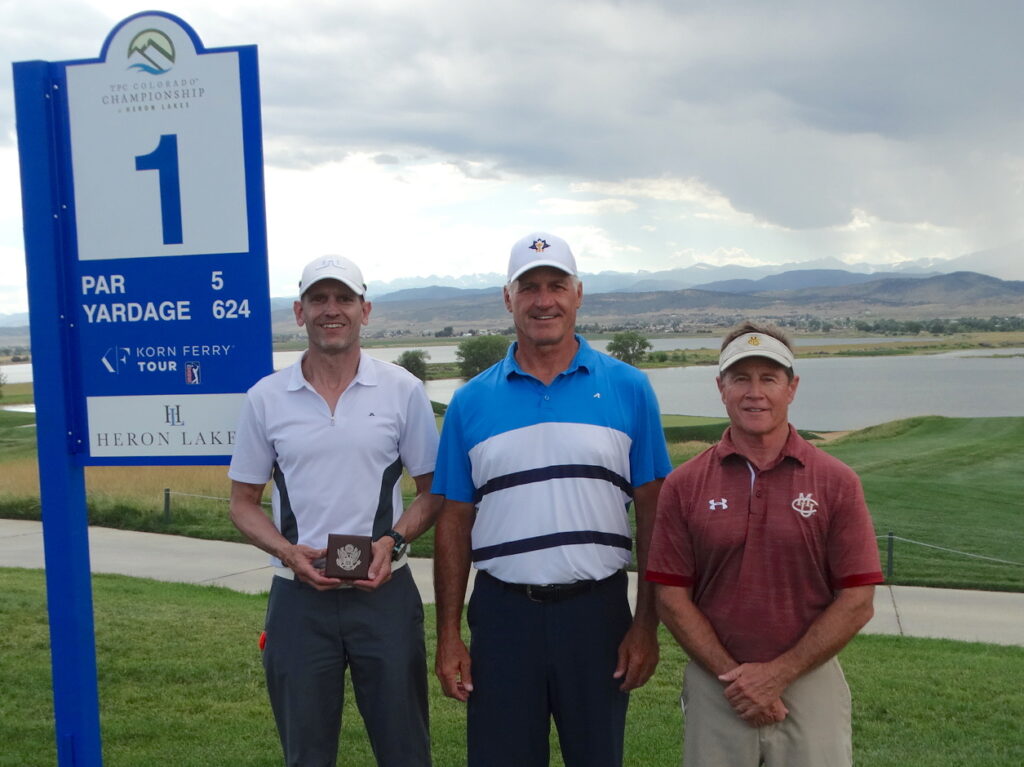 Beyond that, one of Albrecht's goals is to bring more golfers into the CGA fold as members.
"There's still a lot of people out there who are golfers who are not members of the CGA and who do not have handicaps," he said. "We're working hard at tapping into that potential. I'm going to be fully behind everything we can do to continue our growth and continue to bring people into the game, especially from the perspective of having (USGA) handicaps because it does a couple of really important things: it gives someone a reference point how they're doing (as players); and it also creates an opportunity for them to participate in events that they wouldn't otherwise be able to participate in.
"And we continue to look for ways to add value to the members of the Colorado Golf Association. That's an everyday thing that's going on."
In addition, regarding the volunteer leadership of the CGA, "We're just trying to continue to develop the really strong, experienced group of board members that is diverse," Albrecht said. "We're trying to be as inclusive as we can be — to be an example for other state golf associations as to what the potential is and what we can do."
More generally speaking regarding golf in the state, Albrecht will be the CGA's president at a time when the game is particularly high profile in Colorado. That's because two USGA championships — the U.S. Amateur (Cherry Hills Country Club, with Colorado Golf Club service as the second stroke play course) and the U.S. Girls' Junior (Eisenhower Golf Course at the Air Force Academy, where the CGA will play a significant organizational role) — will be held in Colorado this year. Then after a decade without a PGA Tour event being contested in the state, the BMW Championship is set for Castle Pines Golf Club in 2024.
The CGA, being an Allied Golf Association, is very closely tied to the USGA. And all the net proceeds from the BMW Championship benefit the Evans Scholarship for caddies, an organization the CGA and its members support in a big way.
In short, the game will be front and center — part of the national golf spotlight — on more than one occasion in Colorado in the coming two years. So … opportunity will be knocking for a very interested party, the CGA.