Co-workers Nosewicz, Maier set scoring record in posting 6-stroke victory in CGA Four-Ball
By Gary Baines – 05/05/2019
Nick Nosewicz has been searching for years for just the right partner combination to be able to take home the glass trophies given to the CGA Four-Ball champions.
From 2014 through '18, the golfer from Meadow Hills played with five different partners in the best-ball event, finishing third three times, fourth once and 15th once.
This year, the 35-year-old had his sixth different teammate in as many years, but this one proved to be just what Nosewicz ordered.
He partnered with Andrew Maier of Green Valley Ranch Golf Club — with whom Nosewicz works at Lenny's Golf, which is owned by Nick's dad Lenny — to win the CGA Four-Ball Sunday at Legacy Ridge Golf Course in Westminster.
Actually, merely saying they won does them a disservice. They practically lapped the field by historical standards.
With an 8-under-par best-ball score of 64 on Sunday, they finished with a 26-under 190 total, with broke the event's scoring record, set last year by Jon Lindstrom and Richard Bradsby, by three strokes.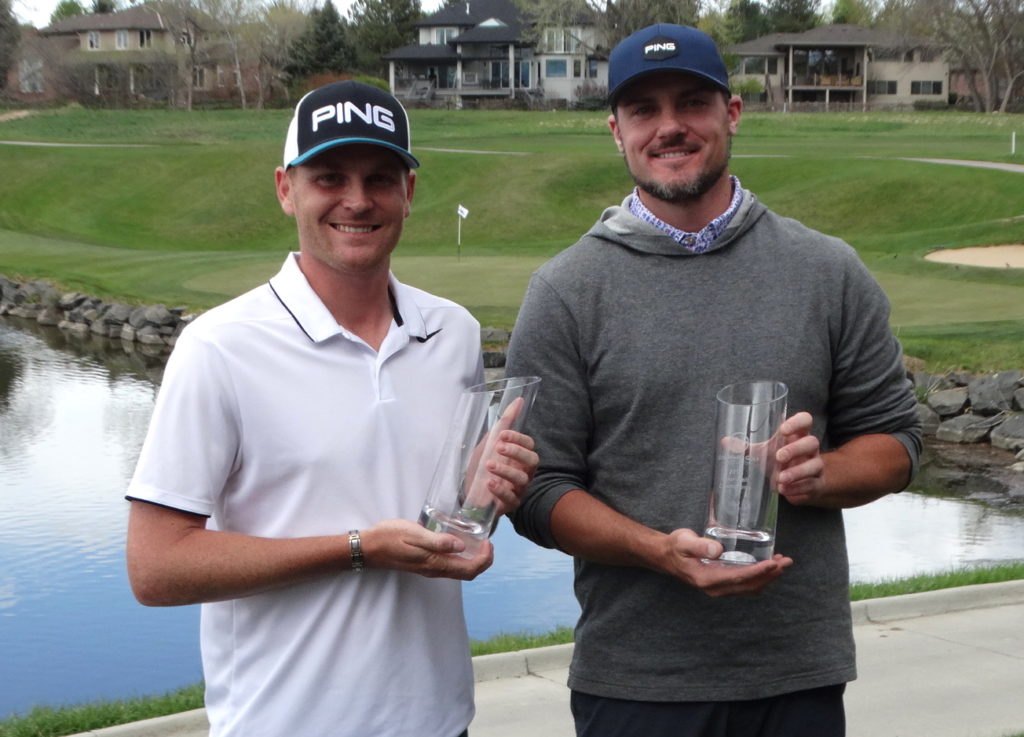 Moreover, Nosewicz and Maier's margin of victory was six strokes. That's the second-largest in the Four-Ball in the 21st century, eclipsed only by the 10-shot win by Dean Clapp and Jim Doidge in 2005, when the event was just a 36-hole affair.
"For me it's very bittersweet," Nosewicz (pictured at top) said of the Four-Ball victory. "I've been knocking on this door for the last five years. I've been t-h-i-s close to (winning). I don't think I've had the same partner twice. I've kind of been trading myself every single year to try to find a way. I feel like I've always been getting gift certificates; always a bridesmaid is what they say. It's always been hard. It doesn't matter how good you play (in the Four-Ball); you have to play well together.
"I think I finally found it with Andrew. It's kind of corny to say, but Andrew and I team great. We make one (best-ball) bogey in 54 holes and it was on our second hole of the tournament. We keep each other calm. He hits it first and he hits it perfect and he doesn't miss many fairways, which frees me up. It's a great dynamic, a great team."
Nosewicz's 2018 Four-Ball partner, three-time CGA Mid-Amateur Player of the Year Chris Thayer, had a scheduling conflict this weekend and couldn't play this year at Legacy Ridge. That sent Nosewicz searching for yet another new partner.
"I'm thinking, 'Who would I pick, other than the best (mid-amateur) player in the state, and it was Andrew.'" Nosewicz said. "So the hard part was figuring out how to get us both off of work. I'm trying to convince my dad Lenny at the golf shop (to give us both the weekend off). When I'm not there Andrew is there and when he's not there I'm there. It's kind of a tag team on and off the golf course."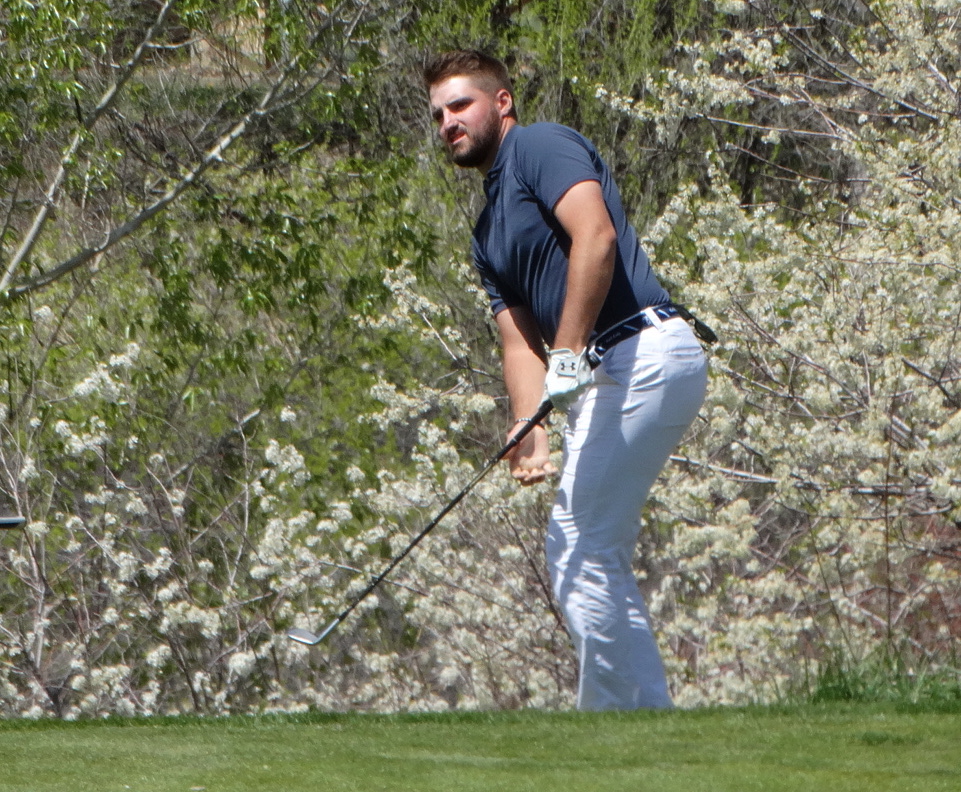 Nosewicz, winner of the 2015 CGA Match Play, and Maier came into the final round with a four-stroke lead after posting a best-ball 61 on Saturday. Their closest challengers were the team of 2017 CGA Player of the Year Jake Staiano of Glenmoor Country Club and 2015 Four-Ball champion Sam Marley of South Suburban Golf Course.
While Colorado State University golfer Staiano birdied the 11th and 12th holes on Sunday, they couldn't get closer than four down the stretch. They ended up shooting a 6-under 66 for a 20-under 196 total and a runner-up finish. It was the third consecutive top-three in this event for Staiano, who was third in 2017 and '18.
Sharing third place at 198 were former University of Colorado golfers Matt Call and Norton Rainey, who both play out of Colorado Golf Club, and Ryan Axlund and Tim Fitzgerald of Valley Country Club. Axlund and Fitzgerald closed with a 66 and Call and Rainey with a 67. 
Jon Lindstrom and Richard Bradsby of Lakewood Country Club, winners of the CGA Four-Ball in both 2017 and '18, tied for 12th place in the 60-team event on Sunday at 204.    
Maier, a former college golfer at Missouri Southern who moved to Colorado in 2015, picked up his first CGA title, while Nosewicz notched No. 3, having also captured the 2017 CGA Parent/Child with father Lenny.
But this wasn't the only time in the last year that Nosewicz and Maier have teamed up for a prominent four-ball title in the state. Last Labor Day, they captured victory at the Wellshire Four-Ball. But with the CGA Four-Ball having a very strong field, and figuring in the scoring record they set on Sunday, this was another big step up.
"It hasn't set in how well we actually played, how low we actually went," Maier said. "But it feels great to win anything, and to set a record on top of that. It's awesome and it's confidence-building."
Maier had shot an 8-under-par 64 on his own ball on Saturday, but couldn't carry that over to Sunday, carding a 79 with his only birdie coming on the final hole. But Nosewicz had another very strong day, shooting a 5-under 67 on his ball and going 67-68-67 personally for the weekend.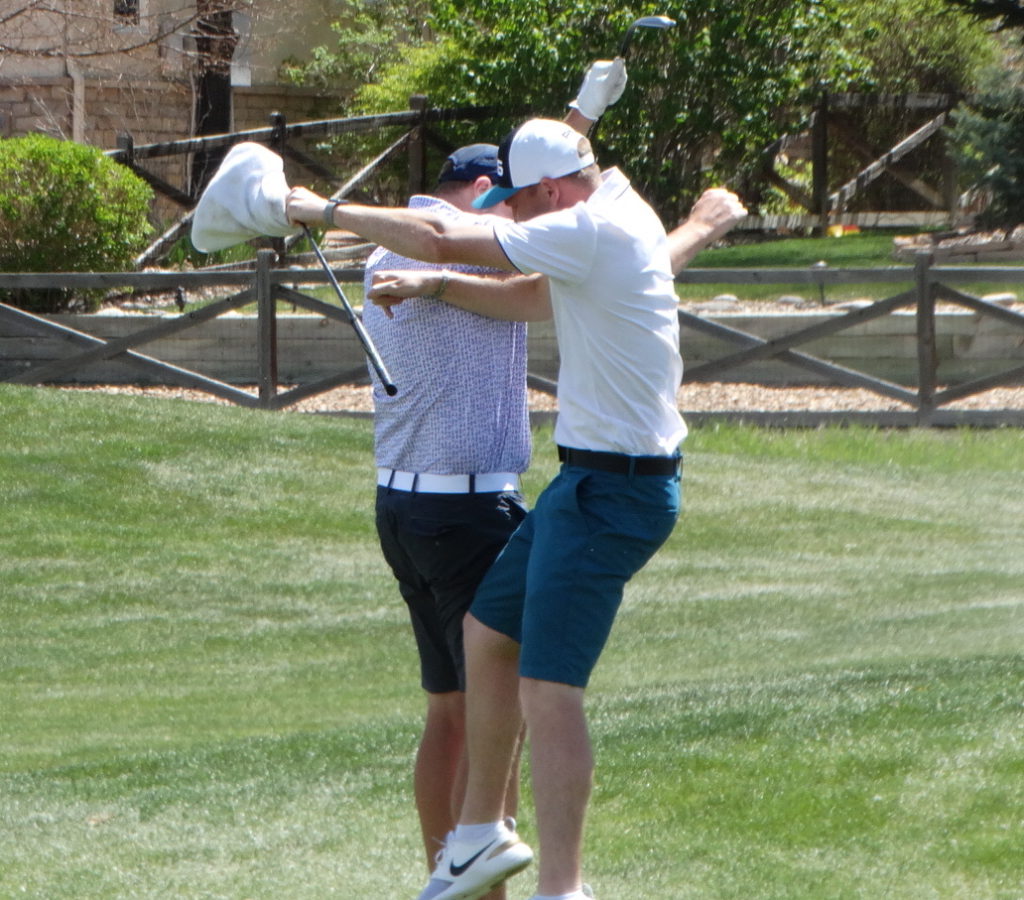 The highlight for the winning team on Sunday came on the short par-4 10th hole, where Nosewicz pitched in from almost 50 yards for eagle, throwing up his arms, then jumping into Maier in celebration. That kick-started the team after a good-but-not-great 3-under 33 best-ball on the front nine.
"That eagle I had on 10, that to me was a push forward," Nosewicz said. "We were playing OK. We did talk, saying you've got to do something special to win. We did a lot of special things. We shot 26 under, but that was the first time we did something (fortunate) that shouldn't have happened."
Suffice it to say it was a rather successful weekend for Maier in competing in his first CGA Four-Ball.
"It feels awesome," said Maier, whose biggest individual victory of his career is the 2008 Ozark Amateur as a 16-year-old. "I wish I had played a little better today, but that's why it's a team event. 
"Nick was just playing so well that if I could be steady enough and not be out of the hole, he would keep on truckin'. He capped it off with an eagle on 10 and I think it kind of deflated (playing partners Staiano and Marley) a little bit. It was neat."
As for setting the CGA Four-Ball scoring record, Nosewicz said, "So this morning I told (Maier), 'I know we have played good, but blank slate here on out. We have to keep adding to the tally. That's what I felt like all week. And pretty soon we're 26 under and win by six, which is pretty neat. We chipped away all week and didn't think about the end result."
For final scores from the CGA Four-Ball, CLICK HERE.