Schalk (4A) becomes third 3-time individual state high school champion in Colorado history — female or male — while Lehigh (5A) the ninth to win at least 2 girls state titles; Jordaan leads Colorado Academy to 3A sweep of individual, team crowns
By Gary Baines – 05/21/2019
This week proved a rarity as the girls state high school golf tournaments were reduced to one round because overnight snowfall in much of Colorado canceled day 2 of play.
The last time a girls state golf meet was limited to one round was 2015, when the second day of the 5A tournament at the Olde Course at Loveland was washed out by heavy overnight rain, though the 4A event that year went the full 36 holes at River Valley Ranch Golf Club in Carbondale.
On the boys side, the 1985 state meet at Fort Collins Country Club was reduced to 18 holes because of snow.
But the fact the 2019 girls tournaments will go down as one-round affairs because of snow is hardly the only reason they will be remembered. To wit:
— When junior Hailey Schalk from Holy Family won the 4A tournament at Pelican Lakes in Windsor on Tuesday, she became just the third Coloradan — male or female — to claim three individual state high school titles, joining Cherry Creek's Lynn Ann Moretto (1995, '96 and '97) and Mullen's Ashley Tait (2002, '04 and '05).
And that keeps Schalk's hopes alive for becoming the first four-time champ in Colorado history.
— And with Loveland senior Lauren Lehigh capturing the 5A individual championship at Harmony Club in Timnath, she became the ninth member of the "two or more club" — players who have won at least two Colorado girls state high school titles. The 2017 4A champ joins Schalk (3), Moretto (3), Tait (3), Jennifer Kupcho (2), Becca Huffer (2), Kelly Jacques (2), Jennifer McCormick (2) and Emily Wood (2) in that category.
— In addition, Schalk and Lehigh on Tuesday became the first golfer to earn individual victories in two different classifications in girls high school golf in Colorado. Schalk won in 3A in 2017 and '18, the Lehigh in 4A in 2017.
— And joining them as a state champion on Tuesday was senior Caroline Jordaan of Colorado Academy, who earned the 3A title at Eagle Ranch Golf Course in Eagle. After placing second in 4A in 2016, third in 3A in 2017 and second in 3A last year, Jordaan appropriately landed the top spot this week.
In addition, during Jordaan's four seasons at Colorado Academy, the school captured the team title every year, becoming the first school to four-peat (or more) since Mullen (2001-05 in 4A) and Skyline/St. Vrain (2002-05 in 5A).
(See below for more on the 5A and 3A tournaments.)
As for Schalk joining Moretto as the first player in Colorado state high school history to win state as a freshman, sophomore and a junior, it was a pretty heady accomplishment.
"It's pretty crazy and it's really awesome," said Schalk, the 2017 Junior Golf Alliance of Colorado Girls Player of the Year. "It's cool to see your hard work paying off. You kind of get a reward for practicing every day. As much practice as you put in and as many tournaments as you play, it pays off.
"It's going to be real exciting (trying to go four-for-four) next year. I hope I can pull that off."
Interestingly, one of the other players who has won three state high school titles in Colorado was on hand at Pelican Lakes Monday and Tuesday as Tait is in her second season as Mullen's head coach. If anyone can appreciate what Schalk has accomplished, it's her. (Schalk and Tait and pictured at top.)
"I don't think you realize when you're going through it how big a deal it is," Tait said. "I certainly didn't when I was in high school. Hailey had a lot of pressure on her this year, and she handled herself really well.
"She has a chance to do something that no one might ever do again. Getting three was hard. Getting four would be even harder. I hope she can do it. She's going to have a lot of pressure on her next year. I obviously have a really good player on my team (Sofia Choi), so we're going to try to beat her and take that fourth away from her."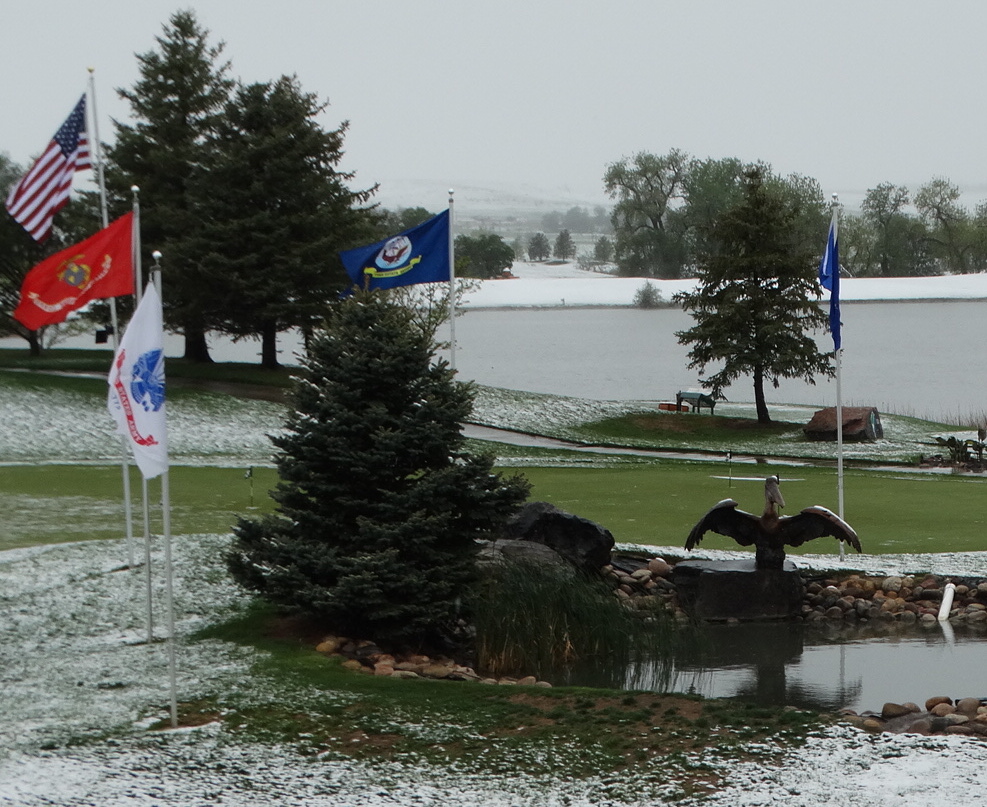 Beyond winning three straight, Schalk has flat-out dominated the competition at state. After she prevailed in 3A by seven strokes in 2017 and by six last year, she captured the 2019 title by six over Choi and Vista Peak's Kylie Severin after the one-round tournament. Despite Monday's cold, sleet and wind, Schalk hit 16 greens in regulation and shot an even-par 72, making one birdie and one bogey.
"She had a spectacular ball-striking round," said Matt Schalk, Hailey's dad and her coach at Holy Family. "She had a good chance of birdieing eight of the nine holes on the back nine (she made all pars). All of birdie putts were inside of 12-15 feet on the back. If her putter was hot yesterday, she would have shot 6-7-8 under.
"I'm so proud of her, first and foremost, as a dad. You get excited for that stuff. She works so hard. She practices 20-25 hours a week. It's amazing how much time she puts in. It's just good to see her have success. And for me it's great to see a female have such great success in this male-dominated game; it's pretty spectacular. I'm tickled for her. If she wins four, great. That will be her goal for sure."
Amazingly, through three seasons, Schalk has failed to win just one high school tournament in which she's competed. And, ironically, that was at Pelican Lakes, the site of Tuesday's victory, as Windsor's Jessica Zapf prevailed in a regular-season event this year.
Schalk plans to sign a national letter of intent with the University of Colorado in the fall.
While Schalk landed the individual title at Pelican Lakes on Tuesday, Zapf and her Windsor teammates earned their second consecutive team title in 4A, this one in their hometown.
On Monday, Windsor's team score of 38-over-par 254 was 20 strokes better than runner-up Niwot. Playing for the Wizards were Zapf (80), Kinsey Smith (85), Brynn Ellis (89) and Sarah Johnson (89).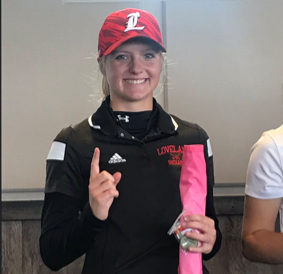 — 5A at Harmony Club in Timnath: While Lehigh's victory on Tuesday marked her second individual title at state, it very well could have been her third in a row. After winning the 4A crown in 2017, Lehigh led by one going into the final hole of last year's 4A tournament, only to make bogey and see Maxine Choi of Cheyenne Mountain close with a birdie for the title.
But Lehigh rebounded in a big way this week while playing her home course at Harmony Club. Overcoming cold, rain, sleet and wind, she posted a 2-under-par 70 on Monday, which proved to be good for a one-stroke victory over playing partner Meghan Vogt of Broomfield after the second round was canceled.
All in all, not a bad way to cap a high school career for Lehigh, who will play her college golf at the University of New Mexico.
"I'm ecstatic," the 2018 JGAC Girls Player of the Year said on Tuesday. "It's surreal to know this is my last high school event and that I managed to come out on top. And with my sister (Katelyn, who shot 76) and Taylor (Bandemer, 80) behind me, coming in second as a team was incredible."
As for joining the elite group of players who have won two or more girls state high school individual titles, Lehigh said, "It means a lot. I came out here and played the best golf I possibly could. To come out on top, I'm so grateful."
Fossil Ridge shot a 9-over-par 225 and edged Loveland by one for the 5A team title. Defending champion Cherry Creek (230) was third.
Comprising the champions from Fossil Ridge were Olivia Steen (74), Leigha Devine (75), Gabi Werst (76) and Hailey Nelson (97).

— 3A at Eagle Ranch in Eagle: One of the ultimate achievements for a high school golfer is to sweep both the team and individual titles at the state tournament, and Jordaan did just that in the 3A meet.
The future University of Denver golfer shot a 1-under-par 71 on Monday to land the individual title by four strokes over Charlotte Hillary of Kent Denver and Aubri Braecklein of Jefferson Academy.
And Jordaan's Colorado Academy squad won the 3A team title for the fourth consecutive year, this time shooting a 14-over-par 230 and prevailing by 13 over Alamosa and by 22 over Kent Denver.
"It feels real good, especially to get the team win again," Jordaan said. "Our team was really strong this year. We all had a great bond. It was nice to pull out (the victory).
"I'm always competing as an individual the rest of the year, so to be a part of a team and to get the team win — then get the individual on top of that — it was just really special."
Jordaan's feat was not unlike her brother's. Senior Richter Jordaan captured the 4A No. 1 singles title in tennis in October as Colorado Academy landed the team championship.
Joining Caroline Jordaan on the triumphant Colorado Academy team Tuesday were Eva Pett (79), Caroline's sister Marie Jordaan (80) and Sage Phelps-Fast (92).

Girls State High School Top Finishers
CLASS 5A AT PAR-72 HARMONY CLUB IN TIMNATH
Individuals
Lauren Lehigh, Loveland 70
Meghan Vogt, Broomfield 71
Katie Berrian, Regis Jesuit 73
Olivia Steen, Fossil Ridge 74
Morgan Ryan, Grandview 75
Leigha Devine, Fossil Ridge 75
Sydney Eye, Ralston Valley 75
Grace Dunkleberger, Rock Canyon 76
Kaylynn Xia, Cherry Creek 76
Gabi Werst, Fossil Ridge 76
Katelyn Lehigh Loveland 76
Merielle Gojo, Cherry Creek 76
Courtney Packer, Arapahoe 76
Team
Fossil Ridge 225
Loveland 226
Cherry Creek 230
Arapahoe 236
Rock Canyon 237

CLASS 4A AT PAR-72 PELICAN LAKES IN WINDSOR
Individual
Hailey Schalk, Holy Family 72
Sofia Choi, Mullen 78
Kylie Severin, Vista Peak 78
Jessica Zapf, Windsor 80
Jessica Mason, Holy Family 82
Kate Griffin, Coronado 83
Christina Cheng, Discovery Canyon 85
Kinsey Smith, Windsor 85
Timbre Shehee, Mead 86
Lisa Kelley, Glenwood Springs 86
Team
Windsor 254
Niwot 274
Durango 289
Littleton 290
Evergreen 292
Coronado 292

CLASS 3A AT PAR-72 EAGLE RANCH IN EAGLE
Individual
Caroline Jordaan, Colorado Academy 71
Charlotte Hillary, Kent Denver 75
Aubri Braecklein, Jefferson Academy 75
Masi Smith, Rifle 77
Eva Pett, Colorado Academy 79
Marie Jordaan, Colorado Academy 80
Mackenzie Fontana, The Classical Academy 82
Dimery Plewe, Dolores 84
Natalie Tatar St. Mary's Academy 84
Megan Miller, Estes Park 86
Team
Colorado Academy 230
Alamosa 243
Kent Denver 252
Jefferson Academy 269
The Classical Academy 277