Loveland in position to sweep 5A state titles as Katelyn Lehigh and Taylor Bandemer share top spot; Holy Family's Jessica Mason leads by 8 in 4A; St. Mary's Academy freshman Maddy Bante atop 3A leaderboard
By Gary Baines – 6/21/2021
When the 5A girls state high school golf tournament was last contested — some 25 months ago — a player from Loveland claimed the individual title and LHS was very close to completing a sweep as it finished second — by one stroke — in the team competition.
And on Monday, when the 2021 version of the 5A state meet cranked up at City Park Golf Course in Denver, it was almost as if nothing had changed.
The top two players on the individual leaderboard are from Loveland — junior Katelyn Lehigh and senior Taylor Bandemer share the lead at 2-over par 72. And the Red Wolves hold a 10-stroke lead in the team competition going into Tuesday's final round.
Oh, and by the way, a player with the surname Lehigh could win a girls golf state high school title for the third time in the last four years in which the state tournaments have been held. Katelyn will try to add to the family success after sister Lauren took home individual championships in 2017 and '19 before taking her talents to the University of New Mexico.
In any case, there's expected to be an LHS vibe on Tuesday at City Park GC — at least to start the day.
"It's definitely not something I was expecting (two teammates in the lead), but it's going to be good competition," said Bandemer, who will be playing college golf at Southern Utah beginning in the fall. "We're really good friends. It might actually just bring us together a little bit more. The fact that we've shot the same exact thing, we're sitting in the same spot, tied for first, it's a big deal. I'm kind of excited to have her as competition tomorrow."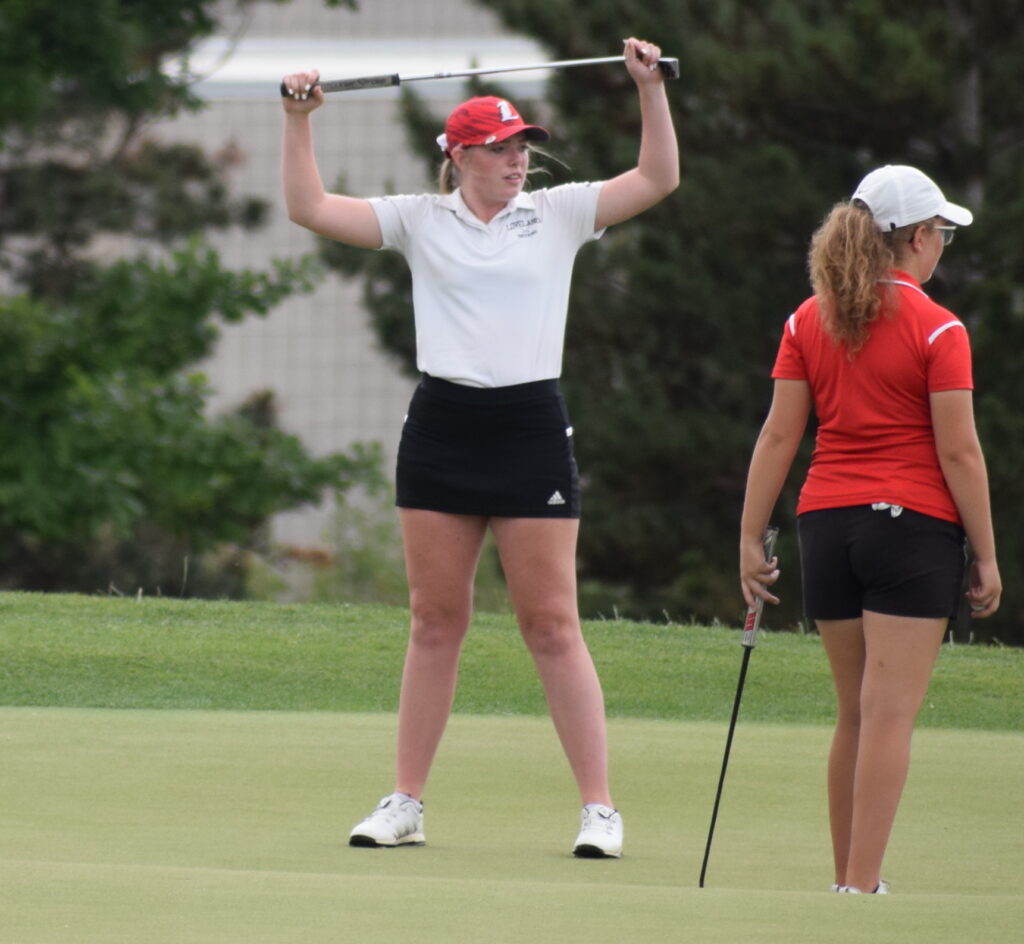 Meanwhile, in the other two girls state tournaments that started on Monday:
— In the 4A state meet at CommonGround Golf Course in Aurora, Holy Family junior Jessica Mason opened up a whopping eight-stroke lead after firing a 3-under-par 69 that included an eagle on the 15th hole. Mason is coming off a week in which she placed third — and was the top Colorado girl — at the AJGA Hale Irwin Colorado Junior at Walnut Creek Golf Preserve.
— In the 3A tournament at Elmwood Golf Course in Pueblo, freshman Maddy Bante of St. Mary's Academy shot an even-par 71 and owns a three-stroke lead over senior Aubri Braecklein of Jefferson Academy, the 2020 CGA Women's Stroke Play champion.
For more on those tournaments, see below.
Meanwhile, at the redesigned City Park GC, the best scores were the 2-over-par totals posted by Lehigh and Bandemer. Lehigh made one birdie and three bogeys in round 1, while Bandemer carded two birdies and four bogeys.
Given what her sister has accomplished — in addition to winning two state high school titles, Lauren finished second in a playoff at the Mountain West Conference tournament and was runner-up this month in the CGA Women's Match Play — Katelyn definitely expects some big things of herself. And so far this high school season, she's certainly delivered, winning every tournament in which she's competed (or sharing the title). That includes shooting a 66 in her regional state qualifying tournament at Coyote Creek.
"I feel like I've set a lot of expectations for myself about what I want to accomplish here this week," Katelyn said on Monday. "Some of that definitely has to do with Lauren being so successful in high school and that leading her to where she is in college now.
"I had a lot of anxiety (today). I was very nervous. Just the expectations and working toward this for two years (after the 2020 state tournaments were canceled due to Covid-19 safety concerns). I've put a lot of pressure on myself with it."
And beyond the individual competition, there's Lehigh wanting Loveland to capture the state team title after placing second by a stroke two years ago. (The Red Wolves won their lone girls golf state championship four years ago, led by Lauren.)
"The team is the most important part to me," Katelyn said. "It's Taylor's senior year. She got kind of gypped out of last year. I didn't get the chance to win it with my sister, so I'm hoping she gets the chance to win it with hers." Sophomore Reece Bandemer opened with an 81 on Monday.
Ironically, while Katelyn Lehigh was a bungle of nerves on Monday, Bandemer said she was unexpectedly calm.
"The no nerves definitely helped," she said. "I kind of put myself in the mindset I was playing just a normal tournament. It wasn't state, it was just another high school tournament."
On Tuesday, Lehigh and Bandemer will be in different groups, but it will be an interesting dynamic sharing the lead with a teammate.
"I'm going to treat her the same as I always do," Bandemer said of Lehigh. "I'm going to be very nice to her obviously and cheer her on and I'm going to wish her good luck. I hope she does good — and I hope I do too."
The Loveland teammates definitely have plenty of company on the leaderboard. Junior Lily Nelson fo Prairie View sits a stroke out of the lead, while junior Olivia Steen of Fossil Ridge, who won the Denver Women's City Amateur at City Park, is two back.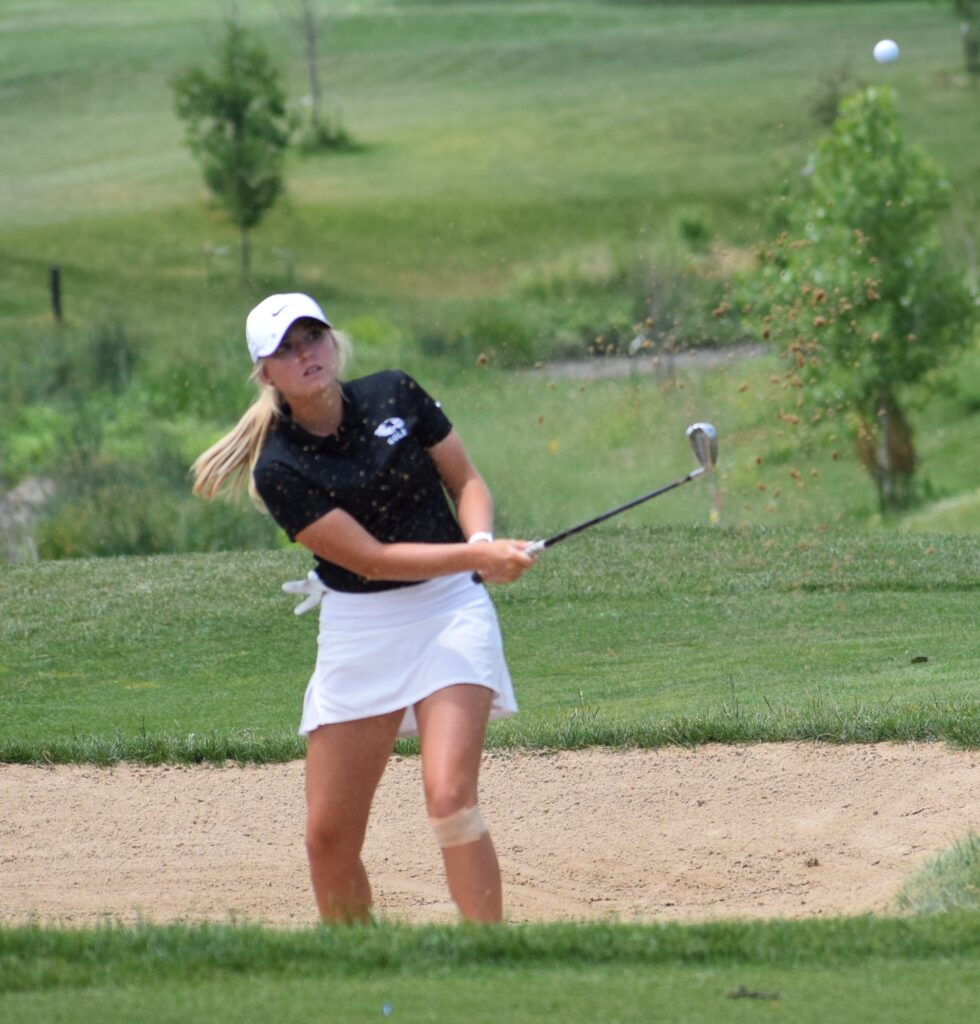 Senior Emma Bryant of Eaglecrest, who won an individual state title as a freshman, opened with a 75 and trails by three.
In the team race, Loveland stands at 15 over par, 10 ahead of Rock Canyon.
As for the 4A and 3A state meets …
— 4A at CommonGround in Aurora: Mason hopes to continues Holy Family's run of success individually at the state tournament. Her former HFHS teammate Hailey Schalk — now at the University of Colorado — won all three state meets in which she competed. And now things are shaping up very nicely for Mason, who placed fifth individually as a freshman in 2019.
On Monday, Mason finished with an eagle, three birdies and two bogeys to end up the only player under par after day 1 in any of the state meets.
Junior Timbre Shehee of Mead is Mason's closest pursuer as a 5-over-par 77 left her eight back of Mason after day 1. Sophomore Emily Cheng of Discovery Canyon sits in third place at 78.
Discovery Canyon is setting the pace in the team standings at 39 over par. Holy Family (+47) and Cheyenne Mountain (+50) are next best.
— 3A at Elmwood in Pueblo: St. Mary's Academy's Bante will attempt to become just the third freshman since 2002 to win an individual state high school title in Colorado girls golf after Schalk did it in 2017 and Bryant in 2018.
Bante made an eagle, a birdie and three bogeys in Monday's opening round to build a lead of three at the halfway point of the 3A state meet.
The Georgia State-bound Braecklein has the ability to put some heat on in the final round as she's the 2020 Junior Golf Alliance of Colorado Girls Player of the Year. Braecklein's first-round 74 included a birdie, two bogeys and a double bogey.
Another stroke back is Vail Mountain freshman Logan Hale.
St. Mary's Academy, with a first-round score of 18 over par, leads by 25 shots over Vail Mountain. Jefferson Academy is third at 46 over.
Here are the leading individual and team scores from all three state tournaments:

CLASS 5A LEADERS
At Par-70 City Park GC in Denver
Individual
T1. Katelyn Lehigh, Loveland 72
T1. Taylor Bandemer, Loveland 72
3. Lily Nelson, Prairie View 73
4. Olivia Steen, Fossil Ridge 74
T5. Abby Aeschleman, Mountain Vista 75
T5. Emma Bryant, Eaglecrest 75
T5. Grace Dunkleberger, Rock Canyon 75
T8. Grace Young, Valor Christian 76
T8. Sloane Post, Arapahoe 76
T10. Amira Badruddin, Rock Canyon 79
T10. Anju Ogi, Arvada West 79
T10. Elan Fleetwood, Legend 79
T10. Sydney Taylor, Rocky Mountain 79
Team
1. Loveland 225
2. Rock Canyon 235
3. Arapahoe 248
4. Cherry Creek 250
5. Legend 252

CLASS 4A LEADERS
At Par-72 CommonGround GC in Aurora
Individual
1. Jessica Mason, Holy Family 69
2. Timbre Shehee, Mead 77
3. Emily Cheng, Discovery Canyon 78
T4. Ava Schroeder, Cheyenne Mountain 79
T4. Sofia Choi, Mullen 79
T4. Morgan Polermo, Ponderosa 79
T4. Kylee Hughes, Eagle Valley 79
T8. Bretton Ronlund, Denver North 80
T8. Kaitlin Zingler, Mullen 80
10. Zoey Rodriguez, Pueblo South 81
Team
1. Discovery Canyon 255
2. Holy Family 263
3. Cheyenne Mountain 266
T4. Mullen 272
T4. Windsor 272

CLASS 3A LEADERS
At Par-71 Elmwood GC in Pueblo
Individual
1. Maddy Bante, St. Mary's Academy 71
2. Aubri Braecklein, Jefferson Academy 74
3. Logan Hale, Vail Mountain 76
4. Natalie Tatar, St. Mary's Academy 77
5. Leanne Telle, Colorado Springs Christian 80
6. Lora Ortega, Alamosa 80
T7. Greer Porter, Faith Christian 81
T7. Sage Phelps-Fast, Colorado Academy 81
9. Noelle Thompson, Peak to Peak 82
T10. Ava Cavataio, Vail Mountain 83
T10. Mallory Hopper, St. Mary's Academy 83
Team
1. St. Mary's Academy 231
2. Vail Mountain 256
3. Jefferson Academy 259
4. Colorado Academy 266
5. Faith Christian 281